Nothing is more exciting than planning your daughter's 1st birthday party. It's the first time you'll be celebrating with your family and friends, so we want to help you make it as memorable as possible.
To help you with all the planning, we've rounded up the 20 most beautiful girl 1st birthday party invitations. Enjoy!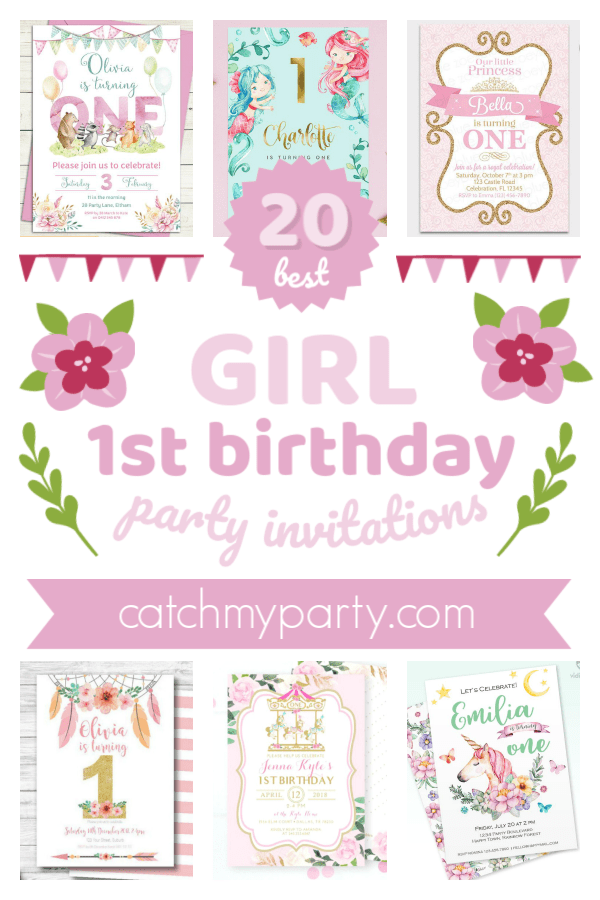 We've found gorgeous invitations for the most popular 1st birthday party themes such as princess, unicorn, mermaid, Minnie Mouse, and many many more! Don't miss them.
The Most Beautiful Girl 1st Birthday Party Invitations!
Every little girl is a princess, which is why princess parties are the most popular choice for a girl's 1st birthday!
The pink and gold design of this invitation is so regal, with a beautiful pink sash, and gold tiara.

Unicorn parties are everywhere, from baby showers to 1st birthdays.
This invitation will melt your heart. The beautifully illustrated unicorn and floral elements are enchanting!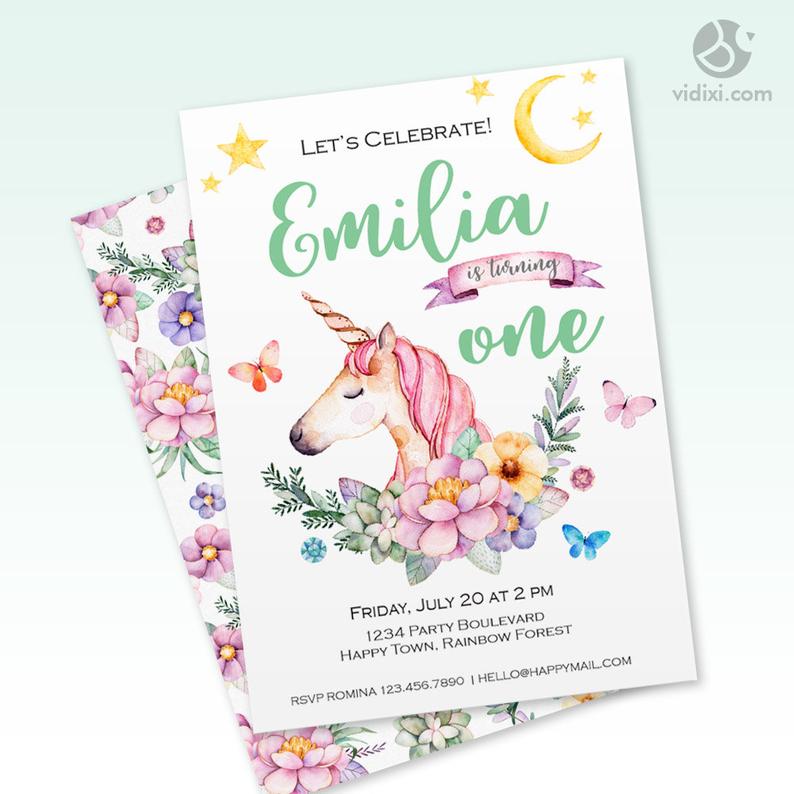 Another very popular theme, especially if you're having a 1st birthday party during the summer, would have to be a mermaid or under the sea party.
Who can resist this stunning mermaid 1st birthday invitation?! The illustrated mermaids are adorable. Perfect for your party!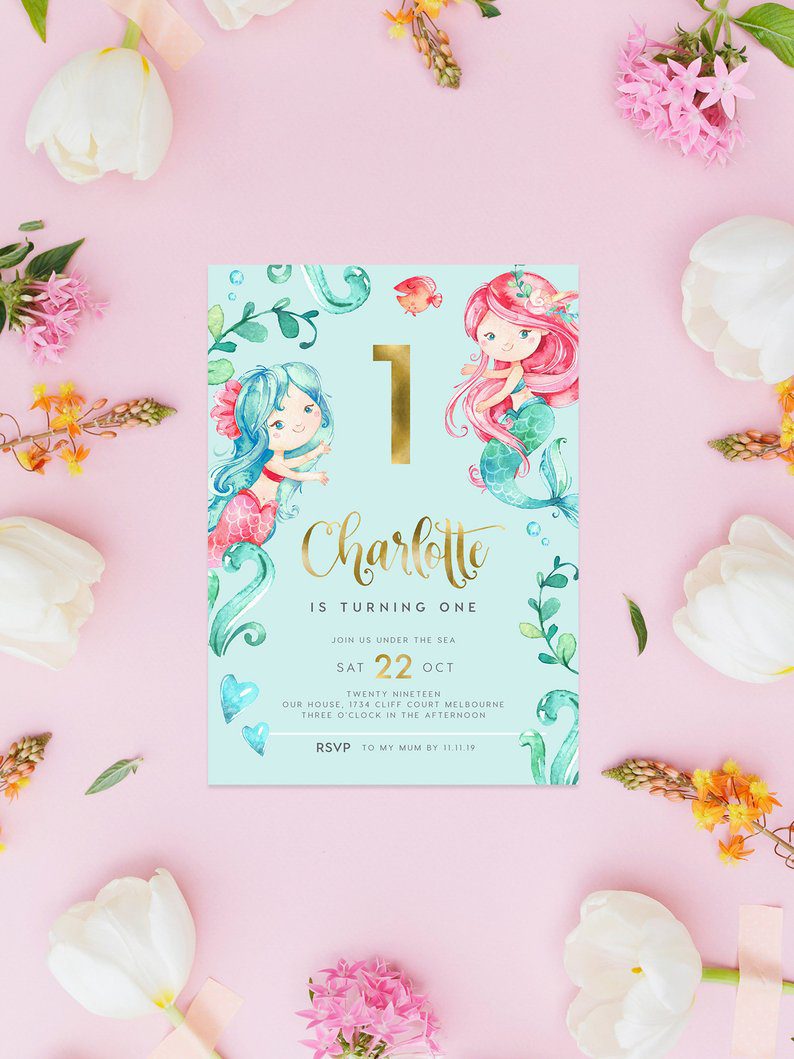 Everyone loves Minnie! She's been around for what seems like forever and will always have a special place in our hearts. That's why Minnie Mouse 1st birthday parties are so popular. It's all about the magic and the joy Disney creates!
This Minnie 1st birthday party invitation is so cute. The way they've used the Minnie Mouse ears to substitute the 'o' is such a cool idea! We love it!
If your little one's 1st birthday is during the summer, we've found an invitation what will put a smile on all your guests' faces.
This 'sunshine' summer invitation is adorable and such a joy!
Woodland parties are a wonderful 1st birthday theme. Woodland animals, such as foxes, rabbits, and mice, to name just a few, are always so cute and a huge hit with children.
This woodland 1st birthday party invitation is adorable. It oozes celebration with the balloons and banners!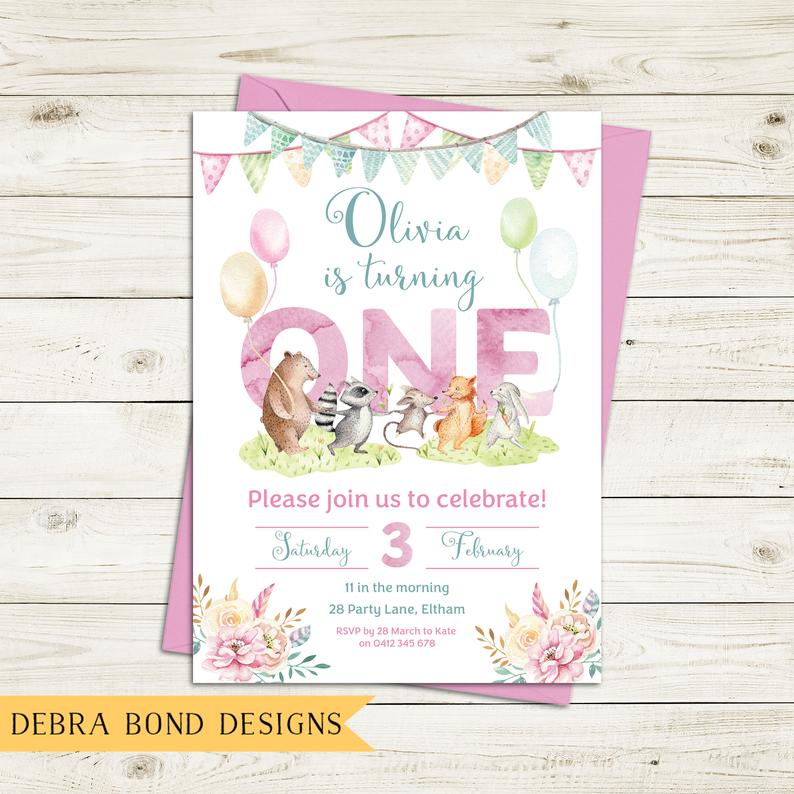 Another option for a summer 1st birthday is a luau themed party.
Just from looking at this stunning invitation your guests will feel like they're in the tropics!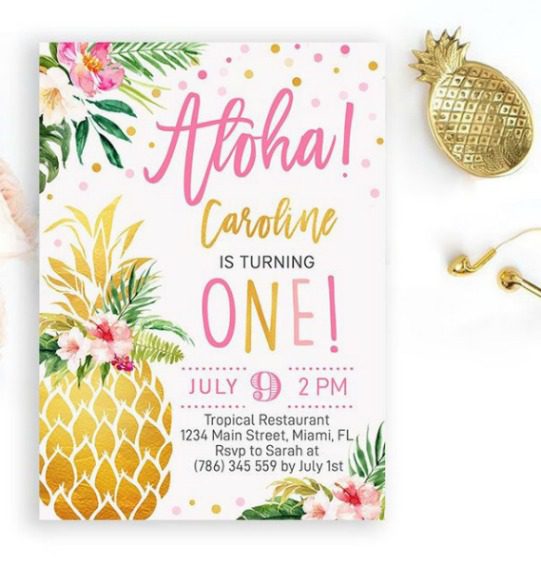 Flamingos are a big hit with children. Not only are they beautiful birds, but they're pink, which means they are perfect for a girl's birthday party.
They are especially popular during the summer and are a great alternative for a unicorn or mermaid themed party.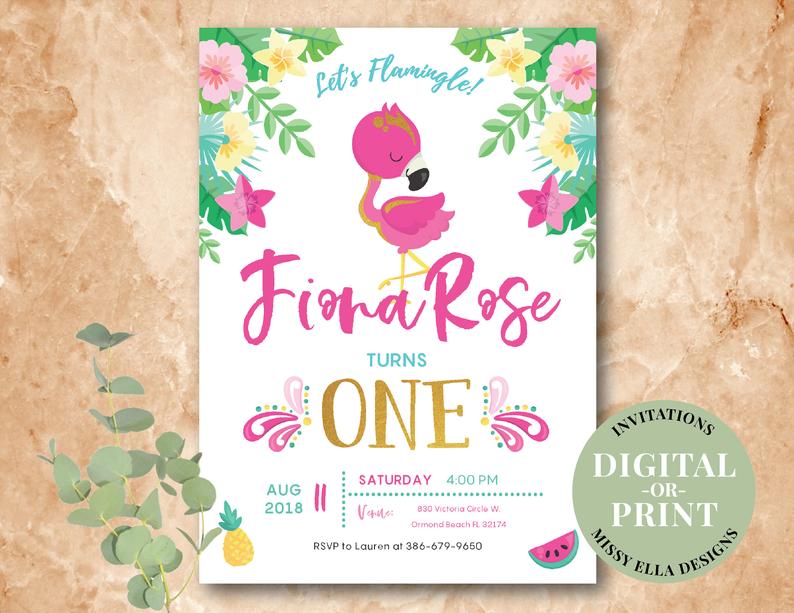 Tea parties are such exquisite celebrations! From the fragrant tea to the delicate china and party decorations, this party theme is so feminine and delicate just like your little girl.
This invitation is beautiful with its floral wreath (perfect if you're having your tea party in the garden), and vintage china. You'll have a hard time finding a prettier invitation.

Sometimes less is more, and it's the simplest designs that win us over.
This rustic floral 1st birthday invitation is so impressive. The flowers are gorgeous and look amazing with the gold number '1'.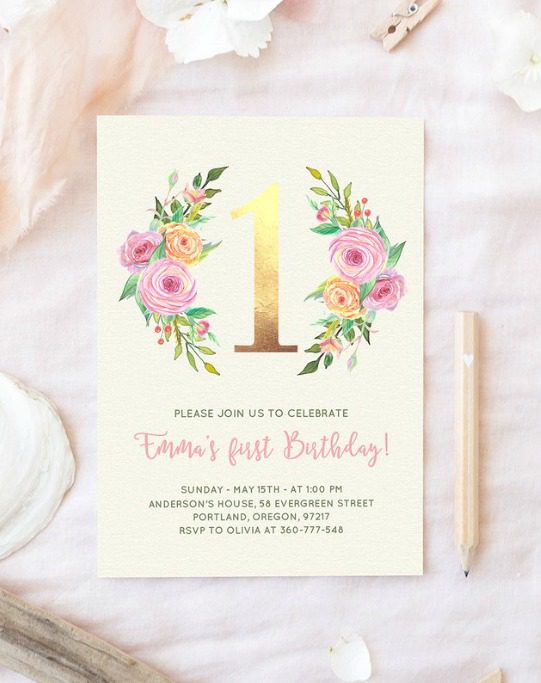 Who doesn't love a fiesta?! It's the perfect theme if you're of Mexican heritage or love everything about Mexico.
This invitation is so bright and colorful with its Mexican folk art flowers!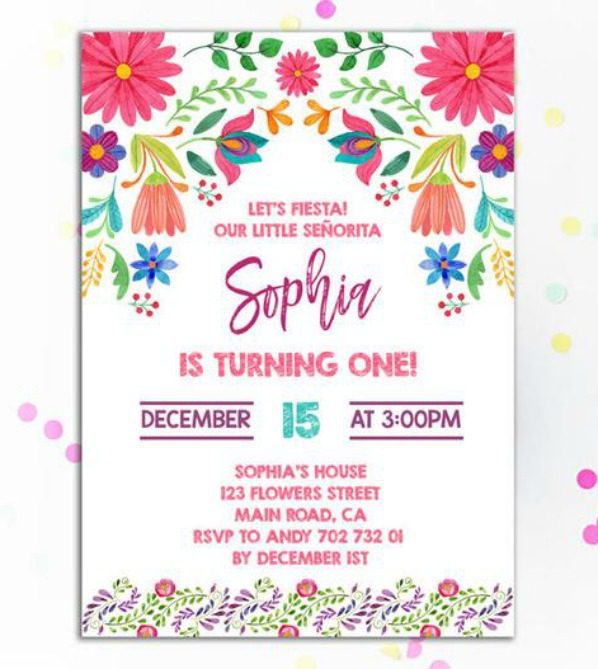 Boho parties are a great theme if you want a more whimsical and free-spirited 1st birthday.
This invitation is so impressive with a magical dreamcatcher, pretty flowers and feathers, and large, gold, sparkly number '1'.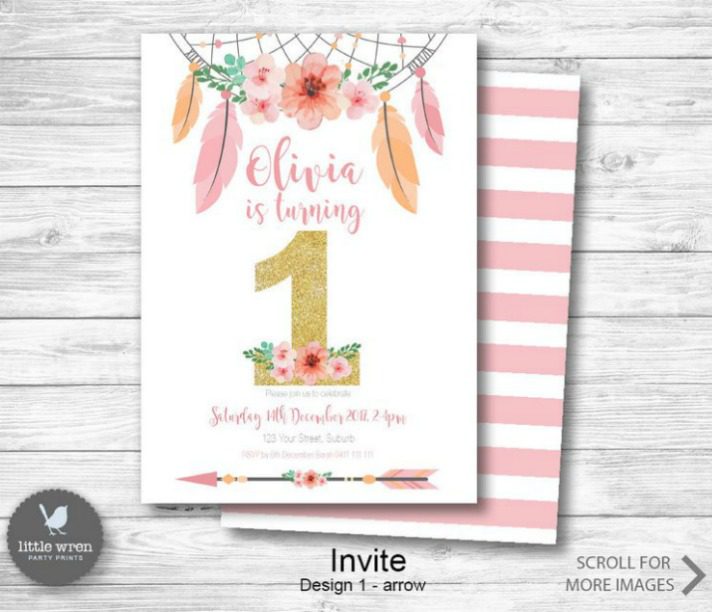 If your daughter's 1st birthday is during the winter, then this pink and gold snowflake invitation is just what you're looking for!
It looks so pretty with all the sparkly gold snowflakes and the "one" spelled with a snowflake.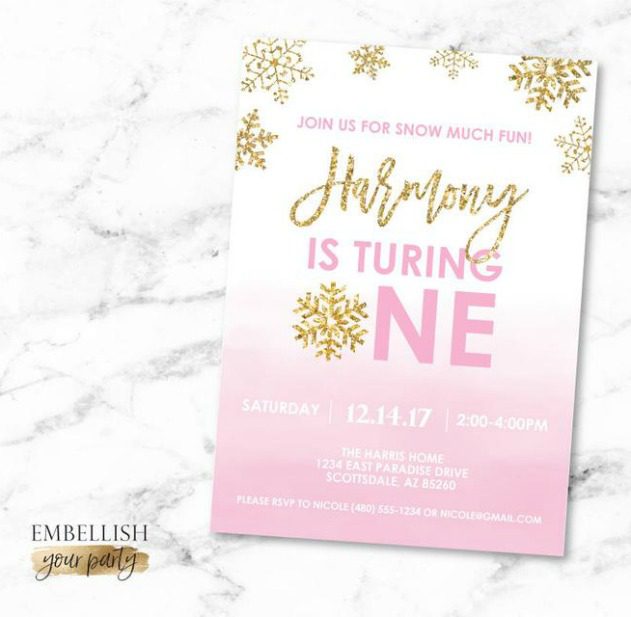 Fairies are magical little creatures that make dreams come true so it's only fitting that they be present at your daughter's 1st birthday party.
This pastel colored watercolor 1st birthday invitation is so delicate and pretty! Your guests will be making wishes the second they get theirs.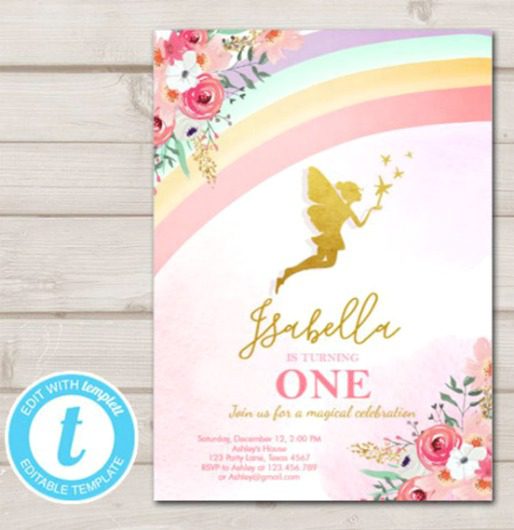 What a better way to send your child off to the land of Nod then with a little 'Twinkle Twinkle Little Star' lullaby.
It's a theme that's had an increase in popularity over the past couple of months.
The invitation is adorable, with all the little stars, moon, and clouds.

Llamas seem to be everywhere nowadays! They are most definitely becoming the new unicorn, and are a theme that's becoming increasingly popular.
This llama invitation is awesome! We love that the llama is transporting a tiered birthday cake on this back!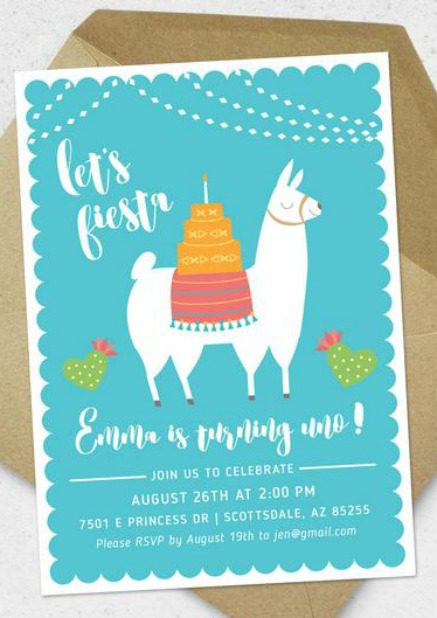 If your daughter is already showing tendencies to become a little ballerina, this 1st birthday invitation is just what you need!
The gold silhouette of the ballerina is so cute. A wonderful invitation!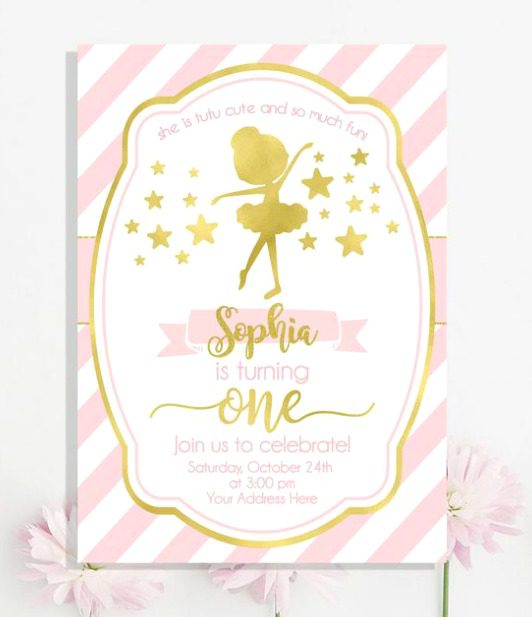 Vintage carousel 1st birthday parties are gorgeous, and this invitation is everything you could wish for.
The illustrated carousel and horses are lovely and so girly!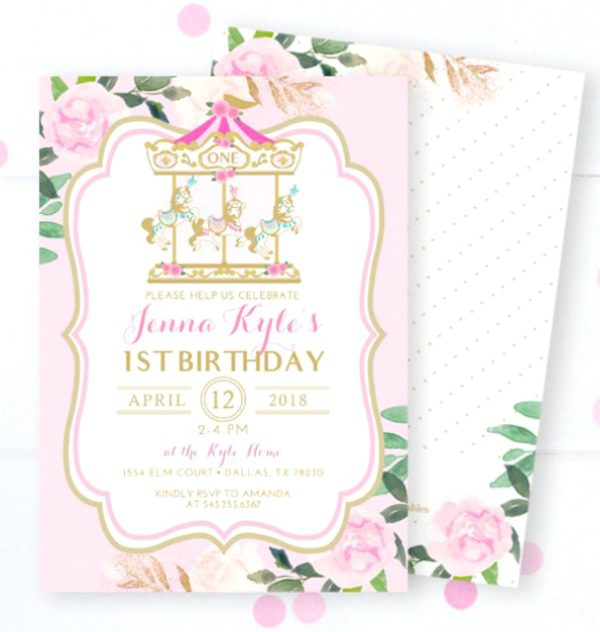 If you've not yet picked a theme, but need to get the invitations out, how about going with something a little more versatile.
This pink and gold 1st birthday invitation is so cool! Love the pink and white stripes with the large sparkly gold number 1′.

To finish off our list we've got another 1st birthday invitation that has no specific theme. The advantage is that you can get them out while you're still trying to figure out which one to go with.
The simple design is fantastic with pink and gold confetti.

** Some links are affiliate links and we may make a small commission if you click and buy.**
Need more girl birthday party ideas?
Need girl birthday craft ideas?
Need free birthday party printable decorations?
For more inspiration, check out all our amazing 1st birthday parties for girls, and check out these girl 1st birthday party supplies from vendors with listings on Catch My Party!