We curated this list from the most popular boy birthday themes from our site in 2023, so your celebration will be spot-on!
To help you design your party, download any of our FREE boy birthday party printables and use them to decorate on a budget!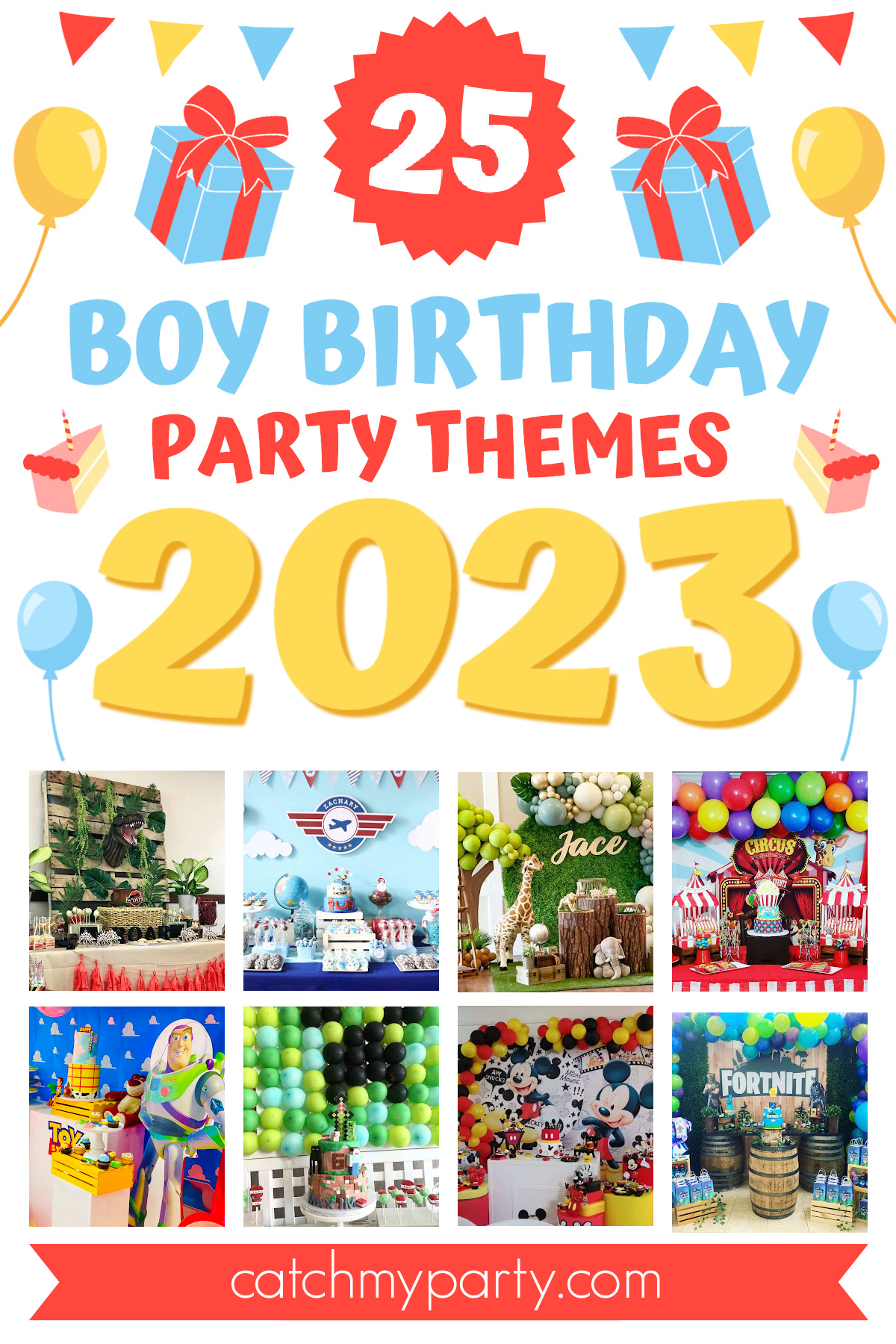 We've all-time favorite boy themes, such as Mickey Mouse and prince birthdays for younger kids, to more recent Fortnite and Minecraft parties for older kids.
Reasons to Love This Post
Wait until you see the wide range of trendy boy birthday themes we've rounded up.
Your party will provide lasting memories for your child, family, and party guests.
Great opportunity to get creative with a theme.
Activities and games can be designed around the theme to create an extra exciting experience.
The shared experience of the party theme can help children connect with each other and build lasting friendships.
24 Most Popular Boy Birthday Party Themes for 2023
Chances are if your kid loves playing video games he'll love Minecraft!
The Minecraft parties have been around for some time now but they continue to be one of the most popular boy party themes we have on our site, with so many must-see Minecraft party ideas that are guaranteed to be a hit.
And if you're looking for Minecraft birthday cake ideas, wait until you see this post!
There are so many incredible Minecraft party activities you could treat your guests to, including a fun game of our FREE Minecraft printable bingo!
Party Tip: Have your guests make their own Minecraft Creeper pizza!
Browse real Minecraft parties here.
Free Minecraft Party Printables
Make sure you download our FREE Minecraft party printables and use them to decorate your party.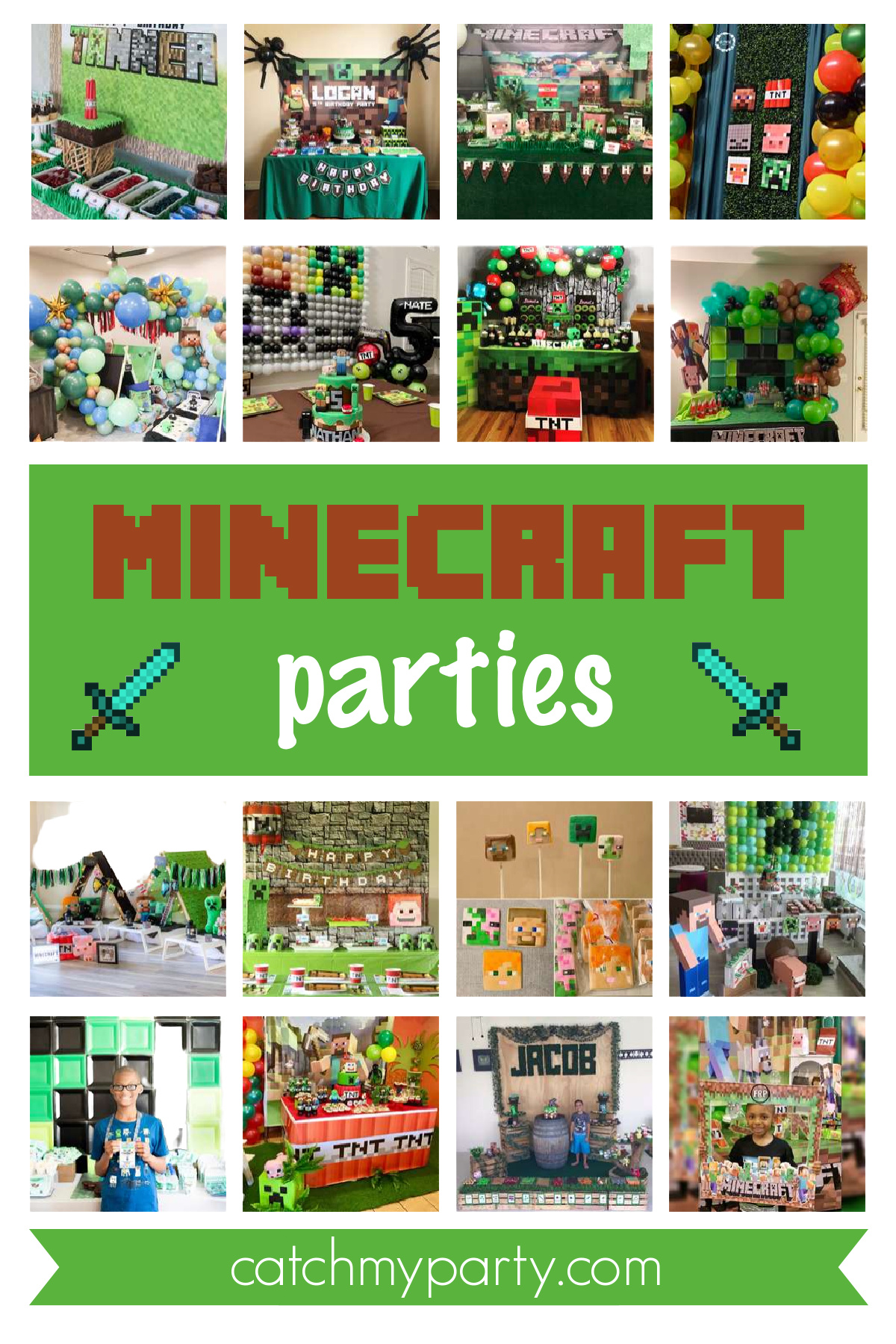 A party theme that is guaranteed to be lots of fun is a circus/carnival party, and we've so many incredible circus/carnival party ideas that you don't want to miss!
We also have fantastic circus/carnival party game ideas that all your little guests will love.
It's an awesome theme with all the clowns, fantastic party games, and circus animals.
Everyone is sure to have a great time, and it's a great theme for an adorable 2nd birthday theme for a boy too!
Party Tip: Provide traditional snacks that you'd expect to find at a circus or carnival, such as popcorn, cotton candy, hot dogs, snow cones, and nachos.
Browse real circus parties here!
Free Circus/Carnival Party Printables
To take your party to a new level, be sure to download this set of free circus/carnival party printables or our new collection of free retro circus/carnival party printables.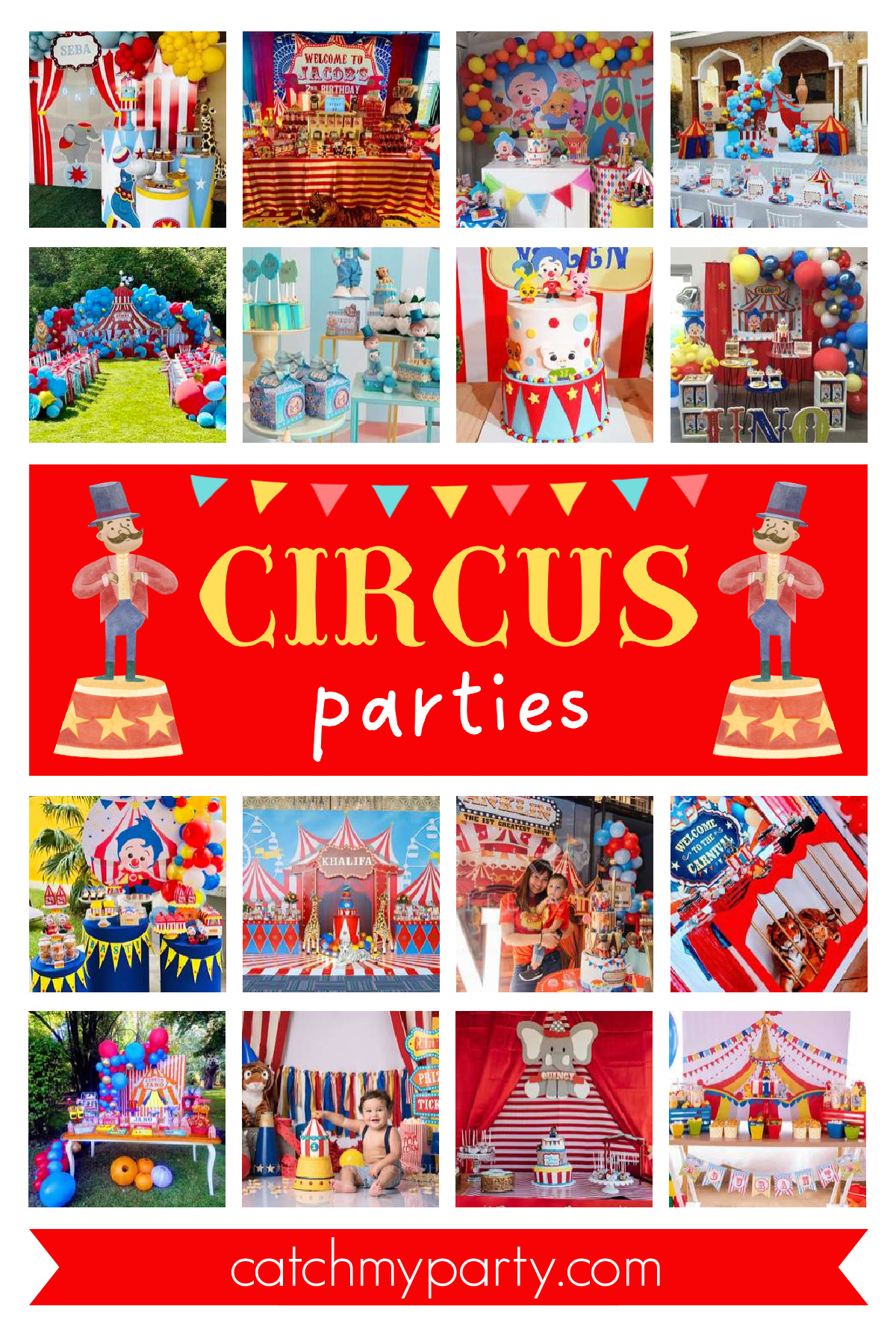 Star Wars is so big and has such a huge fan following that it's no surprise that Star Wars-themed parties continue to be so popular in 2023.
With the release of shows like Mandalorian and Obi-Wan Kenobi, the Star Wars franchise just keeps on giving and transporting kids (and adults alike) out of this galaxy.
We have loads of out-of-this-world Star Wars party ideas that you won't want to miss.
Party Tip: Serve some Star Wars-themed party food, such as our Star Wars toffee and some Star Wars chocolate candy!
Browse real Star Wars parties here.
Free Space Party Printables
Check out our FREE Star Wars party printables and use them to decorate your party!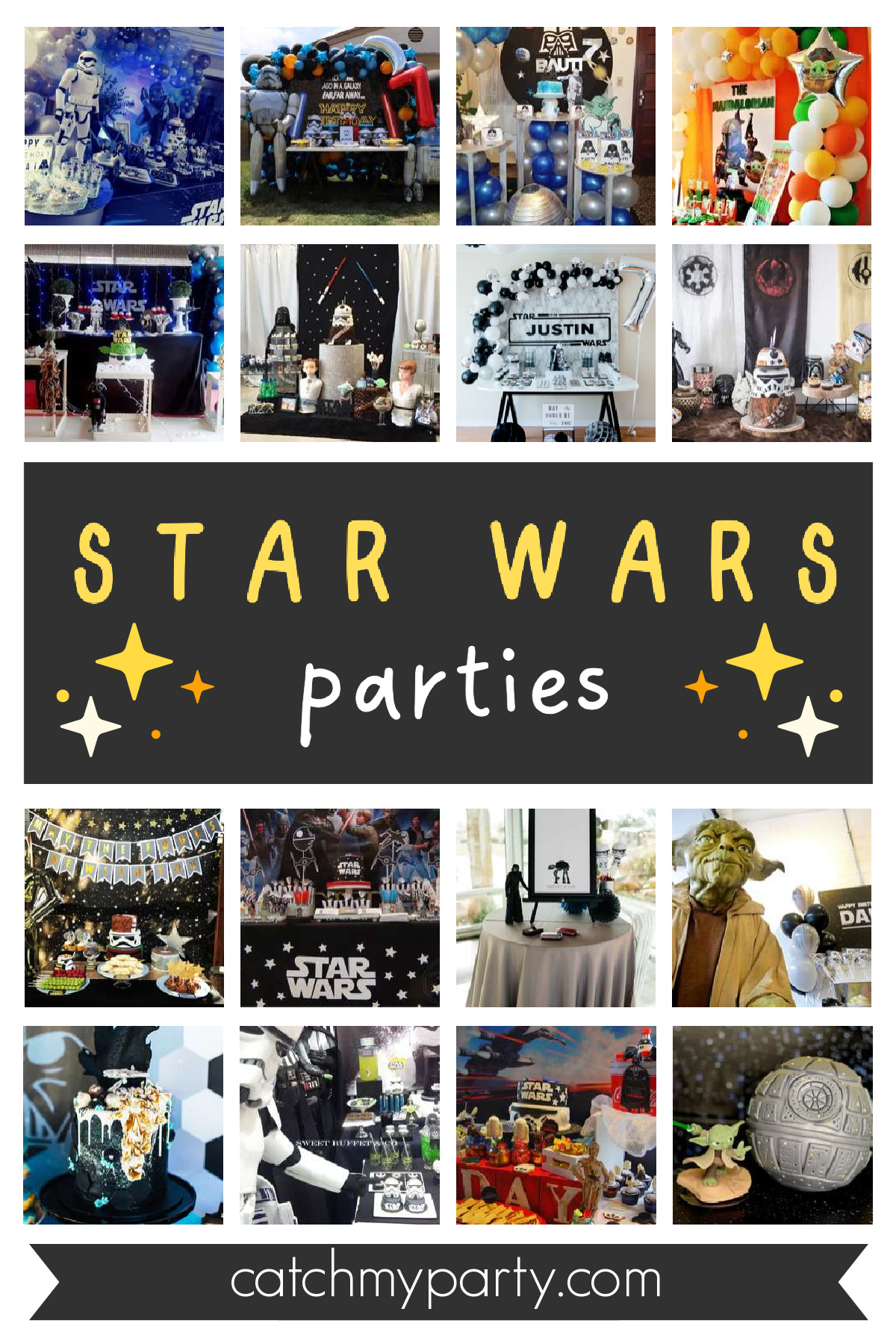 Fortnite birthday parties have been massive hits these past couple of years and have definitely gone nowhere in 2023.
They are the perfect theme for a die-hard Fortnite player and you can bet your guests won't know what hit them.
This can be a fun teen birthday party theme too.
You've so many awesome Fortnite party ideas that you won't want to miss, as well as show-stopping Fortnite birthday cakes that are sure to take center stage on your dessert table.
Party Tip: The ultimate Fortnite party activity will have to be an actual Fortnite tournament with prizes.
Browse real Fortnite parties here.
Free Fortnite Party Printables
Don't miss out on our FREE Fortnite party printables. They are just what you need to decorate your party if you are on a budget!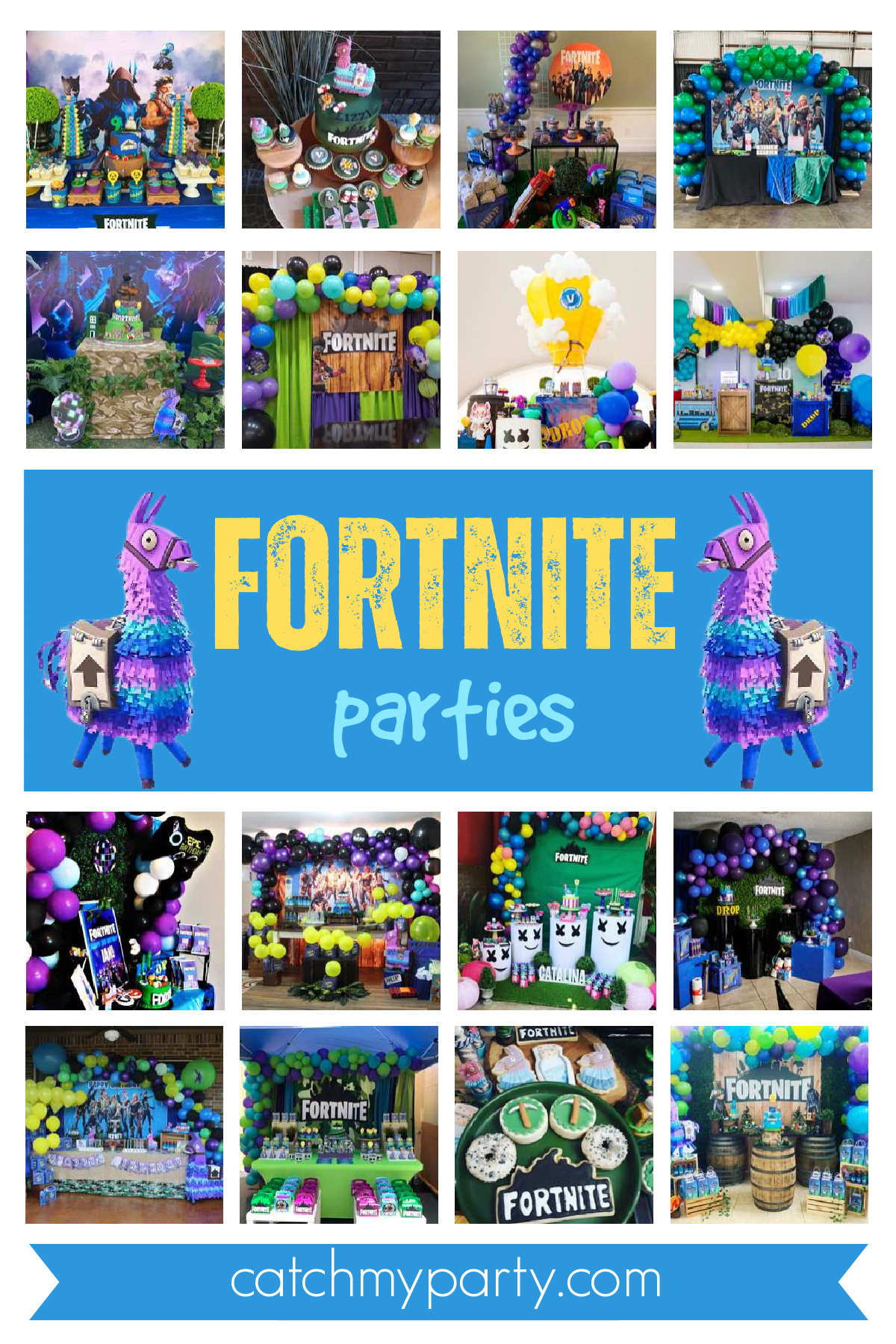 Dinosaurs may have become extinct but the party theme definitely isn't!
With the help of movies like Jurassic Park, dinosaurs have become a must-have party theme jam-packed with loads of fun dinosaur party ideas.
Take a look at our collection of cool dinosaur birthday cakes from real parties added to our site!
Party Tip: Set up a dinosaur dig or scavenger hunt for dinosaur bones as a party activity.
Browse real dinosaur parties here.
Free Dinosaur Party Printables
Download our FREE dinosaur party printables to decorate your party.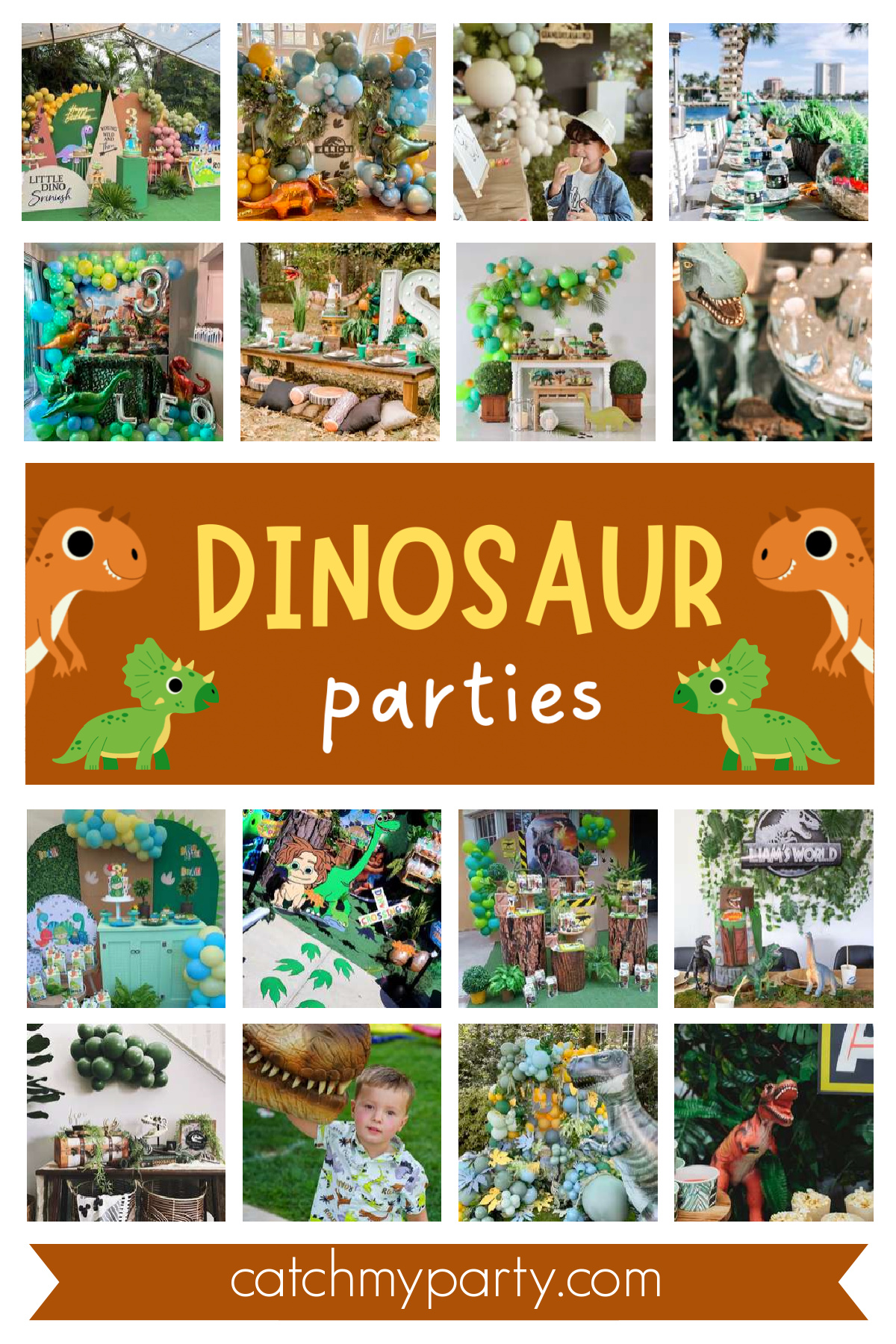 They aren't many parents out there who haven't found themselves singing Baby Shark throughout the day!
If you're one of them, then the chances are your little boy would love a Baby Shark party!
Take your guests on a fun under-the-sea adventure and be sure to check out all our awesome Baby Shark party ideas!
Party Tip: Create a Baby Shark playlist that includes the Baby Shark song and other catchy tunes that kids will love, and play games that involve the children dancing or singing along.
Browse real Baby Shark parties here.
Free Baby Shark Party Printables
Download our free baby shark party printables to decorate your party and make it sing!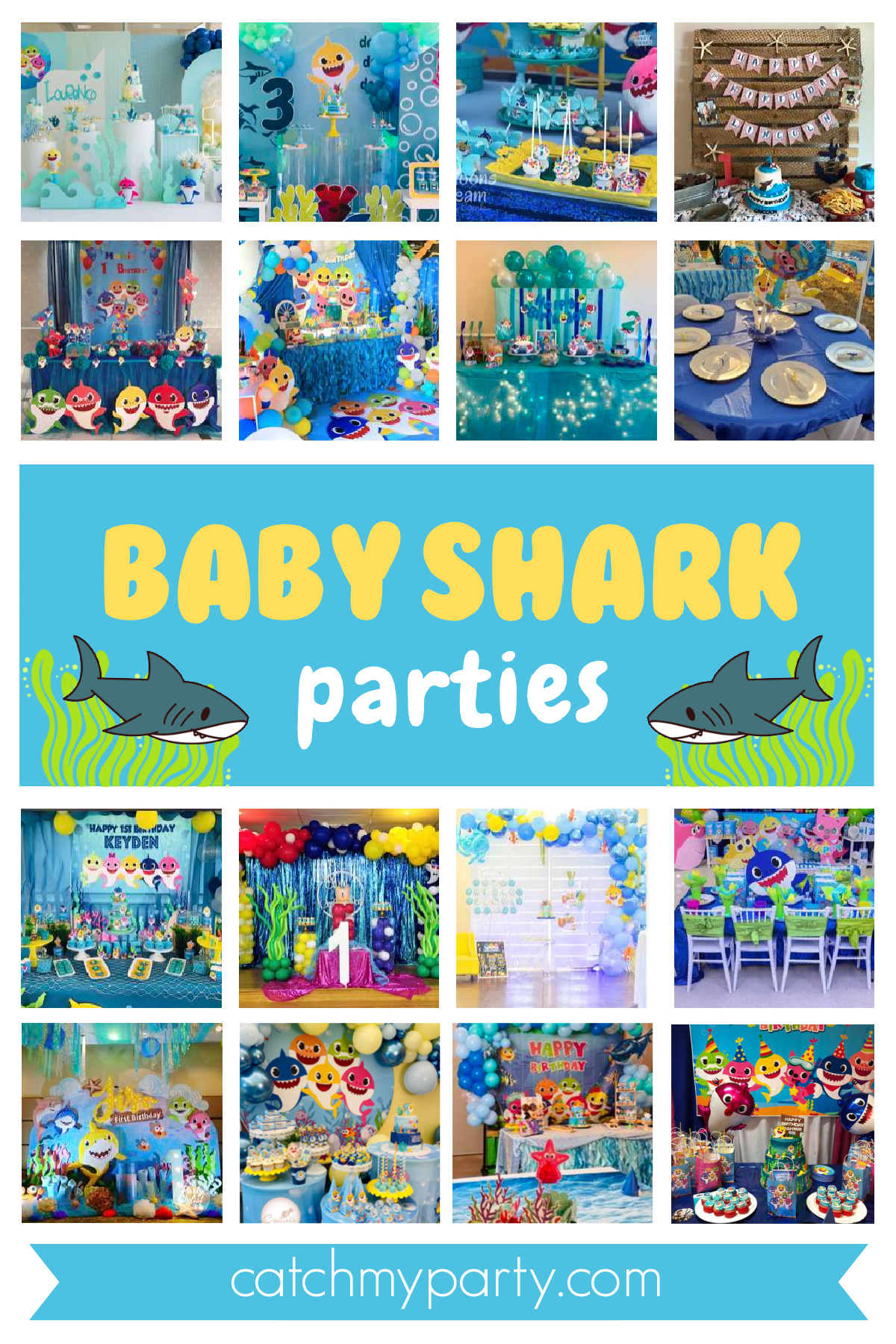 Boys look up to superheroes for their bravery and ability to always save the day (pretty much like us parents).
Awesome movies and tv shows from Marvel and DC have given this generation of kids the opportunity to get to know and admire a bunch of superheroes, such as Black Panther, Doctor Strange, and a bunch of new favorites such as She-Hulk and Moon Knight.
Superhero parties are a great party theme that each year seems to grow in popularity and they're perfect for tweens.
Don't miss all our best superhero party ideas from parties on our site.
Party Tip: Ask your party guests to come in costume as their favorite superhero!
Browse real superhero parties here.
Free Superhero Party Printables
Also, if you are on a budget, download our free superhero party printables to decorate your party!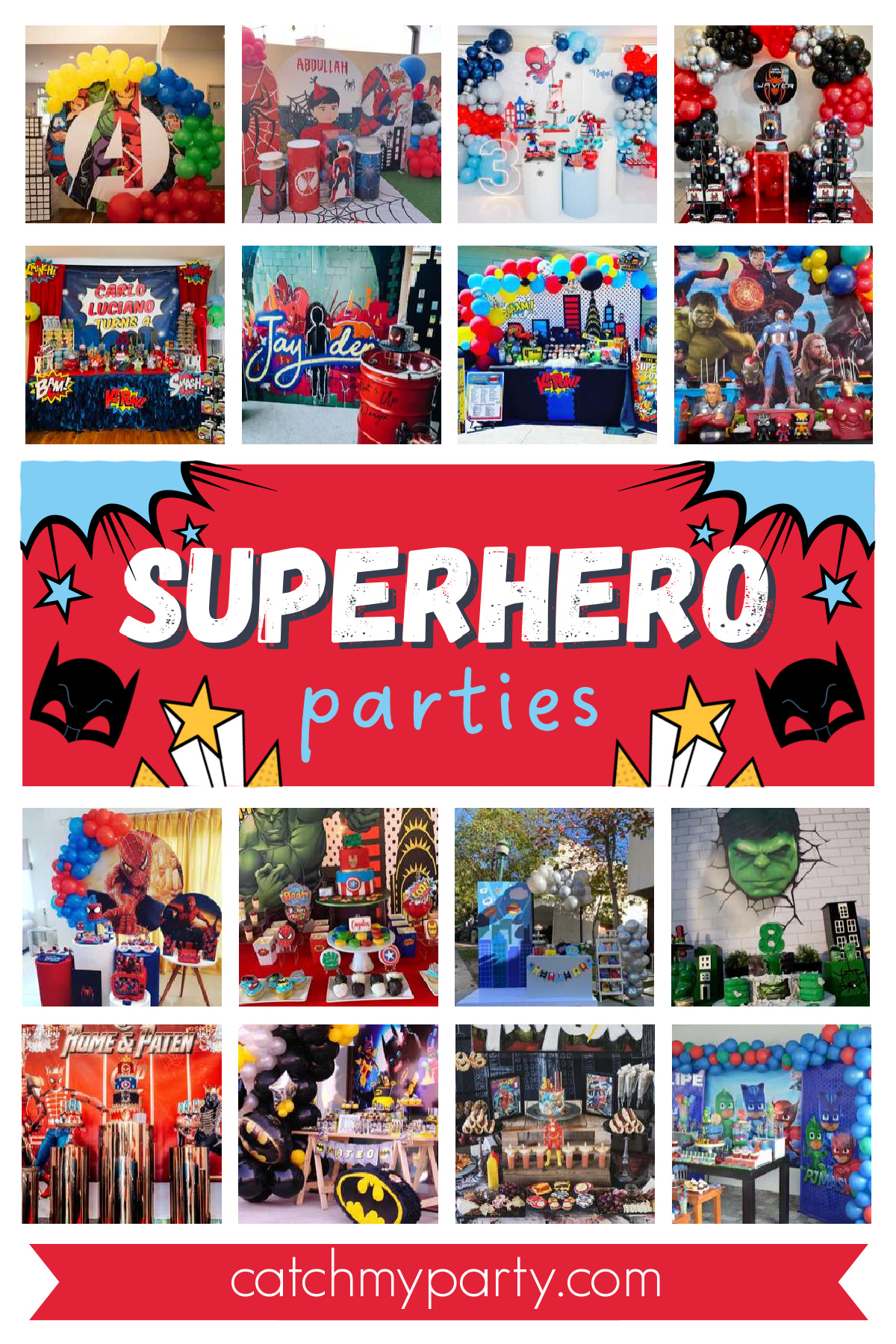 No one can resist Mickey Mouse. He's such a fun-loving character that seems to capture everyone's heart from a very early age.
Mickey Mouse parties are still going strong in 2023 and are among the most popular themes we have on our site.
Get inspired by all the excellent Mickey Mouse party ideas we've rounded up from real parties from our site.
Party Tip: You may want to consider hiring a Mickey Mouse character performer to make an appearance at your party. Kids will love nothing more than getting to meet Mickey Mouse in person!
Browse real Mickey Mouse parties here.
Free Mickey Mouse Party Printables
Download our free Mickey Mouse party printables to decorate your party in style with a Happy Birthday banner, cupcake toppers, and party favor tags!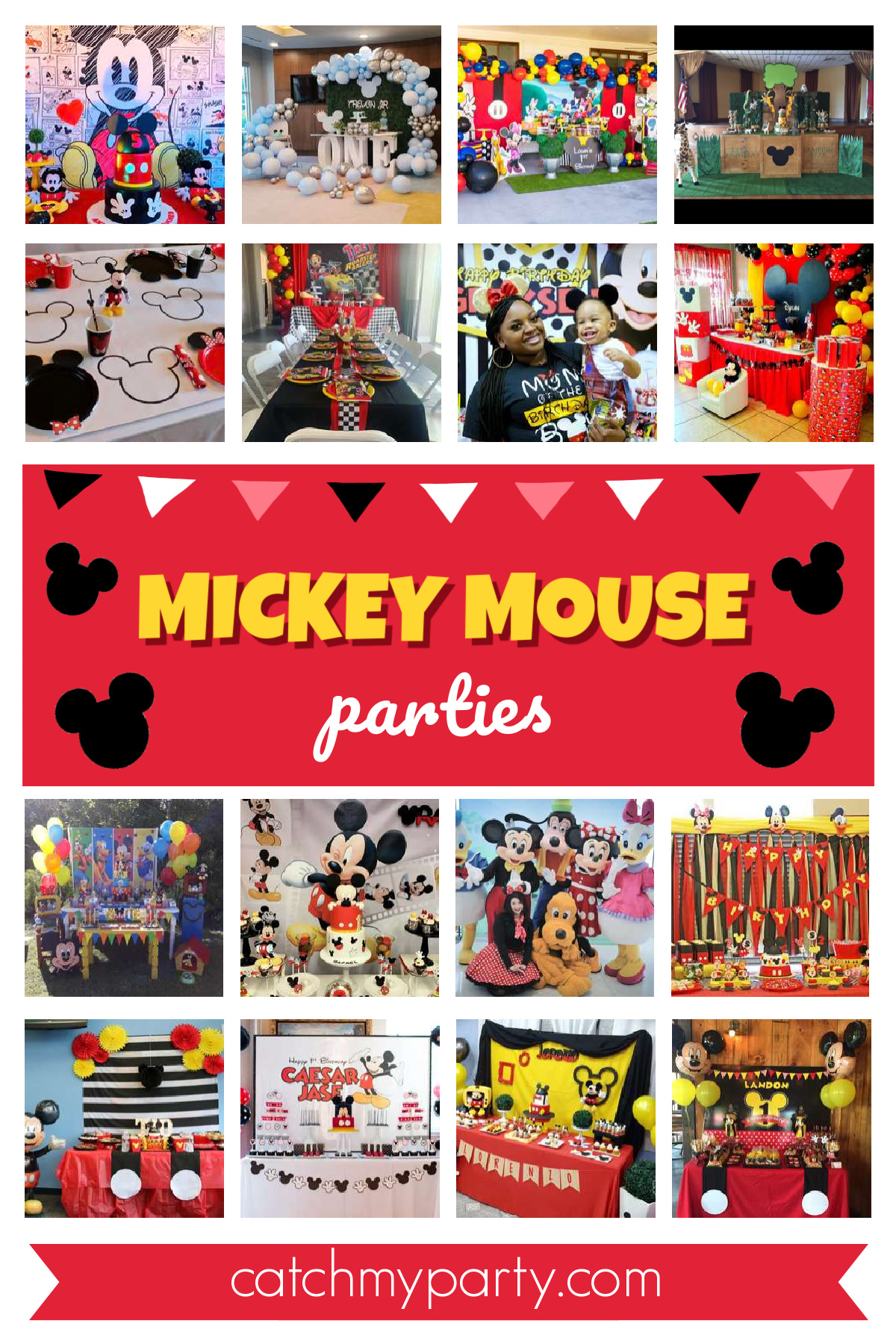 A prince-themed birthday party is one of those timeless classic themes that you can never go wrong with. It's a great way to celebrate a baby's first year.
It's a great excuse to make your own little prince feel extra special on his birthday, so make you delve into all our fabulous prince party ideas for inspiration!
Party Tip: Set up a photo booth with a throne or royal backdrop.
Browse real prince parties here.
Free Prince Party Printables
Feel free to download our fabulous FREE prince-themed party printables and use them to decorate your regal celebration.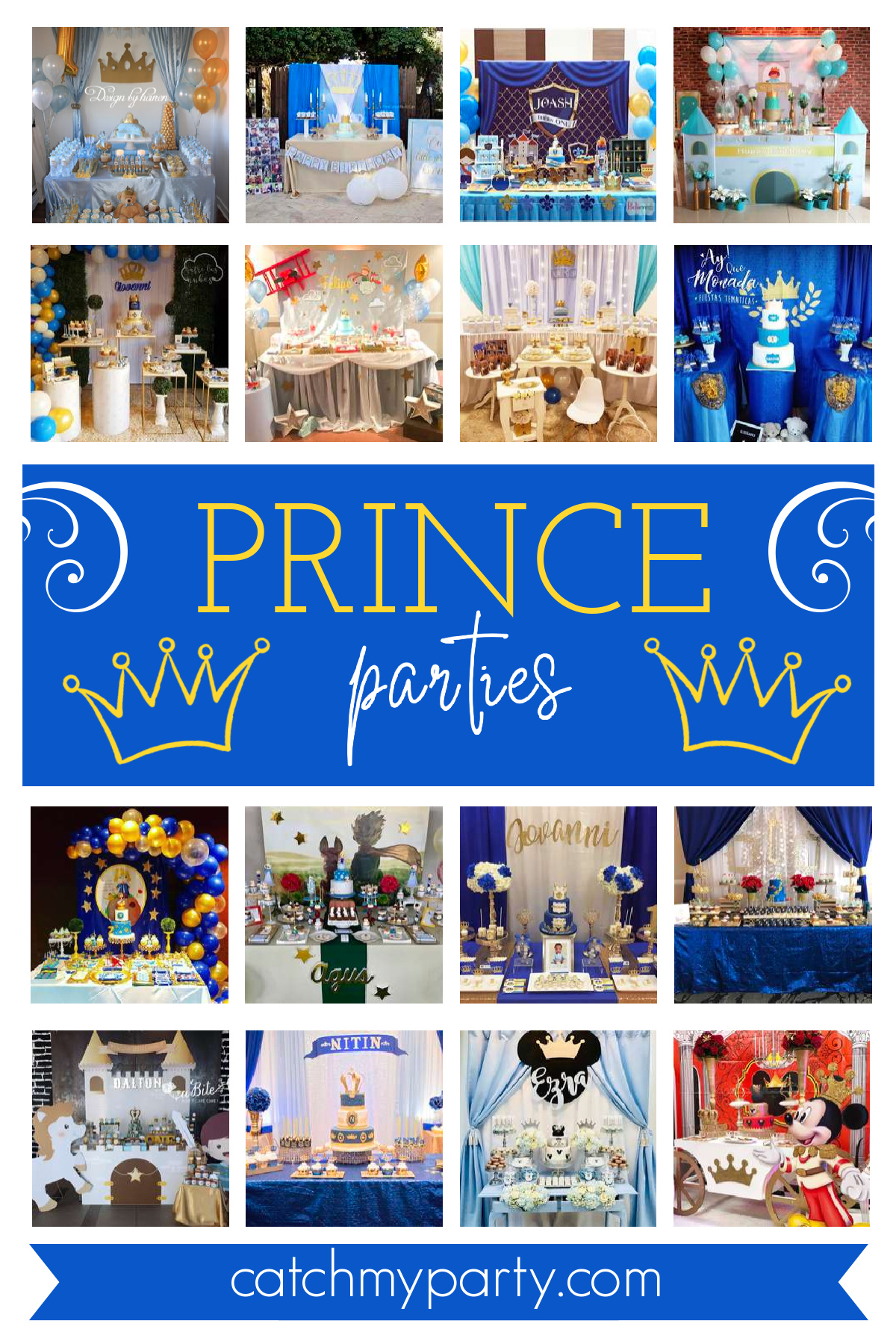 Safari and jungle birthday parties are undoubtedly one of our most popular and fun birthday party ideas of of 2023.
Kids go crazy with all the wild animals, such as giraffes, elephants, and lions.
So treat your son to an experience of a lifetime with a safari animal-packed party!
Party Tip: Hire a wildlife expert or a zookeeper to bring live animals to your party and educate kids about different species.
Browse real safari parties here.
Free Safari Party Printables
Download our free safari party printables and our free safari young kid party printables to decorate your party beautifully!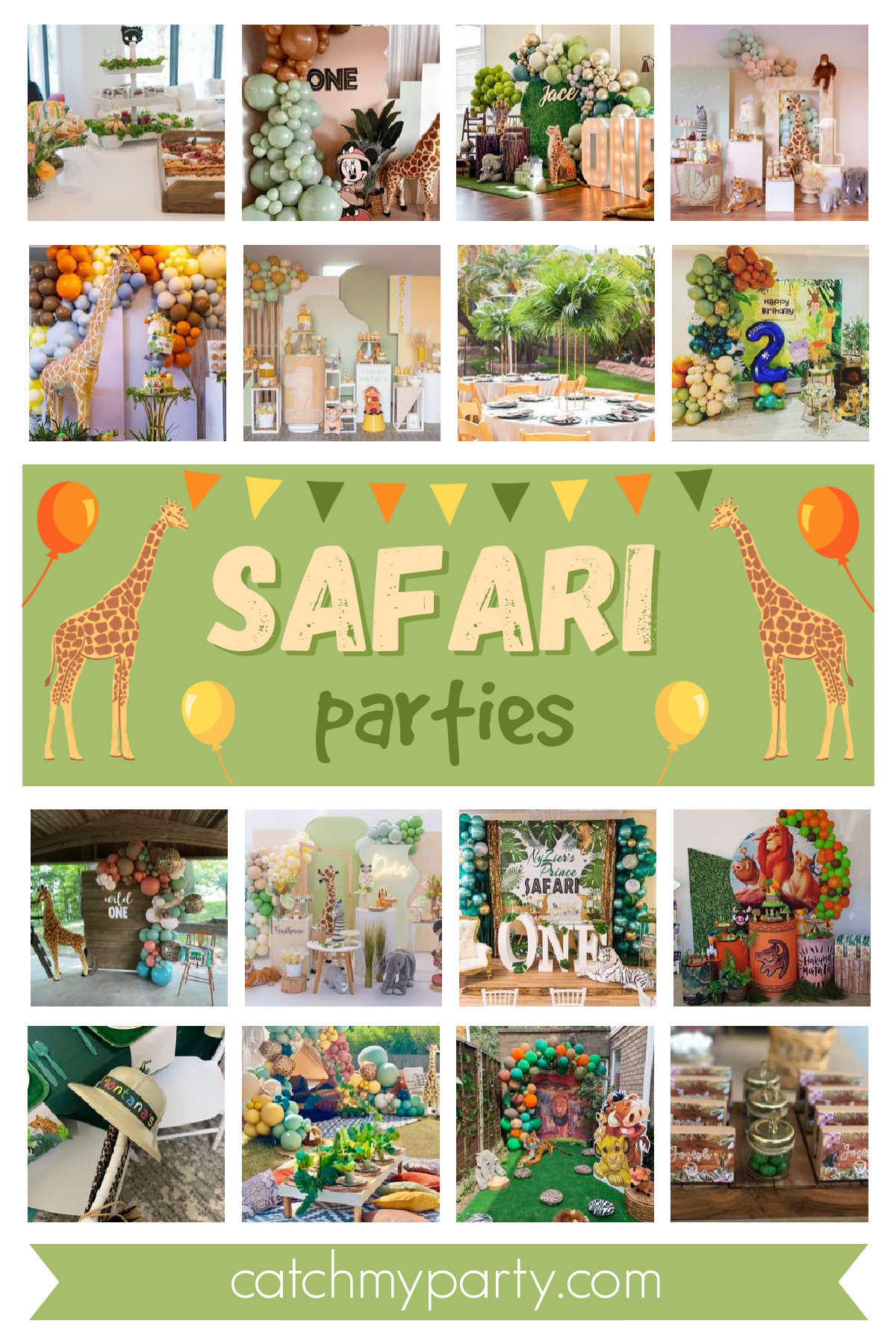 Younger boys love watching Paw Patrol and keeping up with all the pup's adventures with their friend Ryder.
First, take a look at all the Paw Patrol-theme birthday party inspirations we put together to help you plan.
Then check out these inspiring Paw Patrol cakes from real parties on our site.
Browse real Paw Patrol parties here.
Party Tip: Create a Paw Patrol Rescue Mission where you set up an obstacle course that includes challenges like crawling through tunnels, jumping over hurdles, and retrieving objects. Each child can takes a turn and is rewarded with a Paw Patrol badge or sticker.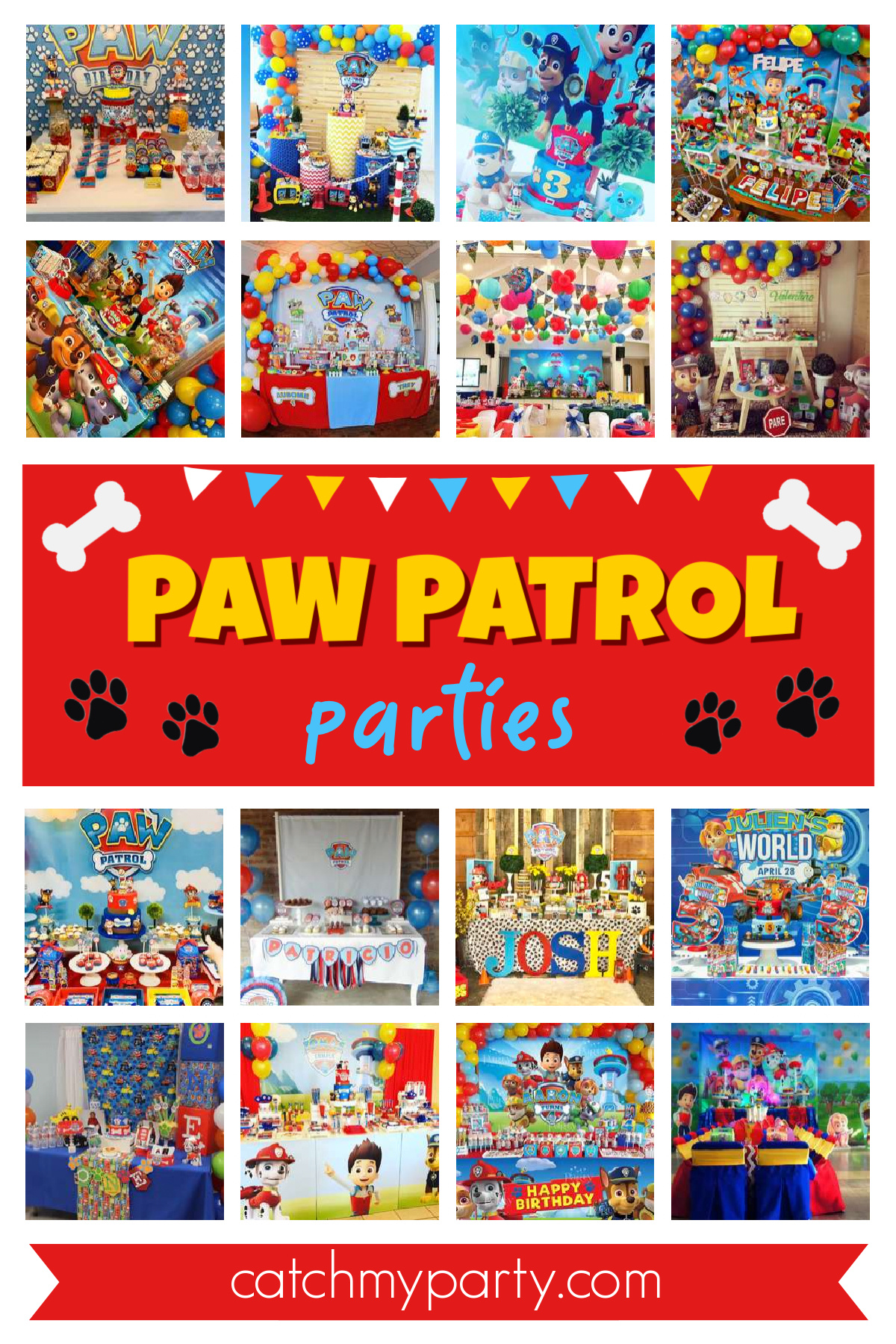 If you are looking for an exciting and adventurous theme to capture your kids' imagination what about throwing them a pirate-themed party? We have a bunch of fantastic pirate party ideas that you won't want to miss!
It's a great opportunity for kids to dress up and pretend to be on a treasure hunt or walk the plank.
Decorate with pirate-themed props, such as treasure maps, skulls, and swords, and serve pirate-themed snacks and drinks.
Party Tip: Use pirate-themed party decorations such as skull and crossbones flags, treasure chests, and nautical ropes to create a pirate vibe.
Browse real pirate parties here.
Free Pirate Party Printables
Download our FREE pirate party printables and use them to decorate your party.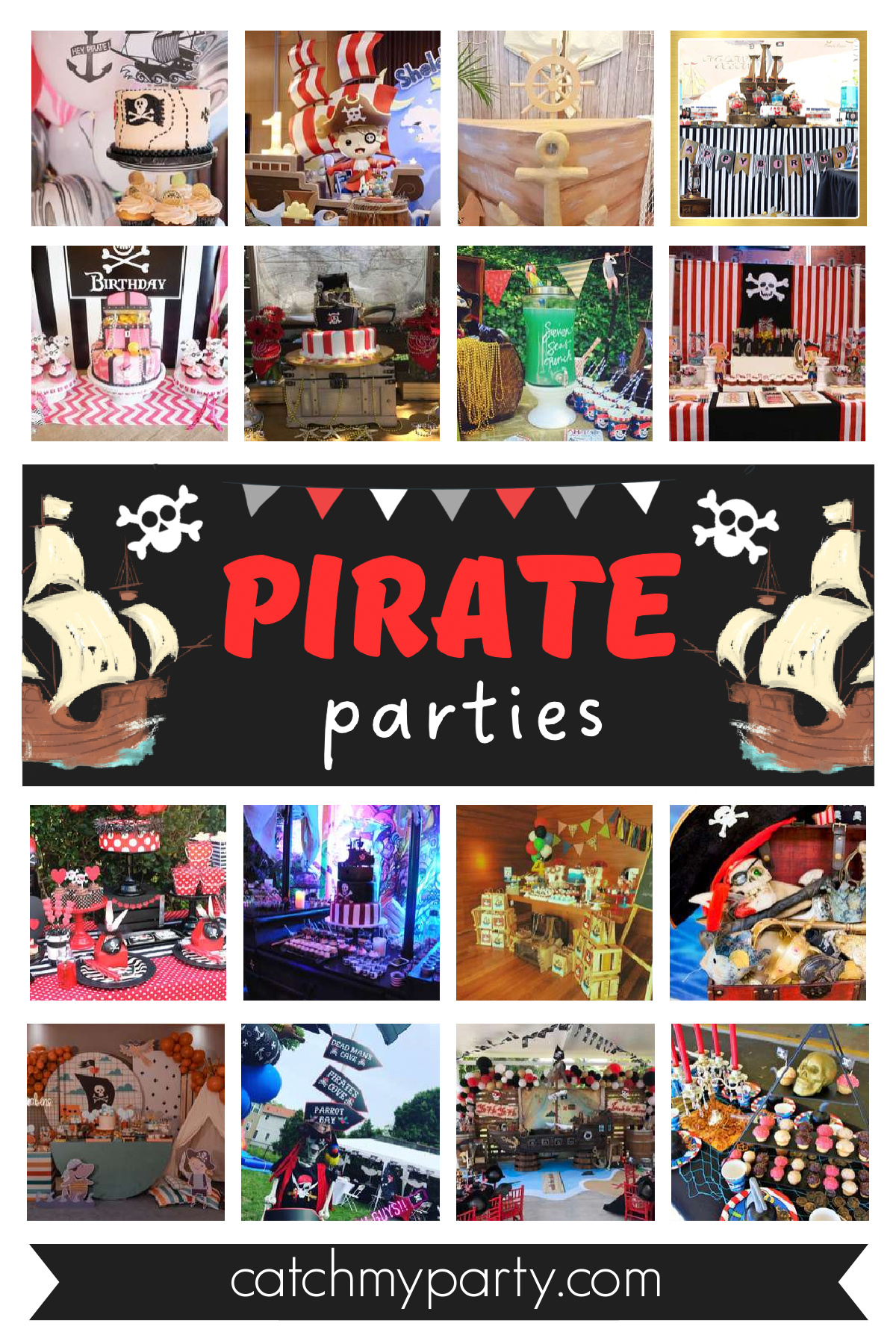 To infinity and beyond!
There's not a child that hasn't watched Toy Story in awe with just the idea of their toys coming to life just like in the movie.
So treat your little boy and his friends to a special day with Woody and Buzz with a Toy Story-themed birthday party, full of wonderful Toy Story party ideas that we've collected from real parties on our site!
Party Tip: Encourage your guests to come dressed as their favorite Toy Story character or create a dressing-up space with cowboy hats, bandanas, or space helmets.
Browse real Toy Story parties here.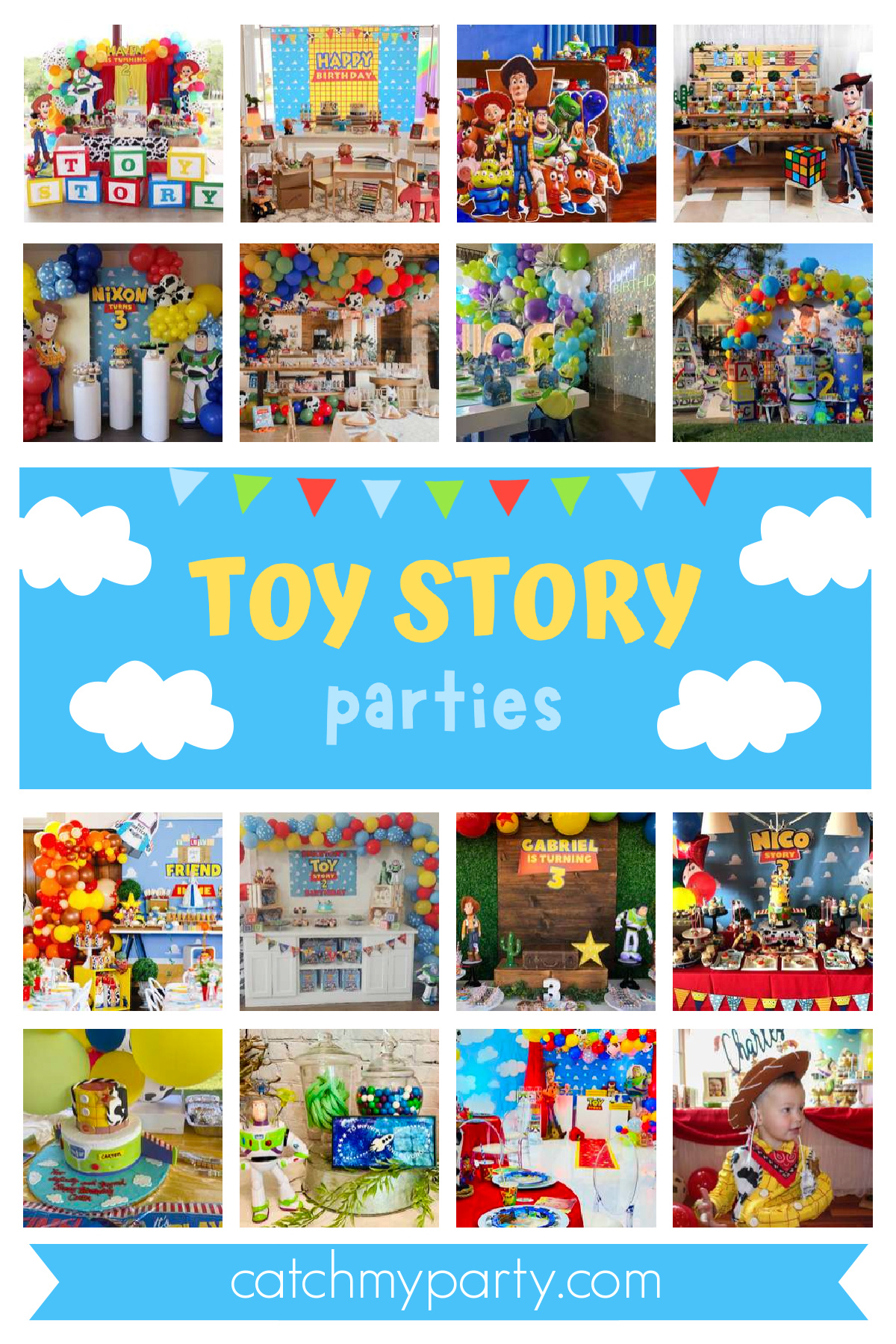 With space travel becoming ever more a reality, space-themed parties continue to be a hot trend for any would-be astronaut.
There's nothing better than looking up at the stars and imagining your up there among them, looking down at planet earth.
Treat your son to an out-of-this-world party he'll never forget!
Party Tip: Have your guests dress up in space-themed outfits, such as astronaut suits, alien costumes, or futuristic clothing.
Browse real space parties here.
Free Space Party Printables
And download our free outer space party printables to make your party blast off!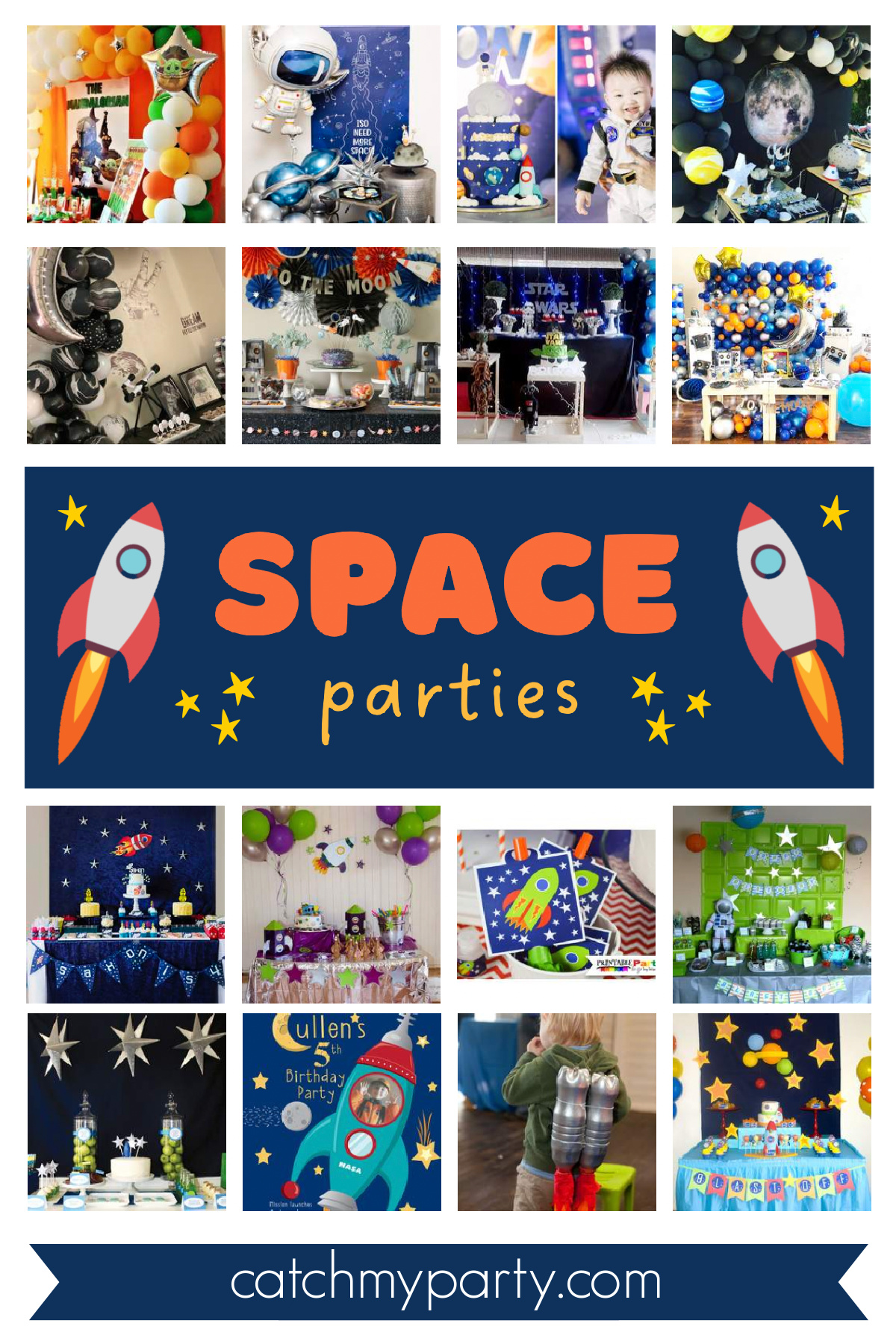 Lightning McQueen is a huge hit with fans of the Pixar movie 'Cars'.
The movie is so cool and the characters are so lovable, that you can bet kids would go wild at the idea of a party in Radiator Springs.
Rev your engines and hit the gas, this is a party your son is going to love!
For inspiration check out all these incredible Cars party ideas we've put together from our best parties.
Party Tip: Set up a mini racetrack using toy cars.
Browse real Disney Cars parties here.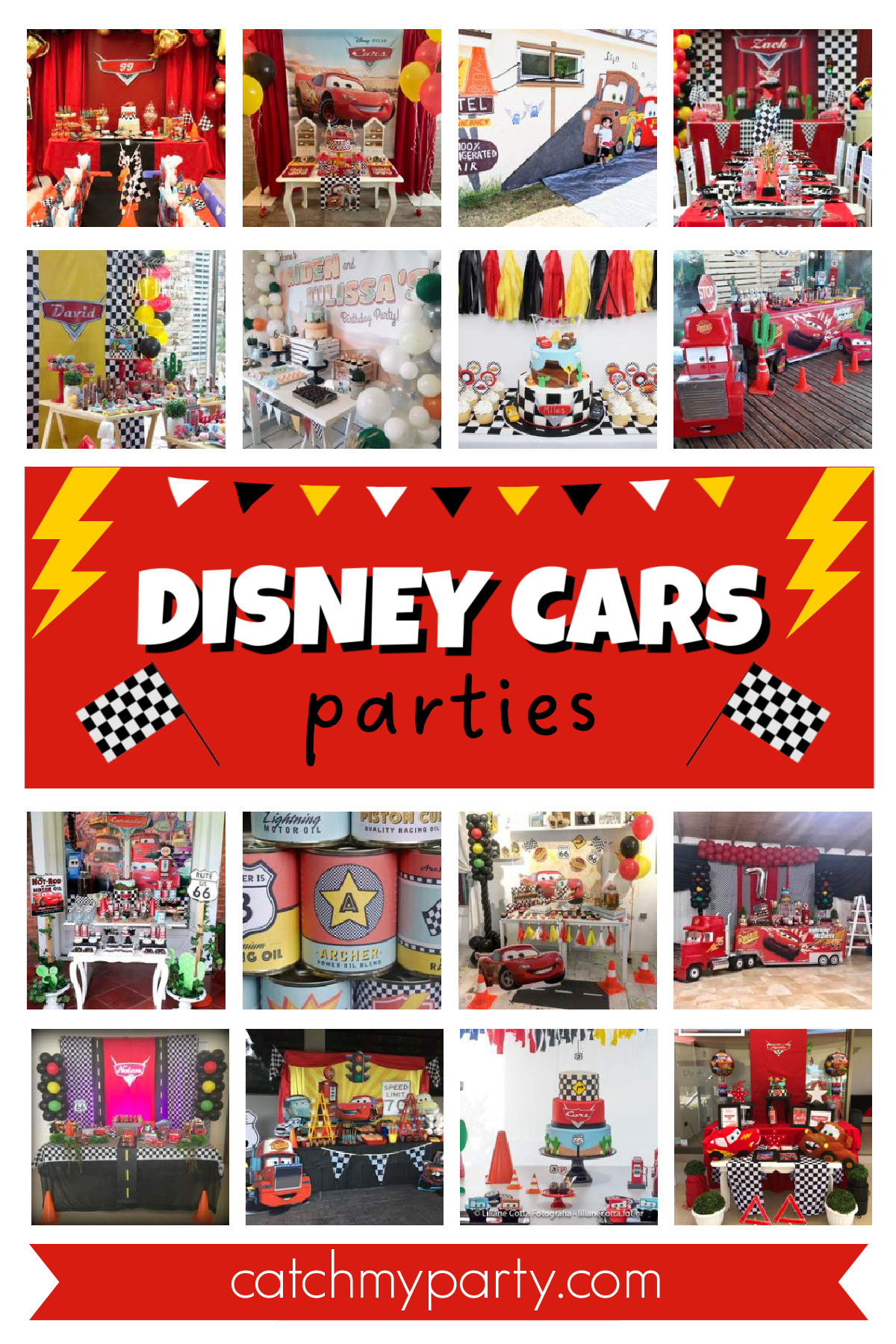 Superhero parties are really popular in general but if you have a Spider-Man wanna-be a home how about throwing a Spider-Man-themed party instead?
Spider-Man is a web-slinging superhero that kids love to watch jumping off buildings and saving the day.
I'd bet a Spider-Man party would be a great choice and a bunch of fun.
Party Tip: Serve some Spider-man snacks such as cupcakes with spider webs or some spider-man cookies
Browse real Spider-Man parties here.
Free Spider-Man Party Printables
Blow everyone away with these amazing FREE Spider-Man party printables.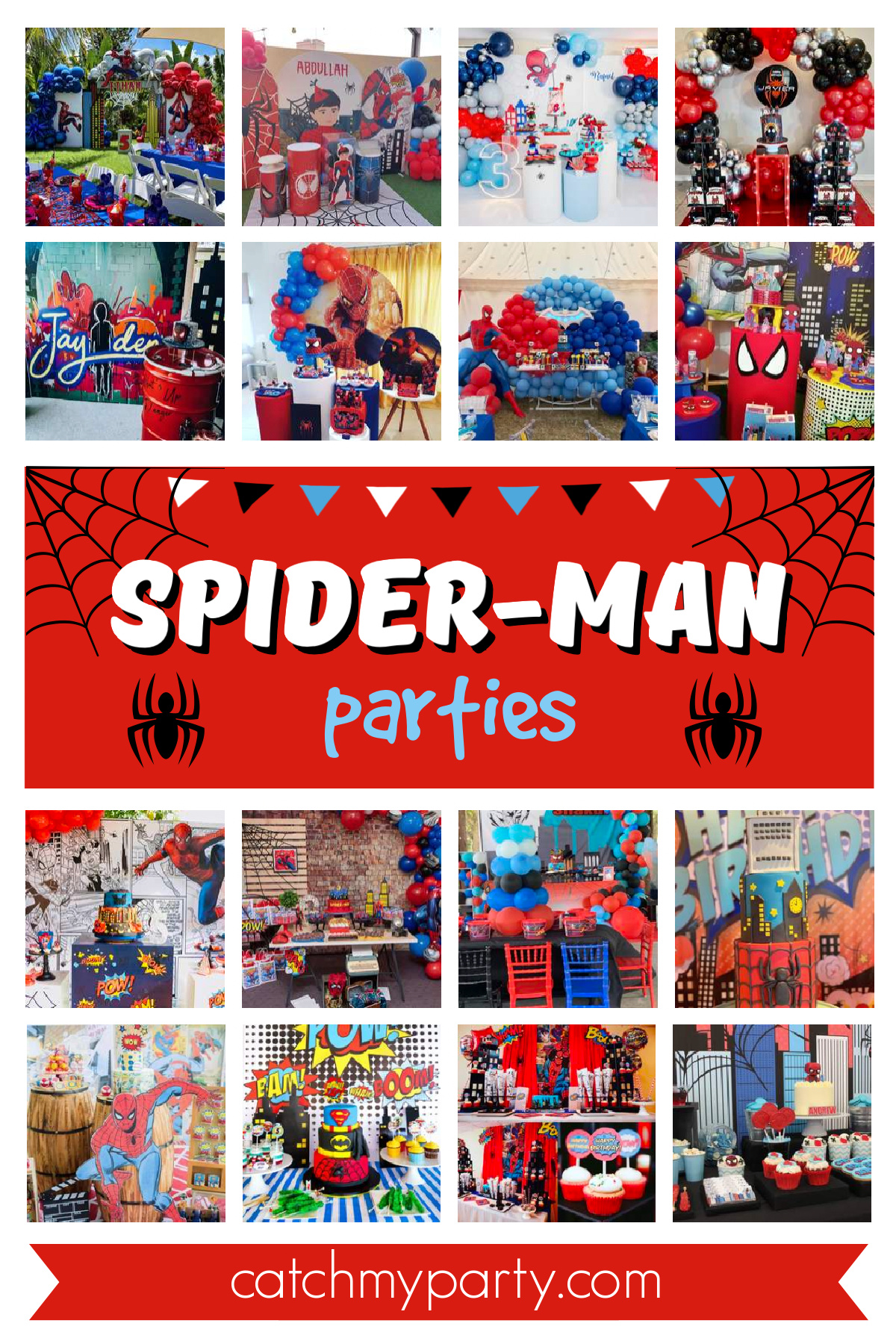 Woodland parties are a huge trend on our website. Both girls and boys can't get enough of them.
There is something magical about a party full of adorable woodland animals such as deer, foxes, and bears.
You really can't go wrong with this party theme, it's a guaranteed hit for 2023.
For great ideas don't miss all the must-see woodland party ideas we have taken from our best parties.
Party Tip: You may want to consider throwing your party in park, forest or any other outdoor space that has plenty of trees, bushes, and foliage to create a woodland atmosphere.
Browse real woodland parties here.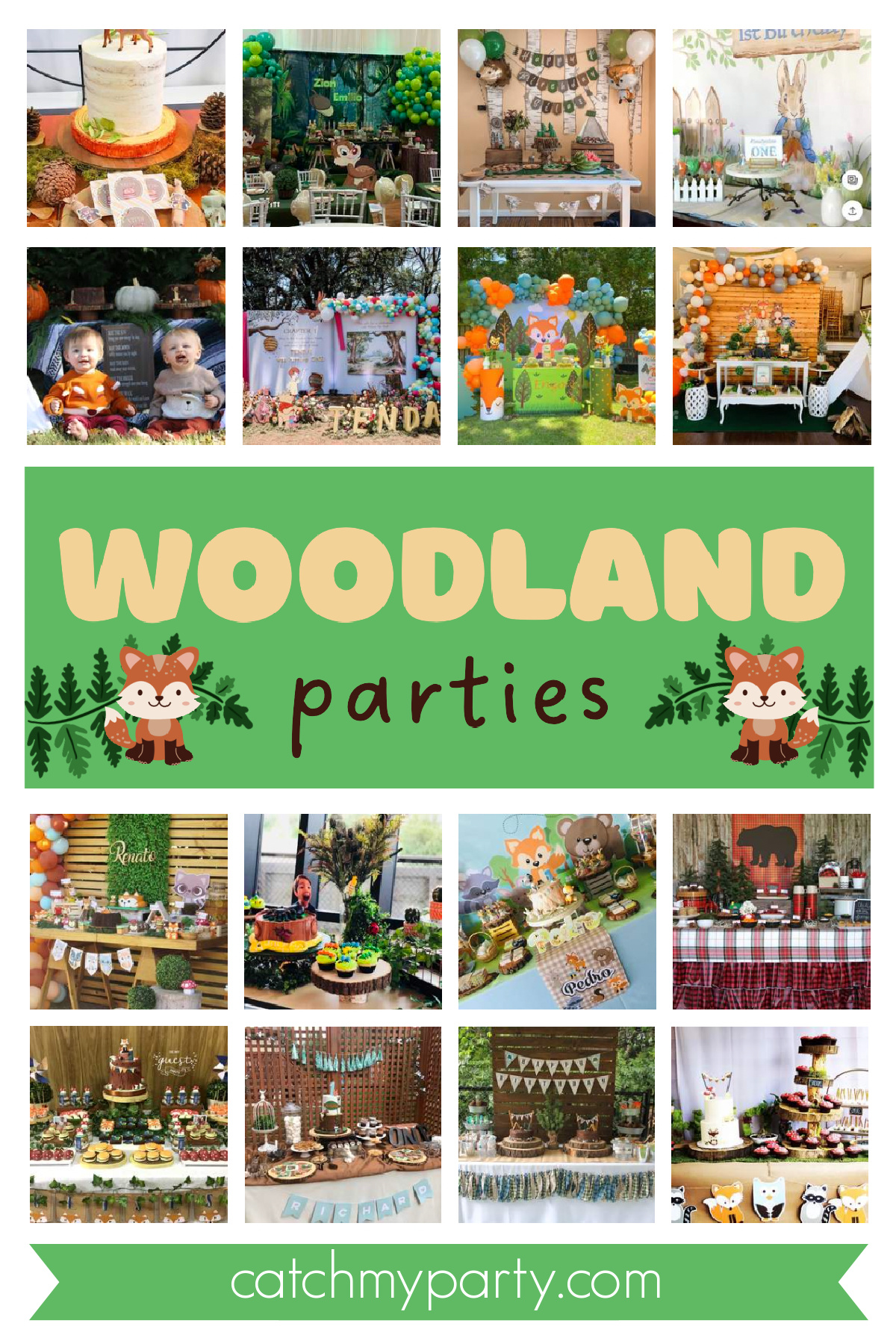 Just like with safari parties, kids can't seem to resist adorable farm animals, making farm-themed parties a trend that just keeps growing and growing.
If the first half of 2023 is anything to go by, you can bet farm-themed parties are going to be just as big during the second half!
Party Tip: Set up a farm animal petting area for kids to interact with chickens, ducks, or rabbits.
Browse real farm parties here.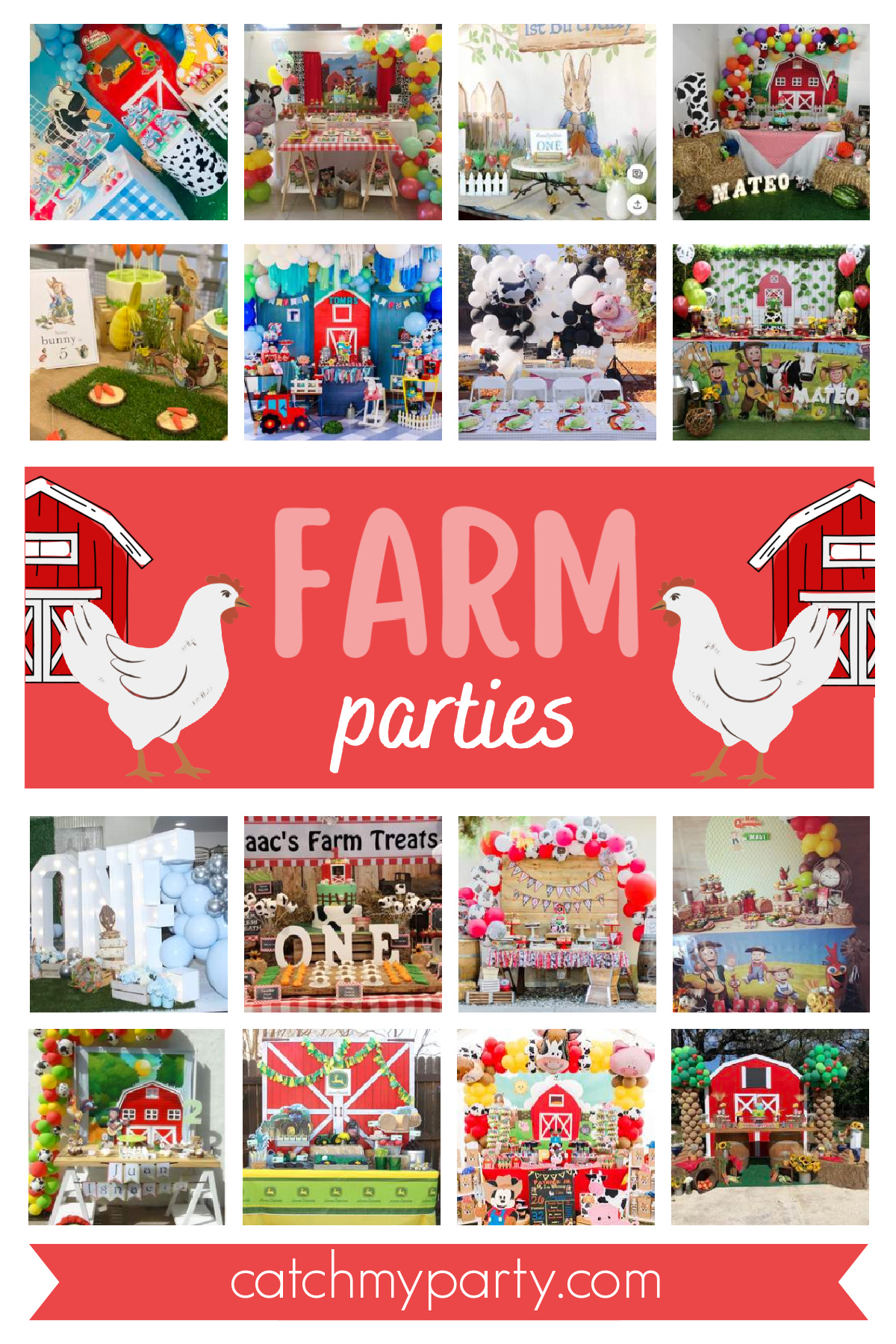 After the release of the live-action Lion King movie a couple of years ago, we've seen a massive rise in Lion King parties.
Safari parties are so popular and this spin-off theme is perfect if your child loves the movie and is into lions.
Party Tip: Treat everyone to a screening of the Lion King in your living room or backyard. Make sure you have enough seating, and that the screen is positioned in a way that everyone can see it. Serve lots of popcorn, candy and soda, so your guests will feel like they are at the actual movies.
Browse real Lion King parties here.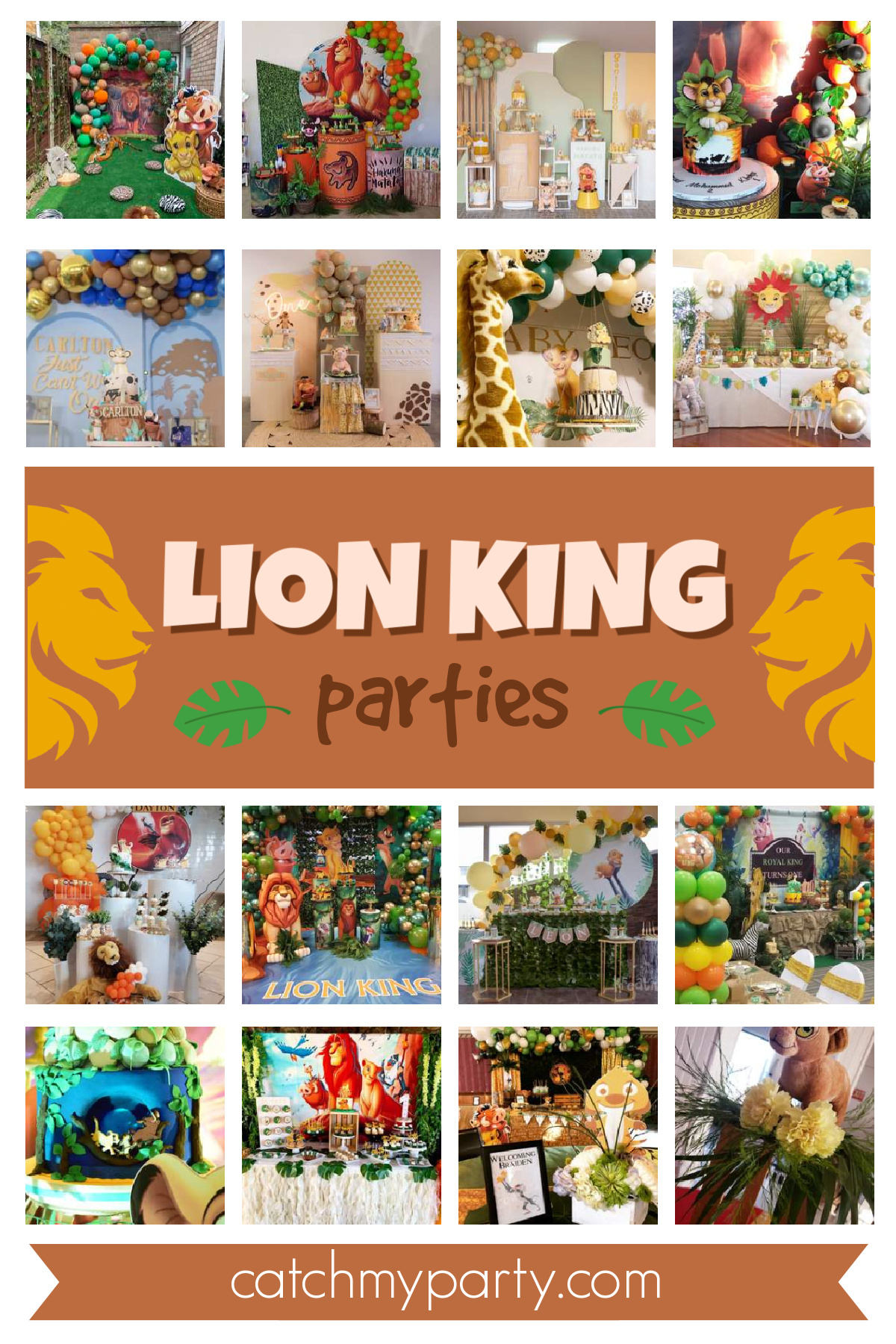 If your son is into cars and speed then a car-themed party is a perfect choice and so on-trend right now.
Young boys can spend hours playing with their toy cars so how about making the most of the theme and throwing a car birthday?
Party Tip: Send your guests home with fun party favors that match the car theme, such as toy cars, racecar driver hats, or personalized license plates.
Browse real car parties here.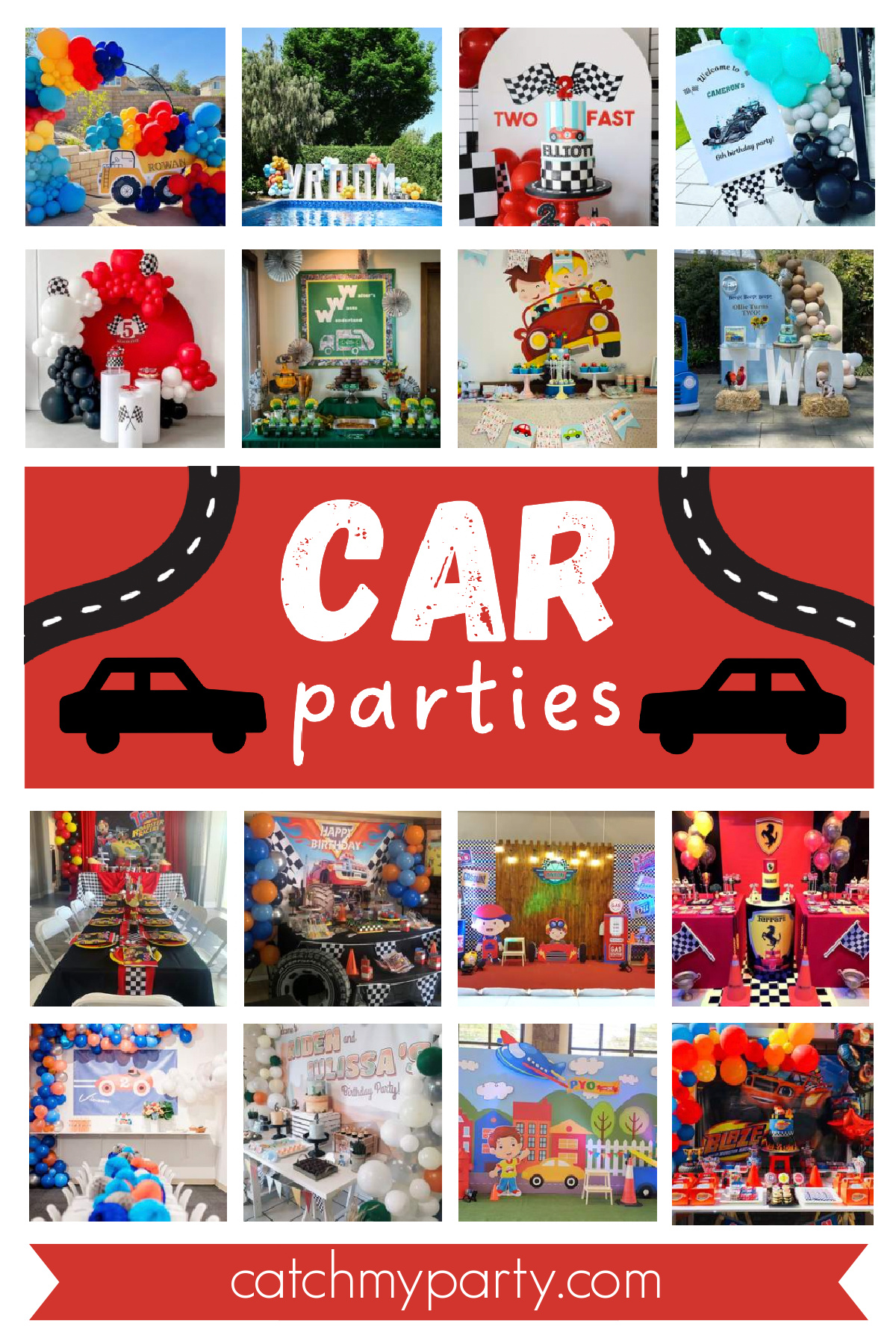 Winnie the Pooh is a classic all-time favorite in everyone's life, who seems to have been around forever and is a big part of everyone's childhood.
If you have a little boy who can't get enough of Pooh Bears' adventures with his friends in Hundred Acre Woods, then you really can't go wrong with a Winnie the Pooh party.
Party Tip: Winnie the Pooh loves honey, so you could try incorporating some honey pots into your party decorations.
Browse real Winnie the Pooh parties here.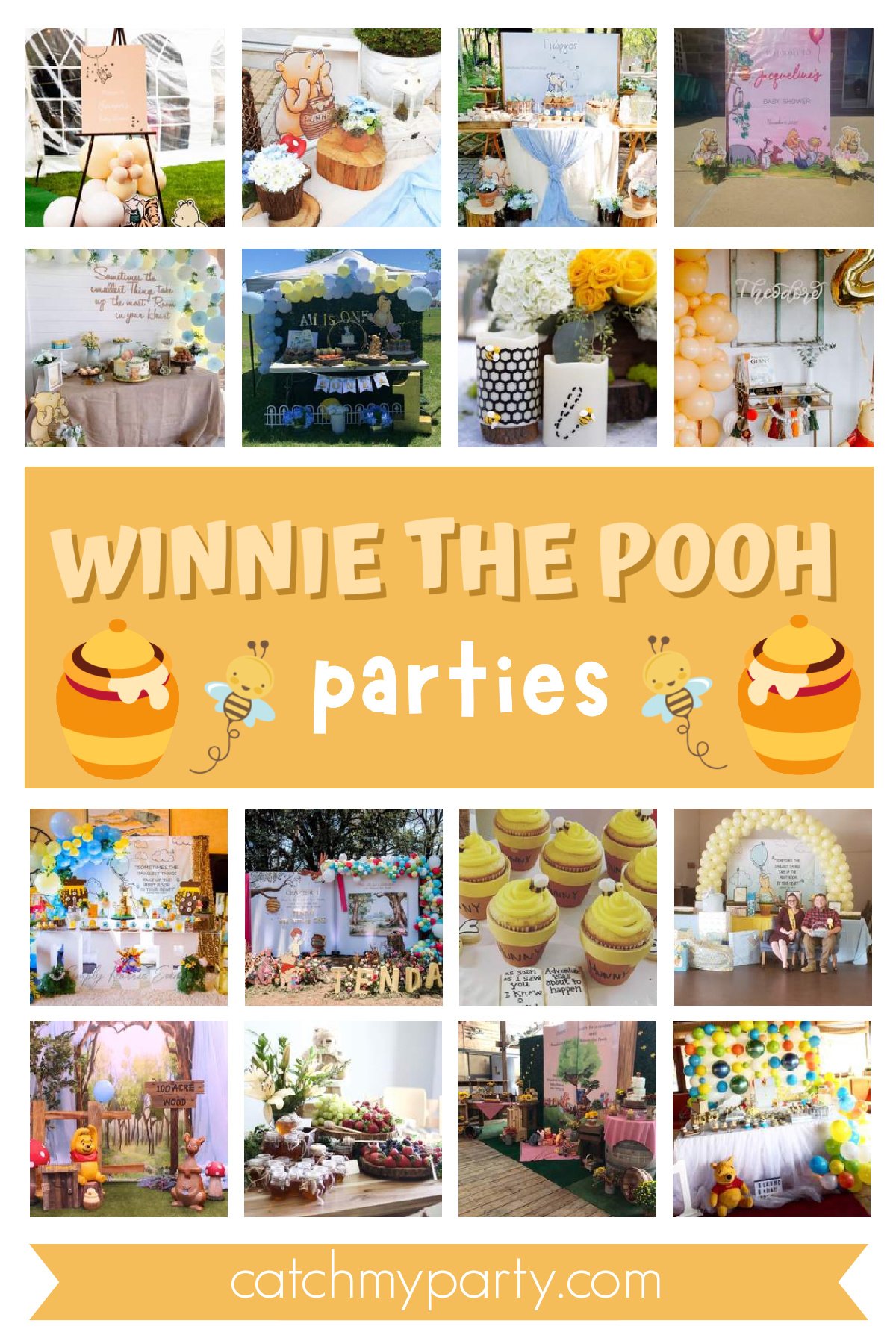 Sesame Street parties filled with bright colors, ABC's and 123's are sure to delight all young boys out there that love the characters and everything about the show.
As with other classic themes, that continue to be popular year after year, Sesame Street is one of those themes that will be around as long as kids continue to be fans.
Party Tip: Plan some Sesame Street-themed party activities, such as "Pin the Nose on Elmo", or a cookie decorating station inspired by Cookie Monster.
Browse real Sesame Street parties here.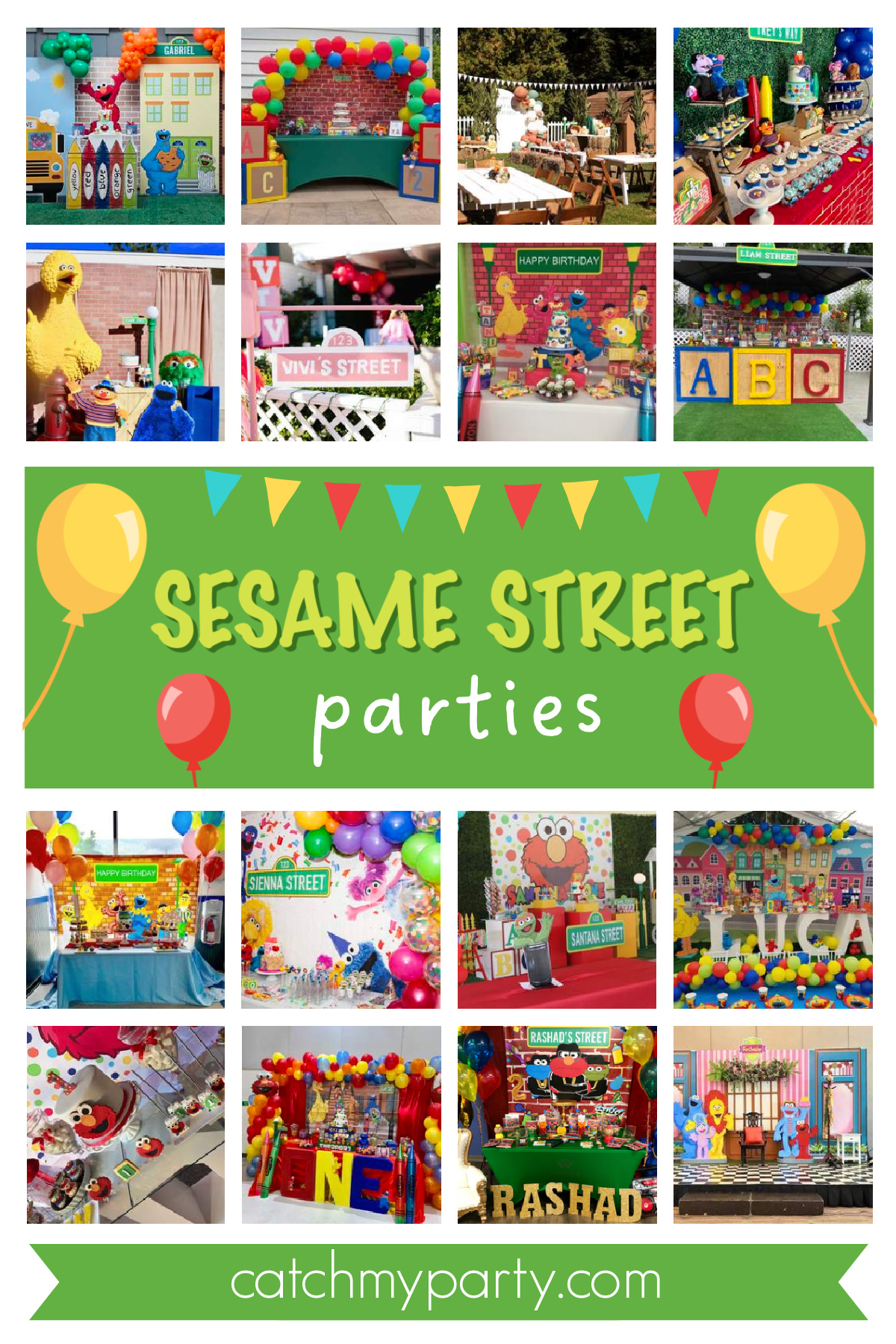 Beatrix Potter's collection of books are a classic and Peter Rabbit is the most popular of her characters.
Over the past couple of years, Peter Rabbit parties have become really popular. With the release of the new movie, I'm sure the theme will continue to be a hit throughout 2023.
Party Tip: Set up a garden-themed photo booth with props like bunny ears and gardening tools, and send your guests home with their very own copy of the Peter Rabbit book by Beatrix Potter.
Browse real Peter Rabbit parties here.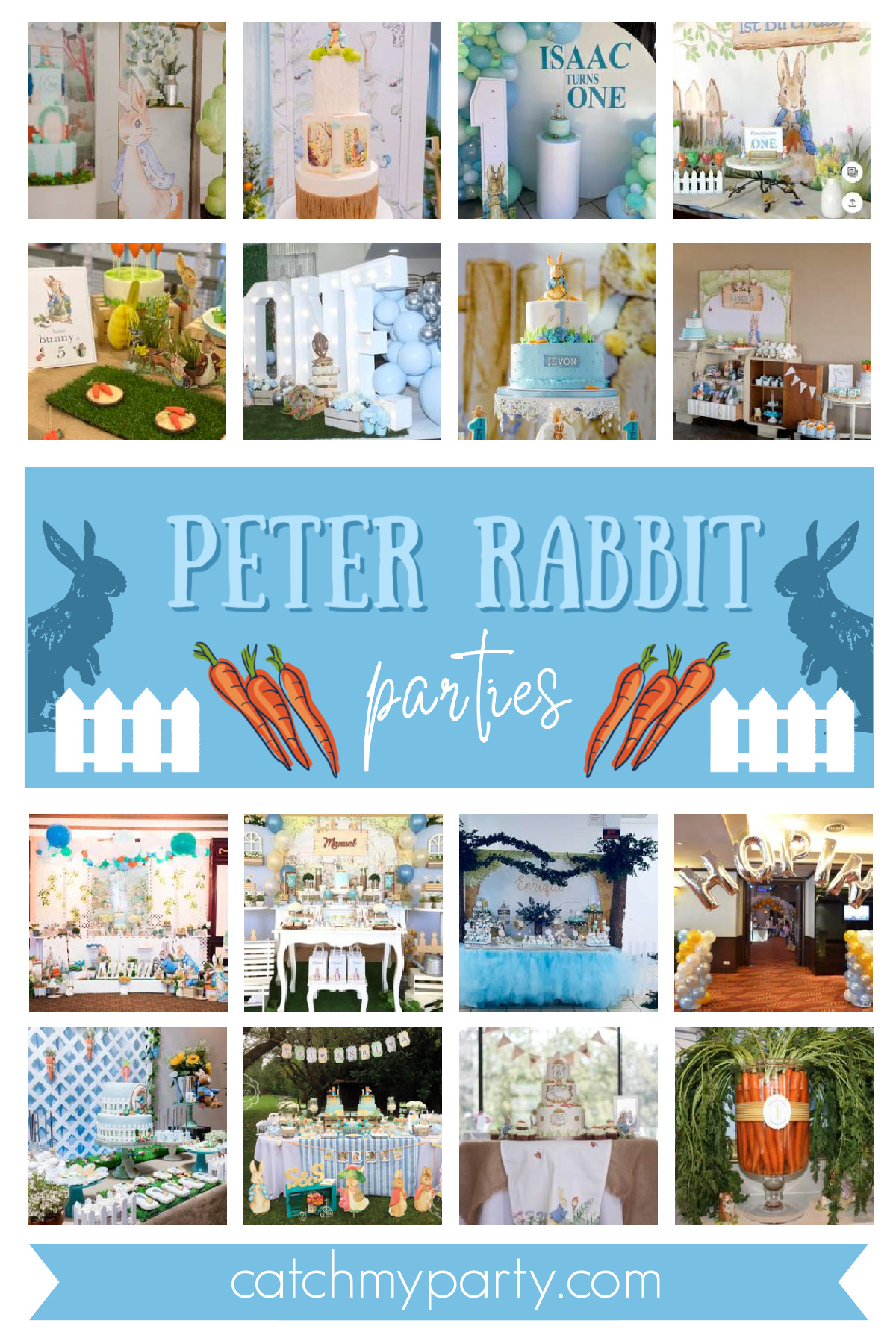 So many kids out there are obsessed with trains and railways, so if you have one of these at home, you can bet a train-themed party is gonna make his day.
Treat him to an unforgettable birthday that he's going to love to share with his friends.
Party Tip: Plan some train-themed activities, such as a train ride around the party area on a small train or a train-themed scavenger hunt.
Browse real Train parties here.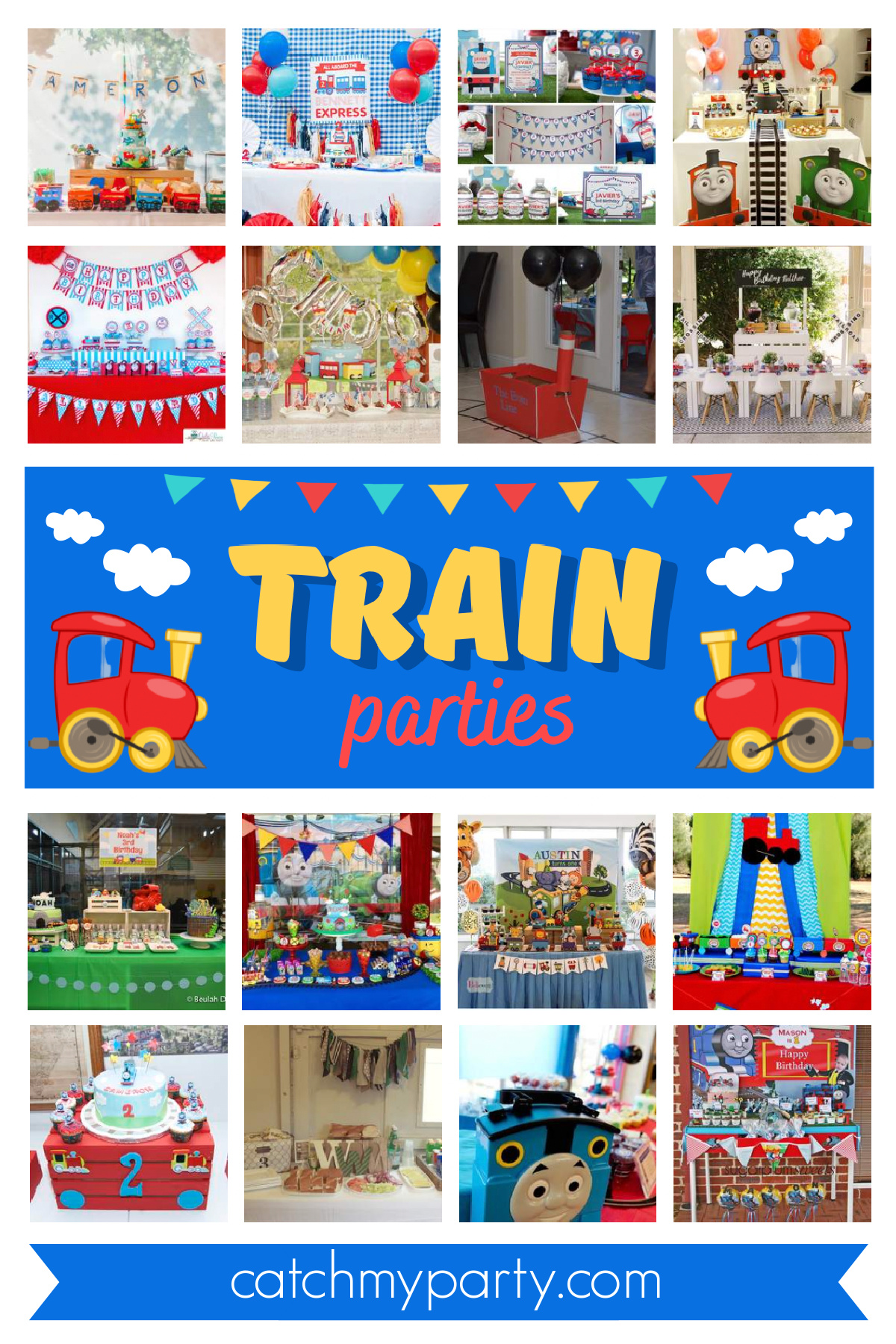 Sore to new heights in 2023 with an airplane-themed party.
As with car and train-themed birthdays, airplane parties are also a big hit with kids that dream of flying away.
Party Tip: Create a craft station where kids can make and decorate their own paper airplanes.
Browse real airplane parties here.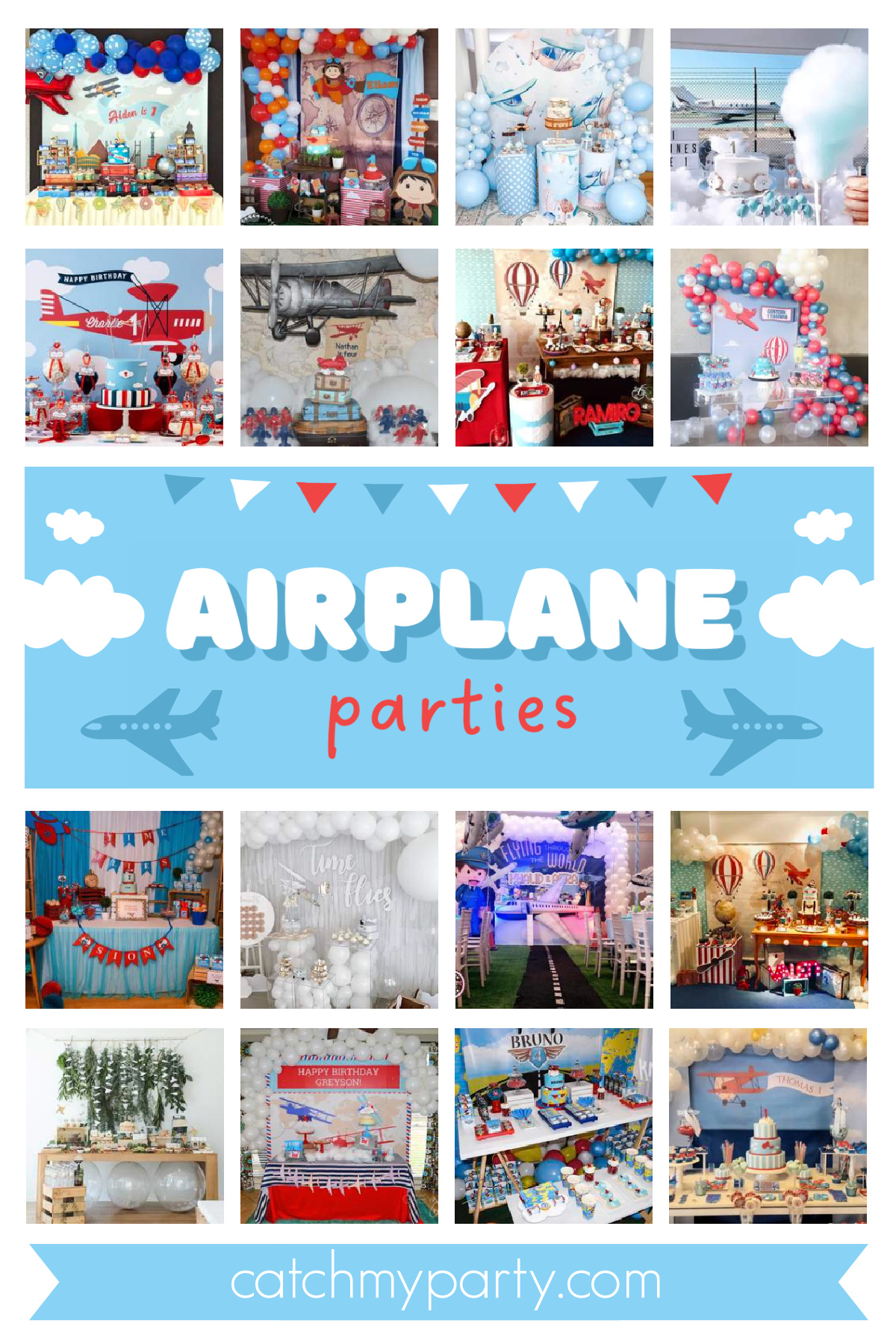 How do I choose the perfect boy birthday party theme of my child?
Consider your child's interests, and ask yourself what they enjoy doing, what their favorite TV shows, movies, or video games are, and what activities they like to participate in.
Make sure the theme is age-appropriate. Younger kids enjoy themes like dinosaurs, superheroes, or animals, while older ones prefer themes like sports, music, or video games.
Take into consideration your budget, location, and season when planning your party.
Tips for throwing a memorable birthday party for a boy
Start planning your party about a month in advance so you have plenty of time to organize and prepare.
Get creative with your decorations by using balloons, streamers, banners, etc… to help create a fun and festive atmosphere.
Treat your guests to fun games and activities, such as a scavenger hunt, a piñata, relay races, and a bouncy castle,.
Be sure to have a backup plan in case there are any unexpected changes in the weather.
Send the guests home with a small party favor, like a goodie bag filled with candy and small toys. It's a lovely way to thank everyone for coming.
How many kids should I invite?
It depends on a number of different factors, such as the age of the child, Under 5 years old: 4-6 kids, between 6-10 years old: 8-12 kids, and over 10 years old: up to 15 kids.
Also, take into consideration the size of your venue and your budget.
How long should a boy birthday party last?
A party for a toddler should last 1-2 hours, while a party for an older child could be 2-3 hours.
Make sure you provide enough time for your guests to arrive, play games or do activities, enjoy snacks and cake, and open the presents.
When should I send out party invitations?
Consider sending out your invitations about 4-6 weeks before the party date. If you are throwing your party during a busy time of year (such as the holidays or summer vacation), you may want to send them out even earlier to ensure that everyone can attend.
What food should I serve at a boys birthday party?
Keep the party food simple and kid-friendly by serving food such as pizza, hot dogs, popcorn, and cupcakes. Keep in consideration any allergies or dietary restrictions your guests may have.
For more party inspiration, check out all our amazing real birthday parties for boys added to our site!
Need more boy birthday party ideas?