If you are thinking of throwing a rainbow-themed party and are looking high and low for fabulous rainbow party ideas look no further!
We've got your back with a bunch of best ideas for a rainbow party from CatchMyParty.com.
There's nothing we don't know about a great rainbow party, so sit back, relax and get ready to be inspired…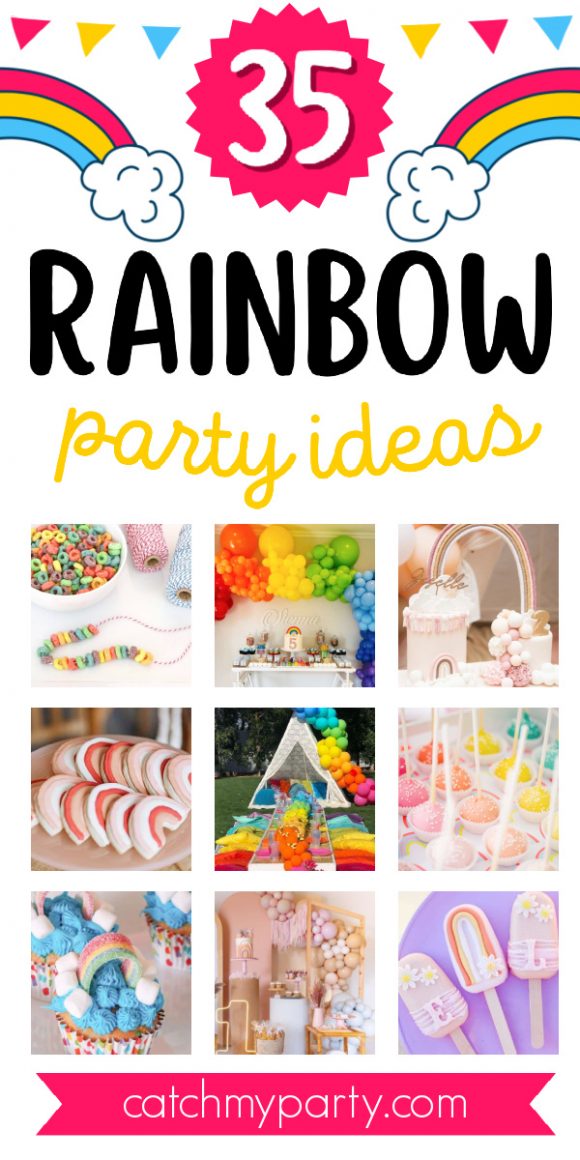 35 Rainbow Party Ideas to Put a Smile on Your Face!
Take a look at the amazing rainbow party ideas we've put together to help inspire you.
Hosting a colorful rainbow-themed party can be so much fun.
Rainbow balloon arches are a huge trend at the moment and really make a dessert table pop!
Feel free to add as much color as you can to make your party bright and cheerful.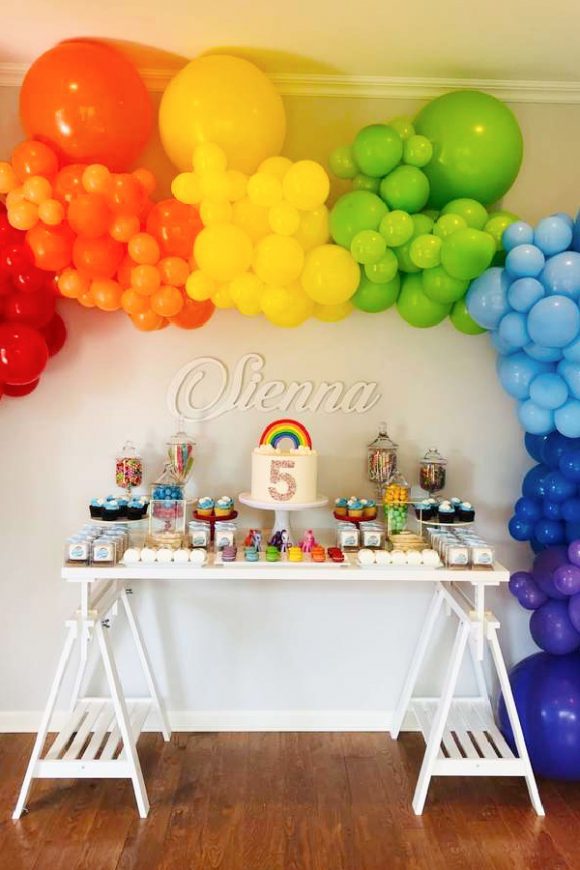 On the other hand, if you'd rather go with something with a more toned-down color scheme how about throwing a boho rainbow birthday party?
Boho rainbow parties are a trend and seem to be popping up all over the place.
Create a beautiful dessert table like the one below and decorate it with boho-inspired party decorations to give your party in more whimsical vibe.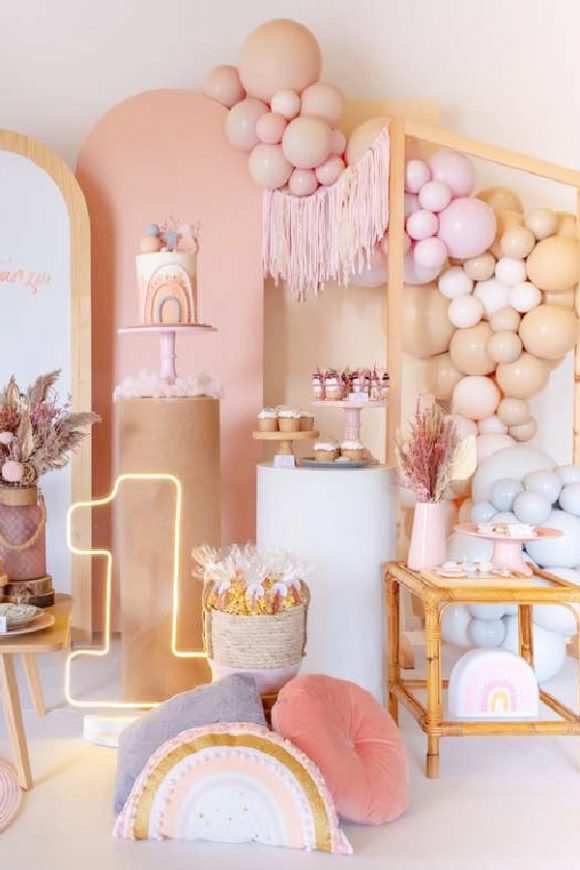 A picnic is another great rainbow party theme and is such a fun idea If you are planning a relaxed outdoor celebration with friends.
Decorate your party with bright colors, especially if you are thinking of having rainbow balloons to decorate your space.
There's something about bold and bright colors that makes everyone instantly feel happier.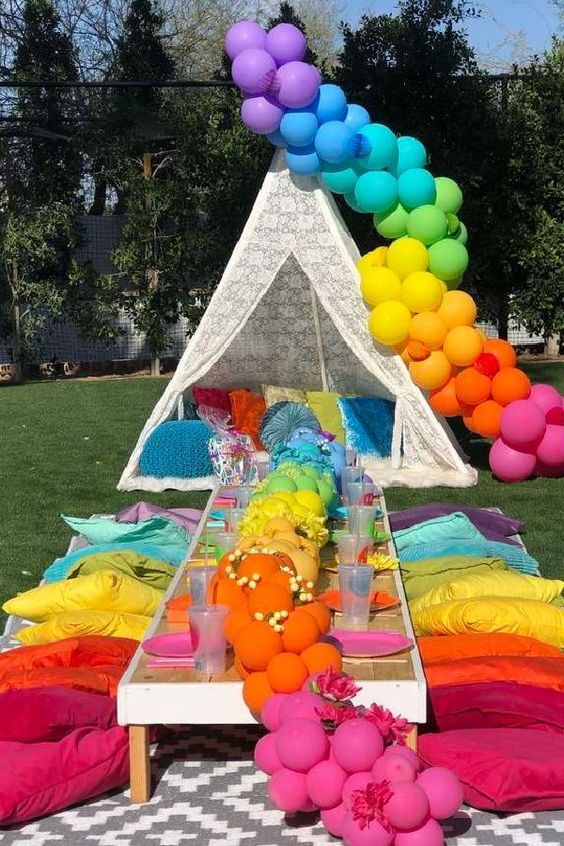 Again, you can another great option for a rainbow birthday theme would be a more subdued boho rainbow picnic party.
Instead of going for bold bright colors you can choose your favorite colors of the rainbow and throw a softer rainbow-themed party.
This would be a great option for a baby shower or even a first birthday party.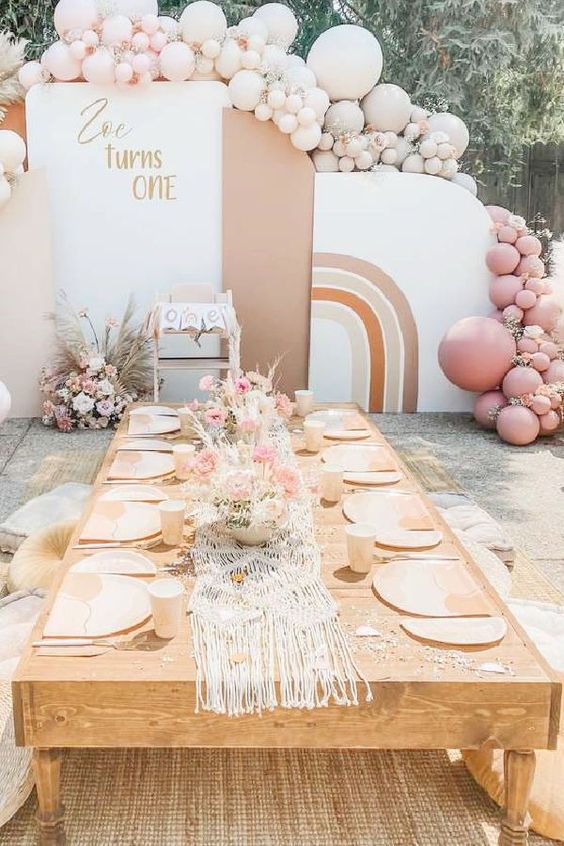 Throwing a kid's party can be hard work, but, extremely rewarding when you see the smiles on their faces.
Another cool rainbow party idea would be to pick a favorite color and use all its different shades instead of going with the full palette of colors.
The balloon arch in the party below, dotted with pretty flowers is so impressive and frames the gorgeous pink table settings.
Add some comfy floor cushion seating and you really can't go wrong.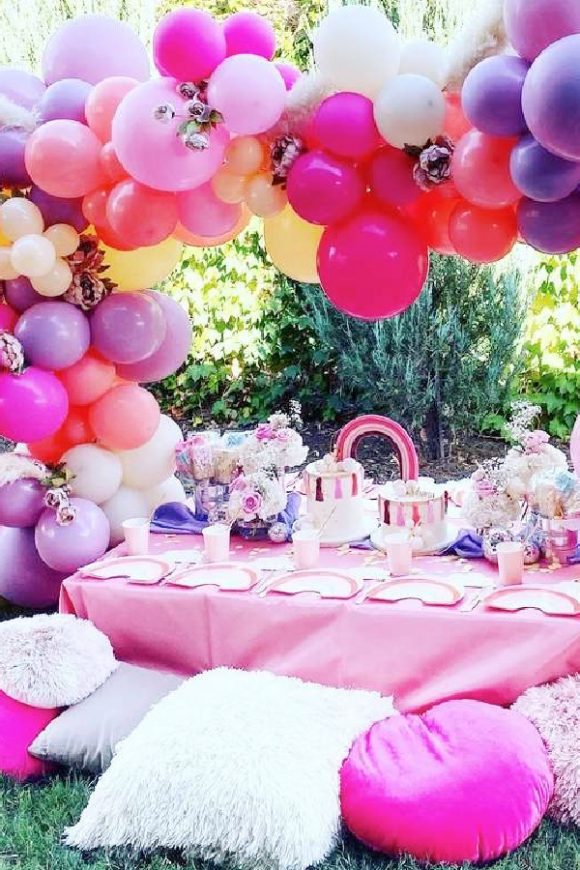 Everyone loves cake so how about frosting yours with various colors to create the ultimate rainbow cake!
It's such a fun party idea and totally makes sense if your party is full of color.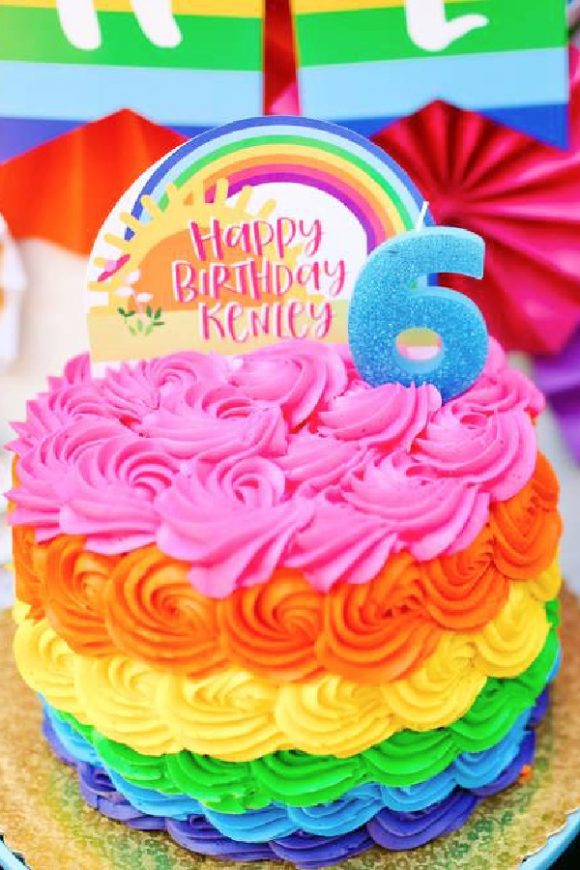 Talking about colorful ideas, how about surprising the birthday girl and all her friends with the perfect rainbow cake that only reveals itself when cut into.
I'm not going to kid you, it's very hard work but if you have the patience, add a little food coloring to various batters and bake a number of different colored cakes.
Then, all you need to do is stack them up on top of each other and cover your layered cake in frosting. Add a fun topper and you're done.
Believe me, your guest will be so impressed!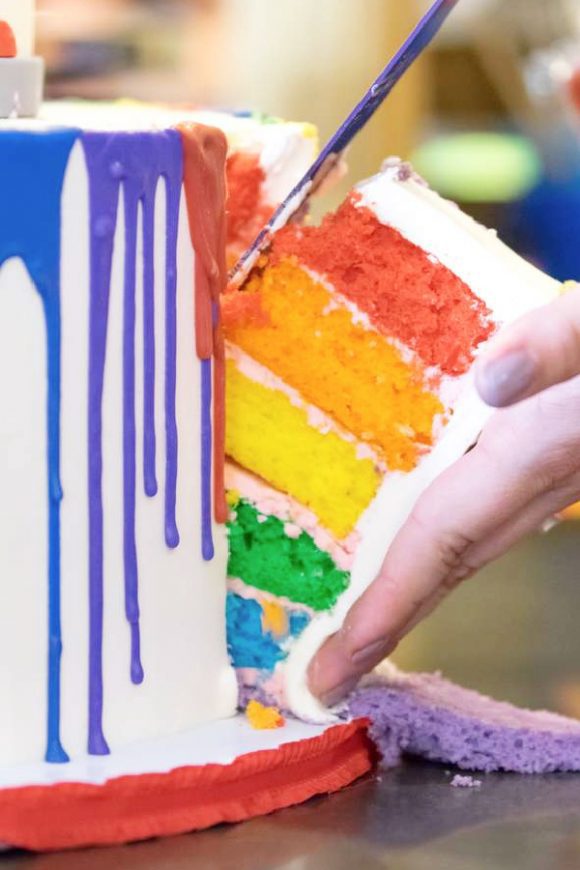 The birthday cake is such an important part of the big day, so make sure it lives up to the occasion by blowing all your guests away and taking center stage on your dessert table.
This double birthday cake, joined by a gorgeous boho rainbow and tassels, is everything a girl could wish for!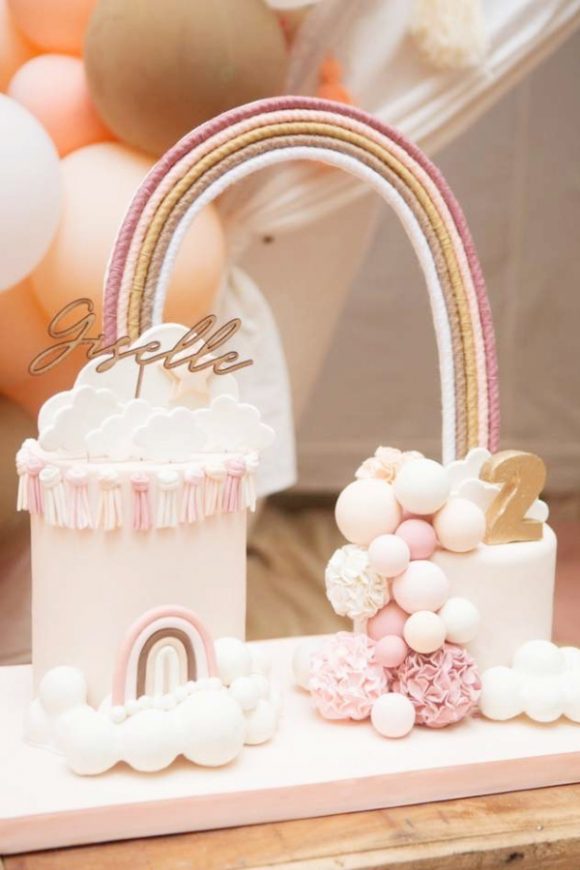 Make your rainbow party table shine with a magical cake like the one below.
Again, two pink cakes are united with a fabulous rainbow cake topper, lovely clouds, and decorated with amazing lettered cookies, colorful sprinkles, and macarons.
It's the perfect rainbow birthday party idea that will leave all your guests speechless.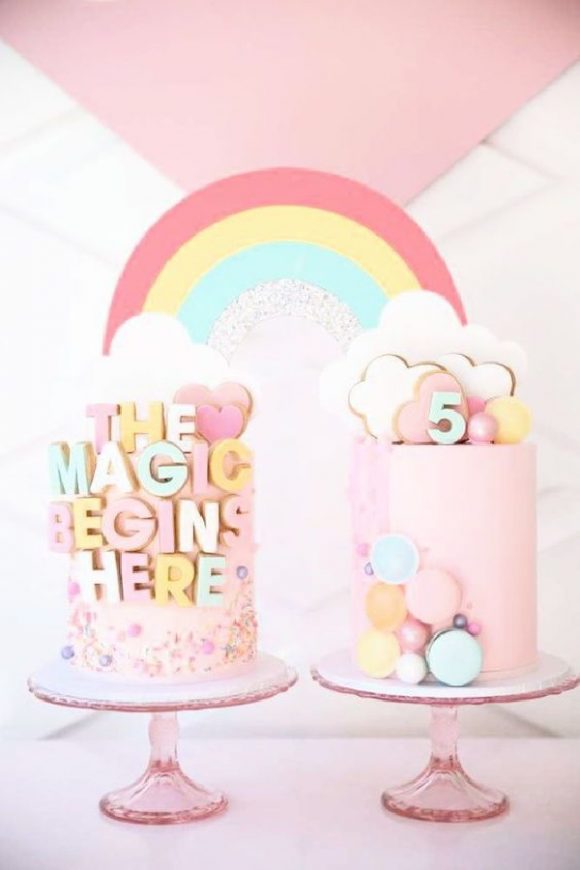 If you are stuck on ideas for a boho rainbow first birthday cake look no further.
This whimsical cake will undoubtedly delight your party guests and is another colorful rainbow party idea that I'm sure they will fall in love with.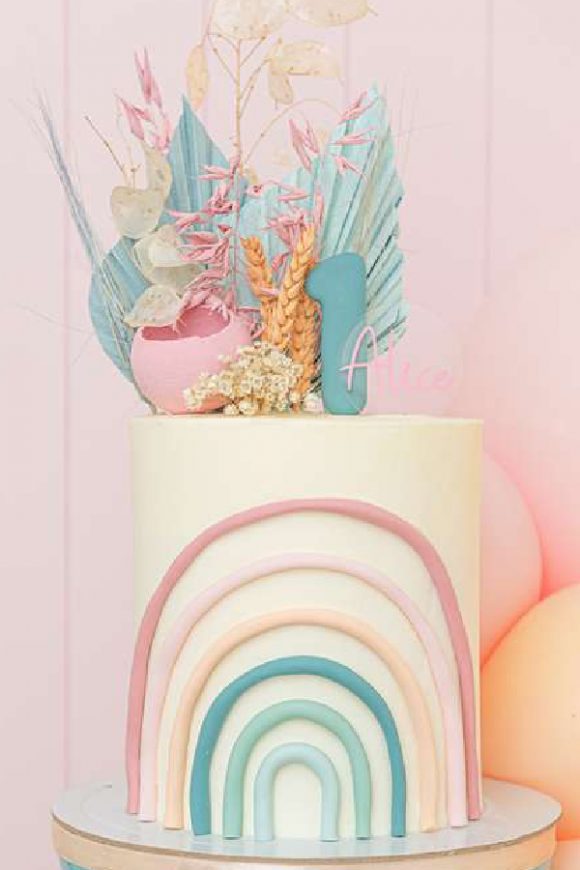 Everyone loves a great cookie and we all know how important they are at a birthday party.
Treat your guests to these cute rainbow cookies. They'll look fantastic on your dessert table and trust me they'll be gone within minutes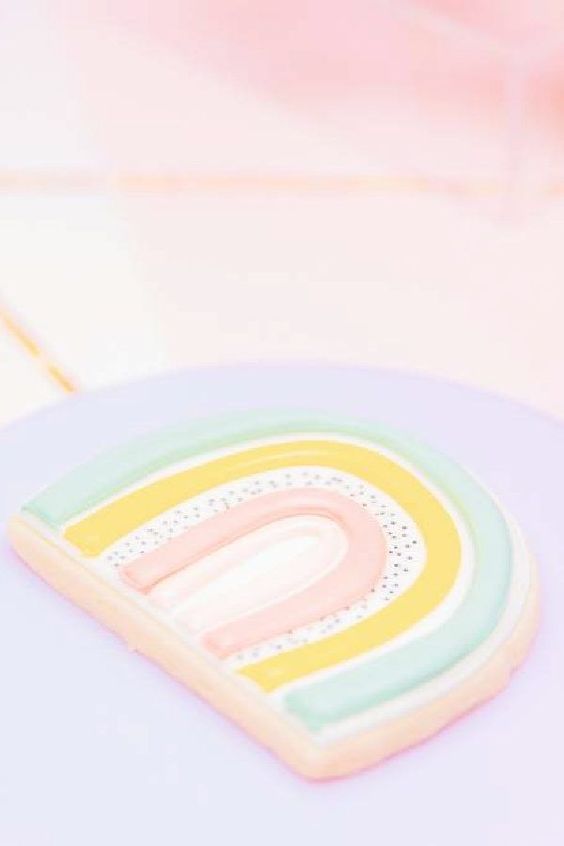 Another party food staple are cupcakes. Who can resist a sweet bite, right?
Sometimes the most simple ideas are those that work the best. Create your own pretty rainbow cupcakes but adding white frosting and a fondant rainbow.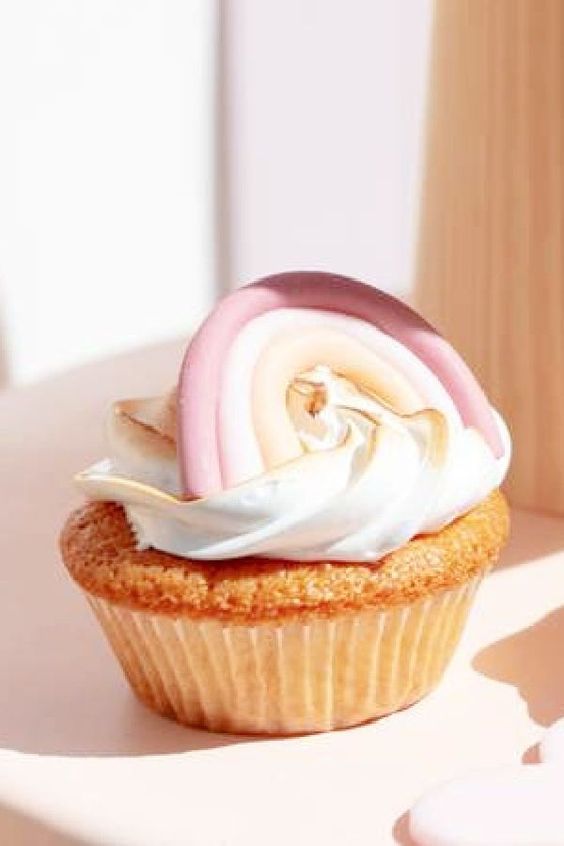 If you are feeling more adventurous then these next ones are just what you're looking for.
Decorate your cupcakes with blue frosting, add some mini marshmallows and a rainbow strip of candy and you've for yourself the best rainbow birthday theme cupcakes!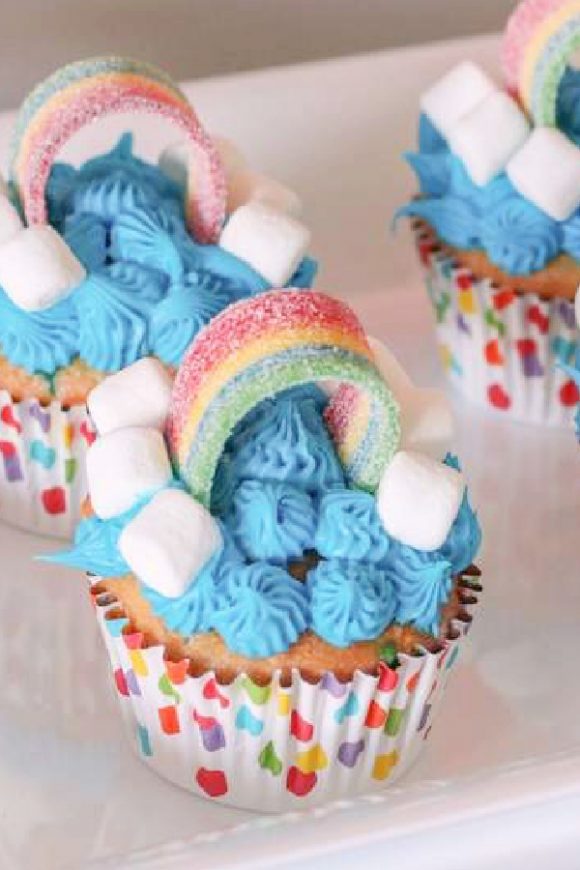 Kids love Krispie Treats and they are a cool alternative to cake pops.
Along with all our other rainbow theme party ideas, we've found these cute Krispie Treats your guests will devour in minutes.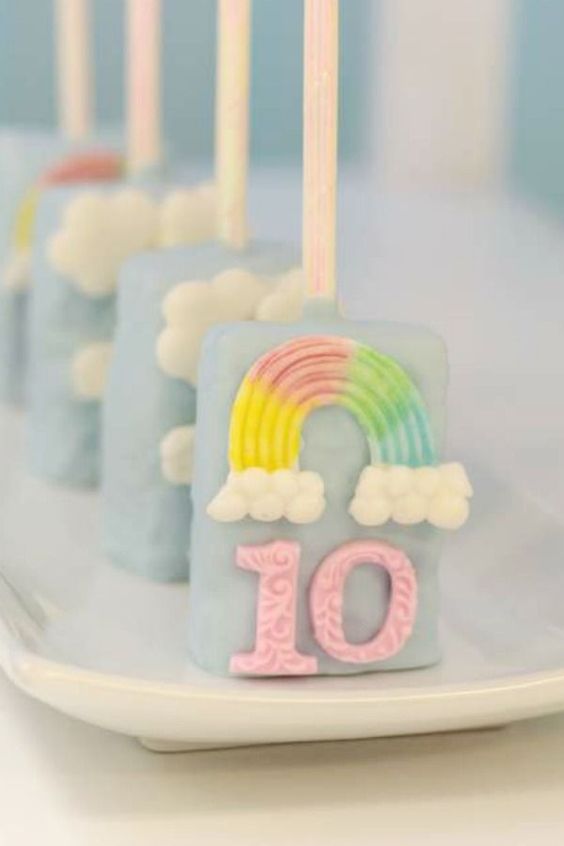 Cake pops are always a big hit at parties and these in gorgeous rainbow colors are guaranteed to do the trick.
Loving the vibrant colors!!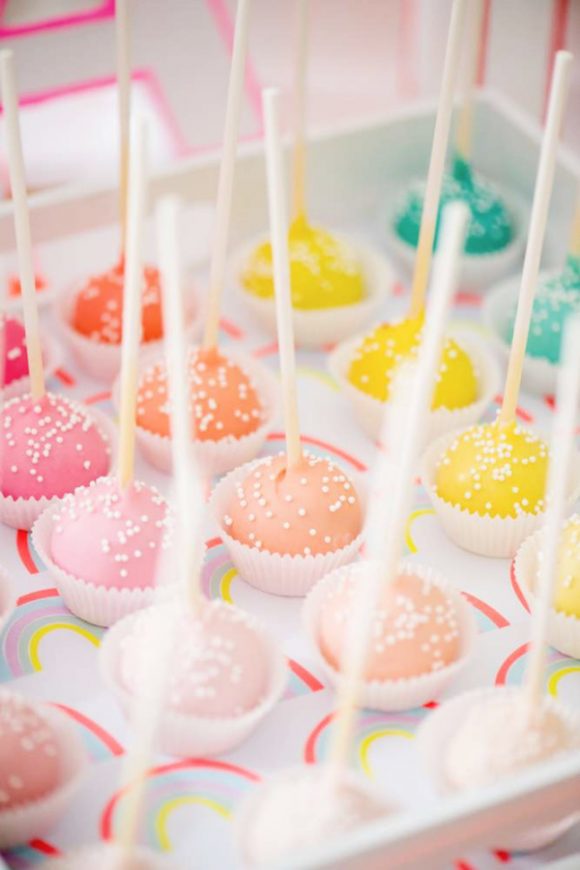 These pastel rainbow cake pops are just as cute and are sure to delight.
All you need to do is decorate each one of your cake pops with a delicate fondant rainbow and you can place them on your rainbow-themed dessert table.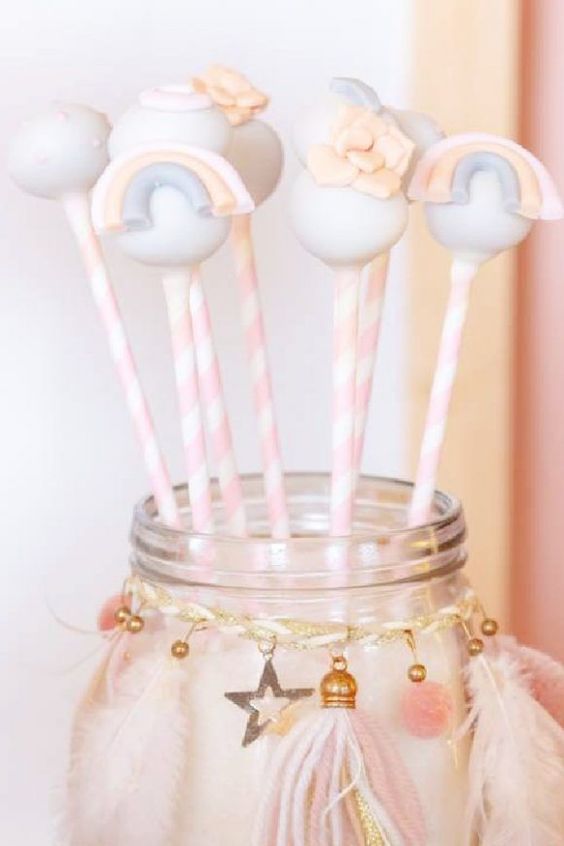 I'm sure you've realized by now that cakecicles are the new cake pops!
They are much easier to make and are just as tasty!
Your guests are going to be scrambling to get their hands on one.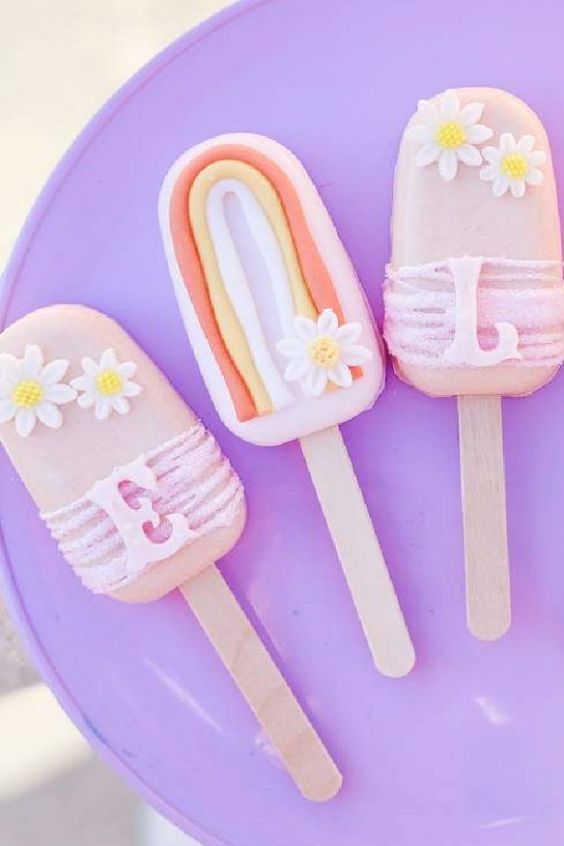 If you love donuts as much as I do you are going to love these colorful rainbow donuts!
Half are painted to look like a rainbow and the other half like a cloud.
They'll look amazing on a donut wall and will bring so much cheer to your party.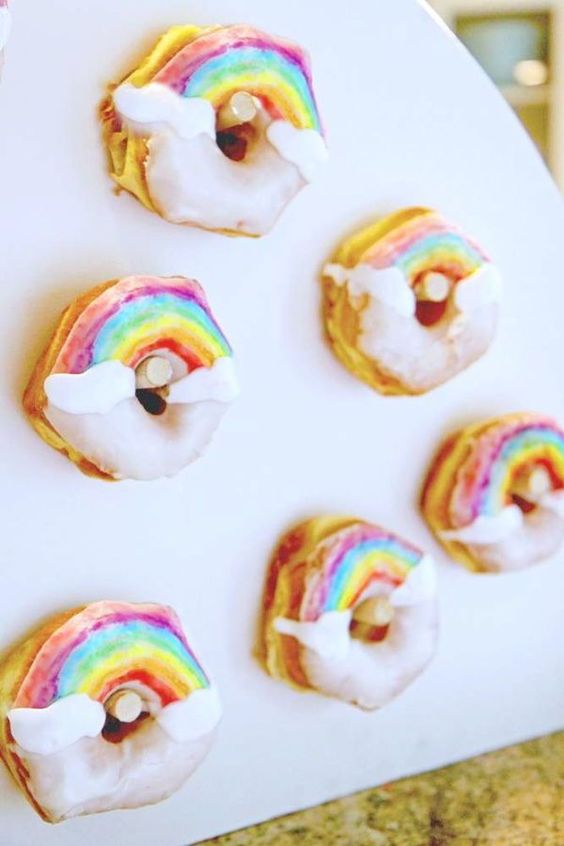 Another great donut suggestion is a pastel rainbow donut wall.
You can place it on your dessert table so your guests can help themselves.
Make sure each donut is a different color and you can't really go wrong.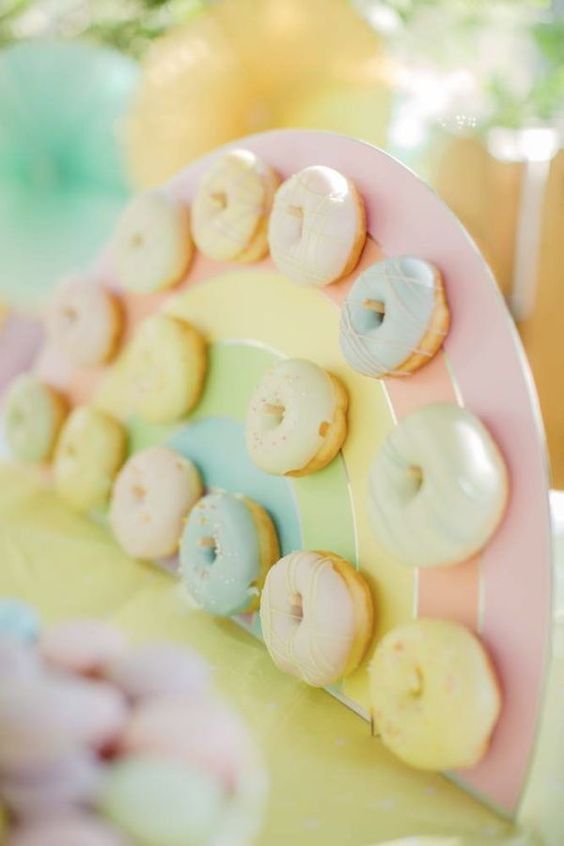 If you want to try something a little different then take a look at these pretty layered gelatine rainbow cups.
Not only are they perfect for a rainbow party but they are also a wonderful dessert for a Spring or Easter party too.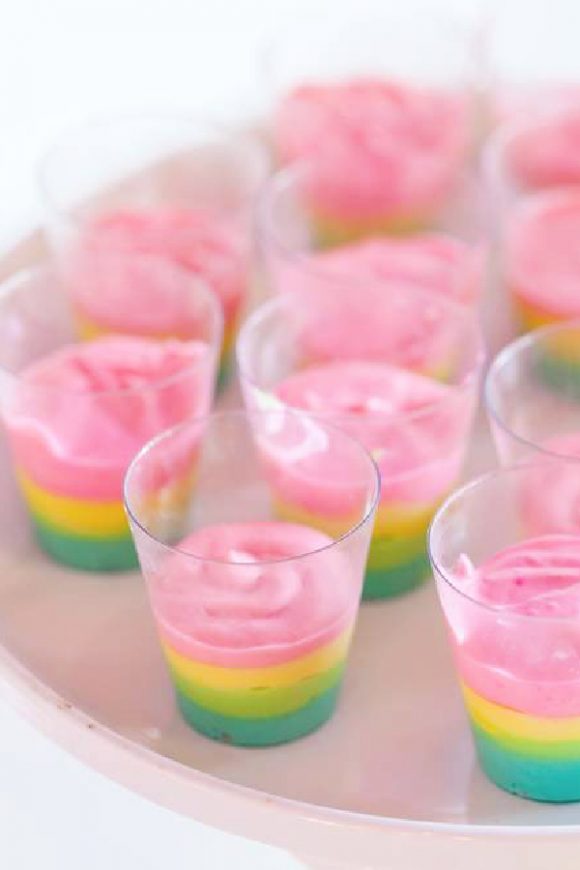 Treat your guests to some delicious candy!
Add some color to your dessert table by placing some brightly colored candy in a large jar so your guests can help themselves hand fulls of candy.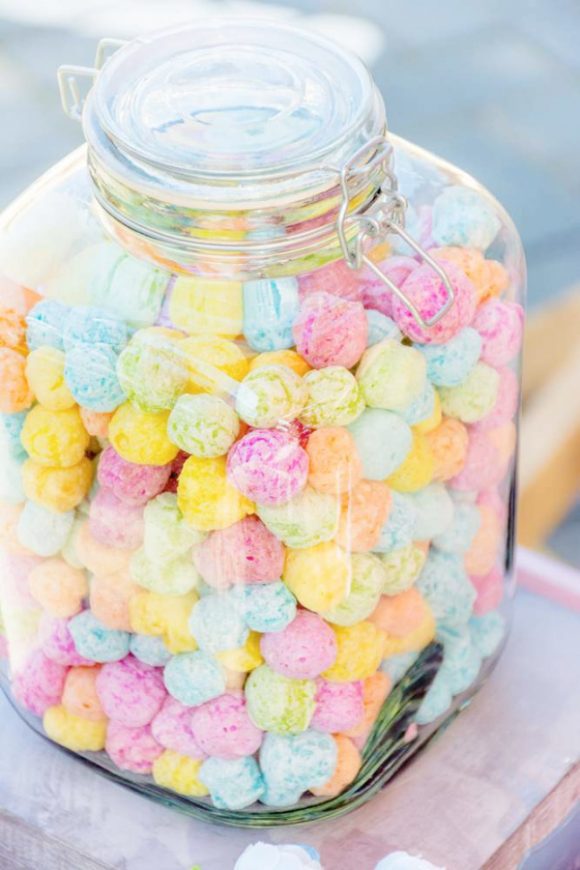 Another fun idea that is incredibly easy to assemble are these cool rainbow candy skewers.
All you have to do is simply side your candy onto wooden skewers. You can make each one slightly different from one another by mixing the layers or the amount of candy on each skewer.
They'll look fantastic on your dessert table with their rainbow of colors!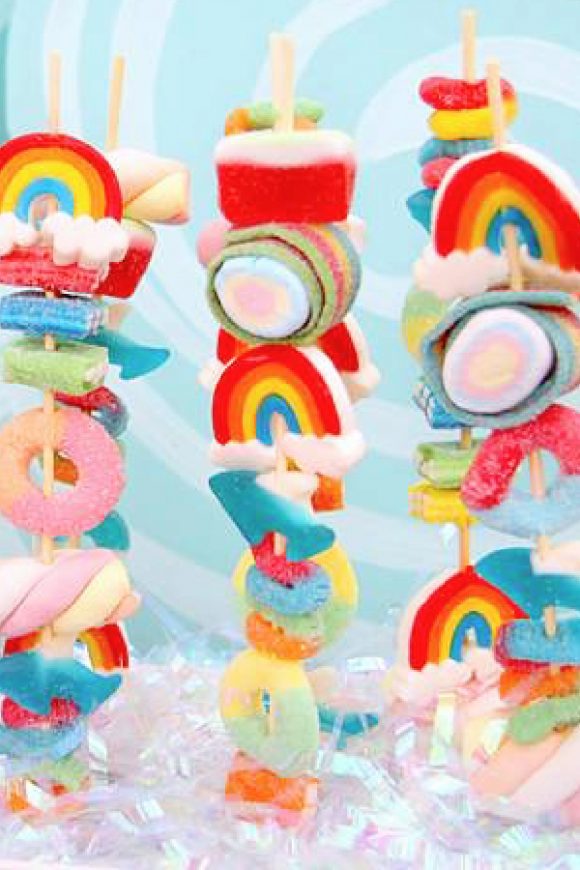 Throwing an amazing rainbow birthday party can be hard work, but, this next idea is so easy to set up and will definitely impress your guests.
Sort your colorful macarons by color and place them neatly on a macaron tower stand so that each layer is a different color of the rainbow.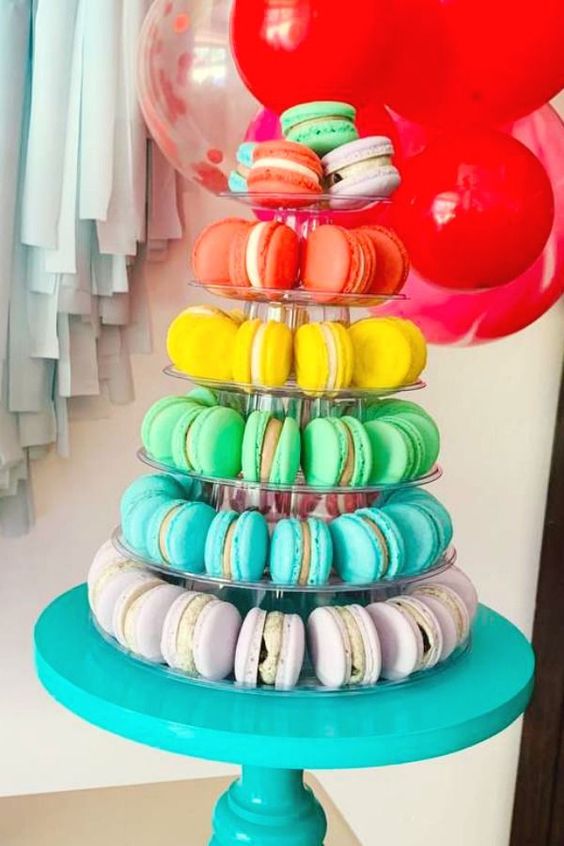 Serving savory food at a rainbow party can be a little trickier than sweet treats.
Don't worry though, we've got you covered with a fun rainbow party food your guests will enjoy.
Prep a grazing board with a bunch of colorful vegetables and pieces of charcuterie and display them by color to resemble a rainbow.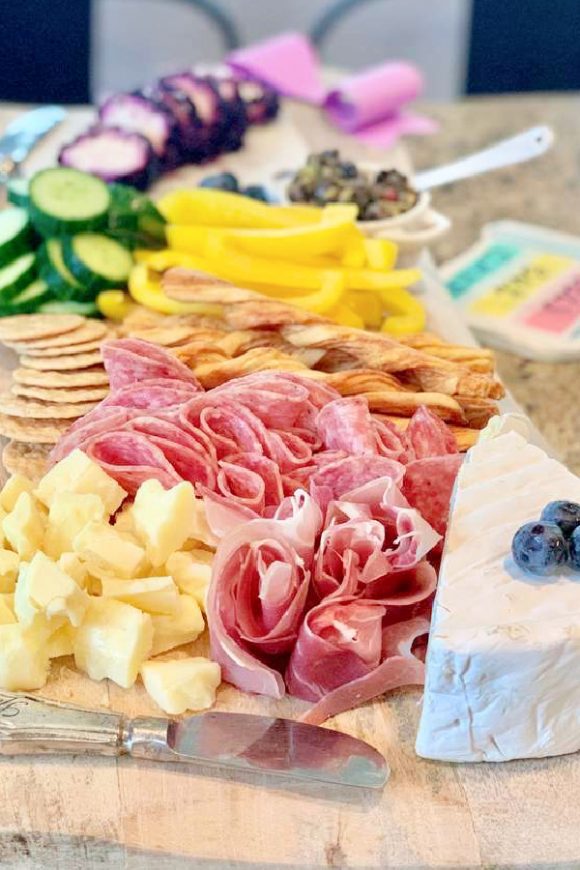 Balloon decor is a big thing at the moment with balloons popping up at parties left, right, and center!
They are such a fun party decoration to use, so how about creating a stunning rainbow backdrop with a bunch of them.
If you are throwing a boho-themed rainbow party use more subdued colors, if not, add as much vibrance and brightness as you can by going all out and having your very own rainbow at your party!

If you are on a tight budget but would like a cute way to decorate the chairs at your party take a look at this awesome DIY rainbow decoration.
Print out a bunch of rainbows and clouds onto some card stock. With the help of a paper puncher bunch, some holes in the clouds and tread some colorful ribbons through them. Then hang each one on a chair and you've got yourself an adorable party decoration.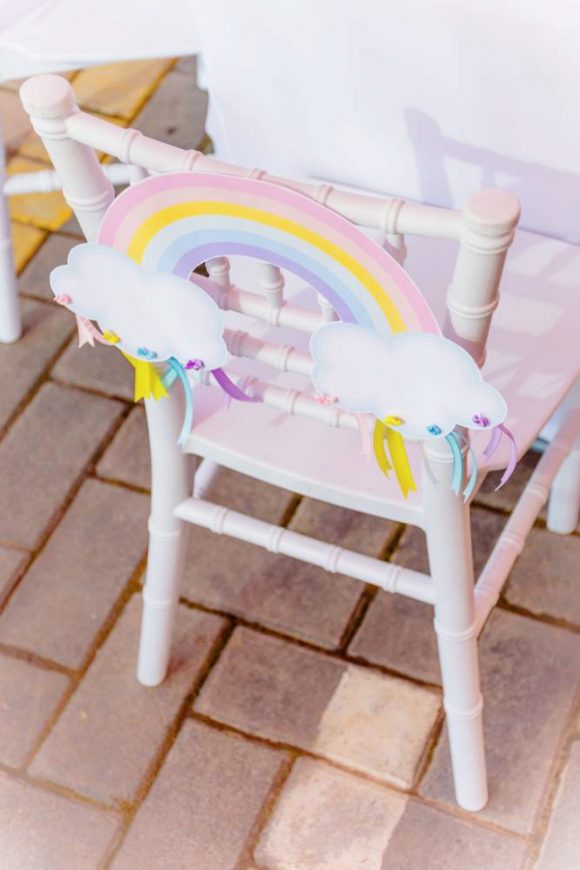 You are going to fall in love with this colorful tulle rainbow table skirt.
It is so on-theme with its bright and bold colors. It's just what you need at your rainbow celebration!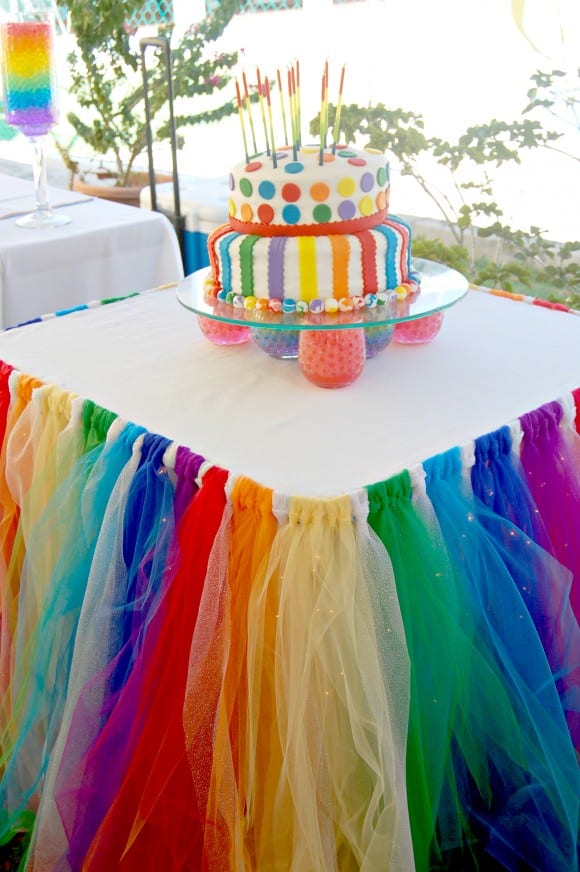 These rainbow table settings are so impressive.
The white balloon centerpieces are designed to look like clouds and together with the rainbow paper plates, napkins, and cups the table settings look absolutely amazing!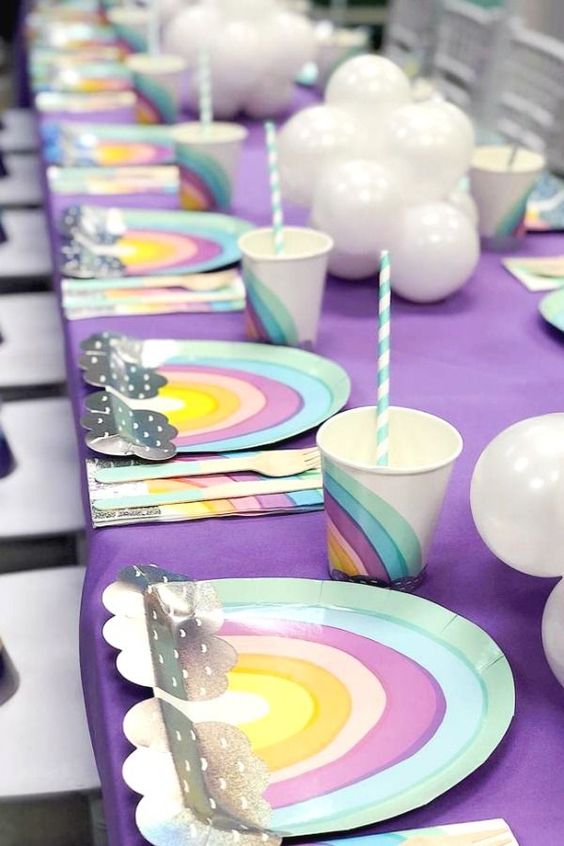 Create your own rainbow with your table settings!
Get some cups, napkins, plates, and cutlery in a variety of colors and group them together to look like your guests are seated on a rainbow.
Now, how cool is that?!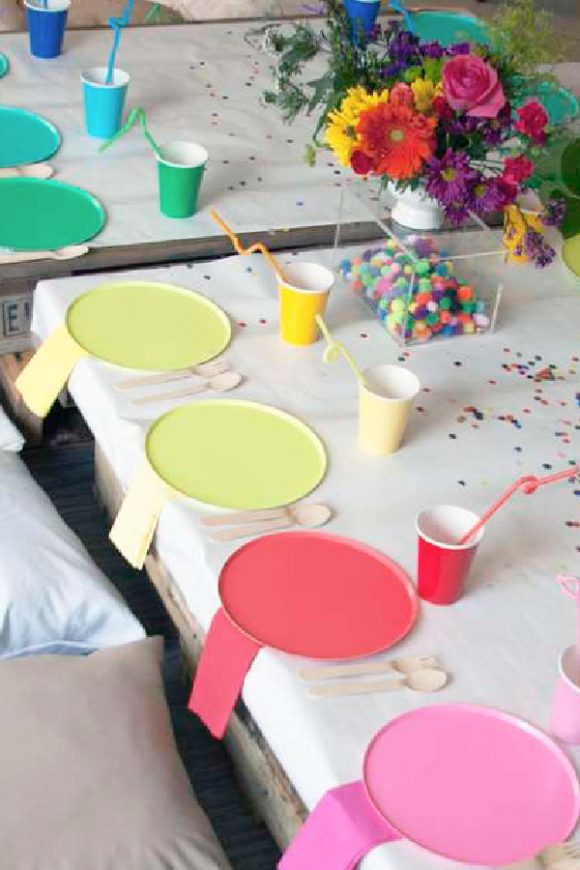 Similar to the previous table settings, this next easy rainbow party idea is just as beautiful, only this time in pastel shades of color, which create a softer toned-down ambiance.
Recreating some rainbow for the table settings is a fun way to stay on theme and a lovely party decoration too.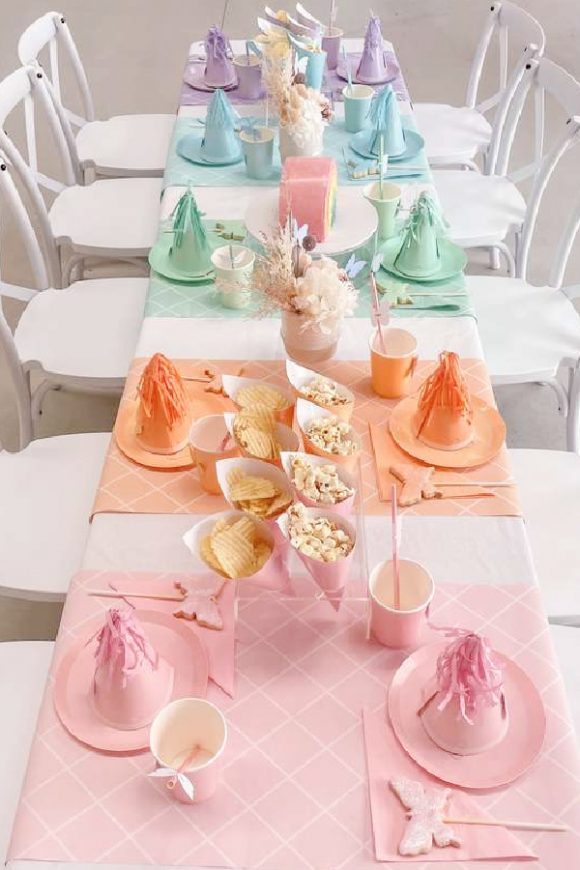 Pinatas are so much fun!
Not only do kids love taking turns beating it until all the candy starts falling from the sky, but it also doubles as a wonderful party decoration, which is why a rainbow pinata is a must-have at all rainbow-themed parties!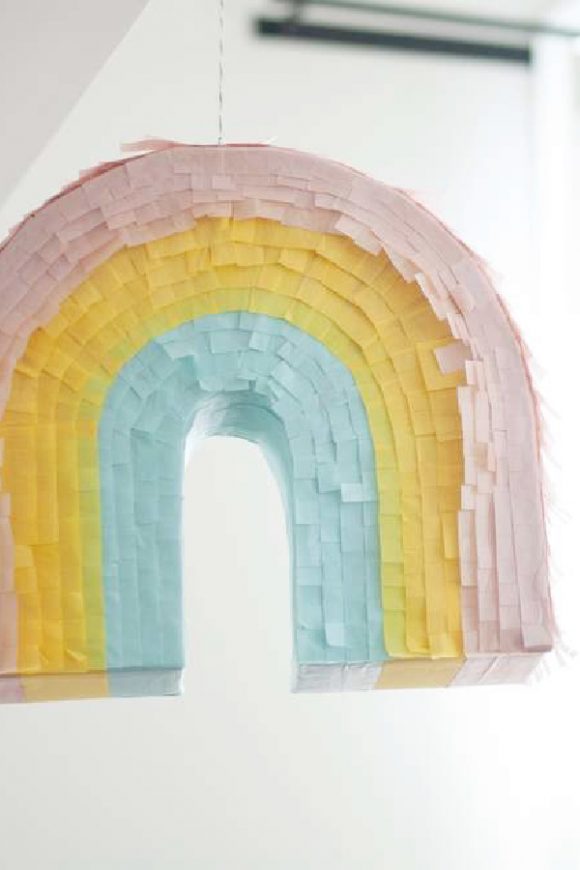 Keeping kids occupied at a party can be a challenge, but this fun party activity is sure to keep them entertained for a while.
Place some Lucky Charms into a dish along with some string so they can make their own colorful necklaces or bracelets.
They are going to love walking around with a rainbow of colors around their necks!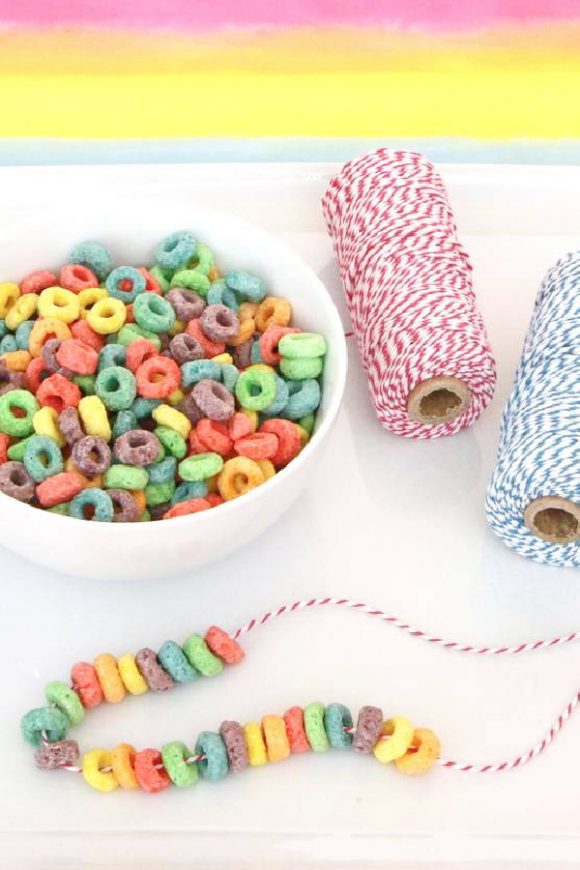 Everyone knows that a pot of gold is at the end of each rainbow, so how about sending your guests home with a bunch of chocolate gold coins?
Place them in some transparent plastic bags and add a cute label and you've got yourself the perfect rainbow party favor!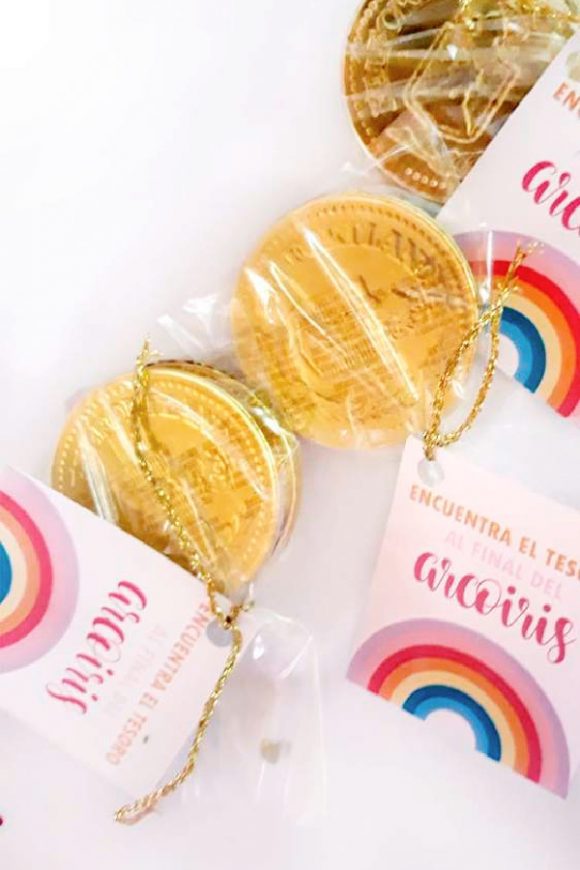 Another fun party favor for a rainbow birthday are some colorful candy bracelets.
Place some on your dessert table or even your gift table so your guests can just grab one to wear.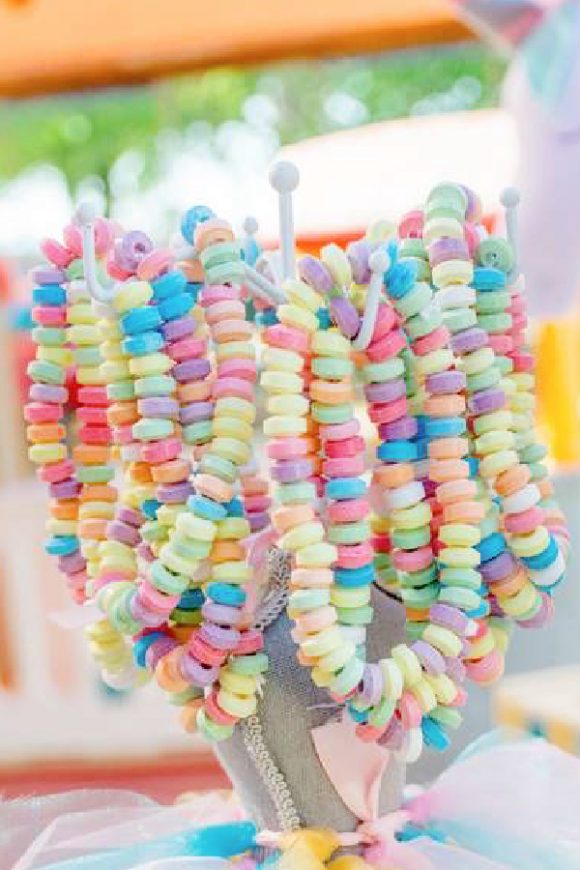 To finish off I have these lovely rainbow gift bags that you can fill with goodies for your guests to take back home with them.
Again, these too are very easy to make and look amazing on your gift table.
Simply add a cute rainbow pennant flag label to some pink paper party bags and that's it!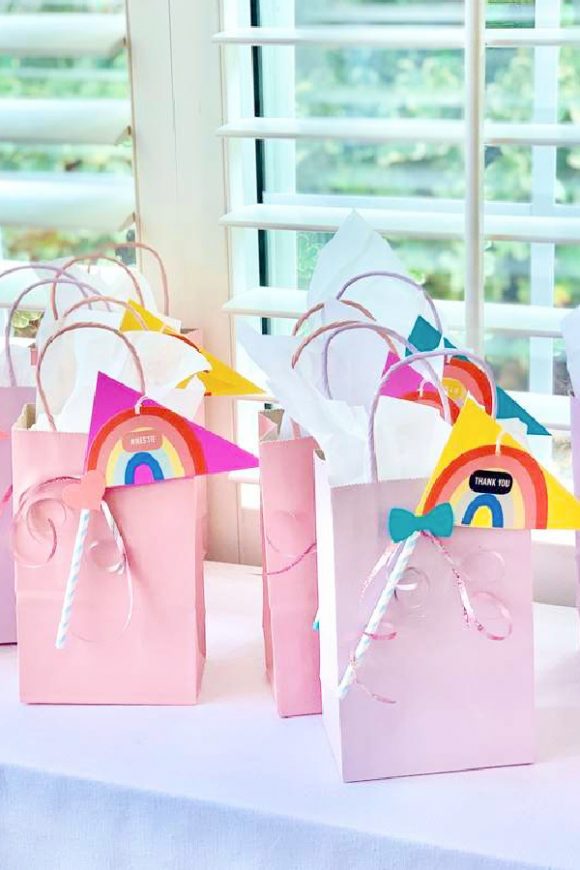 We have more wonderful ideas for rainbow parties and rainbow party supplies.
Need more rainbow party ideas?
**Some of these links may be affiliate links.