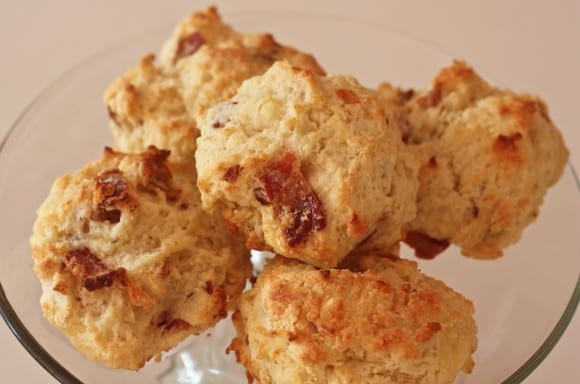 My husband loves bacon! So he get very excited when we make these bacon cheddar biscuits because they're quick, easy, and he can have one piping hot in his mouth in less than 30 minutes.
Adding bacon to things these days is definitely trendy, but here the bacon adds a smokiness that brings a level of complexity to the biscuit. Plus they're light and airy out of the oven, not dense or rubbery.
You just use a measuring cup to shape them into biscuits and drop them on a cookie sheet, so there's no rolling needed (which is definitely a time-saver).
If you're having guests over for brunch I recommend making these biscuits. They could easily be the star of the show. Plus, they make your house smell so good!
Ingredients
2 cups all-purpose flour
2 teaspoons sugar
1 teaspoon salt
2 teaspoons baking powder
1/2 teaspoon baking soda
1/2 cup grated cheddar cheese (loosely packed)
1/2 cup chopped bacon slices (3 – 4 strips)
1 stick unsalted butter
1 cup buttermilk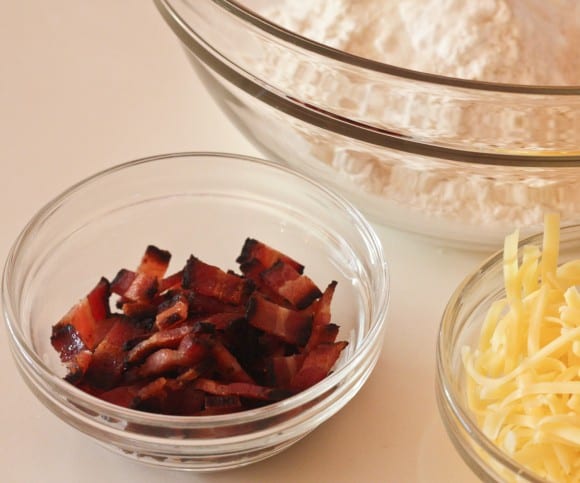 Directions
Cook the bacon ahead of time. I like to bake it at 400 degrees on a cookie sheet for about 15 minutes until crisp. When the bacon is done, turn the oven up to 475 for the biscuits.
Now go ahead and melt the stick of butter so it has time to cool before you mix it in.
Combine the flour, baking soda, baking powder, sugar, and salt into a large mixing bowl.
Whisk until the ingredients are evenly distributed.
Chop the bacon into 1/2 inch strips. There will be lots of crumbly bits — that's great – use it all!
Toss the bacon and cheese into the dry ingredients and mix.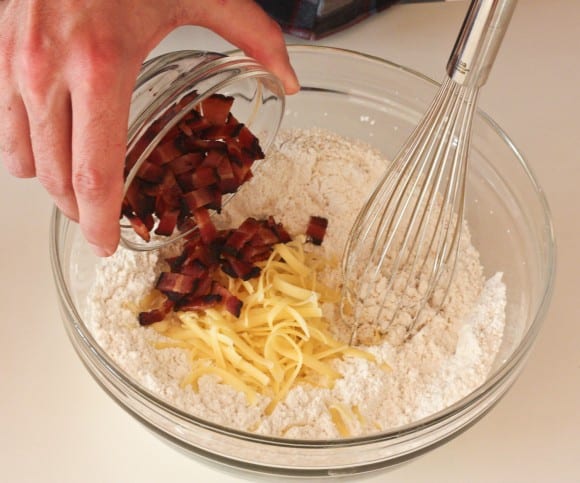 In a separate bowl, add one cup of buttermilk, and pour in the melted butter (it should be close to room temperature at this point). The butter will start to clump up in the cold buttermilk — don't worry, that's normal.
Pour the butter/buttermilk mixture into the dry ingredients, and mix with a spatula, just until it all comes together.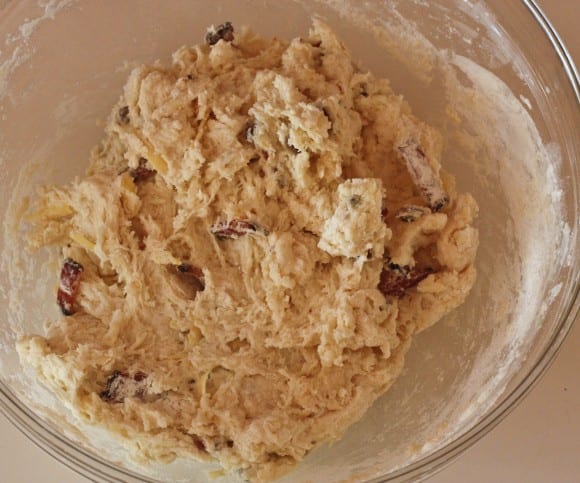 Scoop out the dough with a lightly oiled 1/4 cup measuring cup. It is the perfect size, and also will make a nice disc shape. You can fit  3 across on a cookie sheet (12 total). They'll spread, but  just a little bit. I use an ungreased silpat to line the cookie sheet.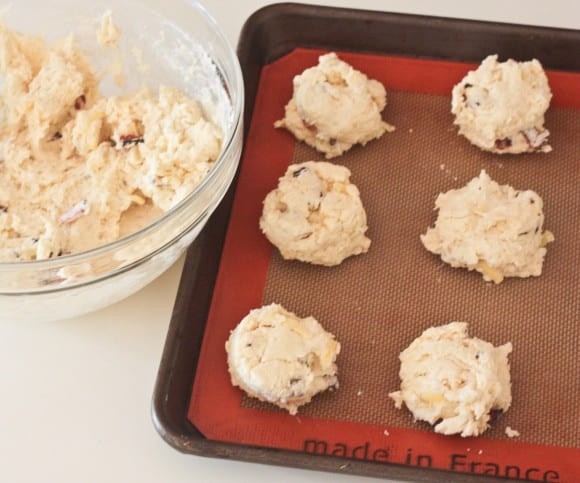 Cook them for about 12 minutes, until they start to brown. And voila! You'll have deliciousness that melts and smokes in your mouth!