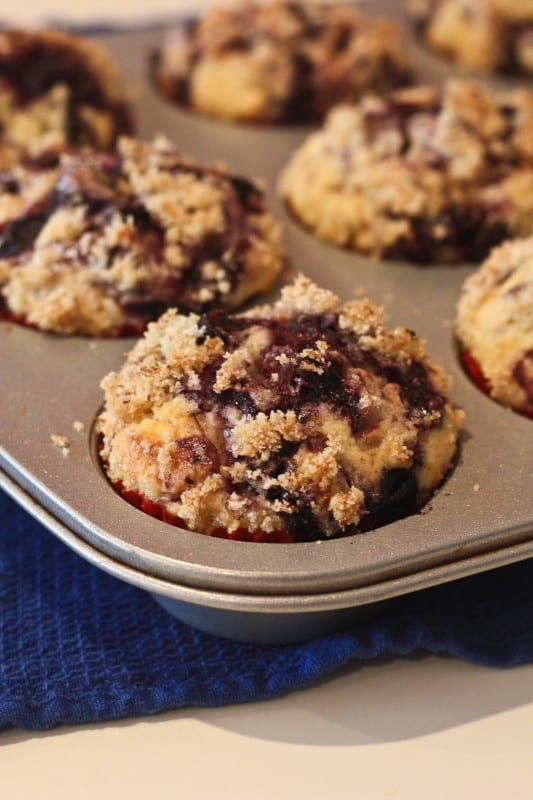 These are not like the muffins you buy at your local grocery store that are dense, sweet as cake, and not very "blueberry."
These muffins are filled to the brim with blueberries, just the right amount of sweetness (more like a cornbread than a cake), and light, fluffy, and moist.
(Plus the lemon sugar topping is fantastic. I could easily lick it off all the tops!!)
Ingredients
for the muffins
2 1/2 cups all-purpose flour
2 1/2 teaspoons baking powder
1 1/2 teaspoon salt
1 cup blueberries
1 1/4 cup granulated sugar
2 eggs
1/2 stick unsalted butter (4 tablespoons), melted
1/4 cup canola oil
1 cup buttermilk
2 teaspoons vanilla extract
for the jam
1 cup blueberries
1 teaspoon granulated  sugar
for the topping
1/3 cup granulated sugar
zest from 1 lemon finely grated
Directions
Preheat the oven to 475.
Heat 1 cup of blueberries in a sauce pan.
Mash the blueberries and add 1 teaspoon of sugar.
Cook under low heat until it thickens to a jam like texture, about 10 minutes. Should make about 1/3 cup. Set aside and let it cool.
Add zest from one lemon to 1/3 cup of granulated sugar. Mix and set aside until the batter is ready.
In a large bow whisk together the four, salt, and baking powder.
In a medium bowl add the sugar, melted butter, eggs, oil,  and buttermilk. whisk until combined.
Pour into the dry ingredients, along with the blueberries.
Gently mix with a rubber spatula just until the batter comes together. Lumpy is OK.
Scoop into a muffin tin, and sprinkle the lemon sugar on top.
Bake for 15-20 minutes, until the tops brown, and a toothpick comes out cleanly.