A Sweet 16 birthday party is an important milestone in a young girl's life and should be marked with an unforgettable celebration!
So, if you're planning to mark your daughter's approach to adulthood, and want to see what's trending in 2023, look no further.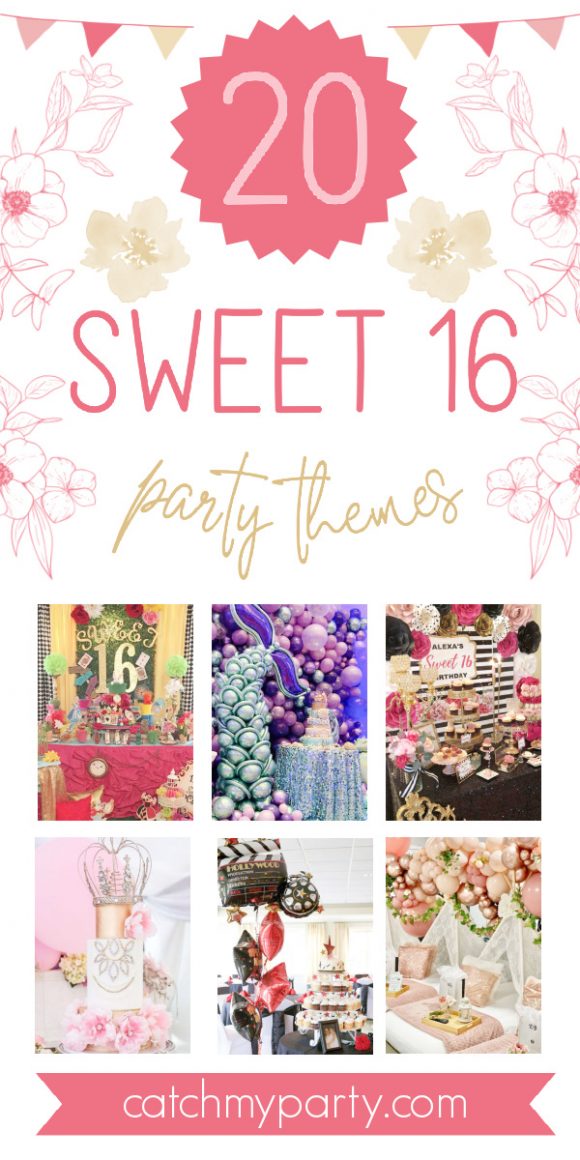 Start picking out your invitations, planning your guest list, and selecting your birthday gifts because we've rounded up the 20 most popular Sweet 16 party themes from our site to help you throw an incredible celebration at a party venue or even in your backyard!
Anyone of these sweet 16 themes will make this milestone birthday absolutely unforgettable!
Take a look at the 20 Most Amazing Sweet 16 Party Themes!
Rustic parties are full of magic. Not only can you decorate them with flowers, but you can also create a whole enchanted woodland ambiance that does justice to the word "sweet."
This theme can be incredibly elegant, especially if you add touches of gold and some sparkle.
Browse real rustic parties here.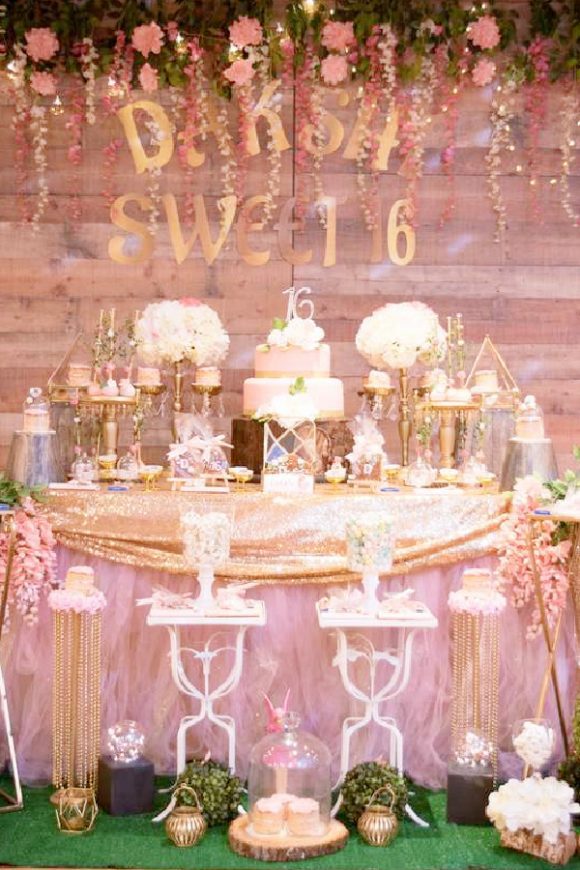 Here's a fun party idea. How about hosting a classy Chanel Sweet 16?!
Chanel is renowned for sophistication, so if you are looking to bring some chic and elegance to your party, you won't want to miss these stunning Sweet Sixteen party ideas, including this awesome birthday cake.
Browse real Chanel parties here.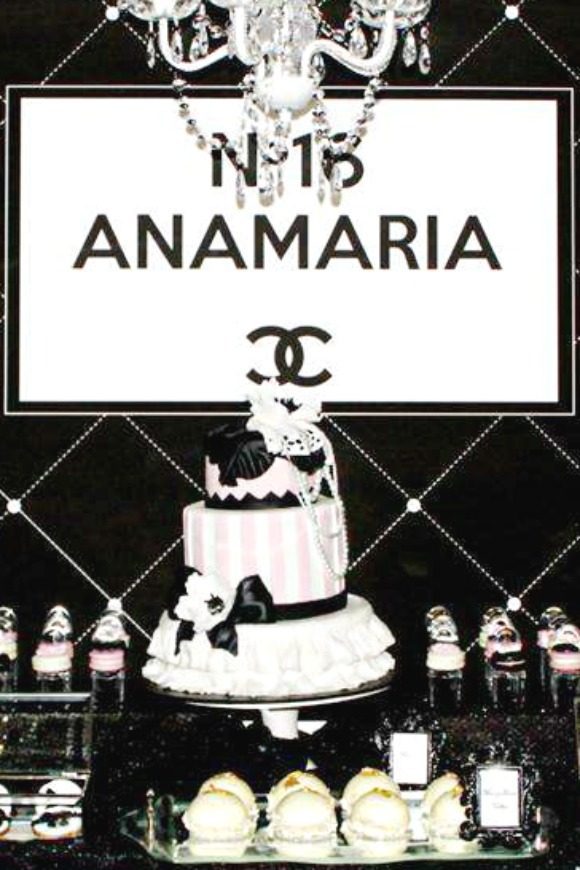 You need not travel across the ocean to Paris and the Eiffel Tower if you want to celebrate a sweet 16 with some French charm and Parisian chic!
A French Parisian-themed Sweet 16 with lots of pinks and beautiful desserts adds so much style to a big day.
Treat your guests to some authentic French cuisine such as some delicious macarons, candies, and finger foods. Your guests will definitely be saying "oh la la!"
Browse real French/Parisian parties here.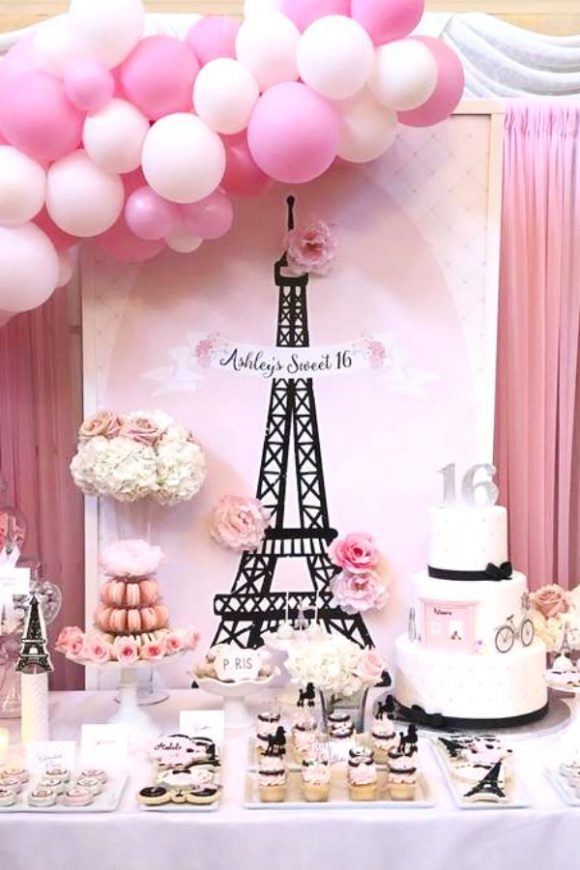 Nothing says a glitzy party like a Victoria's Secret one does.
It's a wonderful excuse to throw an over-the-top glamorous soirée for your teen with as much glitter, pink, and sparkle as you can find.
Your daughter and her guests are sure to feel beautiful and so incredibly stylish, so go ahead and have a ball planning this one!
Browse real fashion parties here.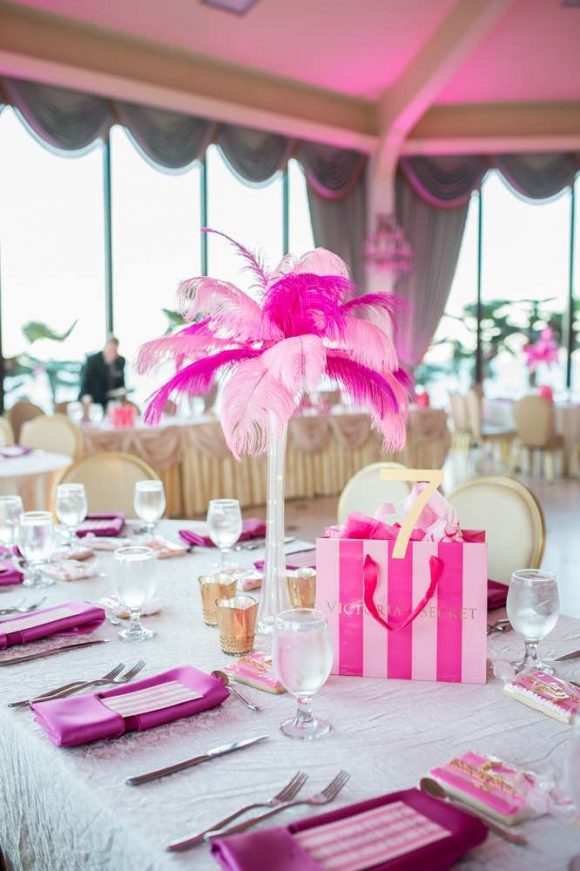 Mermaid birthdays are always a popular theme with girls and a Sweet 16 is no different for a teenager.
Just imagine how much sophistication you can bring to the party with beautiful decor and party food.
Party tip: If it's summer, how about throwing a mermaid themed pool party.
Browse real mermaid parties here.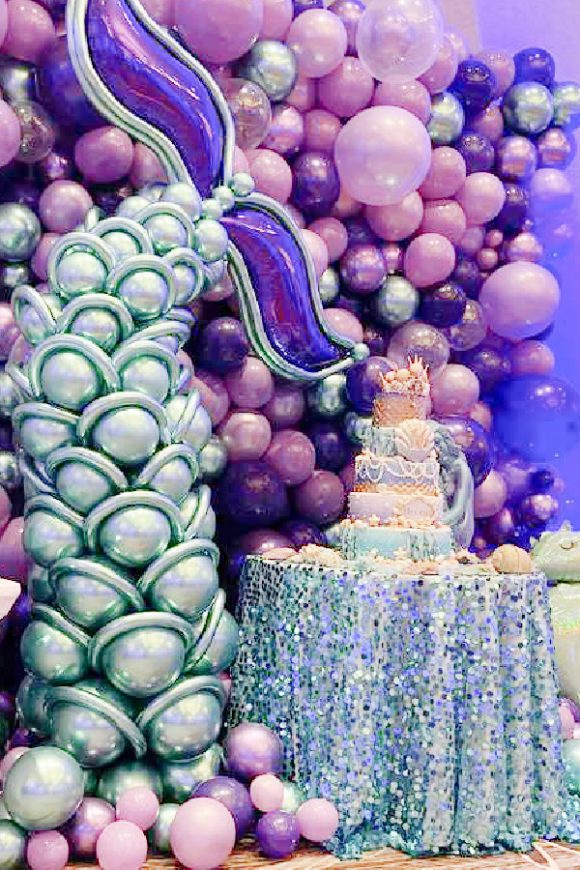 A sweet 16 is a milestone birthday that deserves to be celebrated in style.
Flowers are the perfect party decoration, and a floral Sweet 16 themed party can be a beautiful occasion, with the added bonus that they are also incredibly fragrant.
If the birthday girl has a favorite flower you can use that as your inspiration.
Browse real floral parties here.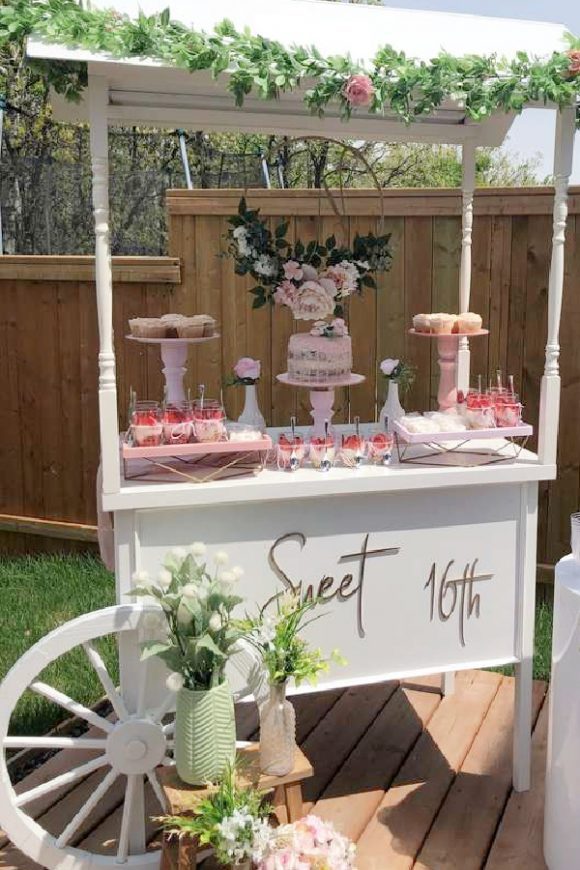 If you are looking for something more laid back but just as beautiful, then a boho Sweet 16 can be the theme you're looking for.
A bohemian atmosphere has such a wonderful vibe with its eclectic style. So, let your imagination run free. Add balloons, streamers, cupcakes and don't forget… cozy lounge pillows are a must!
Browse real boho chic parties here.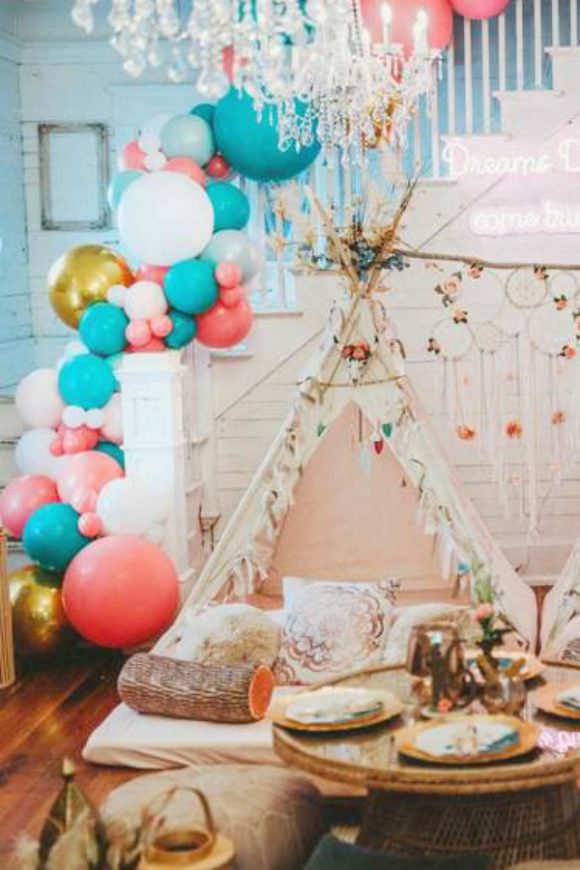 Masquerade parties are a timeless party theme!
You can add so much glitz and glamour with the mysterious Venetian style masks that you'll no doubt have the ultimate Sweet 16!
Party tip: Take your masquerade party up a notch by including black lights and glow sticks.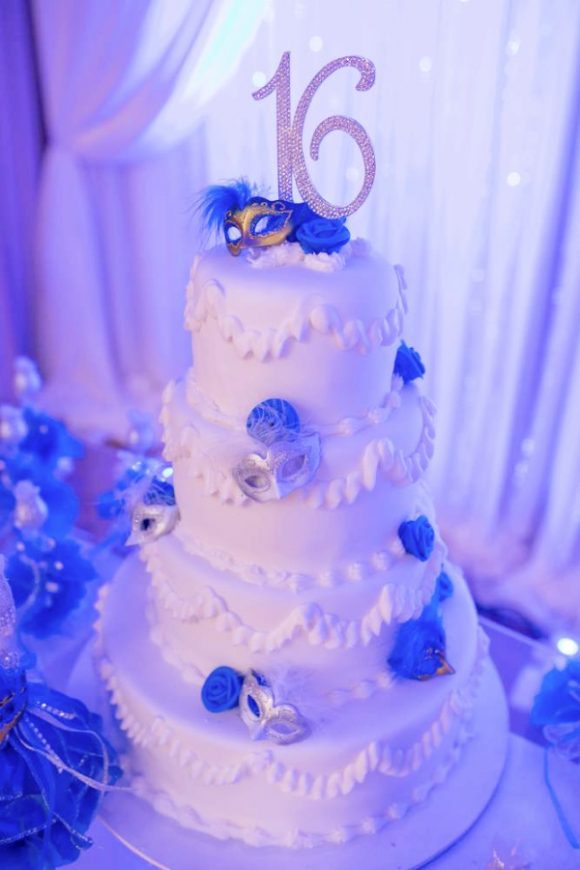 If you're obsessed with 20's glamour then a Great Gatsby 16th birthday party is a fabulous reason to go over the top and host a 20's style costume party!
Use as much gold and feathers as you can get your hands on for the ultimate extravaganza!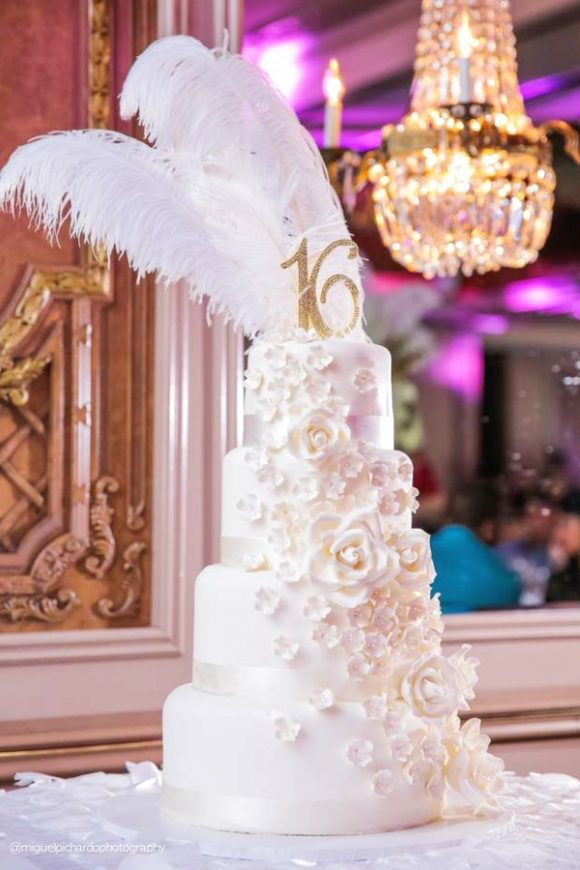 Everyone knows that diamonds are a girl's best friend, so even if you can't get your daughter a diamond for her birthday, the next best thing would be a Tiffany & Co.-inspired Sweet 16 birthday party!
Tiffany blue is a beautiful color, and if you add as many sparkly decorations as you can find, then your party is sure to be spectacular!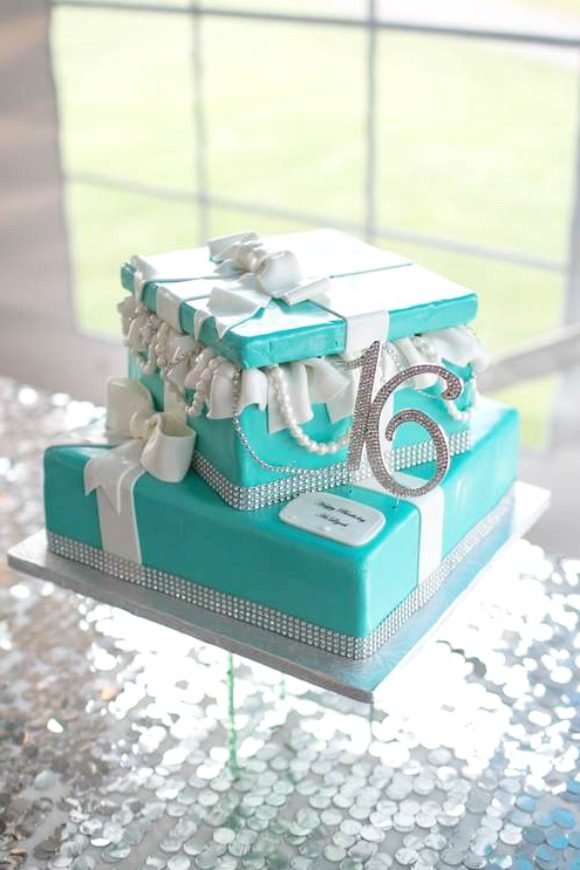 All girls deserve to be treated like royalty for their sweet 16th, so how about treating your very own princess to her own regal celebration?
Decorate your princess-themed party with crowns and as much sparkle as you can find!
Browse real princess parties here.
FREE PRINCESS PARTY PRINTABLES
Use these free editable princess party printables to decorate your party.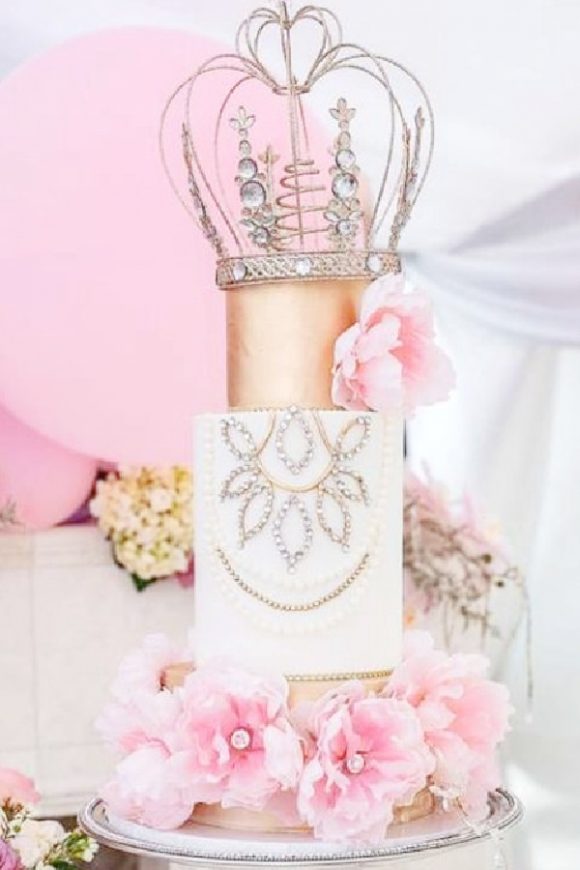 Make a splash and take your guests on an under the sea extravaganza with sweet 16 to remember!
Seashells and sea creatures are perfect for decorating an under the sea sweet 16.
Browse real mermaid parties here.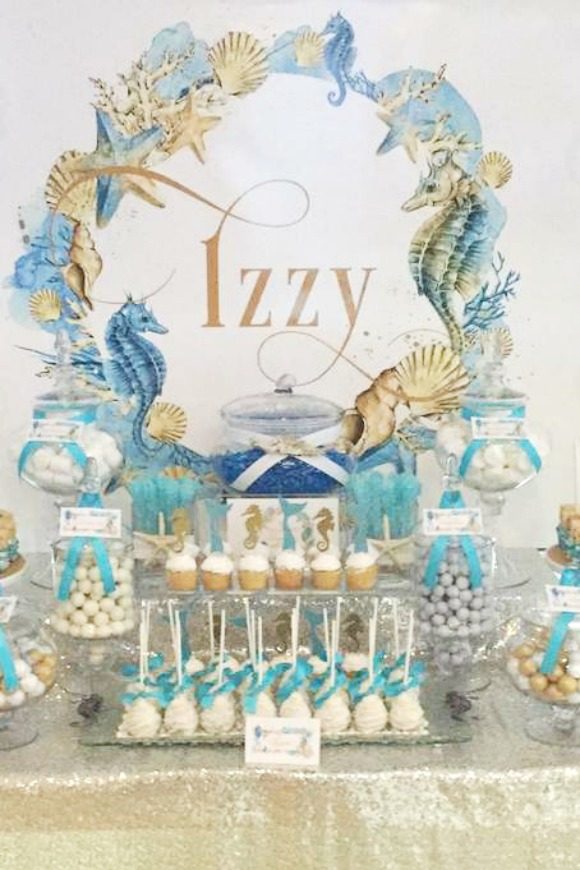 If you love the Alice in Wonderland movie or the books, and you love the theme, then how about hosting an Alice in Wonderland sweet 16?
It's an incredibly popular party theme for girls so there's no reason why it wouldn't be a hit for 16th birthday too.
Browse real Alice in Wonderland parties here.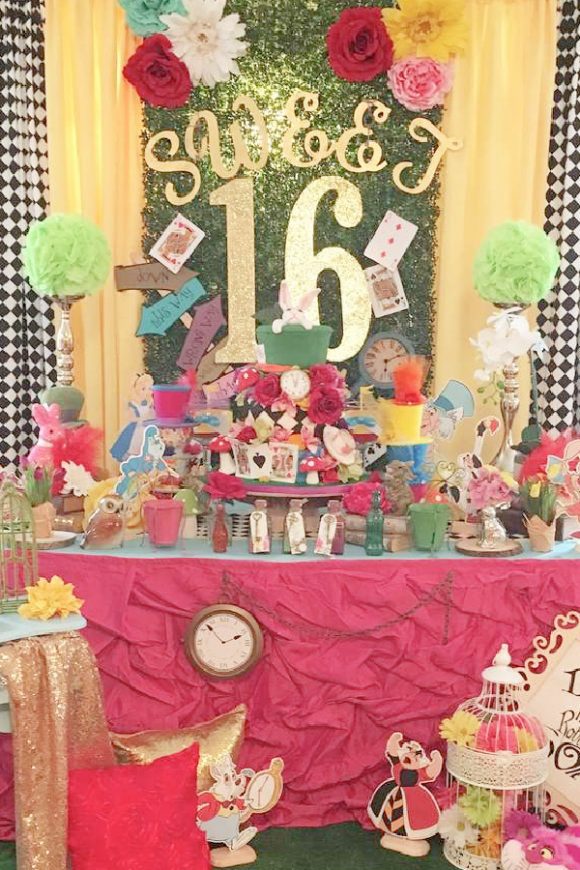 Teenage girls can't get enough of TikTok. They spend hours perfecting the dance moves and glued to their phones!
That probably explains why it's one of our most popular party themes on our site and perfect for a TikToker turning 16!
Party tip: Get some TikTok props, set up a photo booth, and turn your party into a dance party.
Browse real TikTok parties here.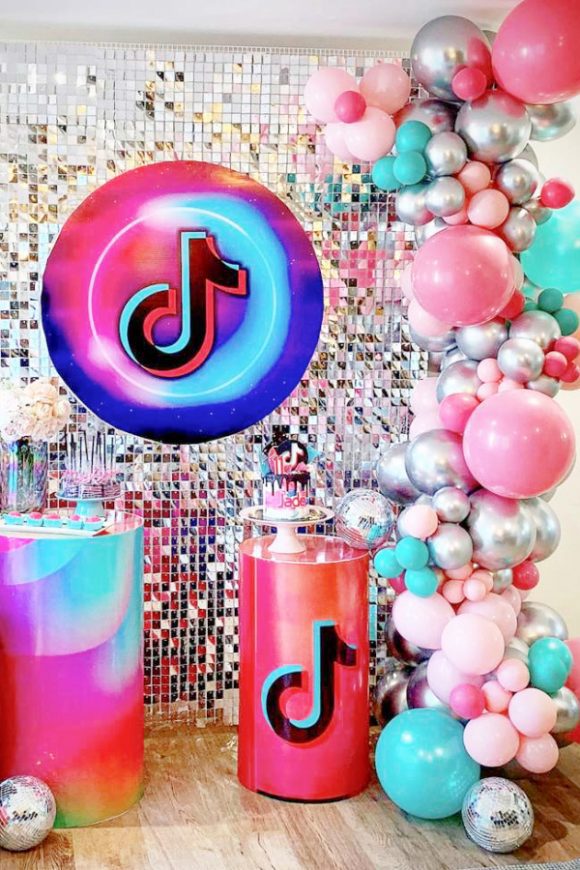 Sleepovers are so on-trend right now. If you are planning a more low key intimate sweet 16 with your closest friends, a sleepover is a wonderful choice.
Each guest gets their own cozy teepee and goodies to enjoy throughout the night. What's better than a group of sixteen year olds chatting, laughing, and having fun?
A sleepover Sweet 16 is also a budget-friendly way to celebrate with close friends. You can turn it into a spa day by setting up a station for your guest to do manicures and pedicures.
Browse real sleepover parties here.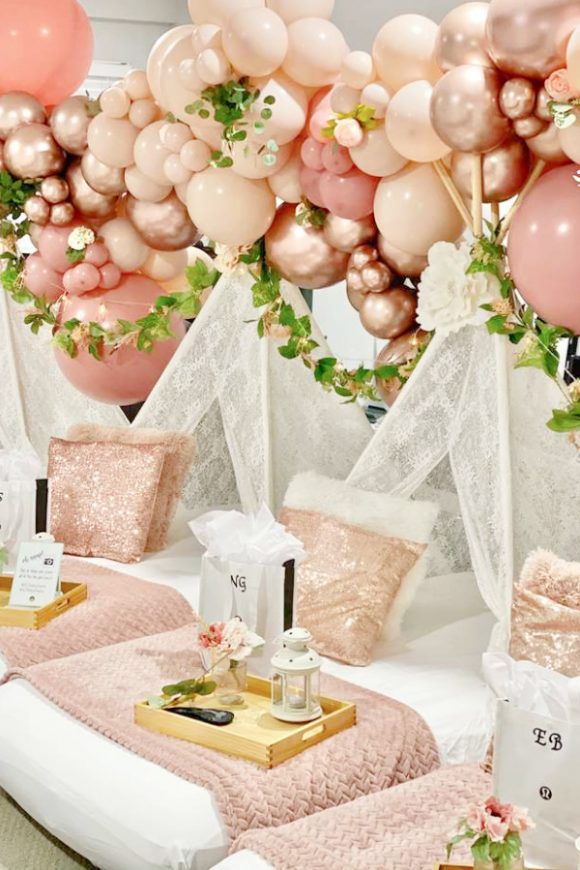 If you love everything about movies and Hollywood glam then host a vintage Hollywood sweet 16!
Decorate with movie reels and stars, and don't forget to have a red carpet leading up to the entrance of your party.
Party tip: Set up a screen in your backyard and turn your party into a movie night where you show your favorite classic. Don't forget the popcorn.
Browse real Hollywood parties here.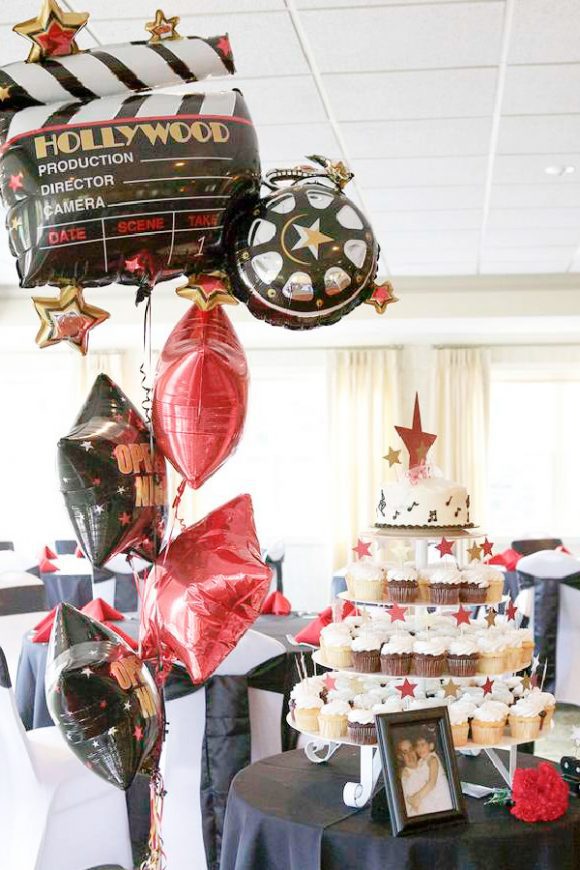 All fashionistas live for style and finesse. If you are stuck on which fashion brand to go with for your sweet 16 how about throwing an Italian-themed Gucci party full of flair?
Use Gucci colors throughout your party and decorate with the Gucci logo.
Browse real glam parties here.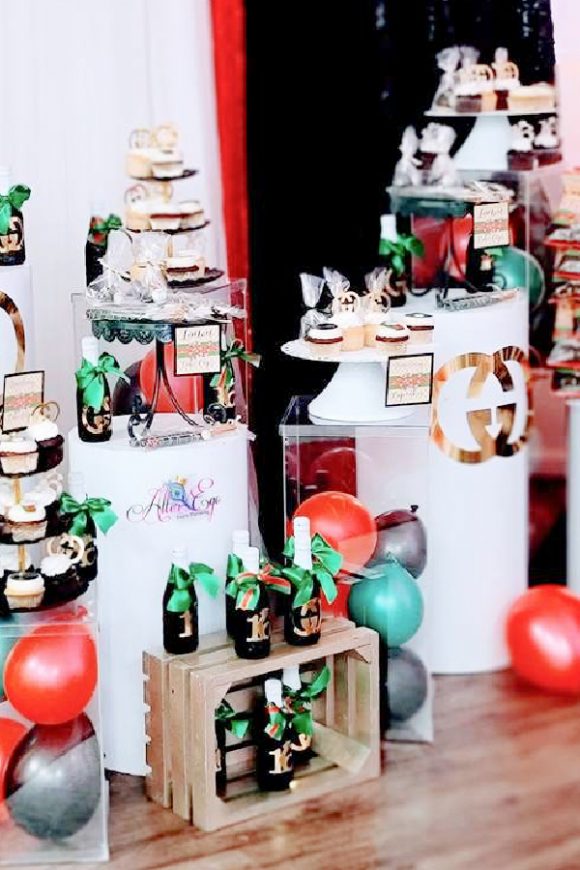 A favorite theme that's also perfect for a sweet 16 is a Kate Spade party.
Make sure you decorate your dessert table with her famous black and white stripes and pops of pink, black, and gold.
Browse real Kate Spade parties here.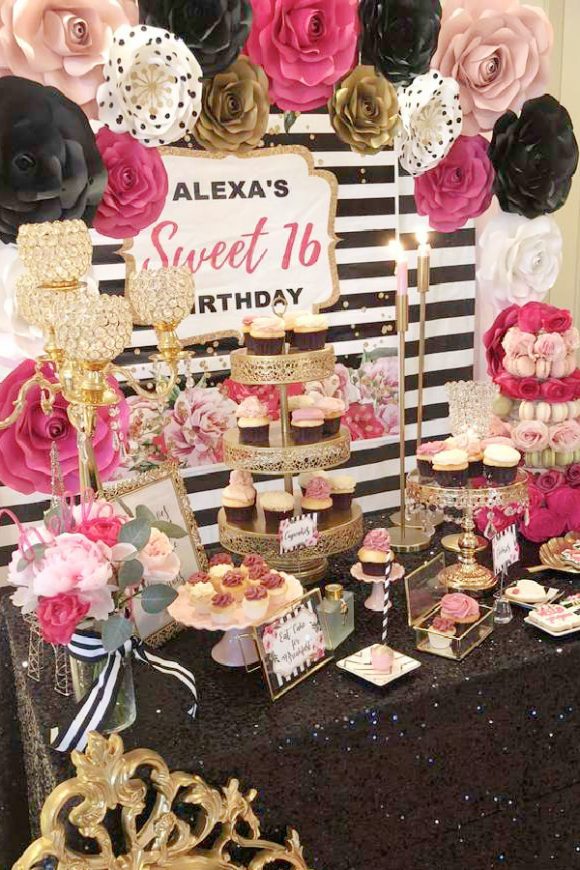 Picnic parties are great if you'd rather throw a more laid-back party, where everyone can enjoy a beautiful day in a relaxed atmosphere.
They have been growing in popularity and are really big on CatchMyParty.
Treat your guests to whimsical sweet 16 with low tables, rugs, and cozy floor cushions.
Browse real picnic parties here.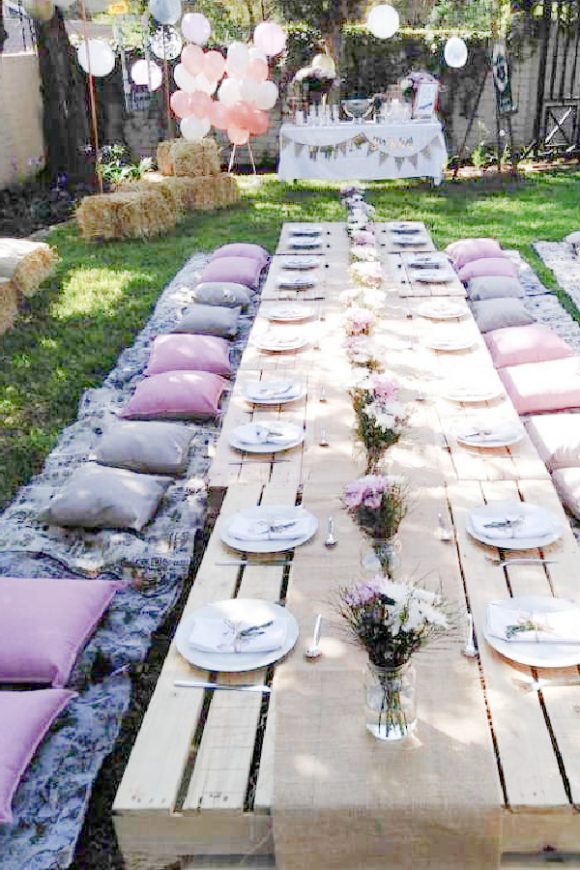 Tea Parties are such a lovely party theme if you are planning an elegant afternoon celebration sipping tea and feasting away on delicious cakes.
Use pretty porcelain and decorate with fresh flowers.
Browse real tea parties here.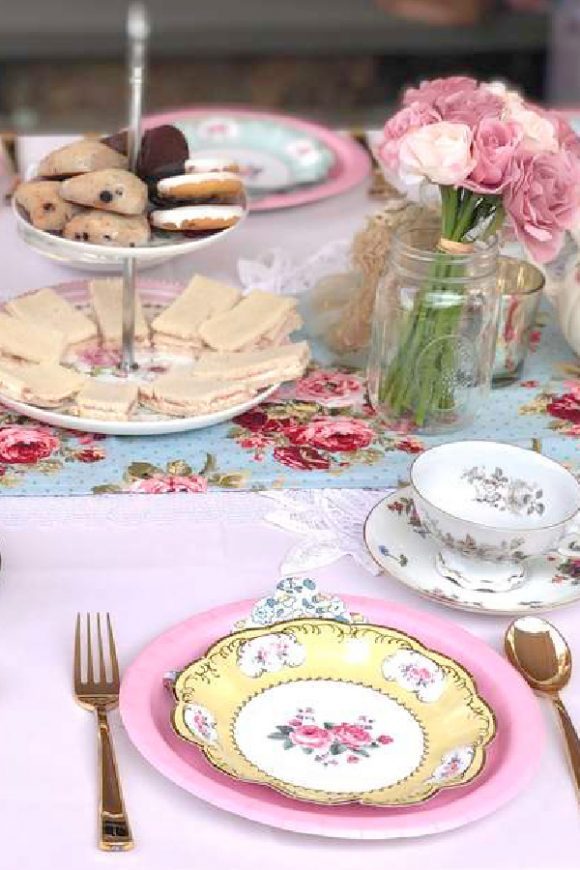 If you're celebrating a Sweet 16 in the summer, then a tropical-themed party is perfect for you!
Add some tropical vibes with fun party decorations and music, and you're good to go!
Browse real tropical summer parties here.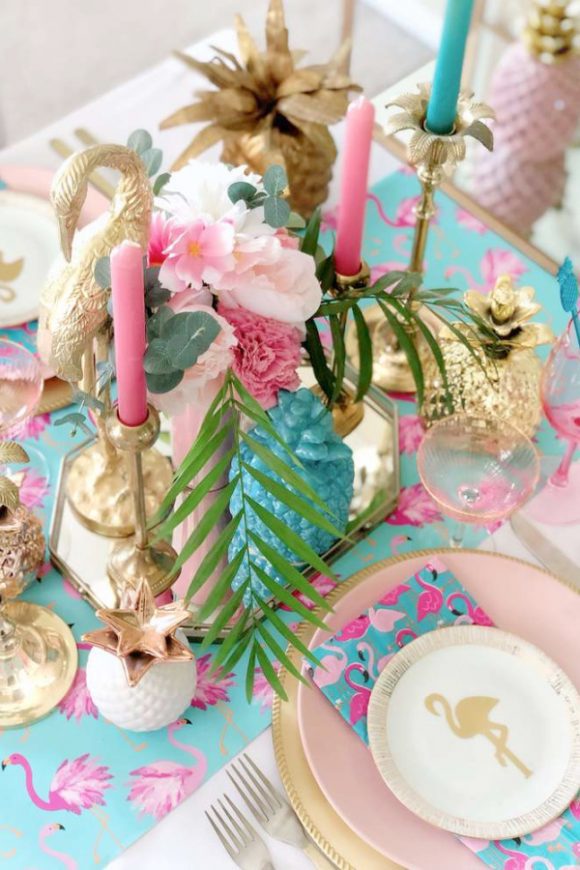 If your daughter turns 16 in the colder winter months, then treat her to a magical winter wonderland-themed 16th birthday party!
It's such an elegant theme and the shimmering snowflakes are sure to warm everyone's heart.
Browse more winter wonderland parties here.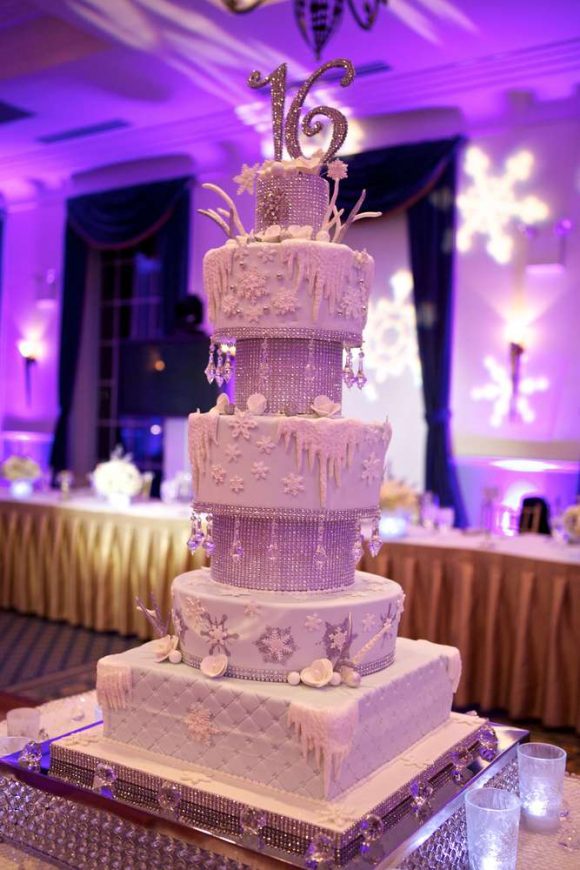 Need more girl party ideas?
For more inspiration, check out all the stunning Sweet 16 birthday parties on our site.