Turning sixteen is such an important milestone for a teenage girl approaching womanhood and should be celebrated accordingly with a sweet 16 birthday party that she'll remember for the rest of her life.
If you're daughter is celebrating her 16th birthday soon,  then you don't want to miss the 14 most glamorous Sweet 16 party invitations we've rounded up for you.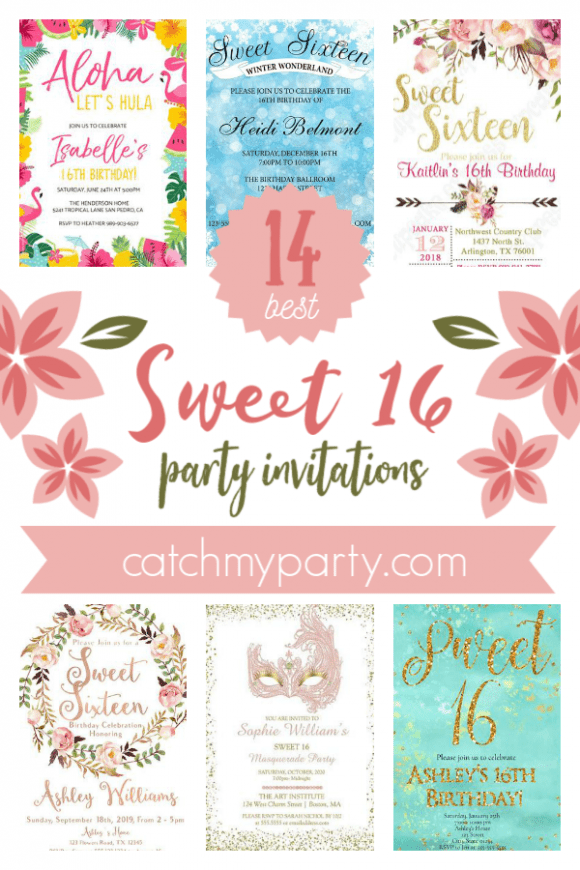 You'll find the most gorgeous Sweet 16 party invitations for a wide variety of sweet 16 themes such as a princess sweet 16, a masquerade party, a Great Gatsby sweet 16 and so so many more… Enjoy!
The 14 Most Glamorous Sweet 16 Party Invitations!
To start off our list of sweet 16 party invitations we have a pink and gold sparkly design that is just perfect!
The typography is so elegant and looks absolutely stunning in sparkly gold.

A birthday girl is always a princess at her own party so why not use this as the theme of your daughters sweet 16 celebration?
This regal scroll party invitation is fit for a princess!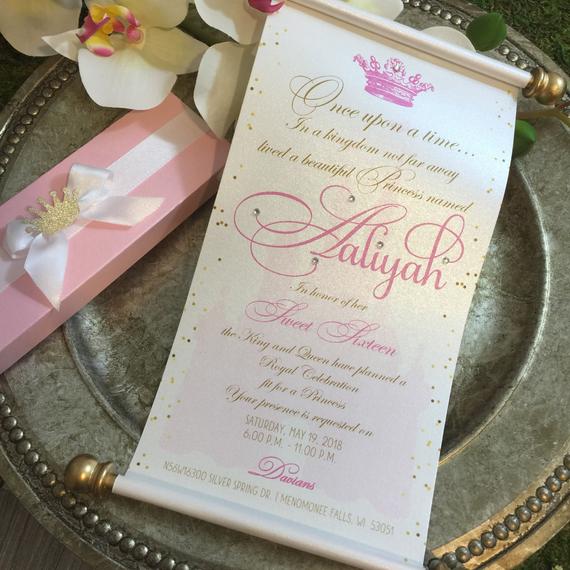 If you're going with a rustic theme for your sweet 16 then this floral wreath party invitation is just what you need.
The illustration on the invitation is so pretty and feminine.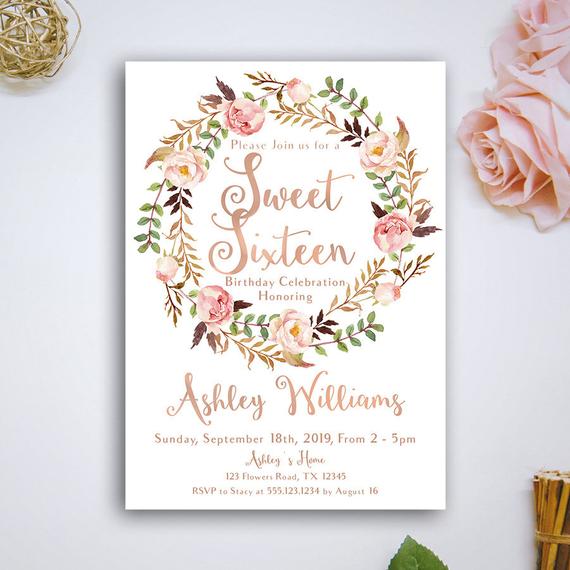 Tiffany and co. themed sweet 16 parties are very popular here on CatchMyParty.com and are a great excuse to throw an over the top glamorous birthday party.
This sweet 16 party invitation is inspired on a blue Tiffany gift box, wrapped with a beautiful white bow. Can't think of a better way to impress your guests.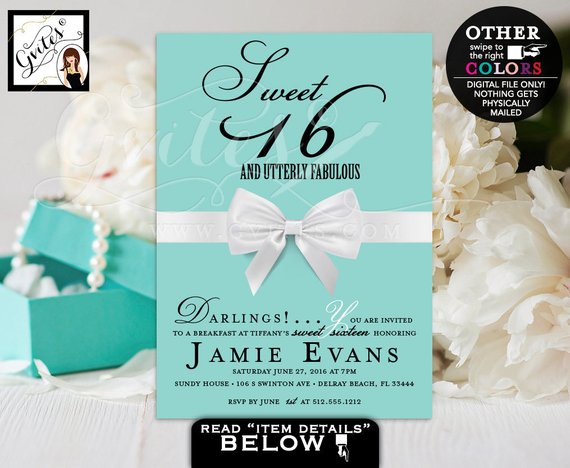 The first thing that comes to mind when you think of Chanel is style and elegance, making it a wonderul choice for a sweet 16 party theme.
Set the mood for your celebration with this feminine Chanel party invitation.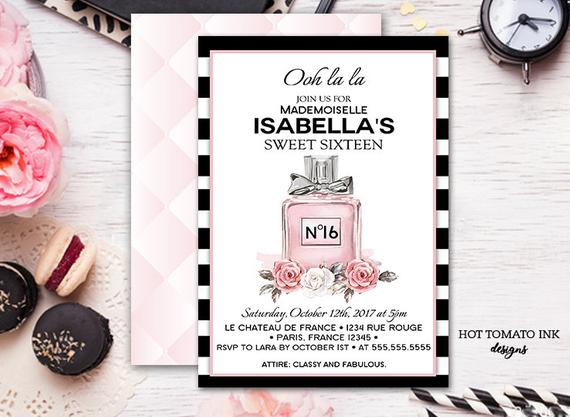 Mermaid parties are one of the most popular party themes for a girl and a sweet 16 is no exception.
Although this sweet 16 invitation has no mermaids or under the sea elements incorporated in the design, the ocean like backdrop makes for a perfect introduction to an under the sea extravaganza!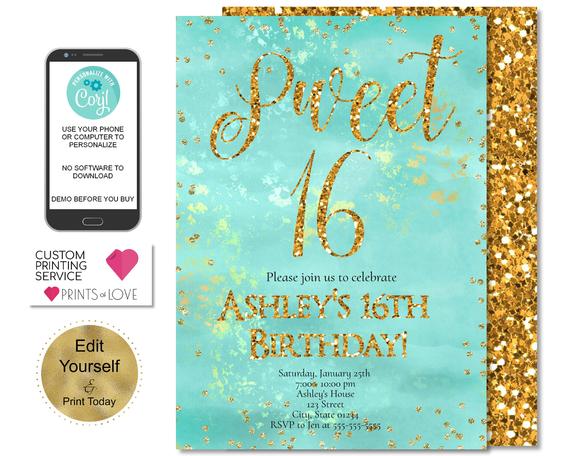 A Victoria's Secret themed sweet 16 is an excellent choice for a fashion savvy teenager who thrives to always look her best!
The design of this Victoria's Secret sweet 16 party invitation is so cool as it's inspired on their glamorous shopping bag.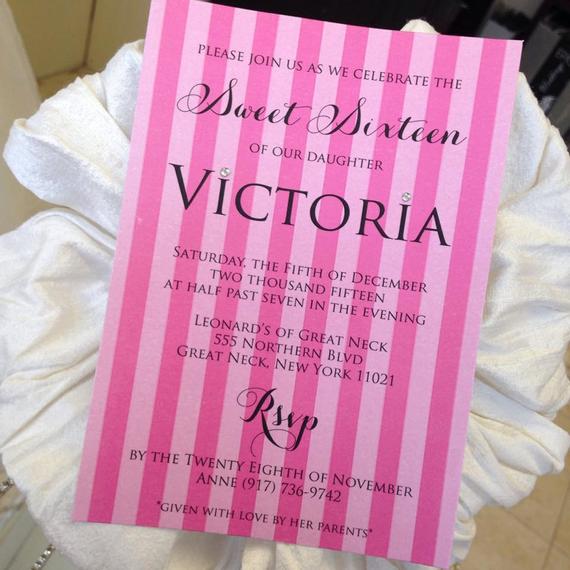 Paris, France is the city of love and everything chic, so why not go with ever so popular theme for a sweet 16 party?
This Parisian inspired sweet 16 party invitation is gorgeous, with it's pretty pink backdrop sprinkled, with what looks like, gold confetti and a wonderful Eiffel tower  illustration. You can almost feeel the romance!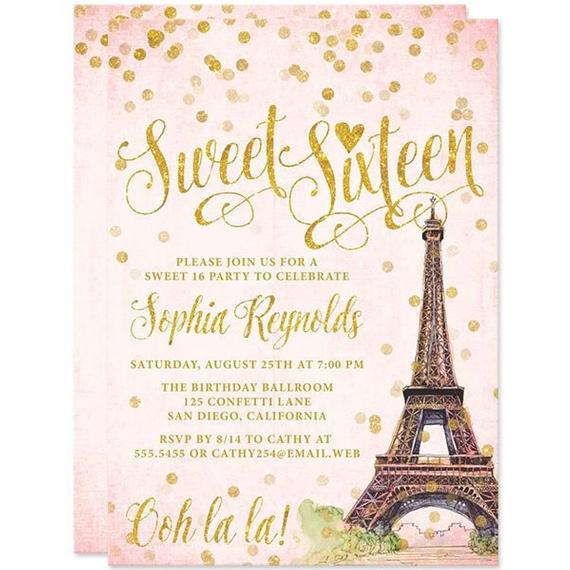 Kate Spade parties continue to be a favorite with girls and are a fabulous choice for a sweet 16.
This Kate Spade sweet 16 party invitation has everything you need. The black and white stripes and gorgeous pink flowers.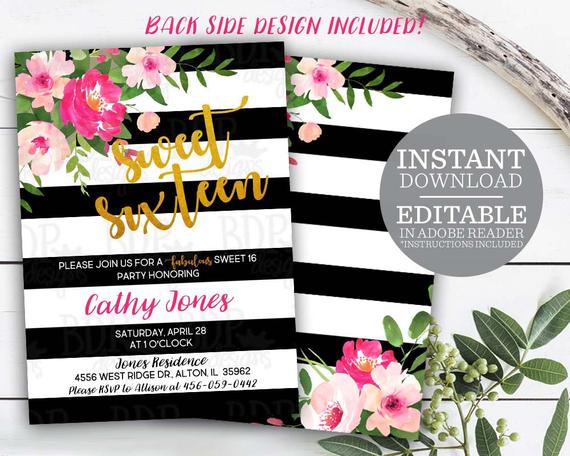 Boho chic parties are such a wonderful whimsical party theme, that although being more in tune with nature, allowing for a stunning rustic party.
This boho chic sweet 16 party  invitation, features beautifully illustrated flowers that fit in perfectly with the theme.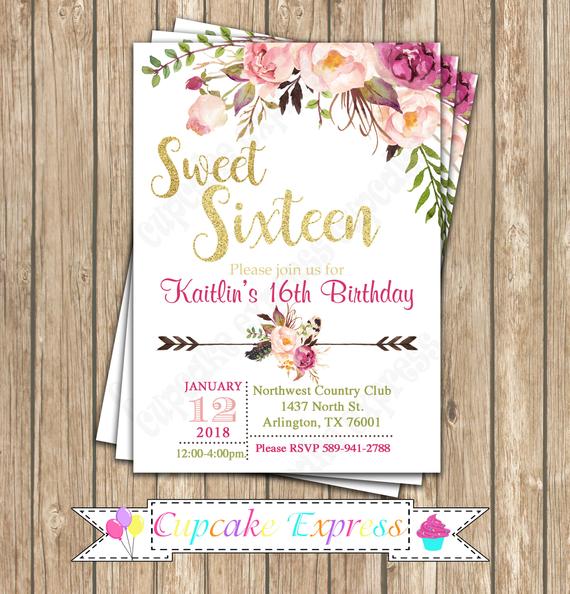 A masquerade themed sweet 16 party is one made of glitz and mystery, making it the perfect theme for an extravagant celebration.
Give your guests a taste of what's to come with this beautiful invitation featuring an elegant mysterious pink and gold mask.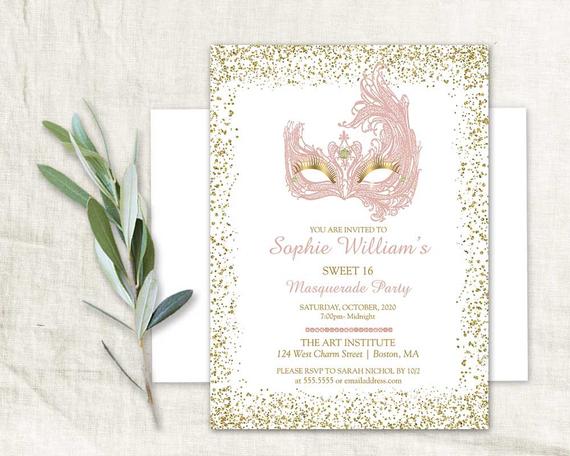 If you're looking for a vintage party theme then a Great Gatsby sweet 16 oozes style and  elegance!
This Great Gatsby sweet 16 party invitation with an art deco design in black and gold is a fabulous way to set the mood for your glamorous party!
If you're planning a summer sweet 16 how about going with a fun tropical luau theme? Flamingo parties are more and more popular each year and are such a hit with teenage girls!
Check out this bright and colorful luau sweet 16 party invitation, framed with everything tropical, from mouthwatering watermelons to hibiscus flowers.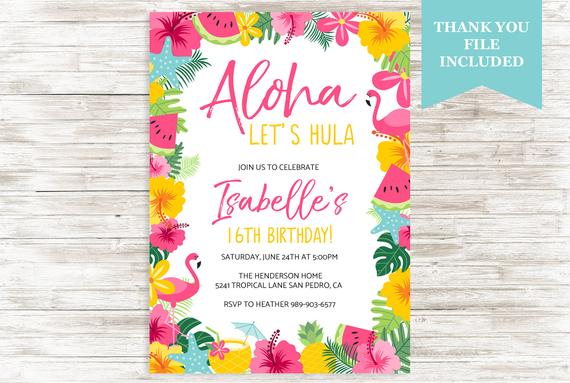 If your sweet 16 party is being celebrated during the winter, then why not go for a magical winter wonderland party theme?
This pale blue invitation framed with snowflakes is sure to impress your guests.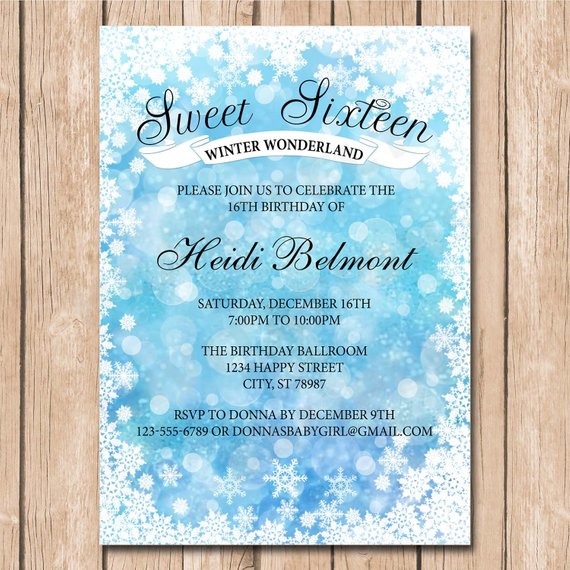 ** Some links are affiliate links.**
Need more girl party ideas and crafts?
Need more girl party favor ideas?
Need Sweet 16 party food ideas?
Need free birthday party printable decorations?
For more inspiration, check out all the stunning Sweet 16 birthday parties on our site, and check out these sweet 16 party  supplies from vendors with listings on Catch My Party!