Turning 16 is such an exciting time in a teen's life. Childhood is behind her and womanhood awaits, and what a better way to celebrate this important milestone then with a fabulous Sweet 16 Party!
If you have a Sweet 16 in the works and need help with your party favors, look no further. We've rounded up the 26 most amazing Sweet 16 party favors we could find to help you with your preparations. Enjoy!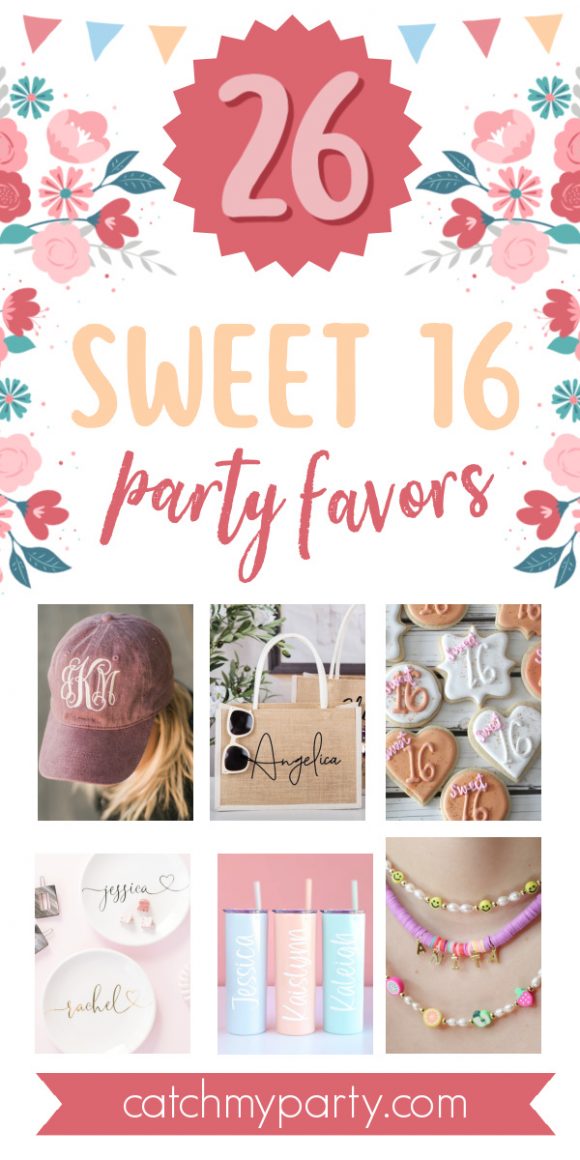 You'll find wonderful Sweet 16 party favor ideas such as bracelets, personalized water bottles, beach bags, hair ties and so much more!
26 Amazing Sweet 16 Party Favors to Treat Your Guests To!
Young ladies love jewelry, so why not treat those at your Sweet 16, to a lovely star charm bracelet?
These are very discrete, yet incredibly pretty,  and the cord comes in a variety of colors, that you can match to the color scheme of your party.
Legend has it that a wish is made when tying the bracelet around your wrist and that once the cord breaks the wish comes true.

Another wonderful alternative for someone who loves some bling is this colorful personalized necklace.
These colorful beach necklaces are a timeless sweet 16 party favor that look amazing, especially during the summer., and are great for adding a pop of color to an outfit.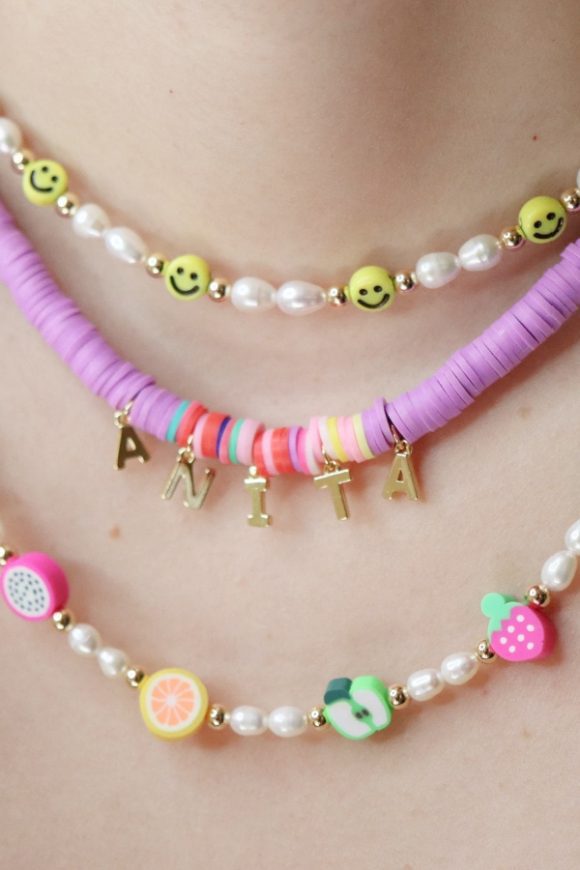 Why not treat your guests to something a little different, such as a trinket dish for them to place their jewelry?
Each dish is personalized with a name and a sweet heart.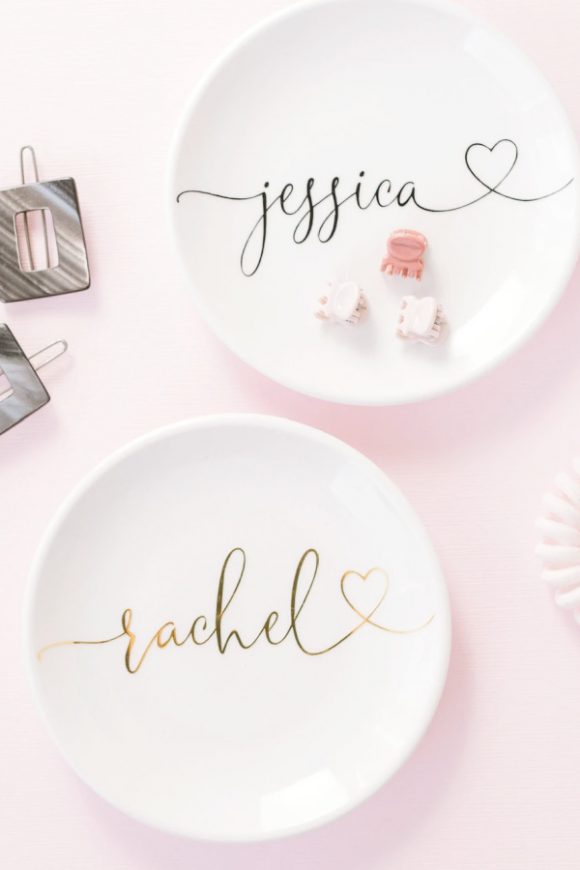 If you are still stuck on a party favor then how about one of these cute personalized travel jewelry cases?
They are so practical and great for storing and carrying any little bits of jewelry in their purse.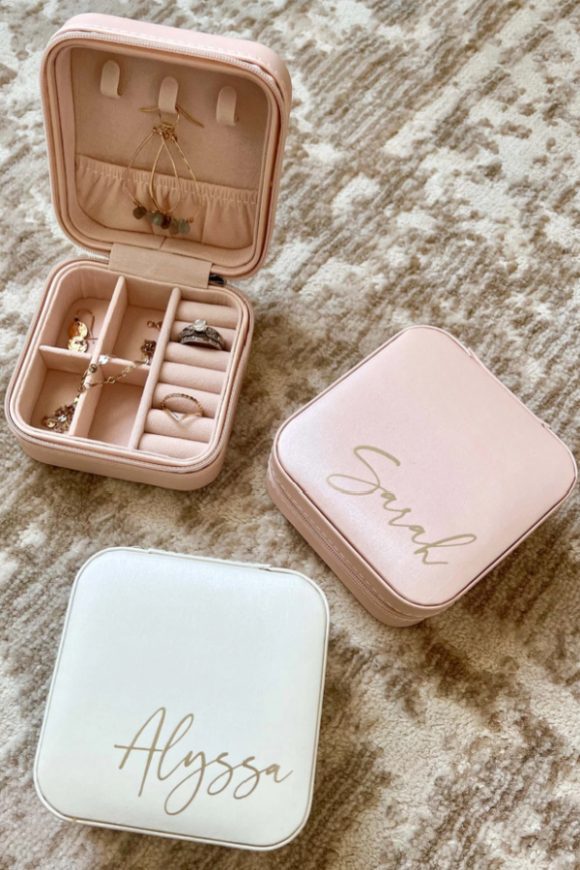 So many kids find comfort in keeping a journal as it allows them a safe space for them to reflect upon their everyday experiences, thoughts, and feelings.
Treat your guests to their own monogrammed one that they can treasure and use to write down their reflections.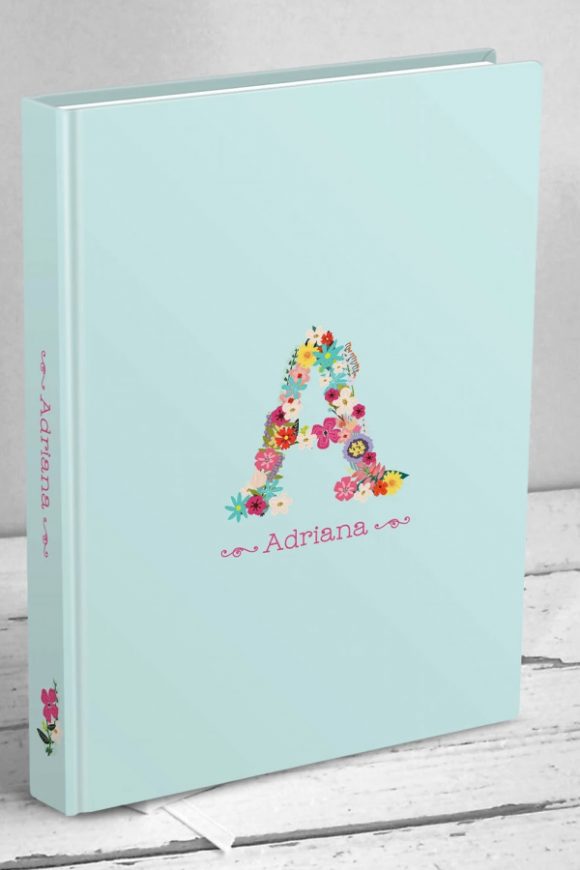 Send your guests home with one of these wonderful monogrammed baseball-style hats!
They are the perfect accessory for a low-key look and are a cool keepsake of your memorable celebration.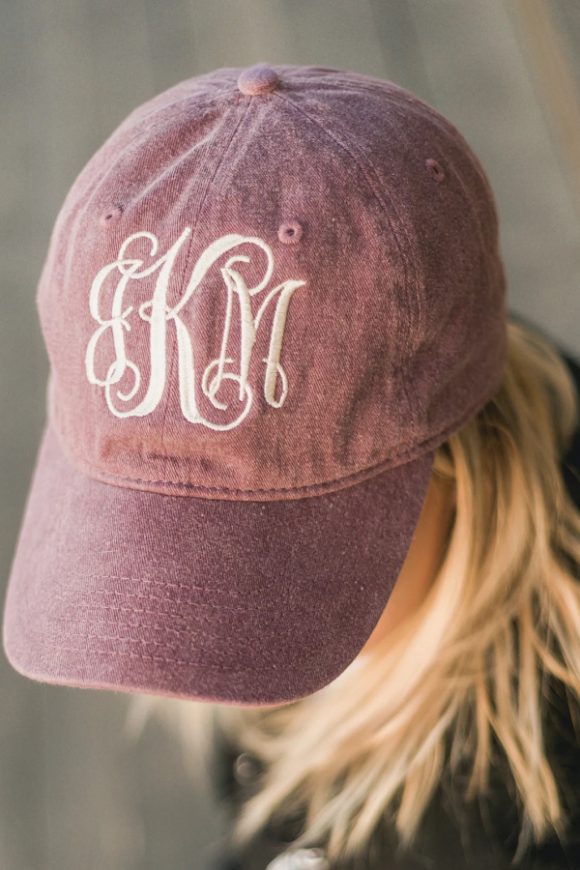 Thank your guests for coming with one of these beautiful hand-woven macrame keychains.
Each one is personalized with lettered wood beading in the center, making it the perfect boho accessory for a purse, bag or backpack.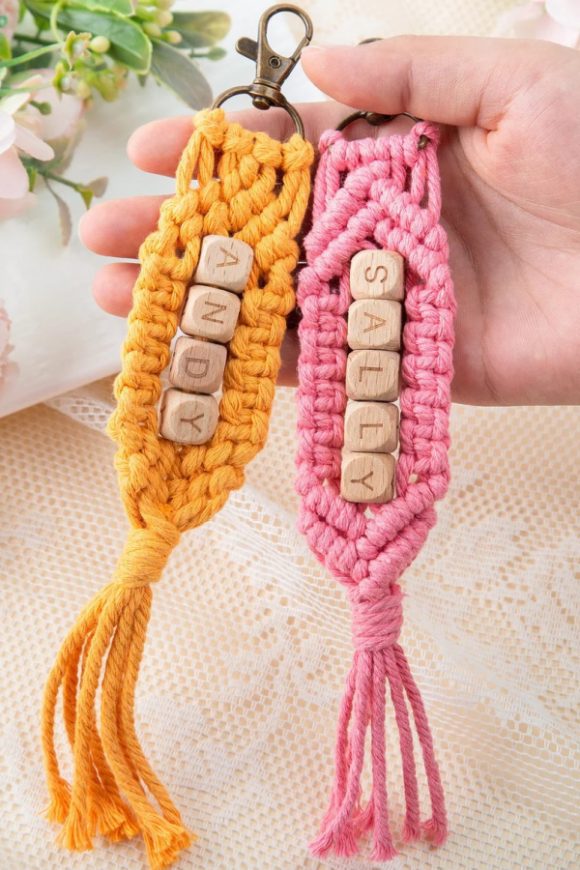 These personalized, floral hair brushes make wonderful sweet 16 party favors.
They come in pink, purple, teal, or light pink, and each one is finished off with a little white bow.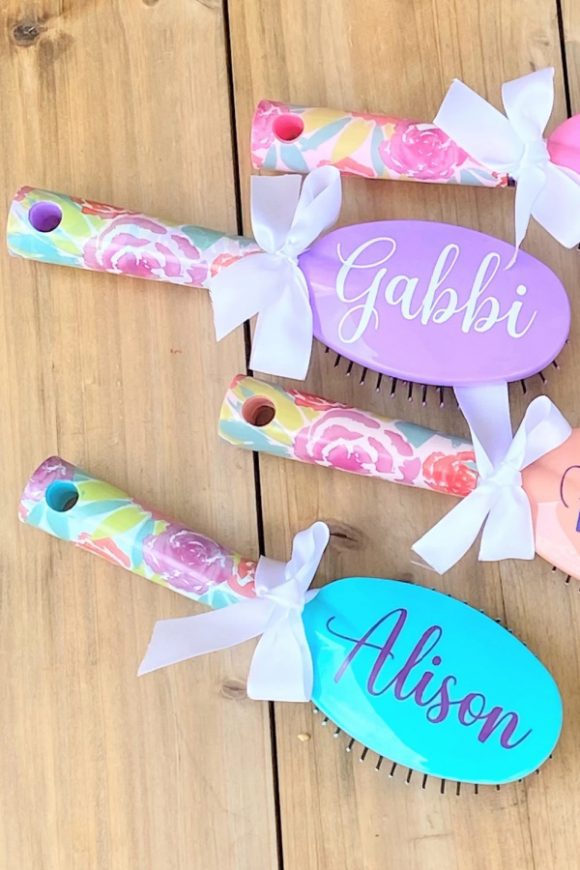 These gorgeous metallic compact mirrors are ideal for your guests to pop in their purses or make bags for on-the-fly daily touch-ups.
Each one comes is personalized with a pretty script name in the color of your choice. It's such a unique party favor!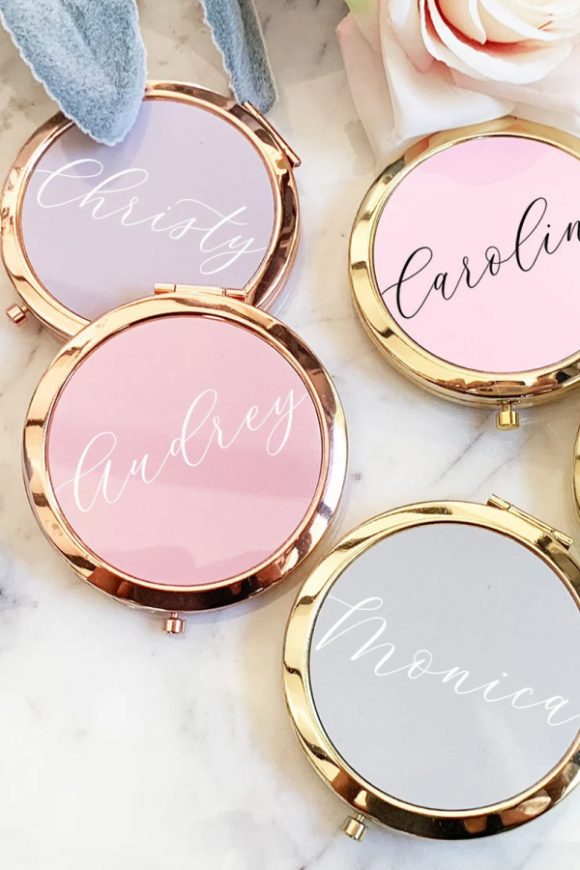 Take a look at these adorable rose gold square tin candle party favors. You can choose from a number of different fragrances such as gardenia, amber noir, and hydrangea, just to name a few.
The candles include a gorgeous personalized floral label for each guest. Who can resist?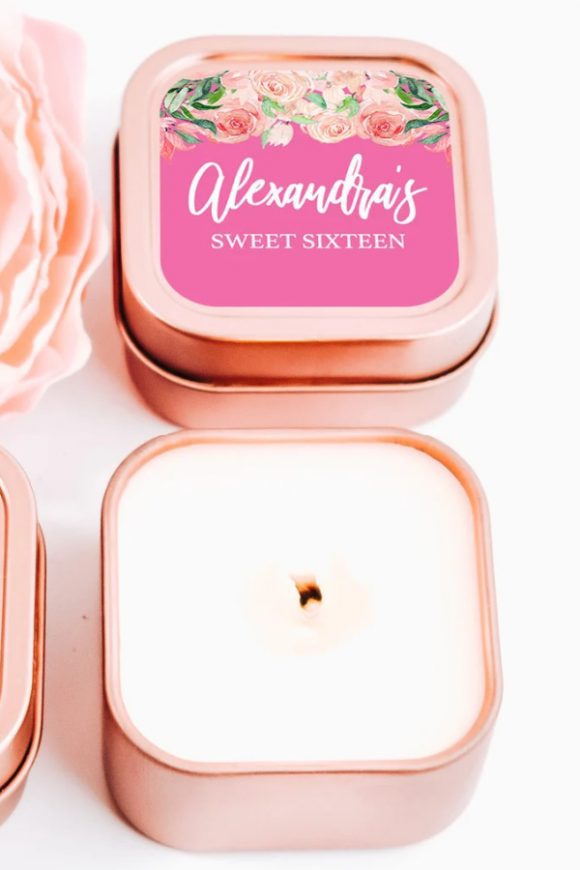 You can never have enough lip glosses and these personalized ones are the perfect sweet 16 party favor!
You can choose from two different tones, pink kisses, and seduction. Each one is made from a blend of mango and shea butter designed to help hydrate and condition lips.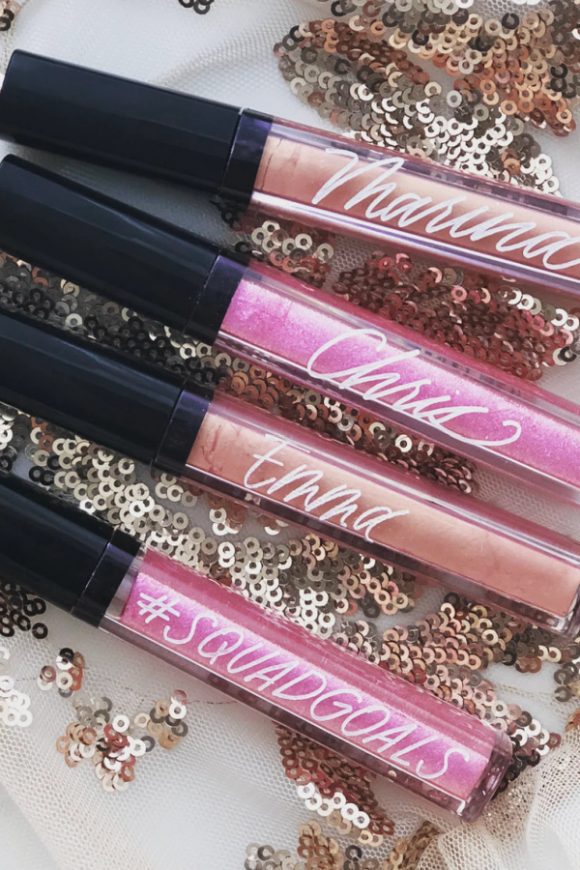 A girl needs a place to keep all her makeup, so why not send your guests home with their very own makeup bag with their name across it in stylish typography?!
It's the perfect Sweet 16 party favor for a teen that loves to look her best.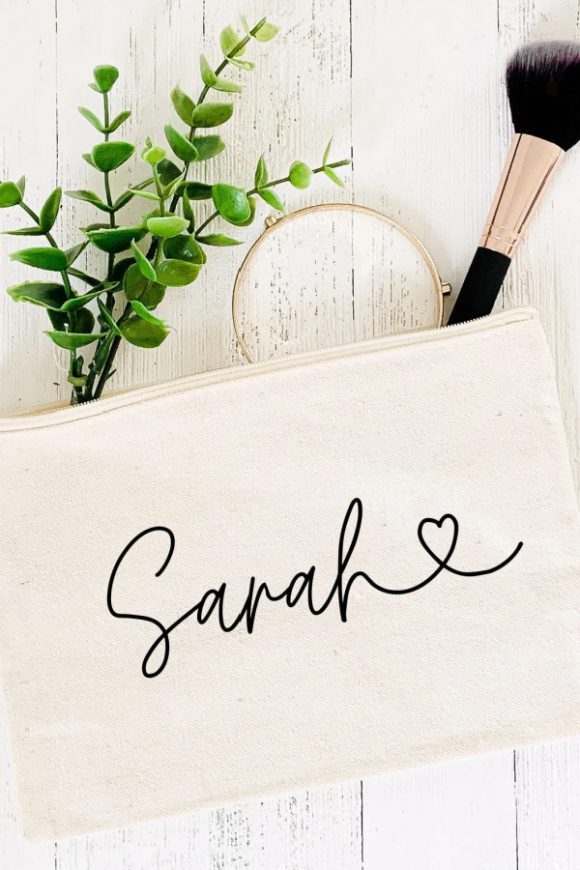 You can always go for something completely different, such as one of these trendy tumbler water bottles.
They are a wonderful Sweet 16 party favor and also come in a number of colors and can too be personalized with your guest's name.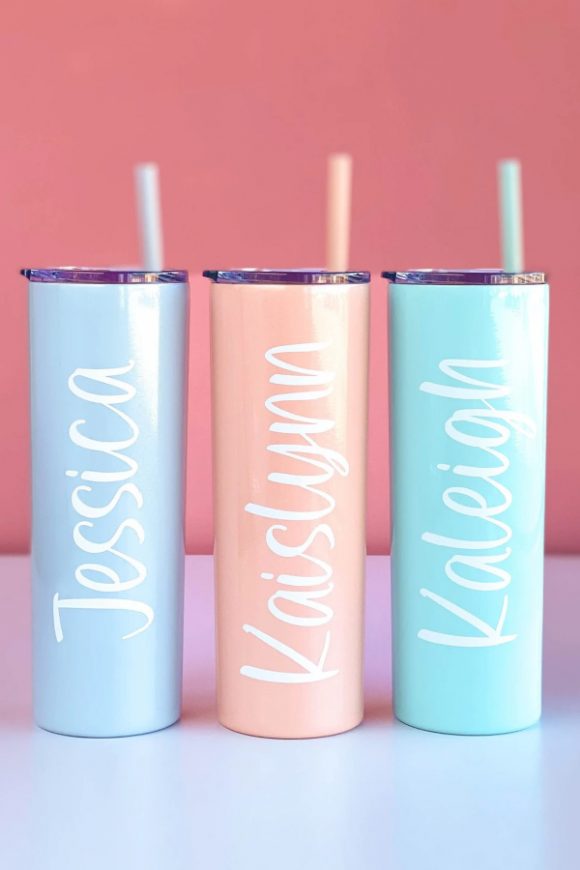 This reusable Starbucks cup is just what your guests need for those much-loved cold Starbucks drinks.
Perfect for those refills, they'll be dying to show them off on their next visit to their local Starbucks!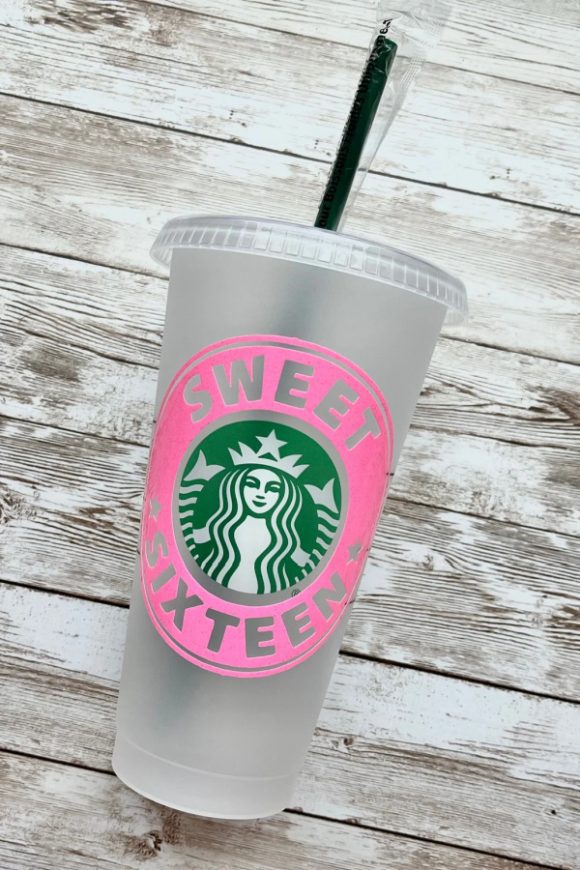 Your guests are gonna love drinking from these cute mason jars!
Each one is personalized with your Sweet 16 details and is a lovely party favor to be used over and over again.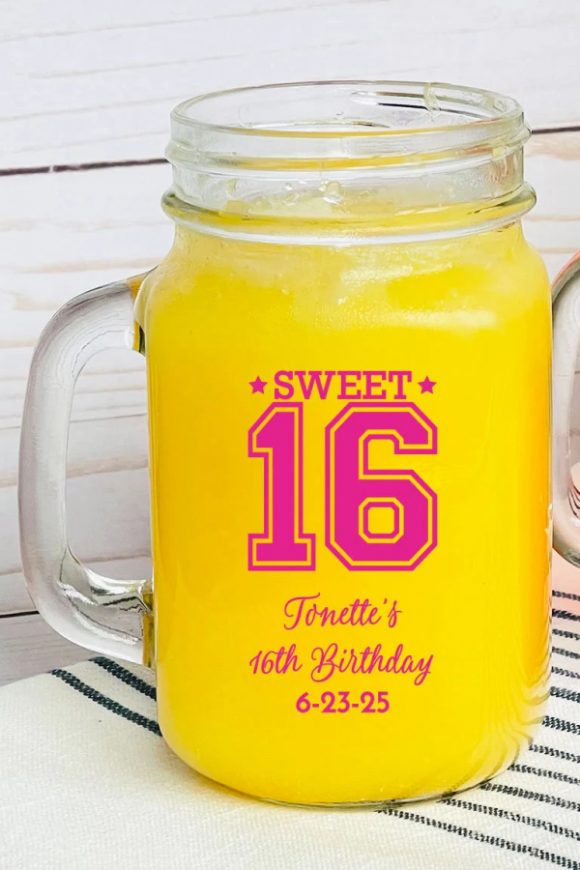 If your Sweet 16 is in the summer the perfect party favor would have to be a beach bag. Girls are going to love hitting the beach with one of these fabulous bags!
They are burlap tote bags and can be personalized with a name. Just perfect for a beach babe.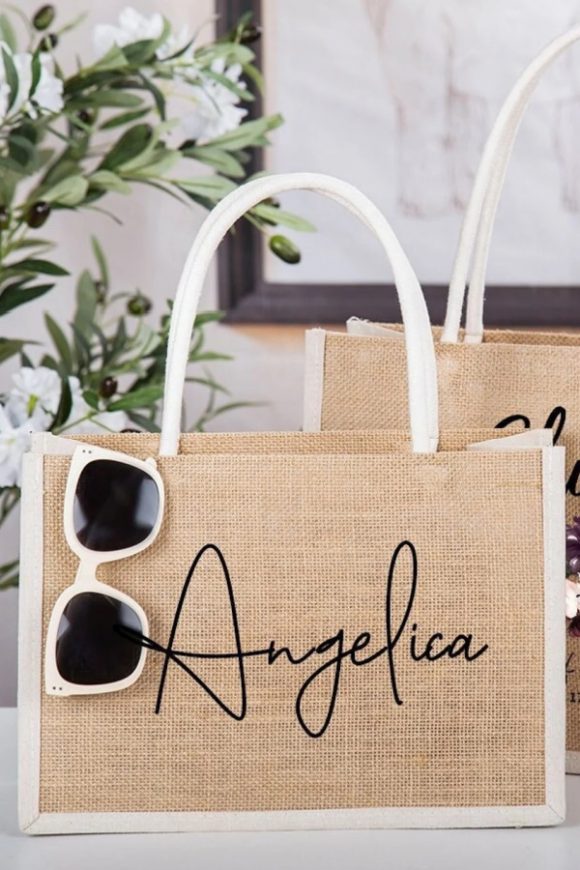 Another wonderful party favor that your guests are going to love is one of these fabulous stylish personalized beach towels.
They have such a fun tropical vibe and are perfect for a trip to the beach or pool!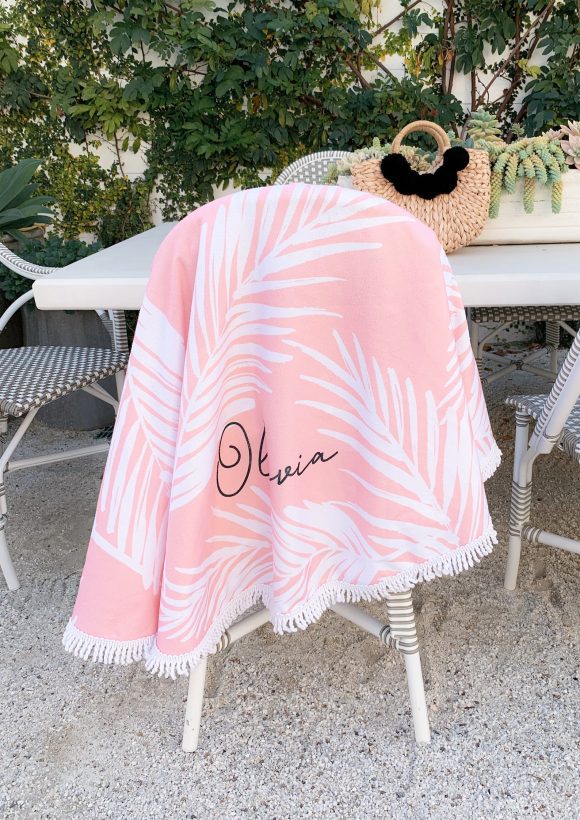 You can never have enough hair ties and these colorful ones make a fantastic Sweet 16 party favor.
Choose from loads of different colors and patterns, and pick out what you'd like the card to say.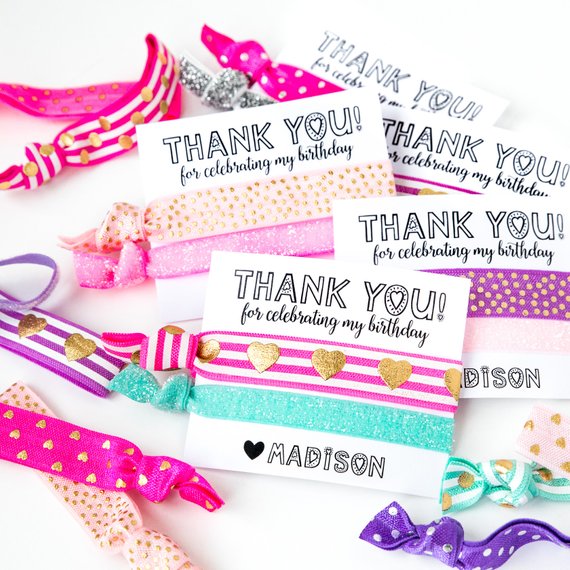 Girls love to pamper themselves and these sleeping mask party favors are an absolute must for a girl that wants to shut off from the world and relax, while still looking stylish.
Treat your guests to their very own personalized one. Believe me, they'll be a godsend!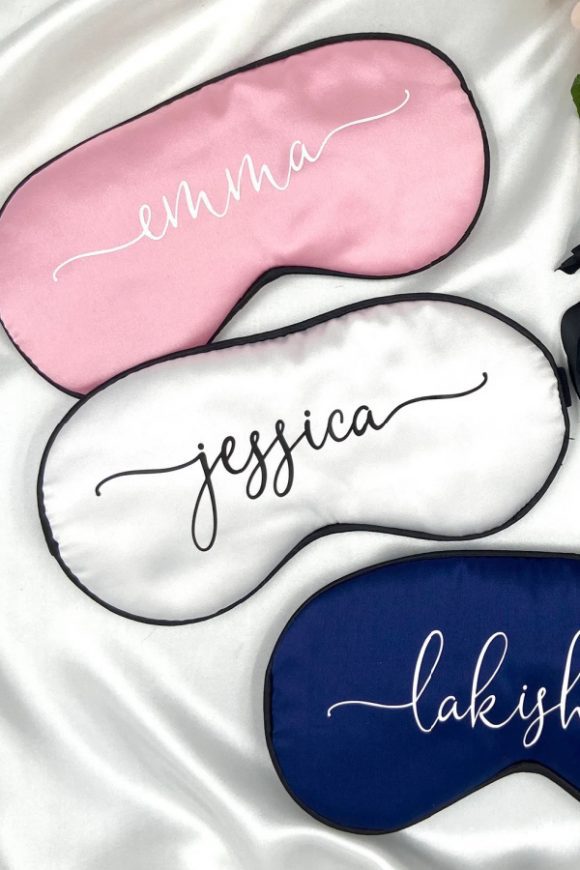 If your guests love to indulge in a relaxing, fragrant tub, then these bath bombs party favors are going to be a massive hit!
They come in various sizes, and each one is handmade and smells of cherry blossom. Can't think of a better way to relax after all those Sweet 16 party celebrations.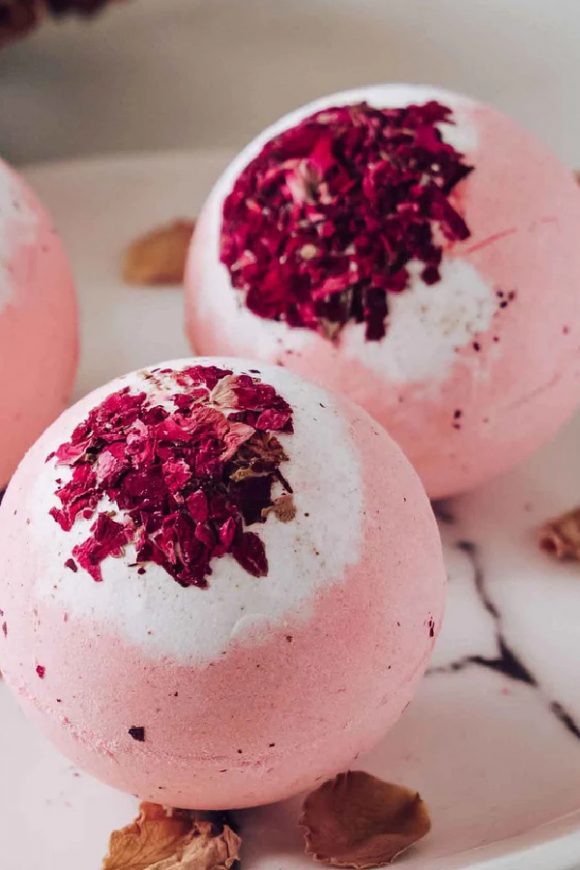 If you are looking for a sweet way to thank your guests for sharing your big day with you, how about treating them to an all-natural vanilla sugar body scrub?
Each one comes in its own stylish package, in a signature jar, topped with a personalized label.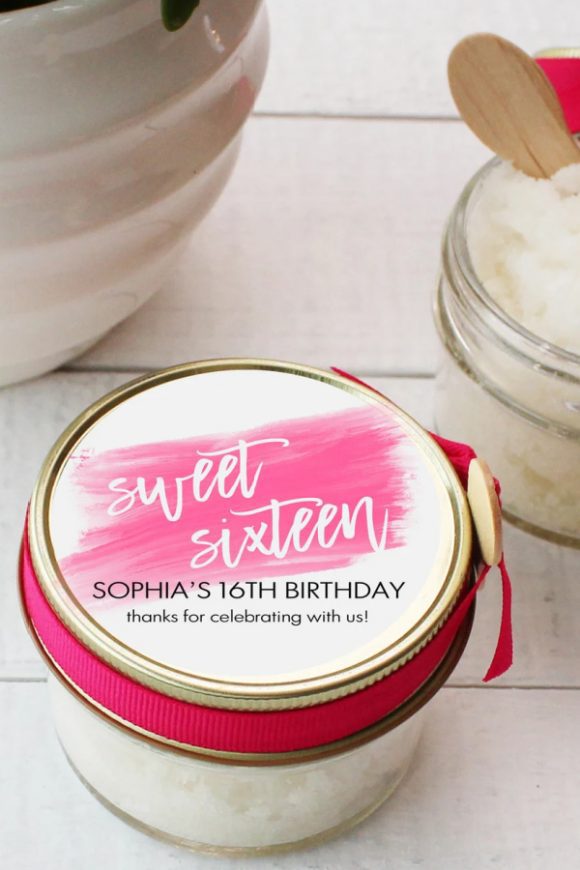 Kids love tattoos and these temporary sweet 16 tattoos are no exception!
The pack comes with 2 sheets with a total of 42 designs, such as hearts, ice cream sundaes, cowboy hats, cherries, and much much more…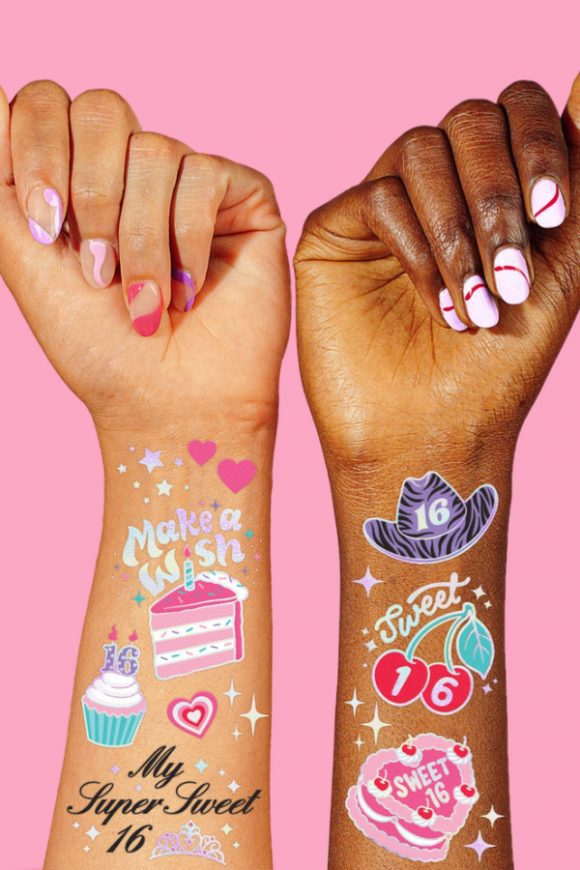 These wonderful spa slippers are just what your guests are going to need to wind down from all that partying!
Each pair are made with soft faux fur and personalized with a name.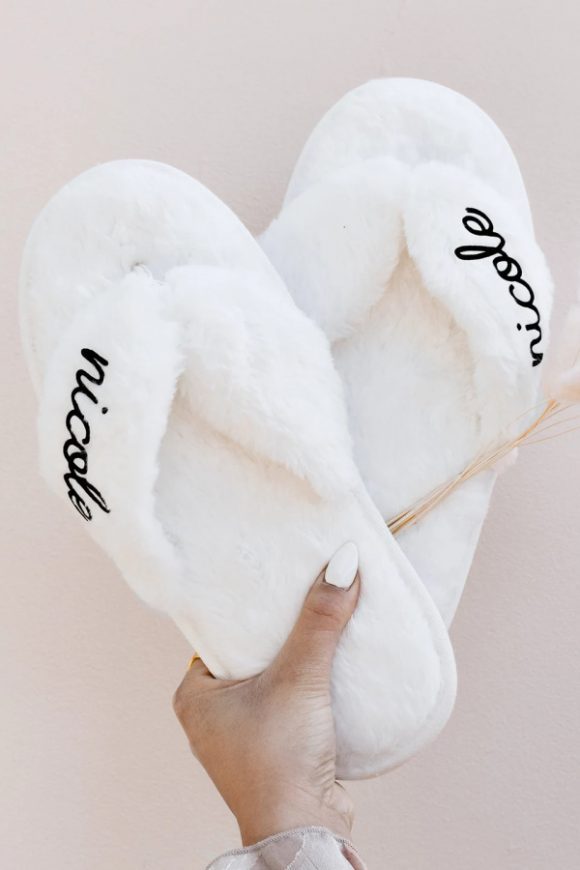 Treat your guests to a sweet party favor such as these delightful sugar-coated cookies.
They are so delicate and are a lovely party favor that your guests will be able to enjoy at home with a comforting drink.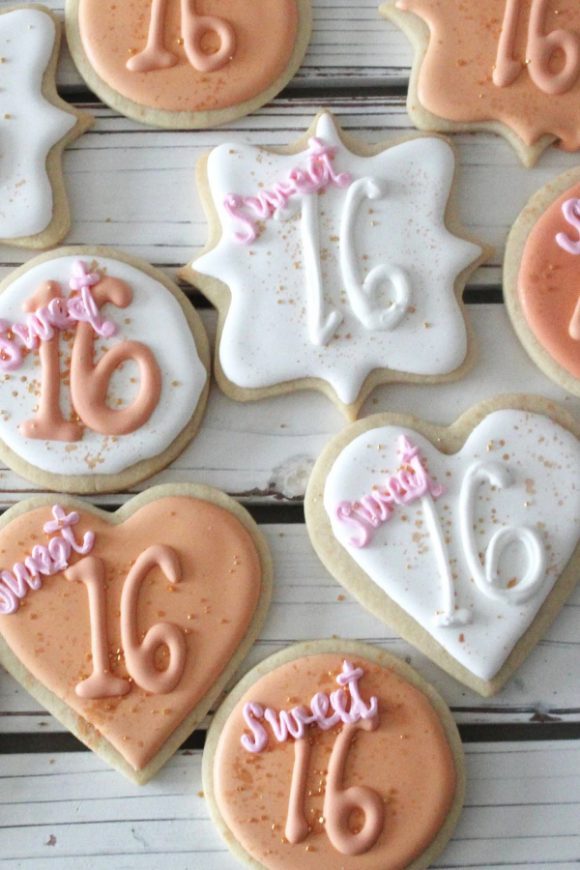 You can never have too many succulents! They are so easy to maintain and always great which is why they are a cool party favor for a sweet 16.
There are so many to choose from that you can have a bunch of them laid out and have your guests pick out whichever one they like the most.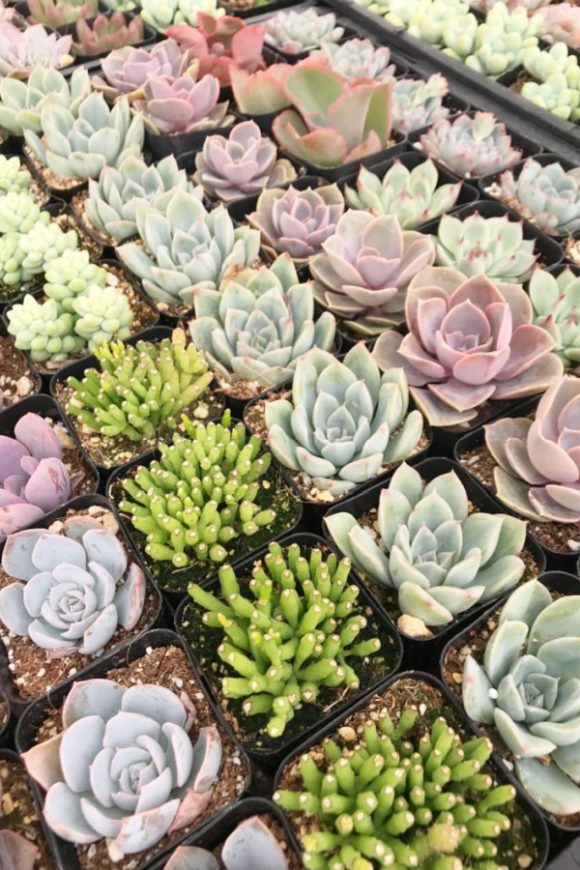 Send your guests home with a bunch of fabulous goodies in one of these pretty 'sweet 16' party favor bags.
Wrap all the party favors in matching tissue paper and place them in these stylish bags!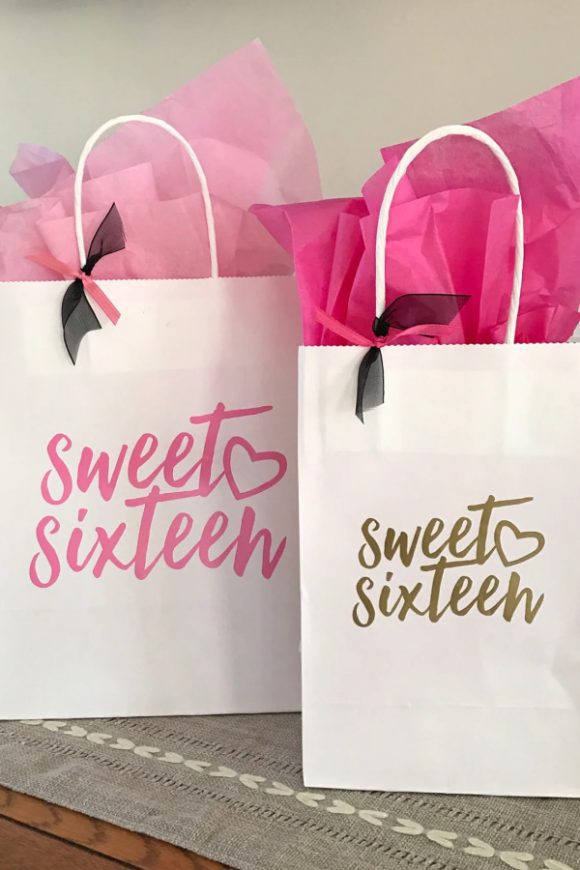 ** Some links are affiliate links.**
Need more girl party ideas and crafts?
For more inspiration, check out all the stunning sweet 16 birthday parties on our site, and check out these sweet 16 party  supplies from vendors with listings on Catch My Party!