A boy's first birthday is such a milestone.
Here at Catch My Party, we know all too well just how much love and hard work goes into preparing for such an important celebration.
To help you with the preparations, we've rounded up the 20 best boy 1st birthday party invitations for each of the most popular boy party themes.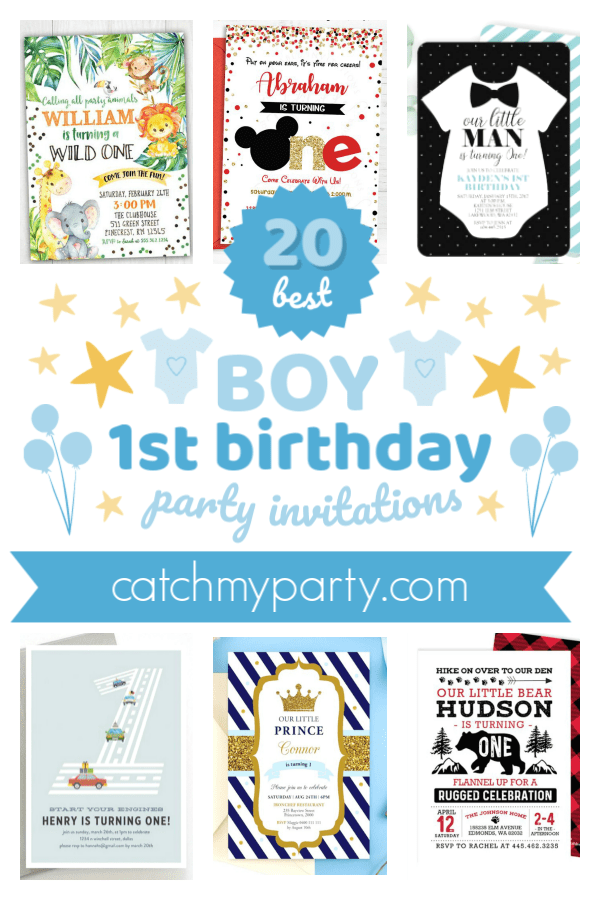 We've found gorgeous invitations for the most popular 1st birthday party themes such as Mickey Mouse, jungle/safari, circus, prince, and many many more! We hope you enjoy them!
Check out the Most Adorable Boy 1st Birthday Party Invitations!
There isn't a child whose heart doesn't fill with joy when setting their eyes on Mickey Mouse. He's an American classic that seems to have been in our lives forever and who continues to bring kids so much happiness!
Mickey Mouse parties are among the most popular 1st birthday party themes on Catch My Party, and this invitation is just perfect. We love how the design has substituted the '0' of the 'one' with some Mickey ears. Now that is a cool idea!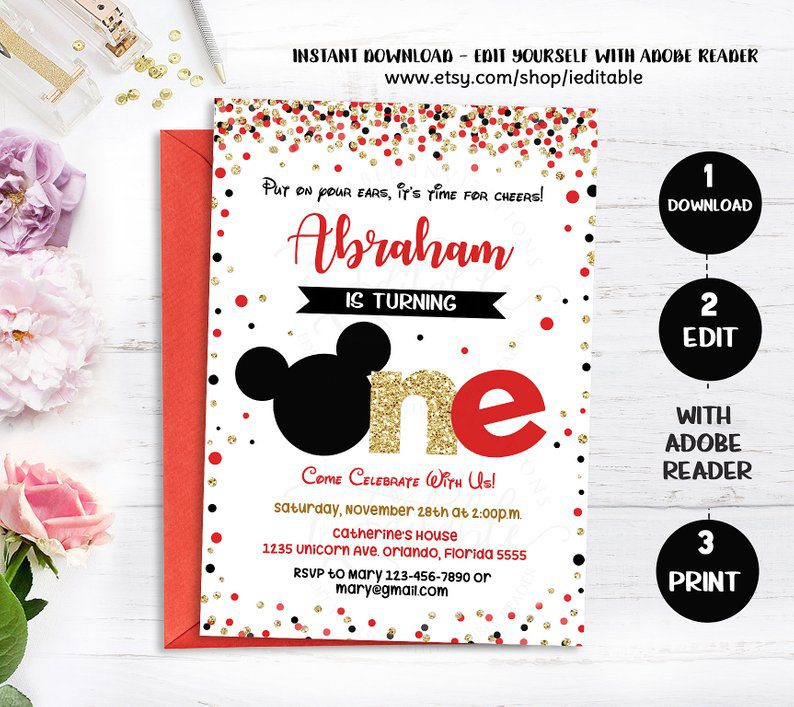 Your little boy deserves a party fit for the prince he is, and you can bet that this 1st birthday party invitation will do him justice.
The design is so fabulous with all the gold features and the large sparkly crown.

Another really popular 1st birthday party trend are circus/carnival parties. They are such a fun theme with all clowns and circus animals.
This invitation has a bit of everything and is so bright and colorful. We love it!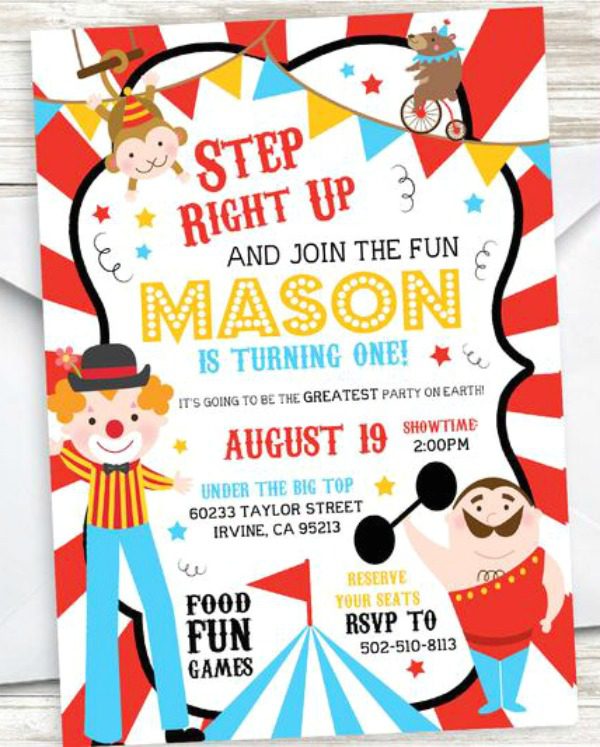 Cute animals are always a hit with young children, and the wild animals on this jungle/safari 1st birthday party invitation will melt your heart.
This invitation is beautifully illustrated and is a great way to kick off party celebrations.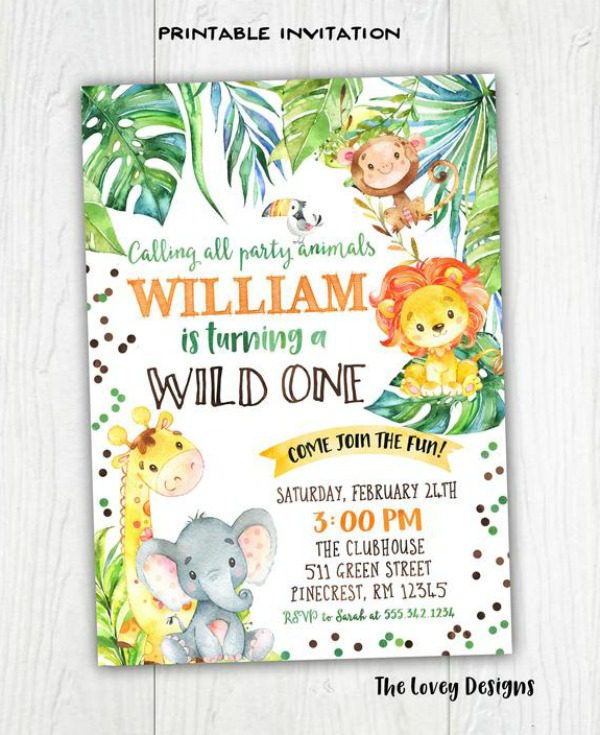 Another party theme that has an abundance of adorable animals is a farm 1st birthday!
Do you not look at the cute little faces of the bunnies and sheep on this invitation and fall instantly in love?!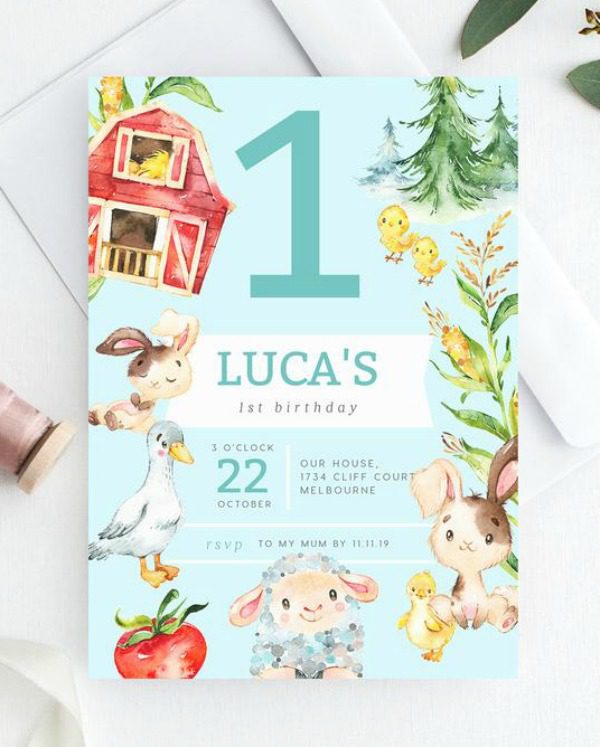 Like the two previous 1st birthday party themes, a woodland 1st birthday also includes lovable wild animals and allows you to go with a more rustic look than with the others.
This invitation is so delicately illustrated. Your guests will be absolutely spellbound once they see it.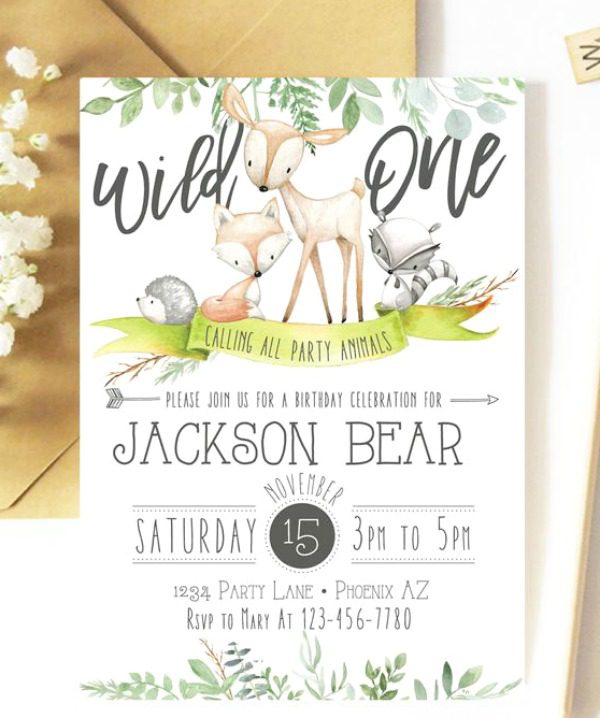 We've seen an increase in the popularity of Peter Rabbit themed parties (especially 1st birthday parties) over the past year or two. Like the woodland theme, you get to mix a more rustic look with cute animals, in this case, an adorable bunny.
Beatrix Potter's illustrations are so enchanting as you can see by with the beautifully drawn Peter Rabbit on this invitation.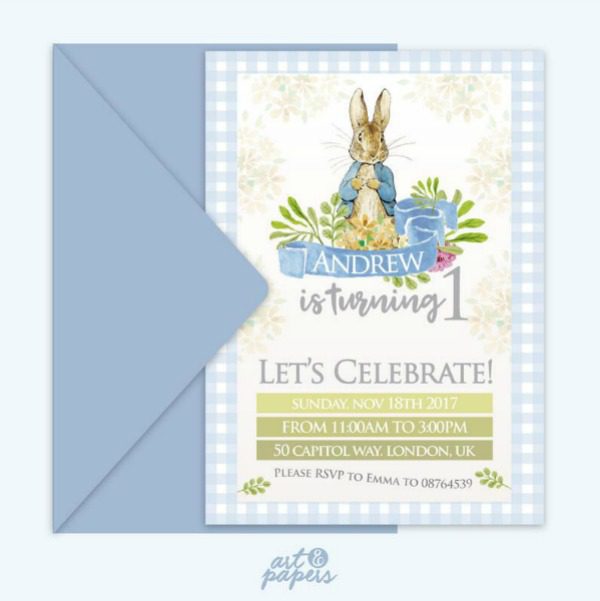 Hot air balloon parties are so trendy when it comes to first birthdays and baby showers!
It's a theme that allows you to go with a more vintage look, seen as it's a vintage form of transport.
Like the previous animal themed party invitations, the animals in the hot air balloon are adorable.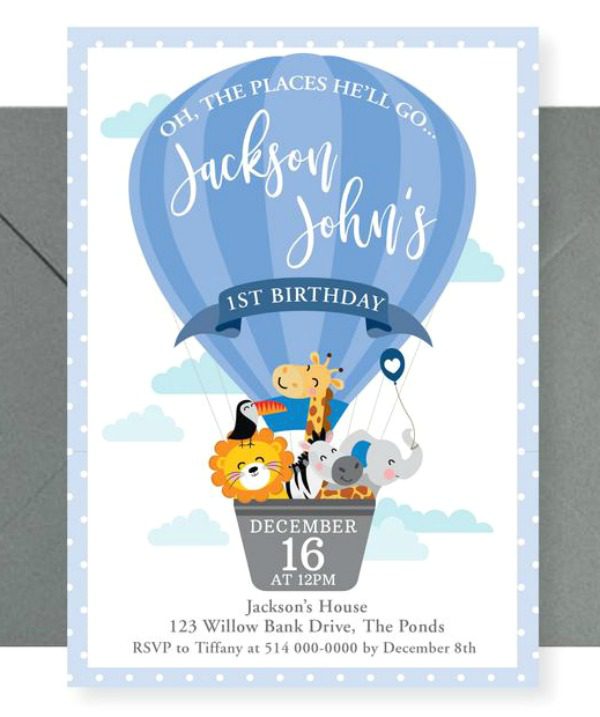 A more classical 1st birthday party theme for a little boy is a nautical party.
This invitation has an anchor in the design, but you can use anything from sailboats to whales as party decorations.
Love the bold navy blue striped background!

Get your kid hooked on dinosaurs from an early age by throwing him a dinosaur themed 1st birthday party!
The dinosaurs on this invitation are so much fun with their cute faces and colorful party hats.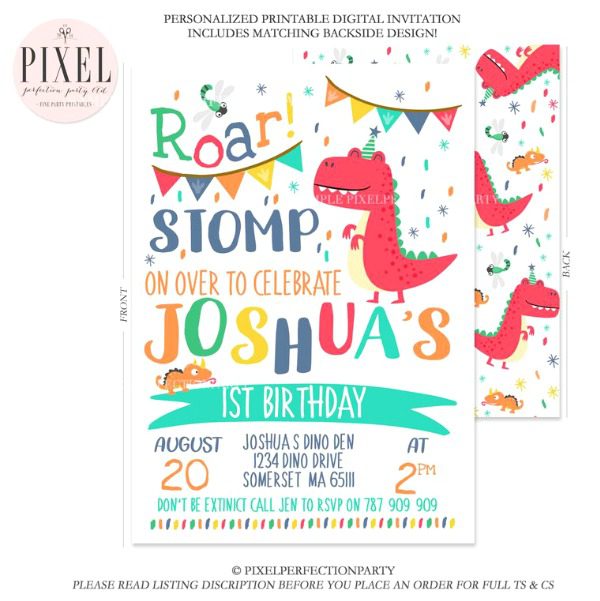 Boys love cars, so a car themed 1st birthday party may be just perfect for your little racer!
We love the retro feel of this party invitation. The design is so creative with the number '1' being the street on which the cars are driving.
What a fantastic idea!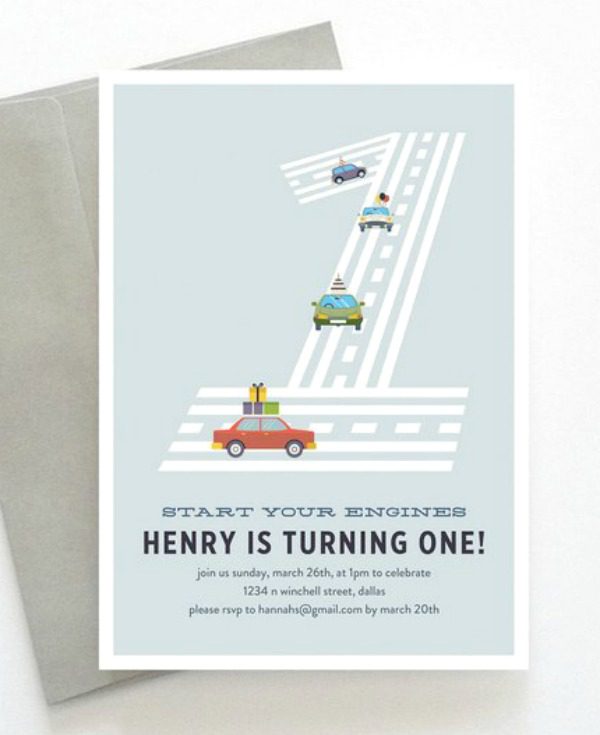 If your kid is more into trains then cars, then you won't want to miss this delightful invitation which mixes the best of two themes: trains and wild animals.
This invitation also has a cool retro feel to it that makes it stand out.

Then again if your child is more into planes, then this vintage plane may be just what you're looking for.
In bold red, white, and blue, just by looking at the invitation you feel like your flying.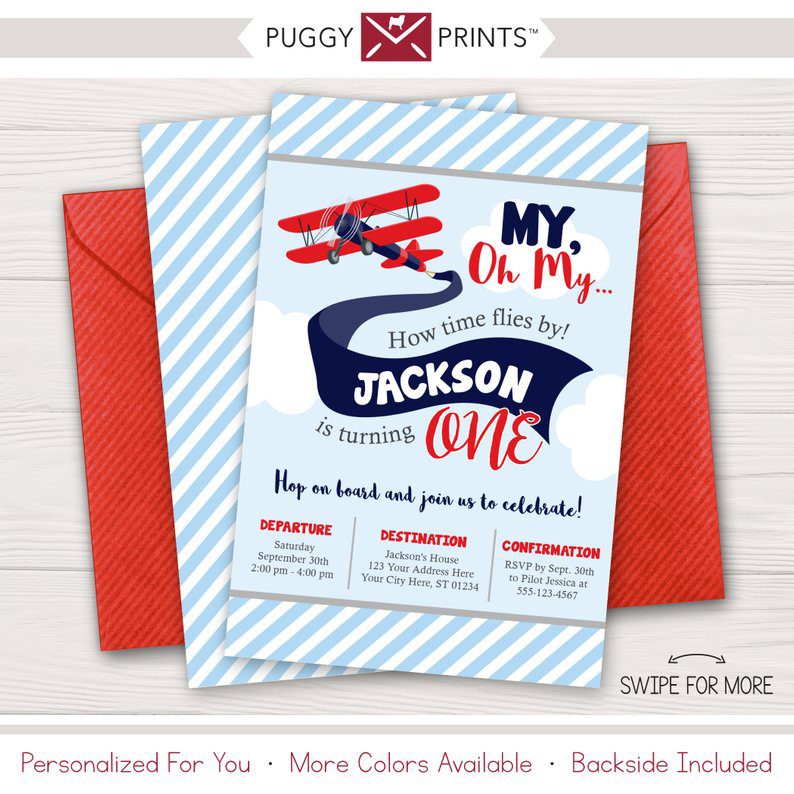 Sesame Street, similarly to Mickey Mouse, is an American classic that we've all grown up with and that has a special place in our hearts.
After all these years, it's still a big hit with kids and a popular 1st birthday party theme!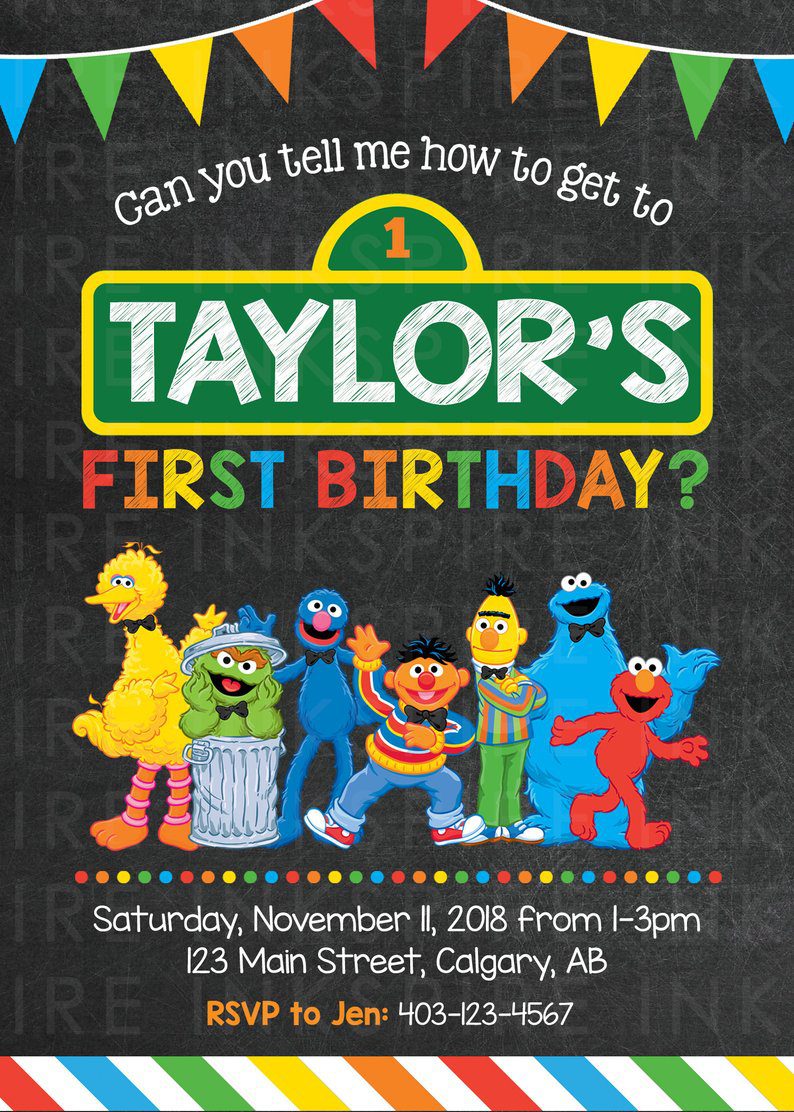 YEE-HAW! This cowboy invitation is awesome!
We love that you can add a photo of your kid and have him look like a true cowboy, mustache and all!
You couldn't ask for a better invitation.

Similar to the car-themed invitation, this construction themed one also has the number '1' transformed into a street, where the diggers and cranes are driving around doing their job.
This invitation is so simple in design, yet so effective. A true example of more is less.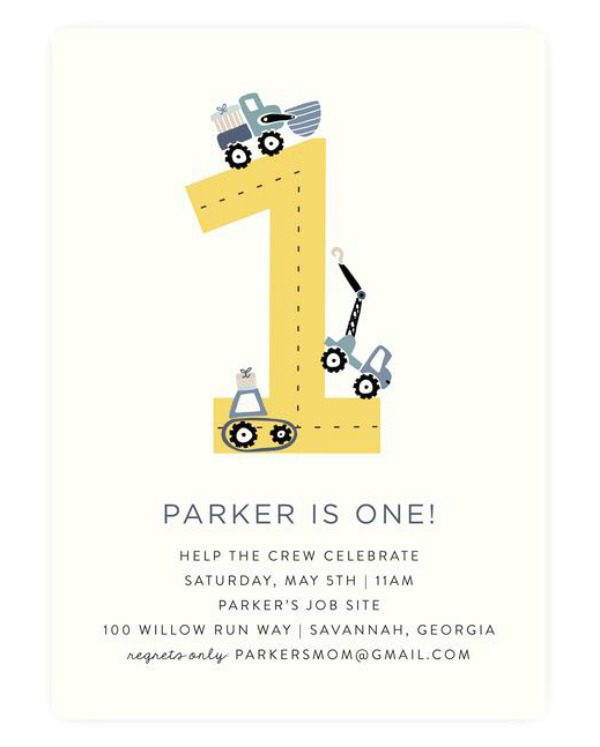 Lumberjack 1st birthday parties are a massive hit. Especially during the winter, when you just feel like curling up near a log fire to keep warm.
Be rest assured they'll be no curling up at your party! The design of this invitation is perfect! It's so graphically well balanced and so on trend.
Your guests are going to love it!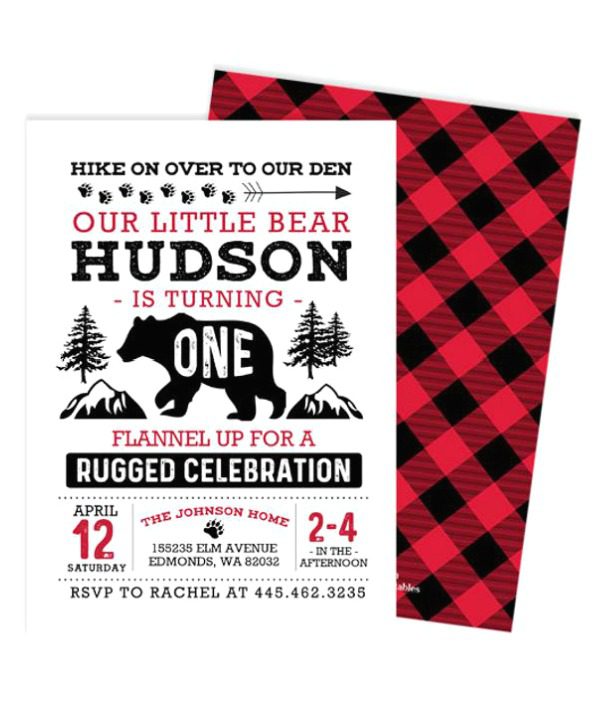 The 60's book Where the Wild Things Are has been a favorite for generations and makes for a wonderful party theme for an adventurous little boy!
The silhouette of a 'wild thing' jam-packed with gorgeous calligraphy is amazing!
Your guests will take one look at this invitation and the first phrase that will pop into their minds just has to be, "Let the wild rumpus start!"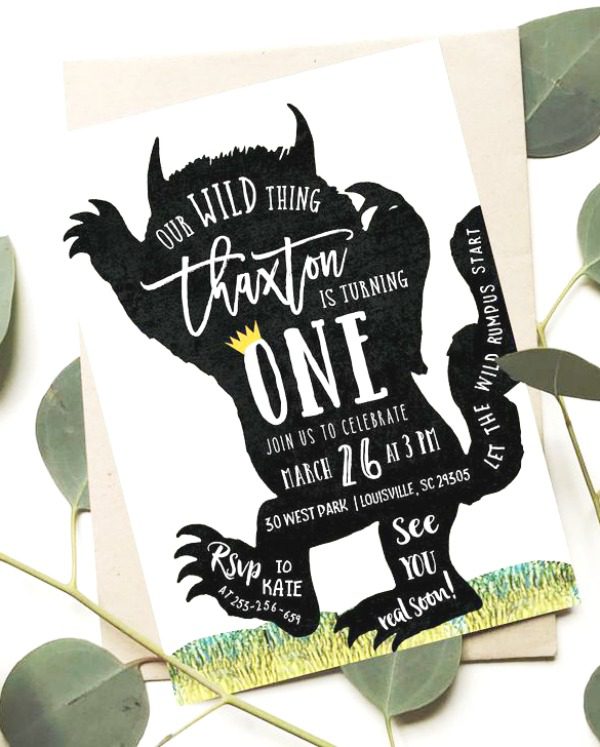 Our list is almost coming to an end, but we couldn't leave without a 'Little Man' themed 1st birthday party invitation.
Your son is still so small, but he is becoming a little man.
You'll want to celebrate his 1st birthday with this awesome onesie with a bow tie party invitation!
It just oozes style!

To finish off we have the perfect 1st birthday party invitation for who hasn't yet managed to come up with a theme, but need to get those invitations out!
Simple in design, with a large gold 'one' written across it and various navy blue bold spots, this invitation is stunning and will definitely impress your guests.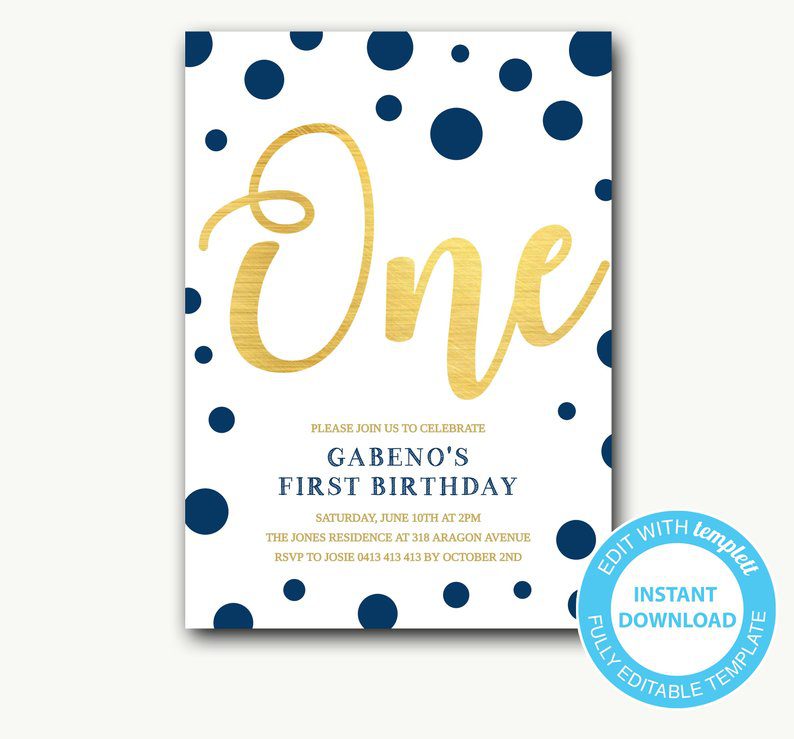 ** Some links are affiliate links and we may make a small commission if you click and buy.**
Need more boy birthday party ideas?
For more inspiration, check out all our amazing 1st  birthday parties for boys, and check out these boy 1st birthday party supplies from vendors with listings on Catch My Party!