Congrats, you've gotten through the first year of having your baby boy. It's definitely a time to celebrate. And you've come to the right place for unique first birthday party ideas for boys!
We've rounded up the most popular boy 1st birthday party themes from our site to help you choose the perfect one for your birthday boy and have a celebration filled with "one-der"!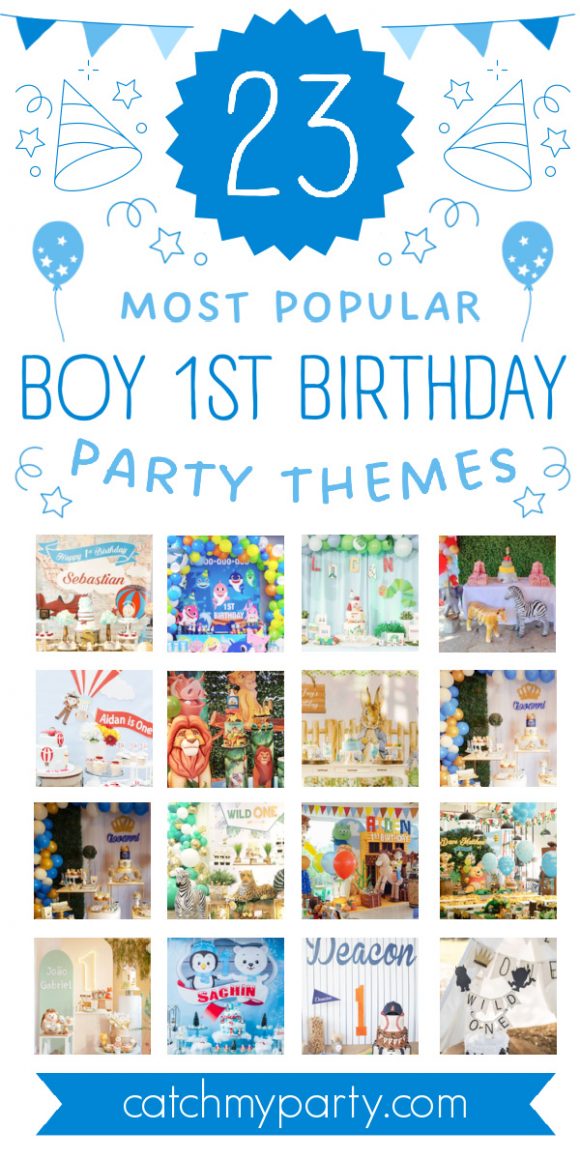 There are plenty of first birthday party themes to choose from such as a prince themed 1st birthday, a Mickey Mouse 1st birthday and so many more!
You'll see beautiful dessert table inspirations, plus ideas for cakes, candy, cupcakes, and other snacks and treats. Enjoy!
Also, if you have an older son, we also have a post with our most popular birthday themes for boys of any age.
And if you have a daughter, check out our most popular first birthday themes for girls.
Most Popular Boy 1st Birthday Party Themes of 2023!
For a truly memorable and unique first birthday party for your little boy, transform your backyard into a magical jungle with lush greenery, animal-themed decorations, and a safari-inspired cake that will make his special day an unforgettable adventure.
Kids love wild animals. Wild One Safari / Jungle 1st birthday parties are one of the most popular party themes at the moment.
Party Tip: They are a great excuse to decorate with as many jungle stuffed animals as possible.
Also, here's a cute jungle garland DIY you can make to hang behind your dessert table.
Browse real jungle safari parties here.
FREE SAFARI/JUNGLE PARTY PRINTABLES
Download either our FREE jungle safari party printables or our FREE "jungle fun" safari party printables decorate your party in wild style!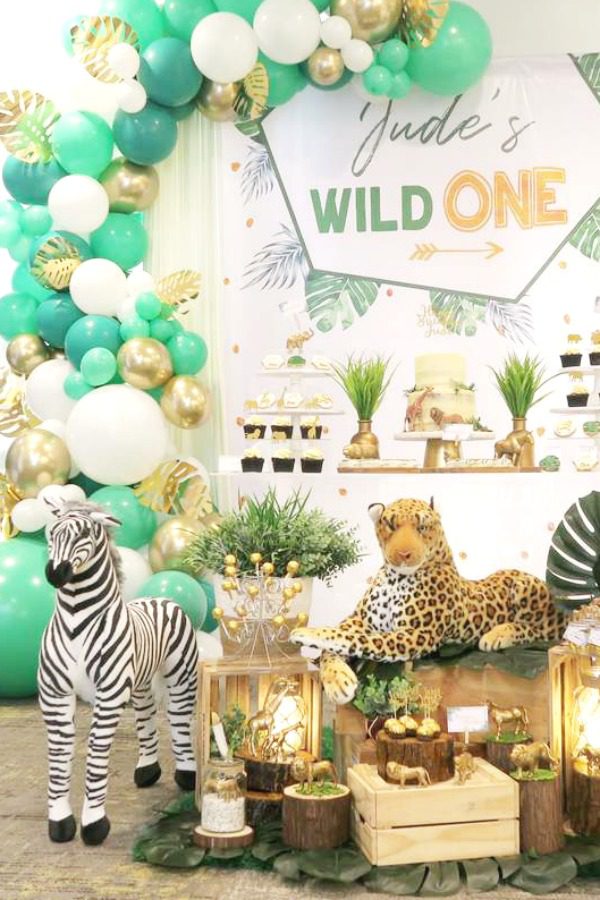 With the growing success of Baby Shark, we have seen a massive increase in Baby Shark-themed 1st birthday parties.
So treat your baby boy to an under the sea adventure and throw them a Baby Shark birthday party with these amazing Baby Shark party ideas we've put together for you!
Party Tip: For budget-conscious party decor add lots of balloons in bright colors like in the party below.
Browse real baby shark parties here.
FREE BABY SHARK PARTY PRINTABLES
And make sure you download our awesome FREE Baby Shark printables with party invitations, favor tags, cupcake toppers, blank food cards, welcome signs, water bottle labels, straw flags, and a "Happy Birthday" banner.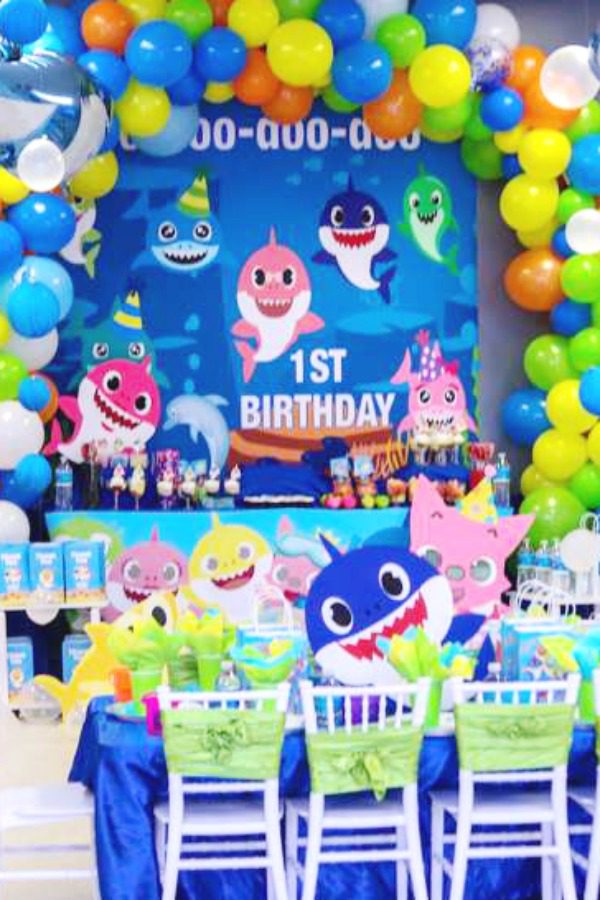 Mickey Mouse has forever been a part of our lives and has a special place in everyone's heart.
For a little boy's first birthday, make it magical with a fun Mickey Mouse 1st birthday party, one of the ideal first birthday themes for boys!
Check out the best Mickey Mouse party ideas we've found to help you throw the party of the year.
Browse real Mickey Mouse parties here.
FREE MICKEY MOUSE PARTY PRINTABLES
Download our free Mickey Mouse party printables to decorate your party in style with: invitations, party circles, welcome signs, a "Celebrate" banner (small and large), menu and thank you cards, water bottle labels, favor tags, favor bag toppers, and mini chocolate bar wrappers.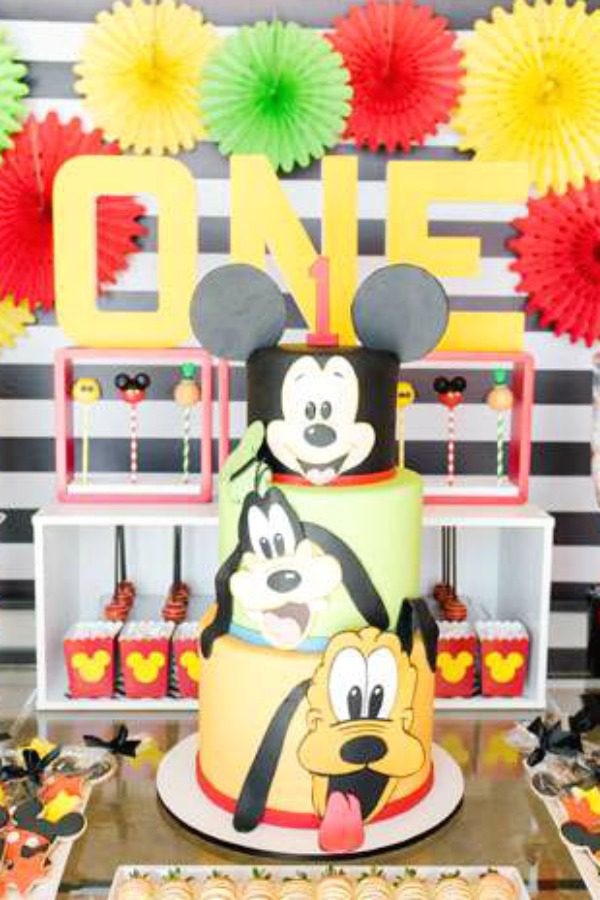 There's so much fun to be had at a circus, and a circus party is no different!
Awesome movies, such as Dumbo and The Greatest Showman, have made circus party themes increasingly popular.
For unique inspiration, check out all our excellent circus/carnival party ideas.
We also have great circus/carnival party game ideas that all your little guests will love.
Circus birthday parties are all about having a good time and you can be sure that your guests will have a blast at your little boy's 1st birthday.
Party Tip: Decorate with lots of circus props, like circus animals, tents, and tickets.
Browse real circus parties here.
FREE CIRCUS/CARNIVAL PARTY PRINTABLES
To take your party to a new level, be sure to download this set of free circus/carnival party printables or our new collection of free retro circus/carnival party printables.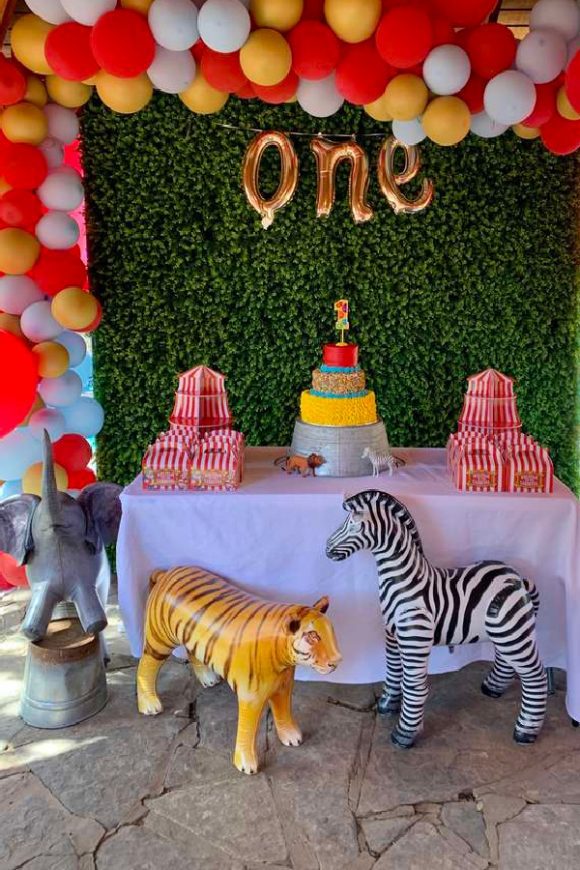 Your little boy deserves nothing less than a first birthday theme fit for a prince, so how about treating him to a regal party.
Prince parties are one of the most popular party themes on our site.
They are great for a wide variety of parties from 1st birthdays to baby showers!
Browse real prince parties here.
FREE LITTLE PRINCE PARTY PRINTABLES
Decorate with the most elegant party decorations you can get your hands on, such as these charming FREE prince printables.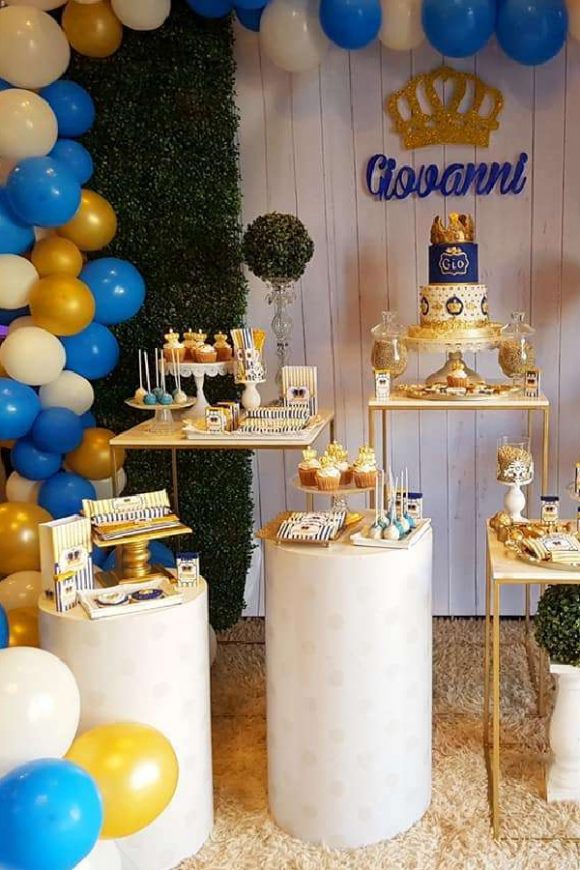 Searching for 1st birthday themes for baby boy or boy first birthday ideas? How about a playful dinosaur adventure that takes your little one and their guests back to the prehistoric era? With dinosaur-themed decorations, a fossil excavation activity, and a cake shaped like a T-Rex, it will be a roaring good time for everyone involved, making it a party to remember.
We've got so many cool dinosaur party ideas, don't miss this.
And here's a collection of incredible dinosaur cakes from real parties on our site.
Party Tip: Set up a dinosaur dig or scavenger hunt for dinosaur bones as a party activity.
Browse real dinosaur parties here.
FREE DINOSAUR PARTY PRINTABLES
If you need party decorations, look no further. We have the cutest FREE dinosaur party printables for you to quickly print out and assemble.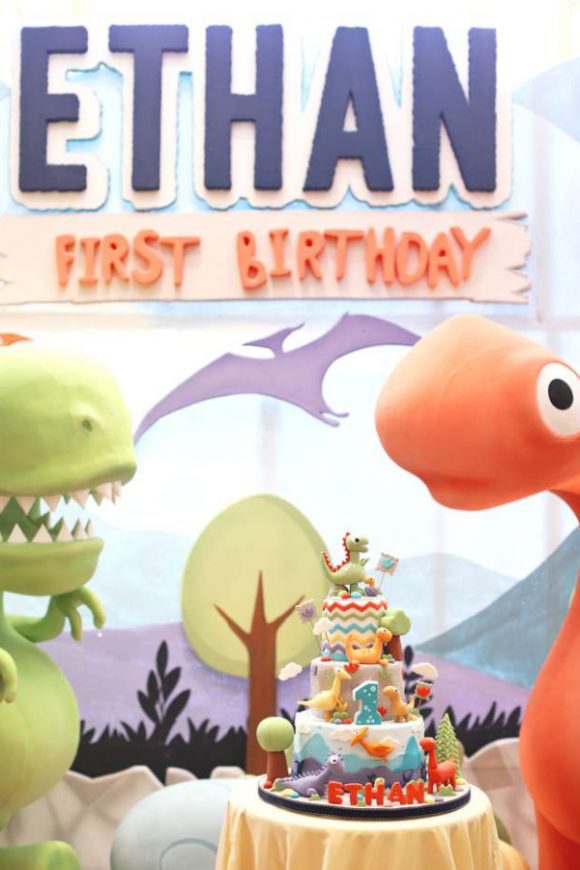 Peter Rabbit is a much-loved character from the classic children's books by Beatriz Potter.
He's an adorable bunny that loves getting into lots of trouble in Mr. McGregor's garden.
A Peter Rabbit theme is a wonderful choice for a first birthday celebration if your child is a fan of the books or even the movie.
Browse real Peter Rabbit parties here.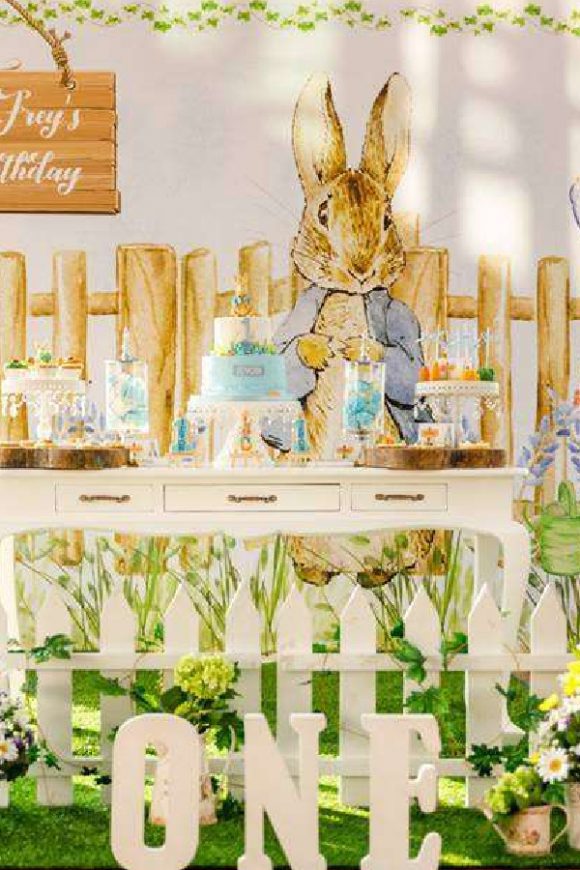 Toddlers love watching Elmo, Cookie Monster, Big Bird, and pals on Sesame Street.
They have been teaching us numbers, colors, the alphabet, and more for years now, and just like Mickey Mouse, have a special place in our hearts.
So treat your son and guests to a fun-packed, Sesame Street themed first birthday party with all their favorite friends.
Browse real Sesame Street parties here.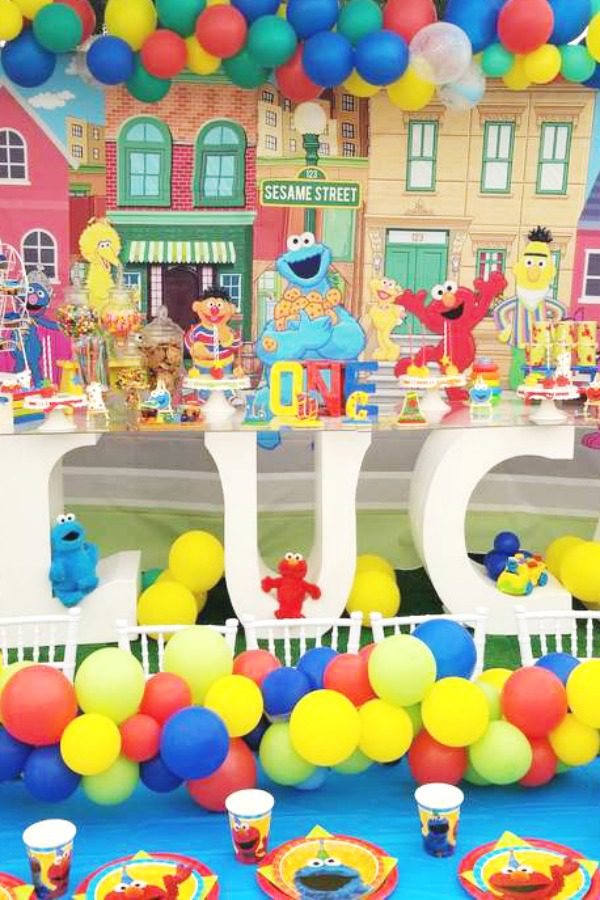 Kids love adorable little woodland animals which is why we've rounded up these rustic woodland party ideas to help you throw a sweet party for your son.
Who's heart doesn't melt at the sight of a cute little fox or deer?
Browse real woodland themed parties here.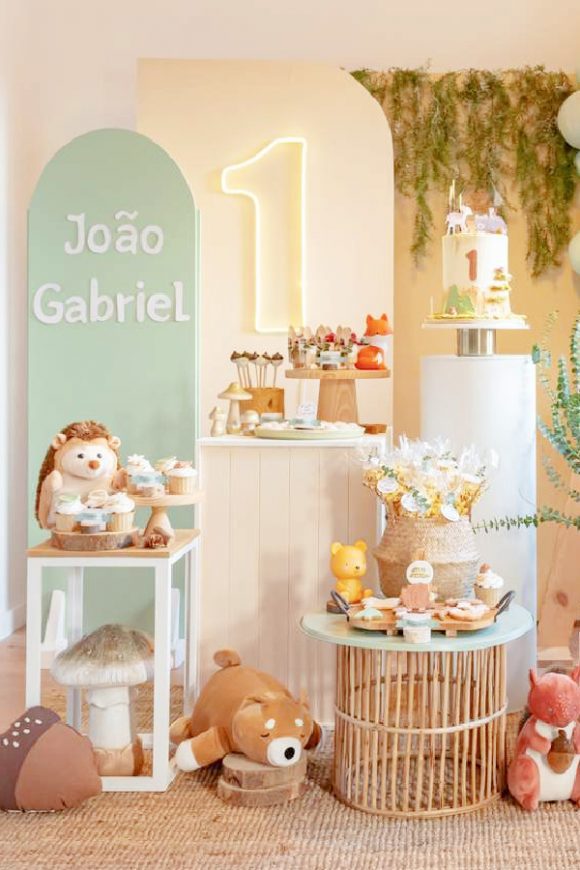 Another cool 1st birthday party theme fit for your little boy would have to be a little man's 1st birthday!
Browse real little man/mustache parties here.
FREE LITTLE MAN PARTY PRINTABLES
Decorate with a bunch of bow ties and mustaches, or even these fun FREE little man party printables, and your party will be a success.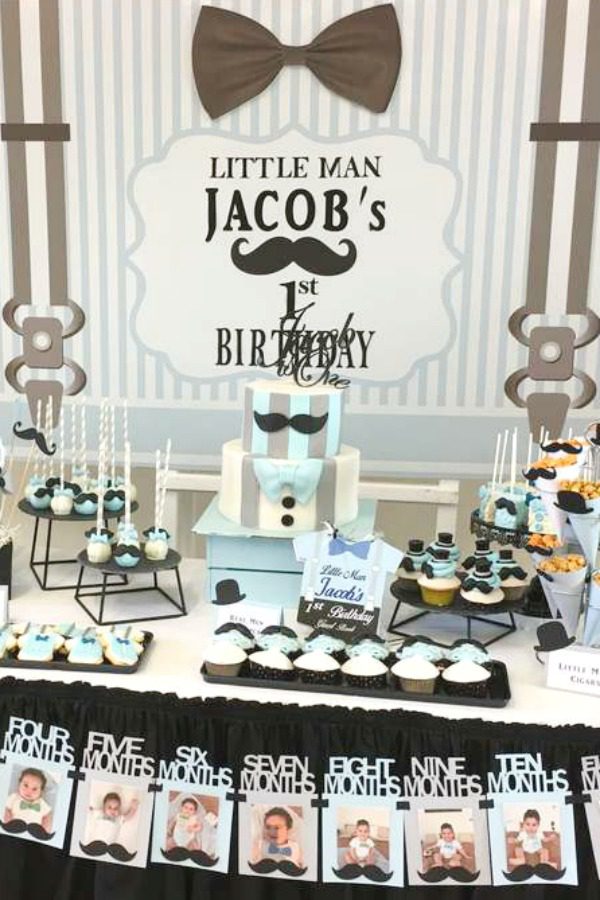 If your son is a fan of airplanes then he'll absolutely love an airplane-themed 1st birthday party.
It's a great theme that you can turn into a classic with a more vintage look.
You can use clouds, maps, and a bunch of airplanes to have your party take off!
Browse real airplane parties here.
Go back even further in time and treat your guests to a hot air balloon-themed 1st birthday.
There's something wonderful about flying away in a hot air balloon which is why it's a great party theme for a little boy.
As with airplane parties, you too can decorate this one with clouds and blue skies, and of course a bunch of hot air balloons.
Browse real hot air balloon parties here.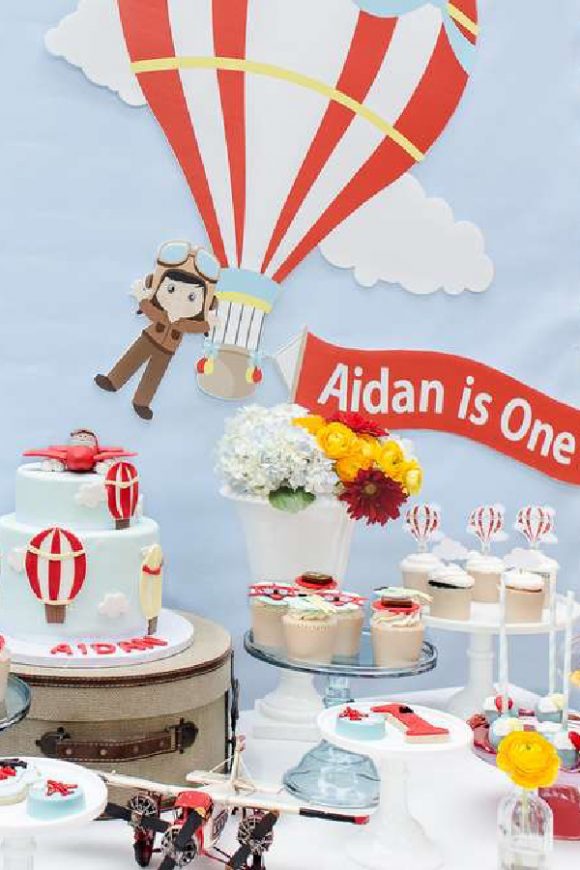 The movie and TV show Boss Baby is so much fun, and the perfect choice if you have your own little boss around the house.
To get fun inspiration for your party, check out all the Boss Baby party ideas we've rounded up for you.
Browse real Boss Baby parties here.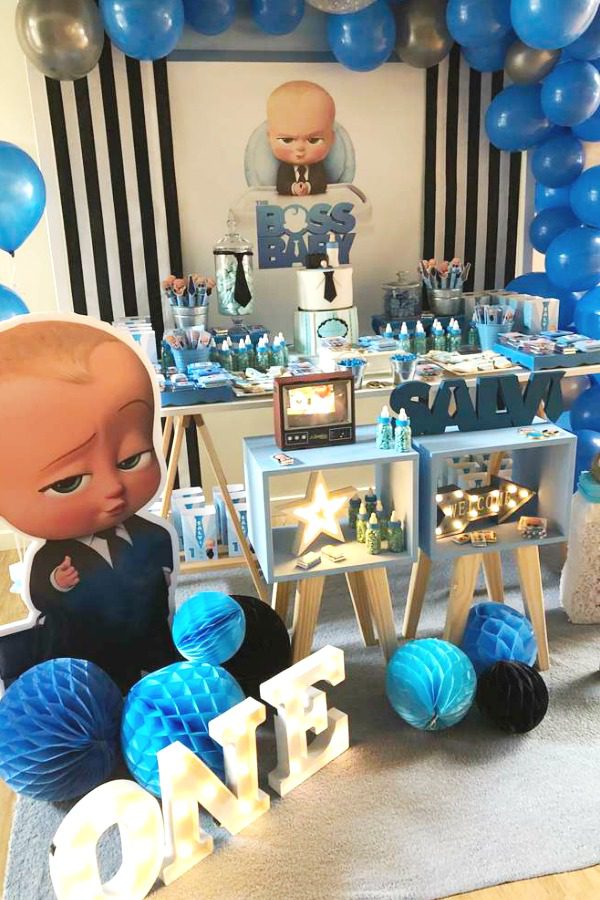 Kids love the Lion King movie. It's such a classic, with great tunes, like 'Hakuna Matata', and my favorite, 'Circle of Life', not to mention the adorable Simba!
If your child loves watching the movie over and over again then you can bet a Lion King-themed 1st birthday is the perfect theme for his party!
Browse real Lion King Parties here.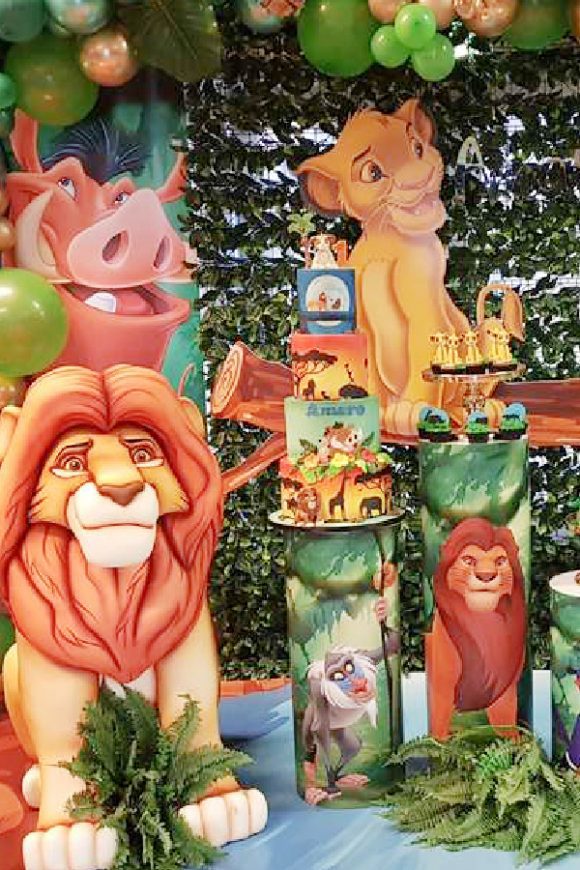 There's something so heartwarming about a trip to the farm to see all the animals.
Kids, young ones especially, love nothing more than to see the chickens, cows, and pigs!
So how about treating your little one to a delightful farm-themed 1st birthday packed with all his favorite farm animals?
I can't think of anything better than some farm animal cookies and cake pops!
Party Tip: A great activity for a woodland party is a petting zoo filled with cute, furry animals.
Browse real farm birthday parties here.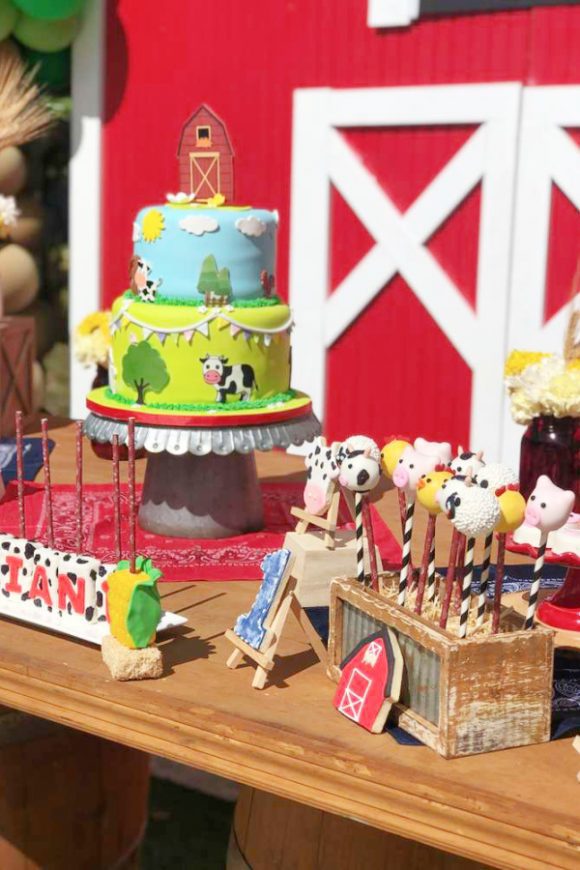 Winnie the Pooh has a very special place in so many of our hearts and is such a big part of our childhood.
Introduce your child to the magical world of Pooh Bear and all his friends and throw him a wonderful Winnie the Pooh-themed 1st birthday.
Recreate Hundred Acre Wood with some amazing woodland-inspired party decorations and don't forget the bees!
Browse real Winnie the Pooh parties here.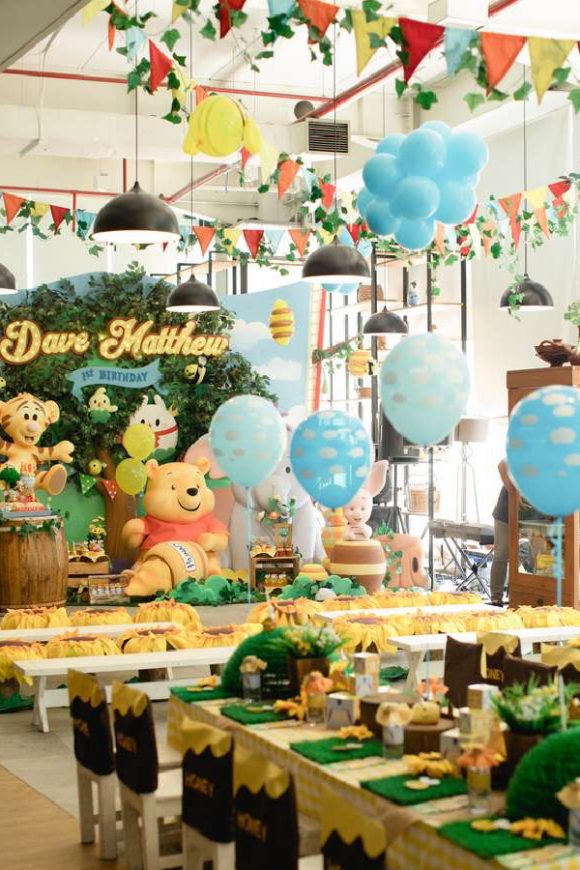 I'm pretty sure your little boy would love nothing more than his toys coming to life like in the movie Toy Story.
So here are some fantastic Toy Story party ideas to help you plan your baby's party with our cute cowboy, Woody, and our favorite astronaut, Buzz.
Browse real Toy Story parties here.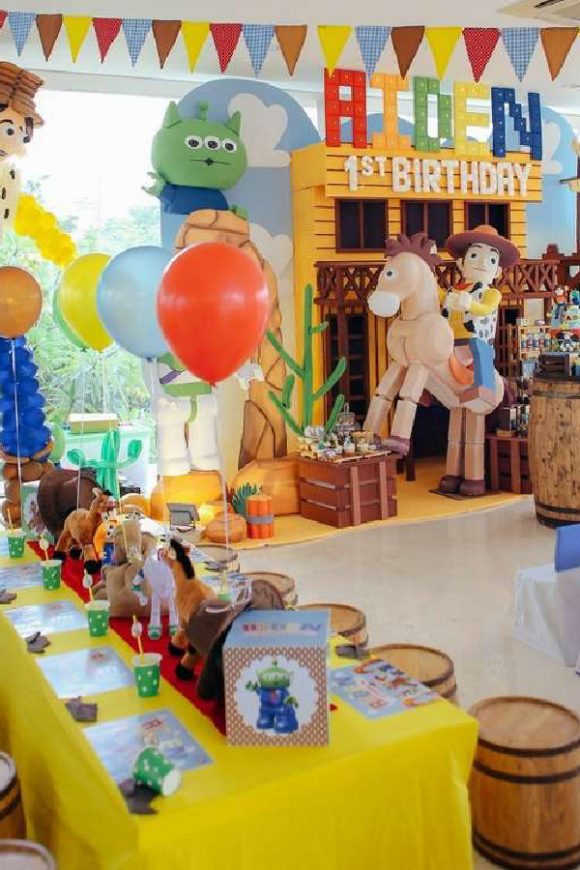 No one can resist a friendly teddy!
Kids this age can find so much comfort in their own teddy, so seems fitting to make a teddy bear themed birthday party.
Get hold of as many teddies as you can to decorate your space and treat each one of your guests with their very own teddy bear party favor to take home with them!
Browse real teddy bear parties here.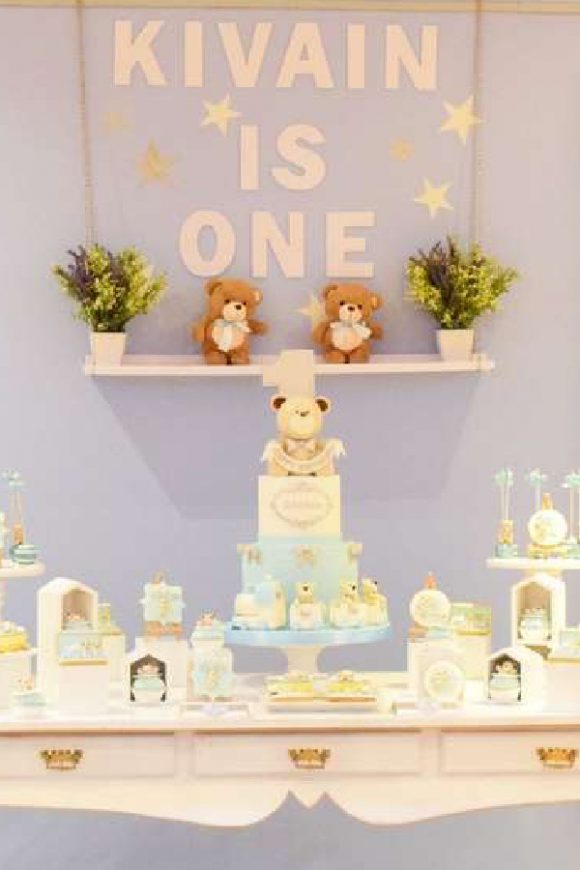 When it comes to choosing 1st birthday themes for a baby boy, you can't go wrong with a charming nautical adventure, complete with sailboat decorations, anchors, and a delicious ocean-inspired cake that will set sail to a joyous and memorable celebration.
So pack your suitcases and set sail!
Browse real nautical parties here.
FREE NAUTICAL PARTY PRINTABLES
Download our free "Set Sail" nautical party printables or our striped nautical party printables to add that special touch to your party.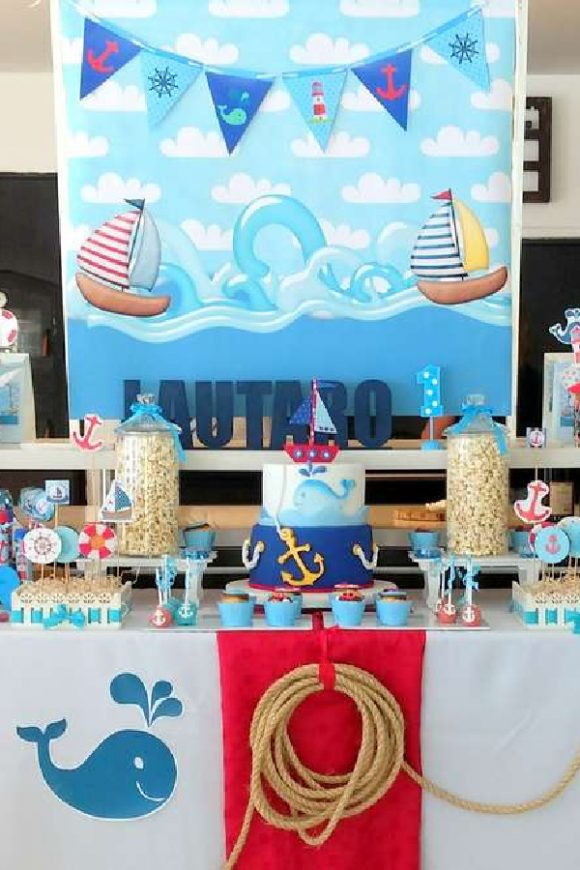 Children this age love books and listening to stories and looking at all the pretty illustrations.
We've collected our favorite "Where the Wild Things Are" 1st birthday parties to inspire you! Take a look!
Maurice Sendak's book 'Where the Wild Things Are' is a favorite in many households. If this is the case in yours then look no further. You've just found the perfect theme for your son's 1st birthday party!
Browse real "Where the Wild Things Are" parties here.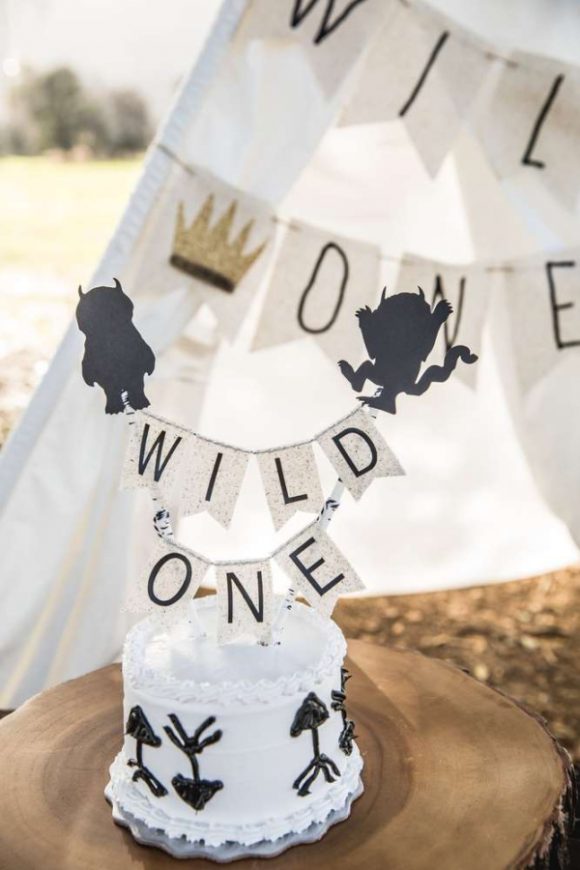 Another literary classic is 'The Very Hungry Caterpillar' that kids also love having read to them (probably night after night).
Here are some of our favorite "Very Hungry Caterpillar" party ideas to inspire you.
Browse real "Very Hungry Caterpillar" parties here.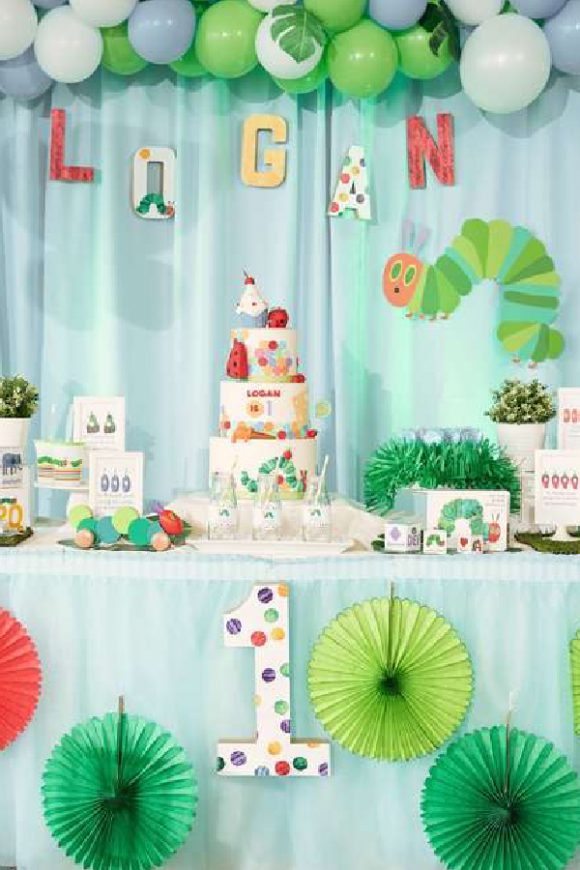 You can never really go wrong with a sports-themed party, especially a vintage baseball one.
It's a really popular 1st birthday party theme for young boys and is a great pick if your child is already into the sport.
So grab some catcher's mitts, bats, and balls and scatter them around as decoration!
Also, for you sports nuts, don't miss our basketball parties too!
Browse real baseball parties here.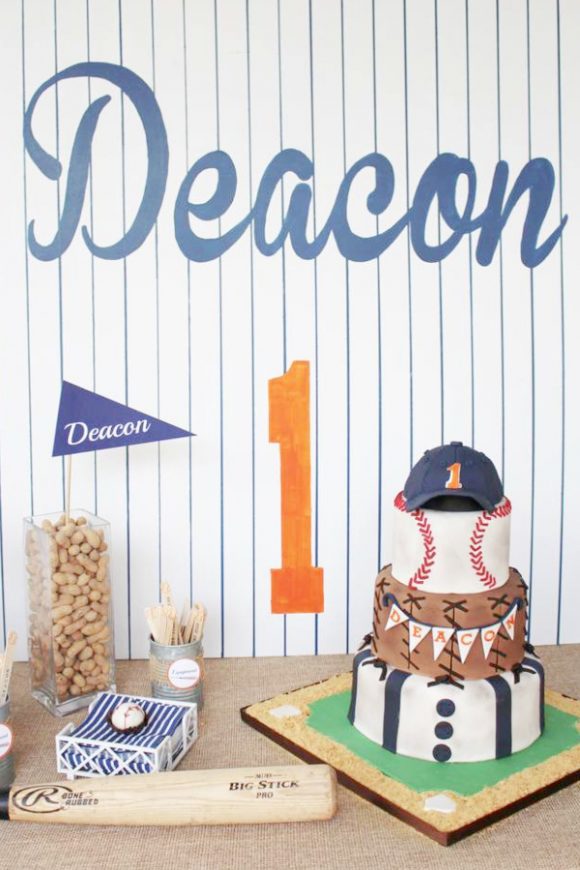 To finish off, we have the perfect party theme for a baby's first birthday party during the winter!
What could be better than a winter one-derland 1st birthday full of snow, hot chocolate, and cute winter animals, such as penguins and polar bears?
Browse real Winter Wonderland parties here.
FREE WINTER WONDERLAND PARTY PRINTABLES
We've even got free Winter Wonderland party printables to download and use to decorate your beautiful party! Check them out!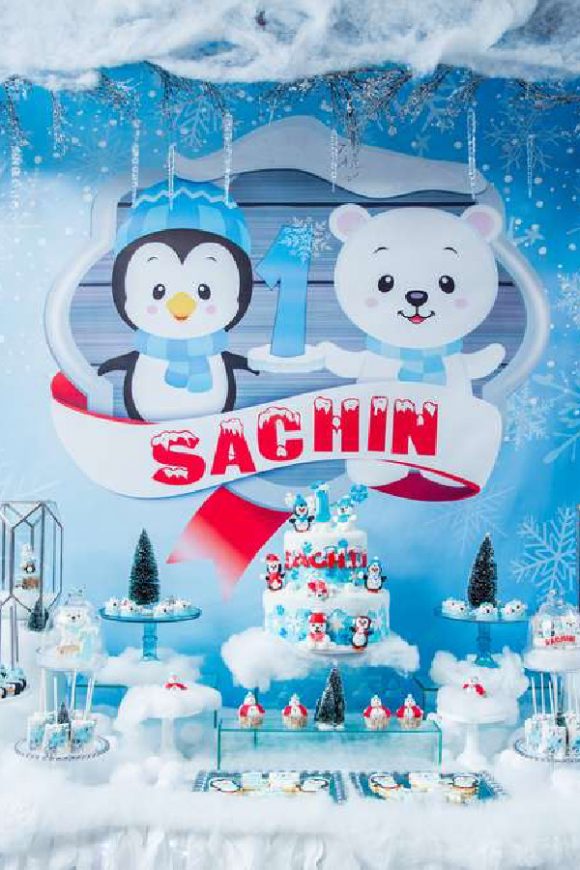 Did you know we have hundreds of real boy first birthday parties added to our site from real people? See what these boy first birthdays actually look like.
And if you throw a 1st birthday party, please add it to our site (just click on the "add party+" button in our nav bar). We can't wait to see your boy first birthday parties and share them with our community!
More Boy 1st Birthday Posts You'll Like:
Need 1st birthday party ideas?