Hosting a baby shower for a little girl and stuck on a theme? Look no further than the enchanting world of mermaids!
As you anticipate the arrival of a precious little bundle of joy, dive into the magical world of shimmering scales, oceanic wonders, and an atmosphere that blends fantasy with reality. Throw an unforgettable mermaid-themed baby shower that everyone will talk about for years to come.
To help you with all the planning we've rounded up 34 amazing mermaid baby shower ideas and party supplies, designed to leave a lasting impression on all those lucky enough to attend.
Be sure not to miss all our amazing mermaid-themed party food ideas, as well as a feast of delicious baby shower party food options to help you create a mouthwatering menu for your upcoming celebration.
Make sure you check out all our baby shower themes and everything you need to plan the best baby shower ever!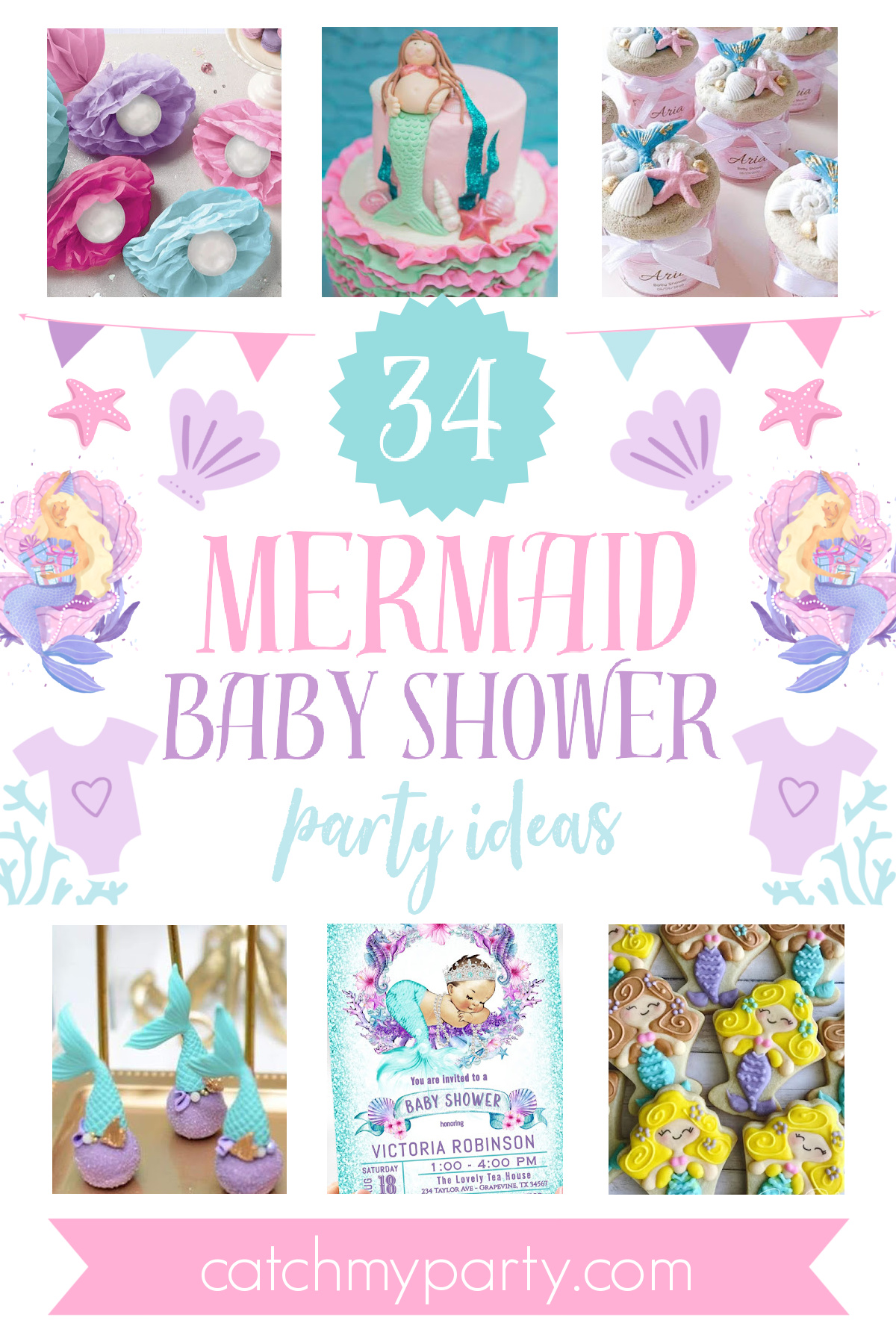 We've got fabulous ideas for mermaid baby shower dessert tables, mermaid invitations, mermaid baby shower cakes, and so much more!
Dive in and enjoy…
Reasons to Love These Beautiful Mermaid Baby Shower Ideas and Party Supplies!
Whimsical Fantasy: Immerse yourself in a world of enchantment with mermaid-themed party ideas that transport you to an underwater realm.
Stunning Decor: Transform your venue into a captivating seascape with dazzling decorations, vibrant colors, and iridescent accents.
Playful Elegance: Combine the charm of a baby shower with the magic of mermaids, resulting in a uniquely sophisticated yet fun celebration.
Memorable Moments: Capture Instagram-worthy photos against mesmerizing mermaid backdrops, ensuring cherished memories with loved ones.
Thoughtful Details: From seashell favors to ocean-inspired treats, experience the delight of curated details that make your mermaid baby shower truly special.
The Most Amazing 34 Mermaid Baby Shower Ideas and Party Supplies!
Mermaid Baby Shower Ideas and Party Supplies FAQs
Why choose a mermaid baby shower?
The widespread popularity of mermaid parties has transformed them into a charming and enchanting theme that beautifully complements the ambiance of a baby girl's shower.
How can I personalize the baby shower decorations?
Incorporate the baby's name, ultrasound images, or sonogram pictures into banners, centerpieces, and cake toppers.
Any suggestions for creating a budget-friendly baby shower?
Opt for DIY decorations, host the event at a local park, or consider a potluck-style meal to keep costs down.
How can I involve distant friends and family in a virtual baby shower?
Set up a video call, coordinate online games like virtual bingo, and send out digital invitations with the event details.
Tips for planning a surprise baby shower for the parents-to-be?
Coordinate with close friends or family to keep the secret, and ensure the timing and location align with the parents' schedule and preferences.
For more inspiration, check out all our amazing baby shower party themes.
Need more baby shower party ideas?
**Some of these links may be affiliates.