If you're planning an under the sea extravaganza with a mermaid-themed party then you won't want to miss out on the 25 most beautiful mermaid party supplies we've found.
Picking out the best party supplies can be hard work and time-consuming, so to help you out we've scored the internet for the best ones.
You are going to fall in love with our top picks, so enjoy!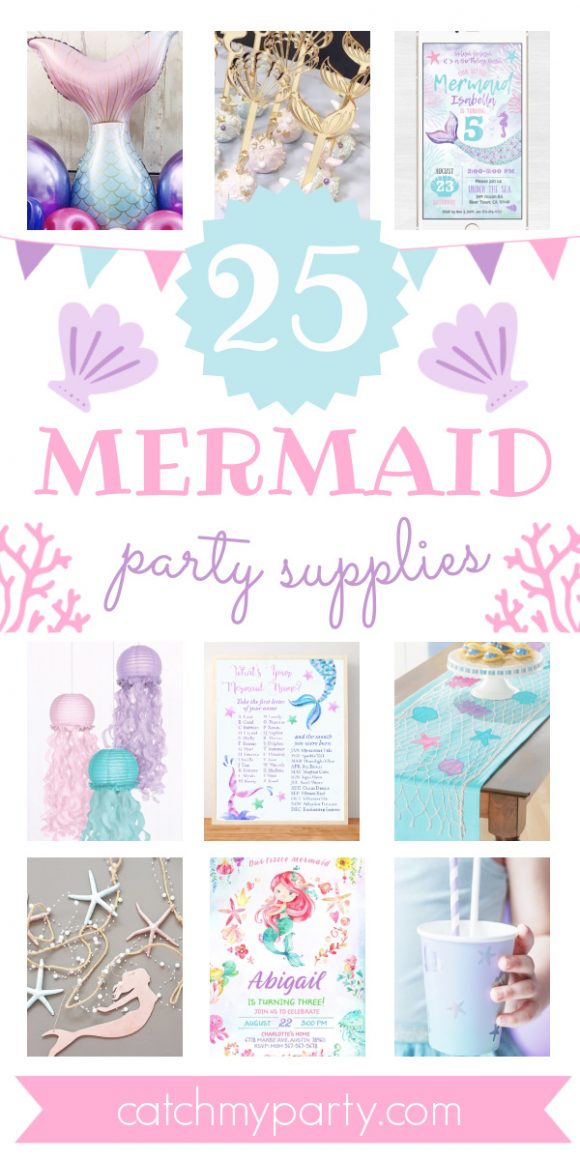 Dive in and take a look at these gorgeous mermaid party supplies.
We've ideas for a mermaid invitation, a mermaid cake topper, some mermaid party decorations and so much more!
I can't wait for you to check them out!
Take a Look at the 25 Most Beautiful Mermaid Party Supplies!
Set the tone for your party with this whimsical mermaid party invitation.
It's so colorful and I just love the watercolored illustrations.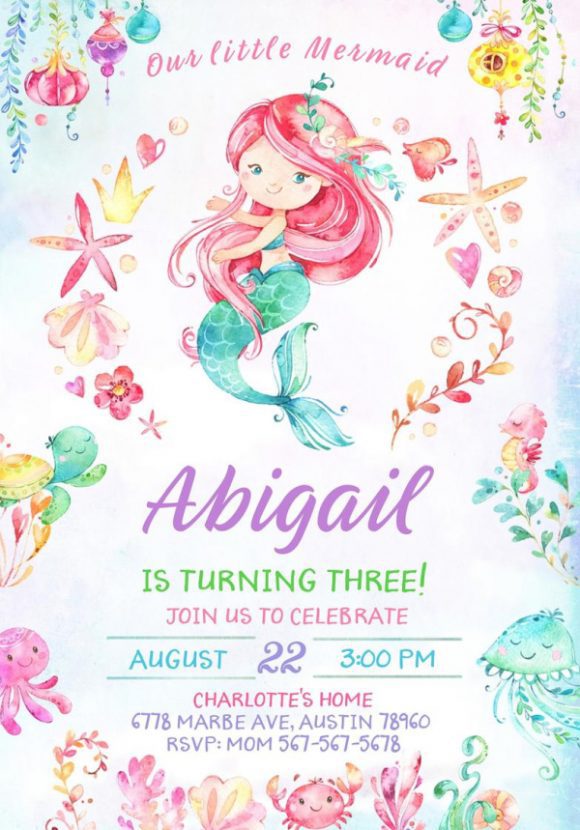 The past year has seen a boom in digital invitations, as they are a convenient and easy way to reach your guests with no hassle.
This whimsical design will tease your friends and show them a peak of your mermaid extravaganza!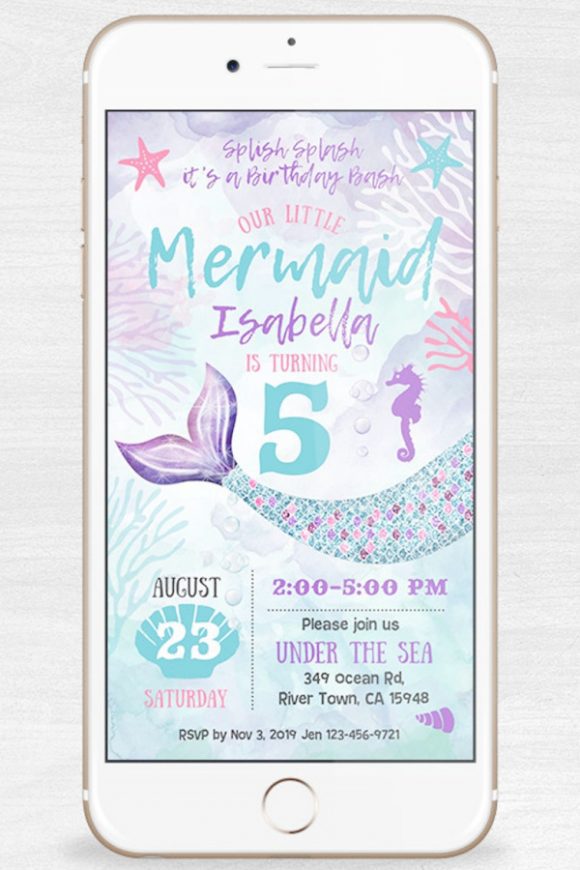 Birthday posters are an excellent way to celebrate and keep track of your daughters' milestone moments with a gorgeous decorative piece.
They are a fabulous party decoration that doubles up as a keepsake that you can place on her bedroom wall and cherish.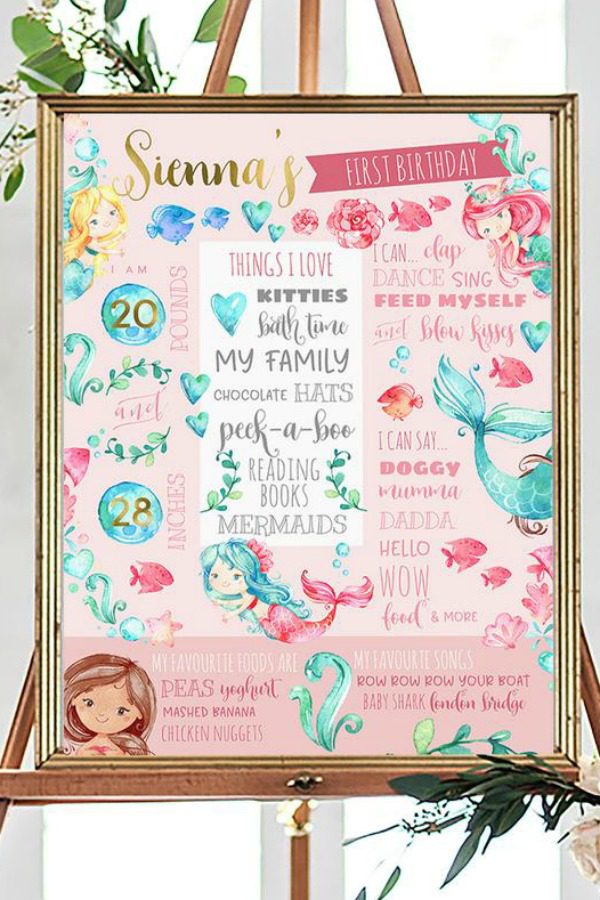 Create your very own showstopping birthday cake with the help of this silicone mermaid tail mold.
Shape a variety of mediums such as fondant, gum paste, and chocolate (to name just a few) into a mermaid tail that you can then place on to your birthday cake.
Look at the stunning result!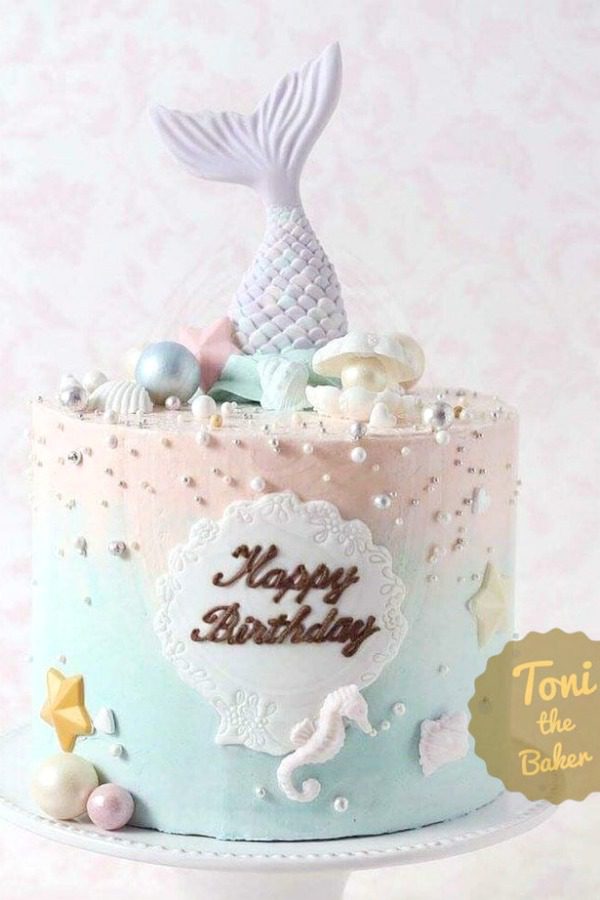 Oh My! Have you ever seen cuter cookies?!
We've found the sweetest mermaid cookie cutter that allows you to bake your own little under the sea delights.
You can bet they'll be a hit with the kids.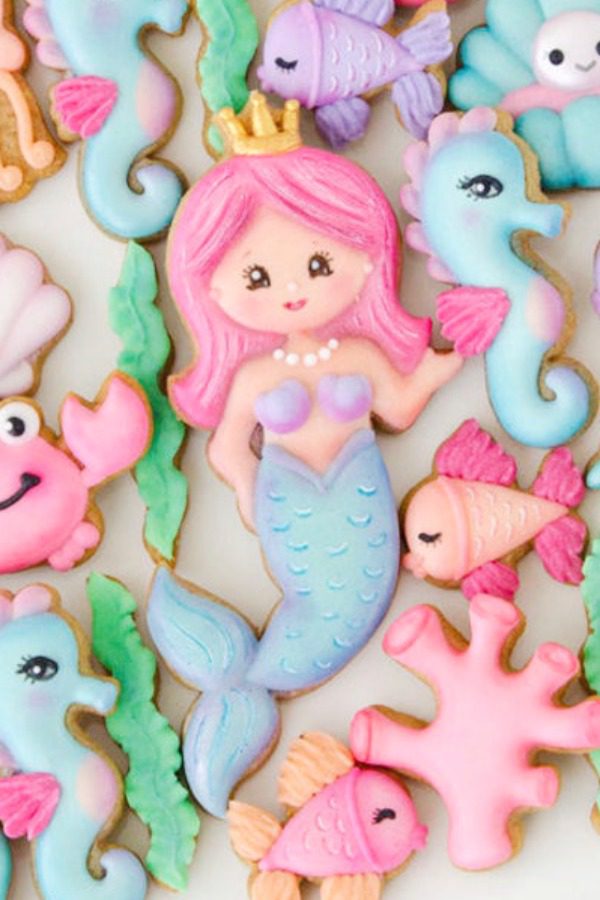 If you're looking for a quick fix to transform a bunch of home-baked or store-bought cupcakes into perfect mermaid themed ones, look no further!
This glittery pack contains 3 purple mermaids, 3 gold seashells with pearl, 3 white starfish, and 3 blue mermaid tails ready for you to place on your cupcakes.
Add some mermaid sprinkles and you're good to go!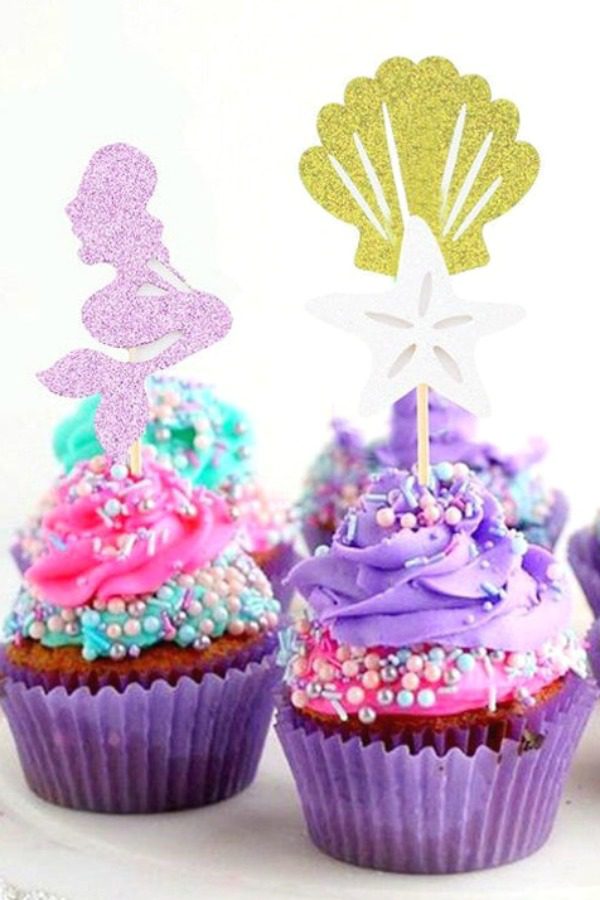 If you are planning on making cake pops, or even some cakesicles, you are so going to want to use these fabulous mermaid-inspired sticks.
The pack includes a mermaid tail, seashell, and sealion stick that are just perfect for your cake pops!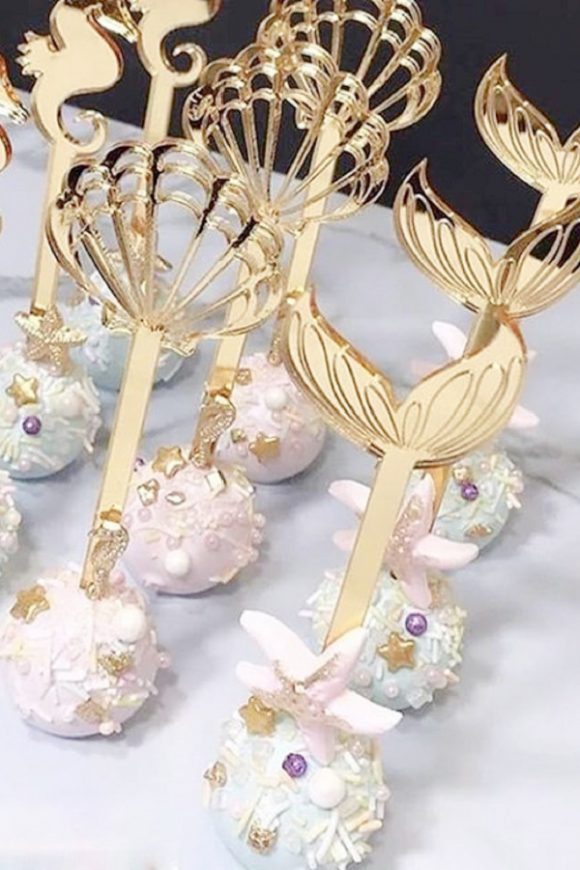 A backdrop is an important party decorations that brings a dessert table to life.
Take a look at this gorgeous illustrated backdrop that includes a cute mermaid, narwhal and turtle.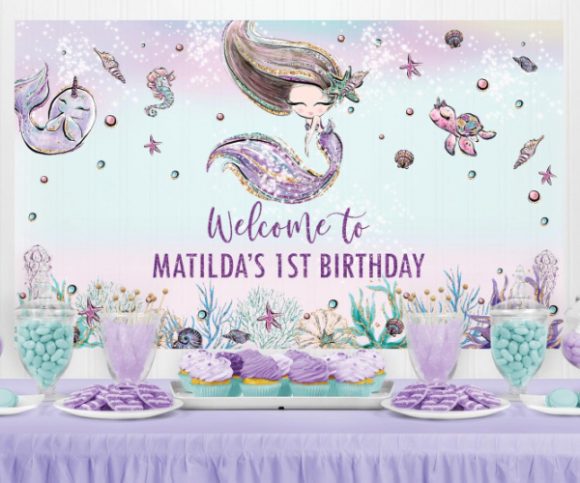 WOW! Nothing is more on-trend than a balloon garland and this mermaid tail one is absolutely incredible!
Imagine the look on your guests' faces when then set their eyes on this one.
They will be so blown away. It just frames any dessert table perfectly.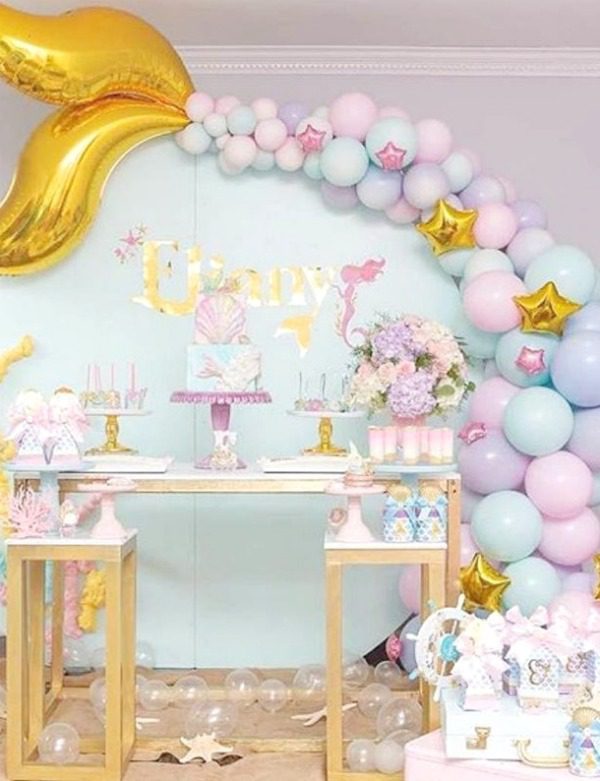 Sometimes a simple balloon can make all the difference and make a party look that extra bit special!
This mermaid tail balloon will look amazing at either end of the dessert table or even scattered around your venue.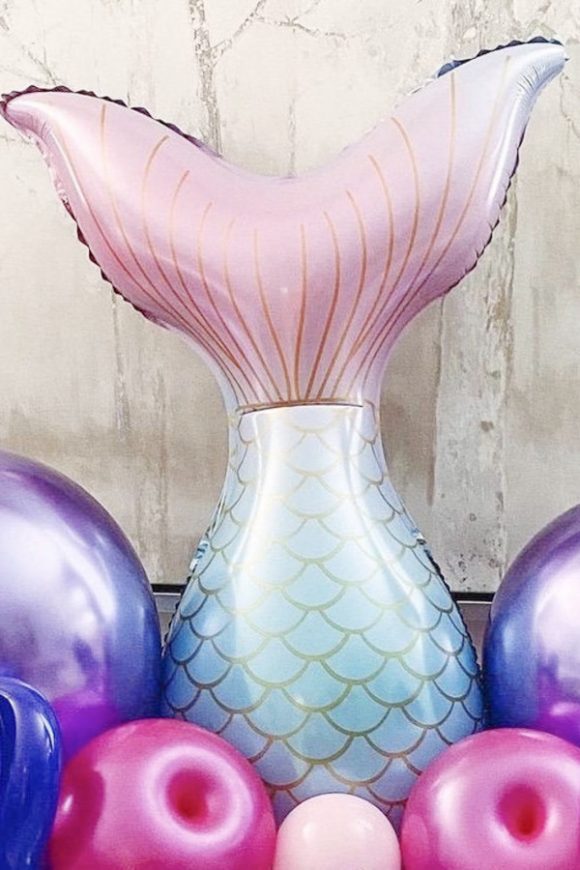 What a better way to add some sparkle to your mermaid party than with this iridescent fringe curtain backdrop.
It's an incredibly versatile party decoration that you can use either as an entrance way to your party, behind you dessert table or even to liven up an plain wall and create a photo booth backdrop.
Whichever way you choose to use it your really can't go wrong.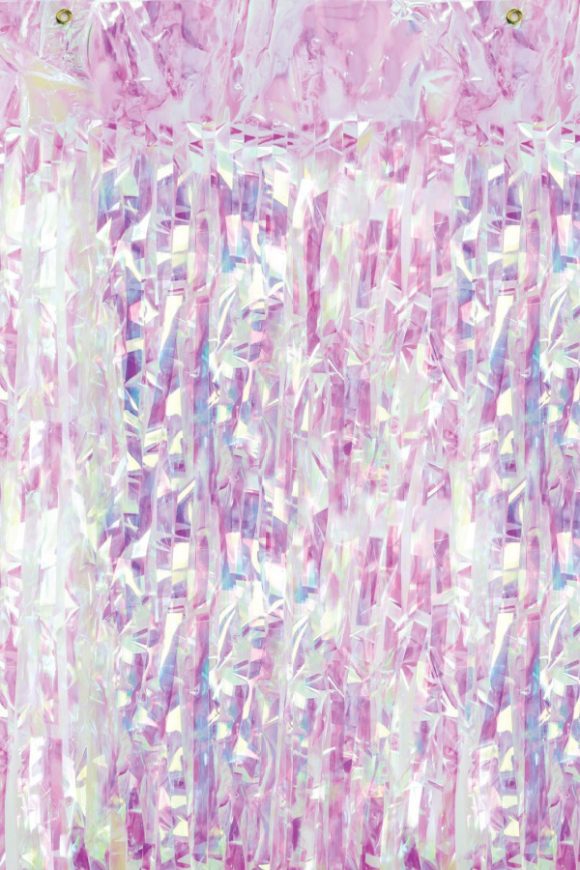 These jellyfish lanterns are a wonderful addtion to recreate an under the sea look.
The pack comes with 3 jellyfish in purple, turquoise, and light pink, taht you can hang around your party to make everyone feel like they are actually in the deep ocean.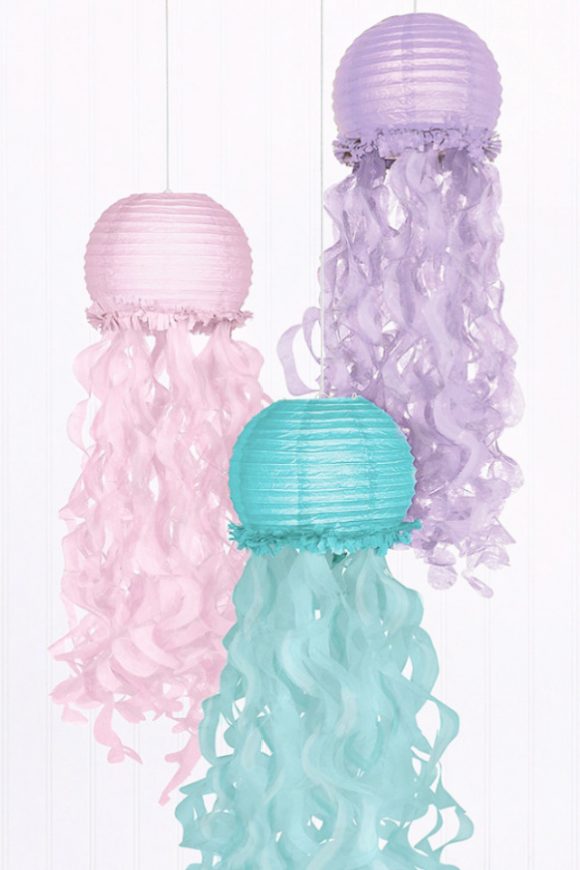 I am so in love with this pretty mermaid-themed garland.
Made up of pastel-colored starfish, a gorgeous bead string, and a pink mermaid silhouette, this garland is just what you need to hang on a wall or on your dessert table.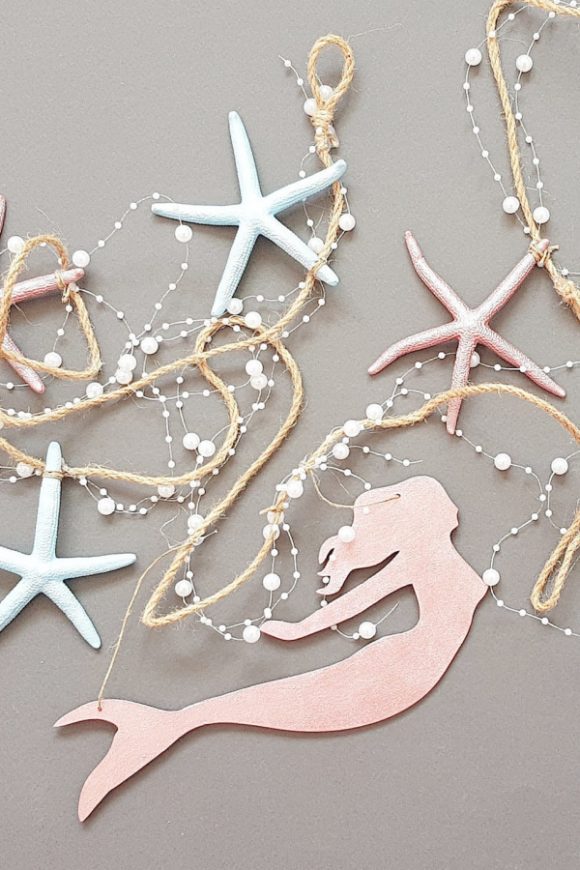 Have your guests feel like they really have dived into the ocean with this eye-catching teal table skirt.
Made with wide gorgeous ruffle strands, sequin-covered strips, glittery ribbons, and more, this table skirt is definitely going to make an impact.
It's got such a feminine touch!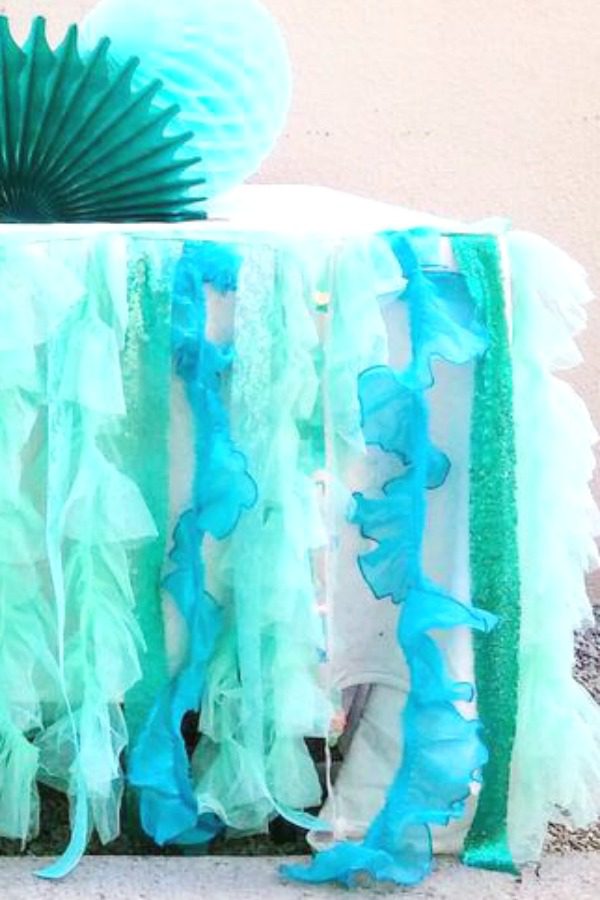 Take a look at these magical pastel pink plates with a shiny silver iridescent foil mermaid in the center.
They are so beautiful and I just love the mermaid tail scale effect around the edge.
You couldn't wish for more adorable tableware.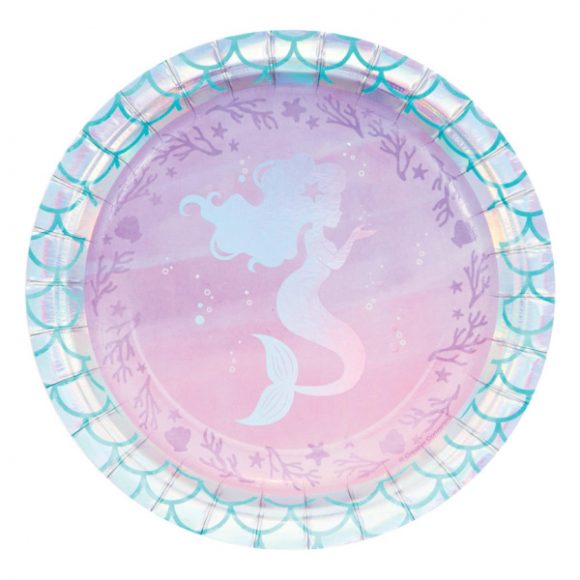 Now that you've got your plates sorted out how about using these beautiful under the sea inspired paper party cups.
Each one is decorated with some seashells and some starfish. All you need to do is add a cute paper straw and you're good to go.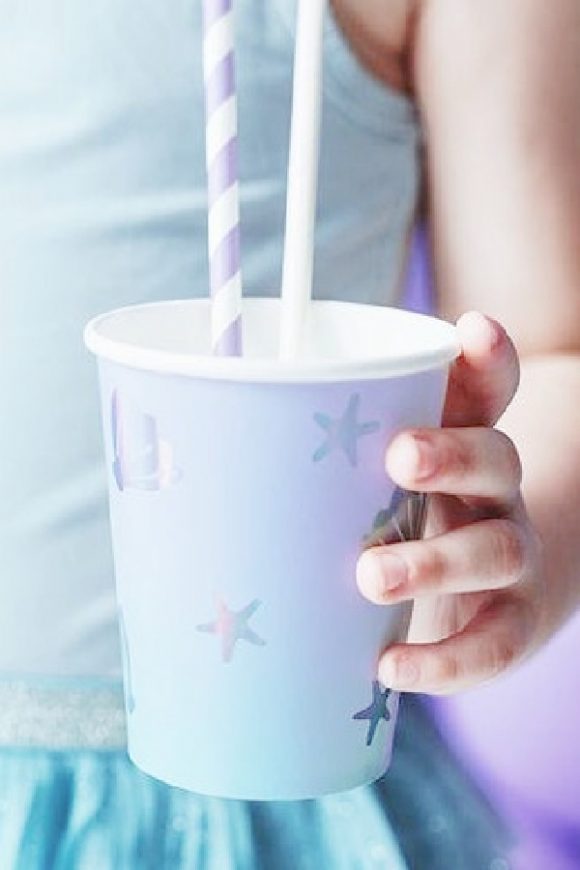 Place this fishnet runner, decorated with under the sea-inspired elements, on your tables and you've got yourself a party decoration to die for.
You couldn't wish for an easier party decoration. It has everything you need such as starfishes and seashells.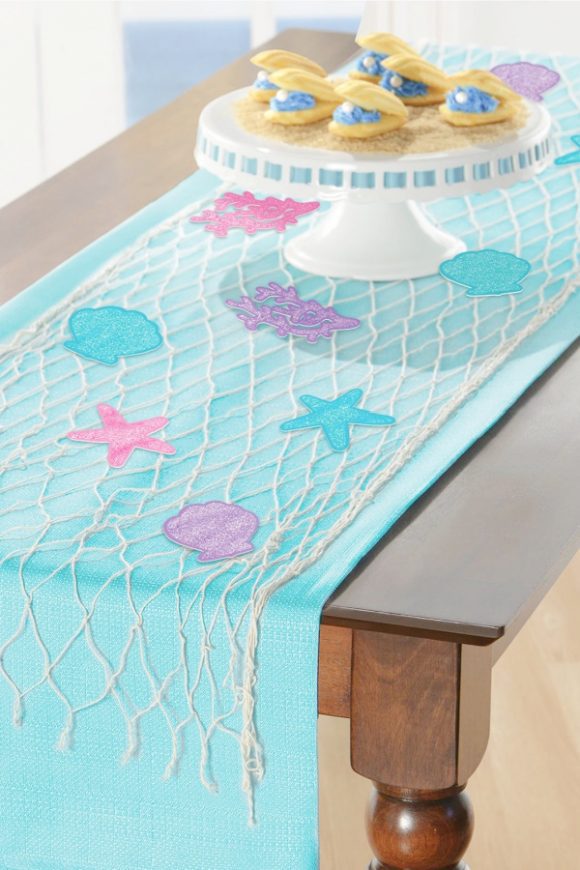 You won't believe this amazing mermaid party decoration!
These tissue paper pom poms with pearl balloons look just like oyster shells and look absolutely fabulous!
Scatter them on the floor beside your dessert table or use them as a centerpiece.
They are so beautiful that you just can't go wrong!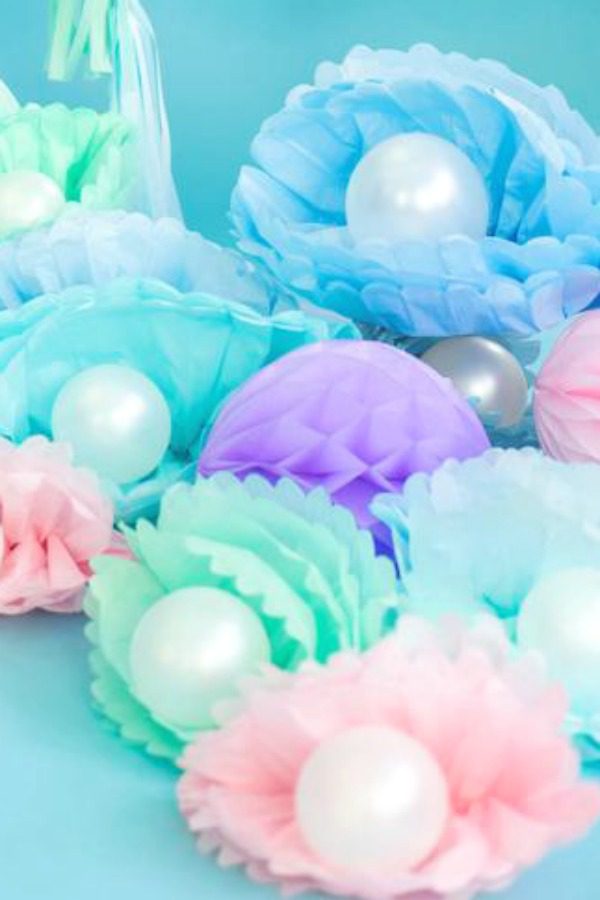 For a fun mermaid party activity to get things started how about having your guests discover their mermaid names?
After figuring out each name, write them down on one of these seashell labels and stick them on with some double-sided tape.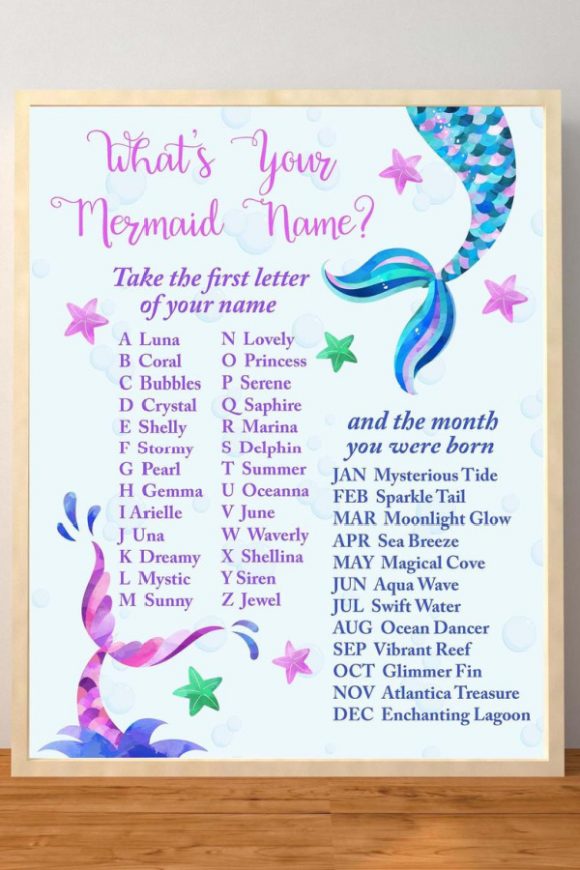 Kids just love to fool around and have their photos taken with photo booth props.
These mermaid ones are a blast and you can bet the photos are going to be such a laugh!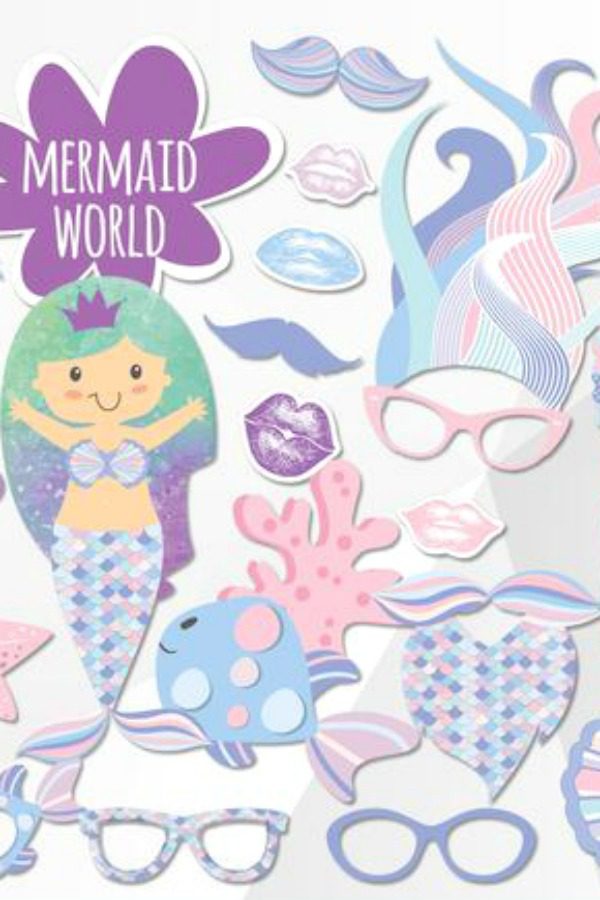 Use this mermaid-themed photo booth frame and you can bet your photos will look even better!
Personalize it with the birthday girl's name and date of birth, and have everyone strike a pose with it.
It's a memorable keepsake that you can look back on to remember the fun day.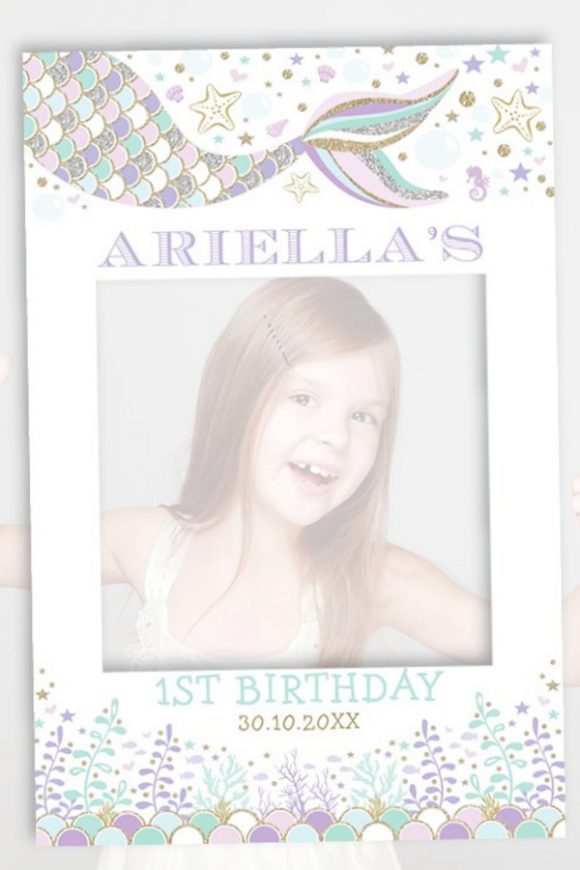 Picking the ideal party favor from a mermaid party can sometimes be tricky.
To help you we suggest these stunning mermaid-themed bracelets.
They come with a resin mermaid tail charm, resin rhinestone beads, and an assortment of purple, blue, pinkish purple, and blue-green beads strung together with a durable stretch floss cord.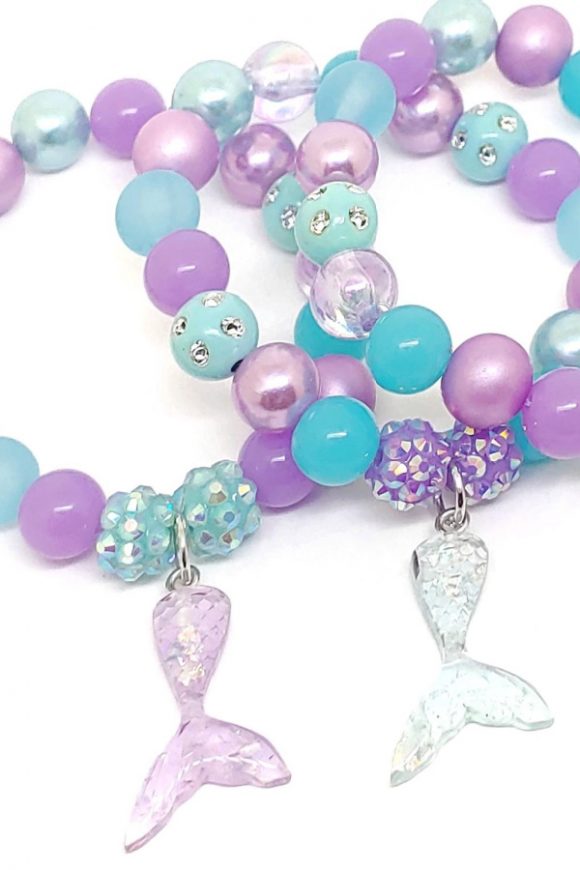 Treat your guests to their very own mermaid tattoos that they can place all over the body.
They are a great party favor and will delight every young girl at your party.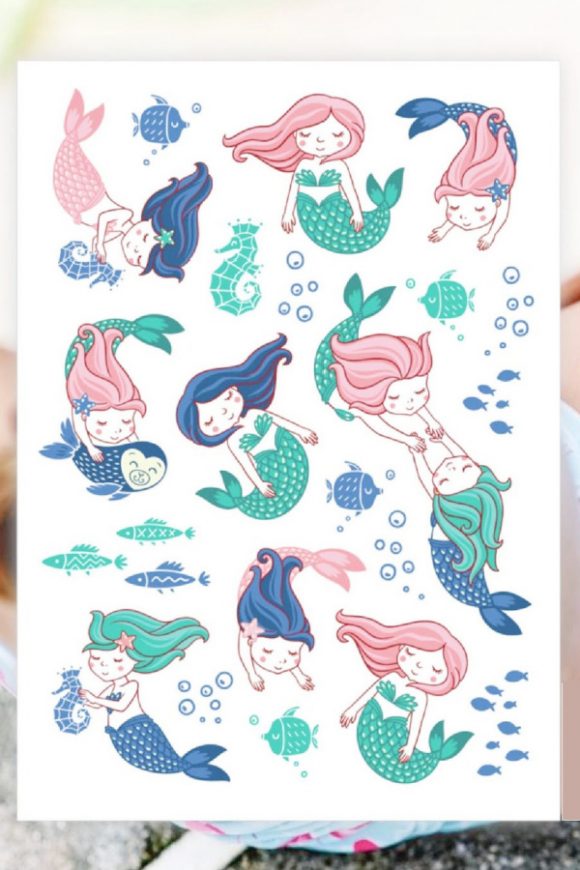 Place all your goodies in this dazzling mermaid tail party favorite box.
Fill it with candy or any gift of your choice knowing that whatever you place and then you can be sure each one of your guests will leave with a smile on their face.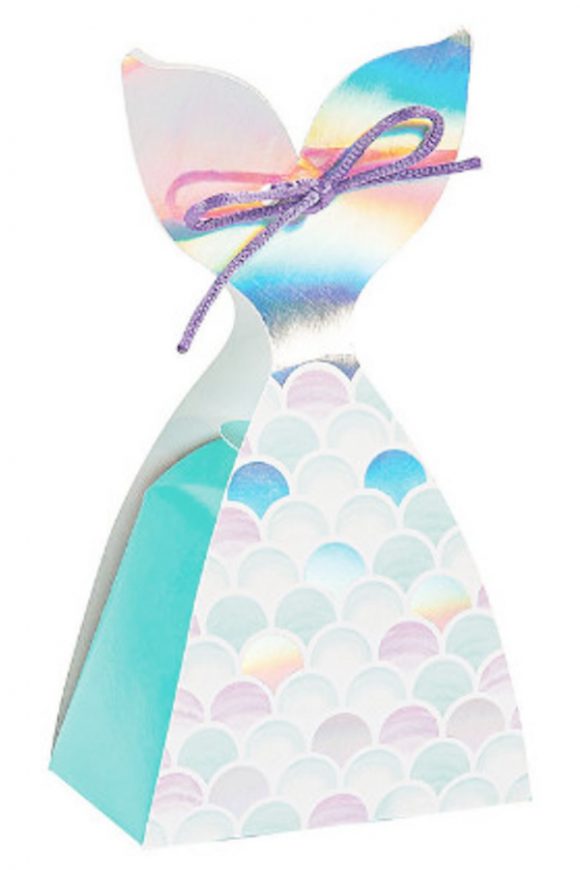 To finish off our roundup of the 25 most wonderful mermaid party supplies, we have these cute tote bags that any true mermaid would die for.
They are great to use as a party favor bag that your guests can later use in their day by day.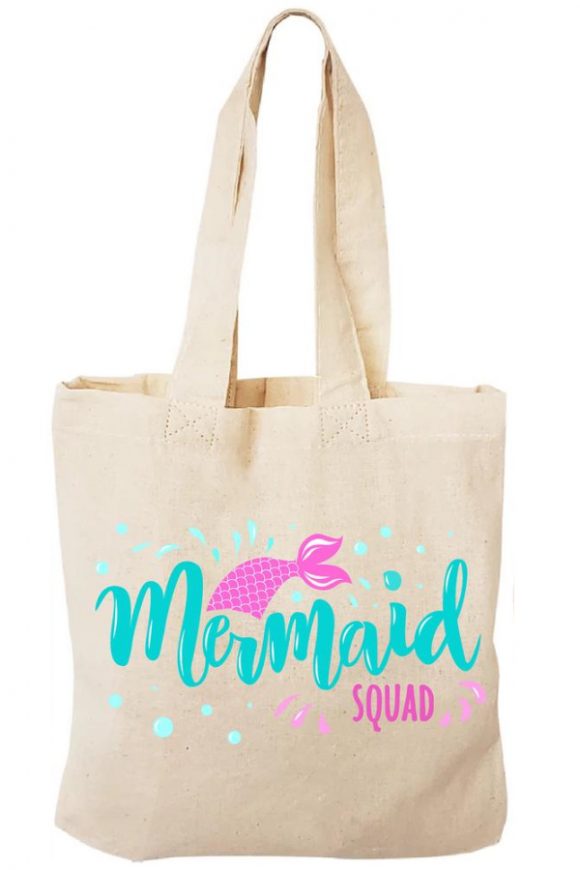 ** Some links are affiliate links.**
Need more mermaid party ideas?

For more inspiration, check out all the awesome mermaid parties on our site, and check out these mermaid party supplies from vendors with listings on Catch My Party!