Feast your eyes on these amazing 20 mermaid cakes. A show-stopping cake is a must-have at any mermaid party!
The creativity and details are phenomenal in these cakes and we share where you can buy some of the decorations to make your own masterpiece.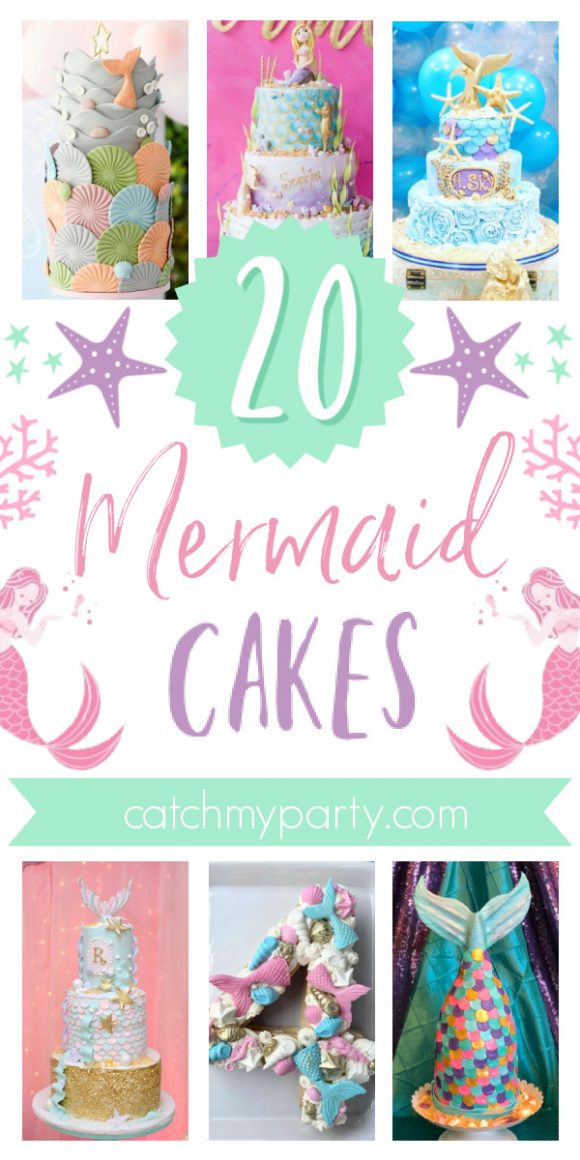 Scroll down and soak in all these fabulous mermaid cake ideas.
Feast Your Eyes on These 20 Amazing Mermaid Cakes!
Let's start with this sweet pink frosted cake.
Decorated with a bunch of purple, pink and turquoise piped frosting and topped with a mermaid tail.
Make your own with this fondant mermaid tail.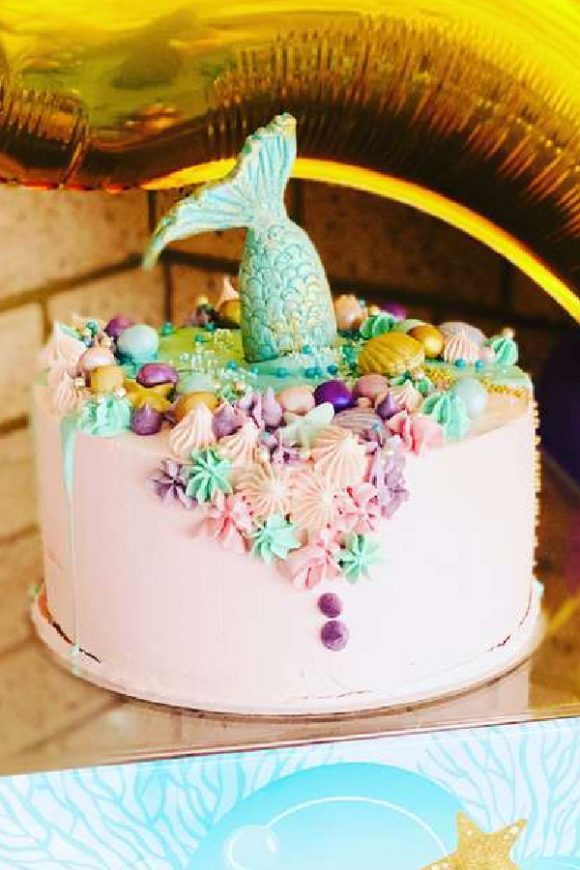 Cookies cakes are starting to pop up all over the place.
They look amazing and are a wonderful alternative to a regular cake.
If you'd like to make your own fondant shells use these silicone molds.

This next cake is so gorgeous!
The colorful sugar paste patterns decorating the cake gives you the sense of seashells and also makes the cake look very exotic.
If you'd like to make your own colorful sugar paste use this edible food coloring.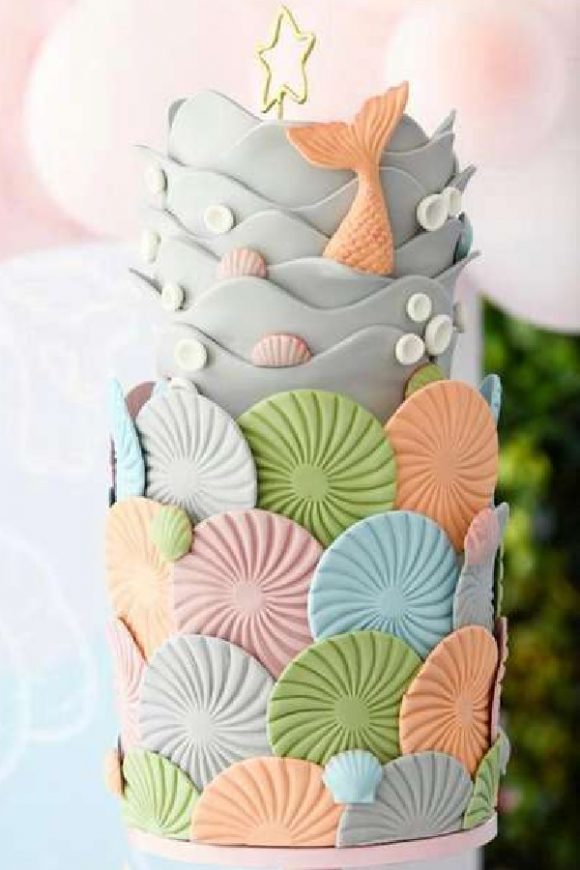 This turquoise, white and pink stripy cake topped with a wonderful pink mermaid tail is fantastic.
Love the sugar pearls decorating it.
Click here for sugar pearls to add to your cake.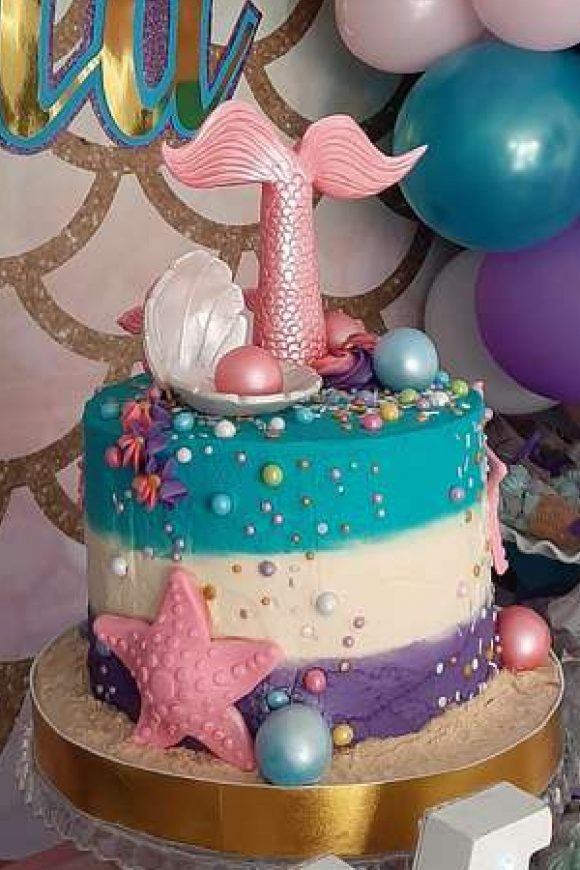 Our next cake is a work of art.
The pastel mermaid scales on the bottom tier are so pretty, not to mention the pink chocolate coral topping the cake.
You too can decorate your cake with these mermaid scales.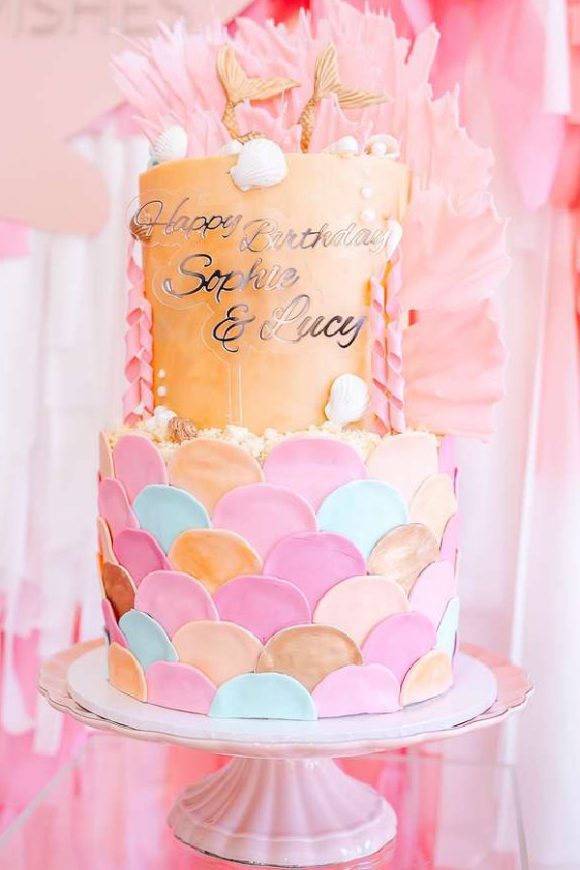 You are so going to love the ruffle mermaid cake!
It has such a girly feel to it and is so beautiful with the under the sea flora.
You really do feel like you've dived into the ocean.
Use these fondant ocean florae to decorate your cake.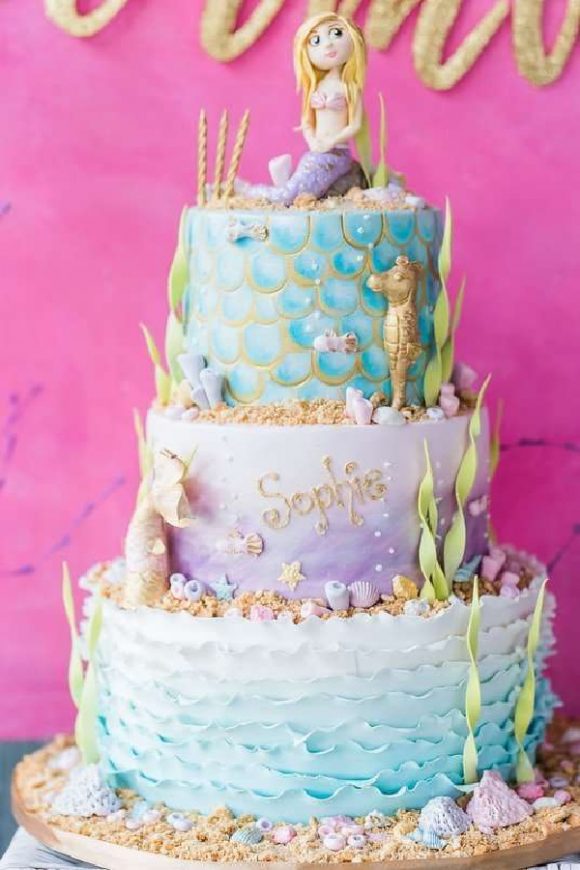 You don't have to have an excessively decorated cake.
This next cake is a fine explain how sometimes more is less.
Just add a few ruffles that look like the sea and add a scattering of shells.
Use this star cookie cutter so you can add stars to your cake.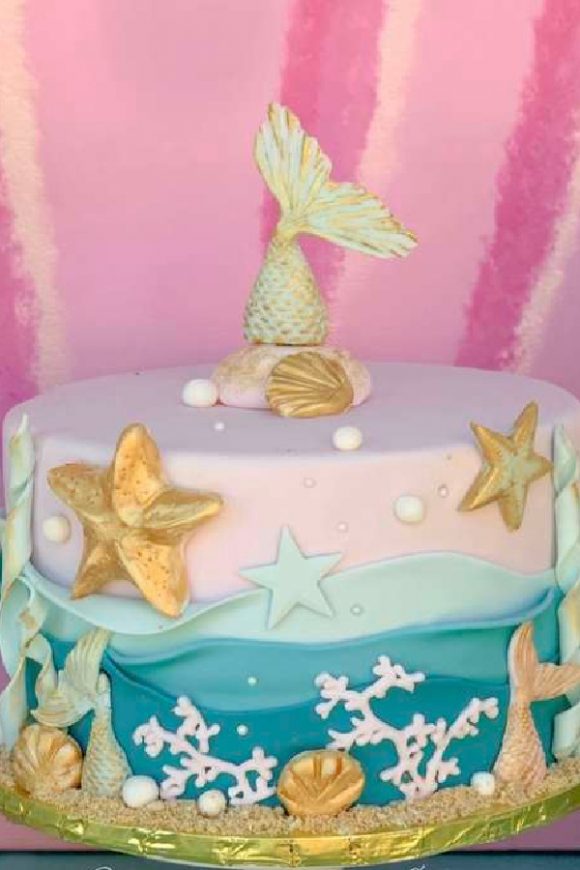 How about having an actual mermaid tail birthday cake?!
This cake is definitely a show stopper and completely on themed.
Add lots of colorful scales and you'll have a cake to remember.
You can use this mermaid tail mold to make your own tail.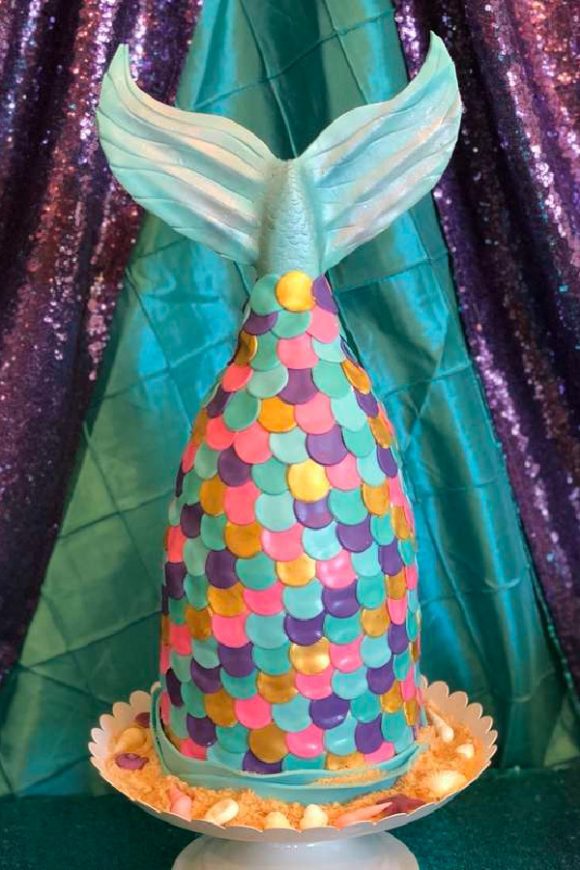 Another fun example of a gorgeous alternative is this mermaid tail tiered birthday cake.
The top tier covered in mermaid tail scales is so colorful, and the bottom under the sea tier takes you deep into the ocean.
Top your first birthday cake with a gold sparkly number 1 like this one.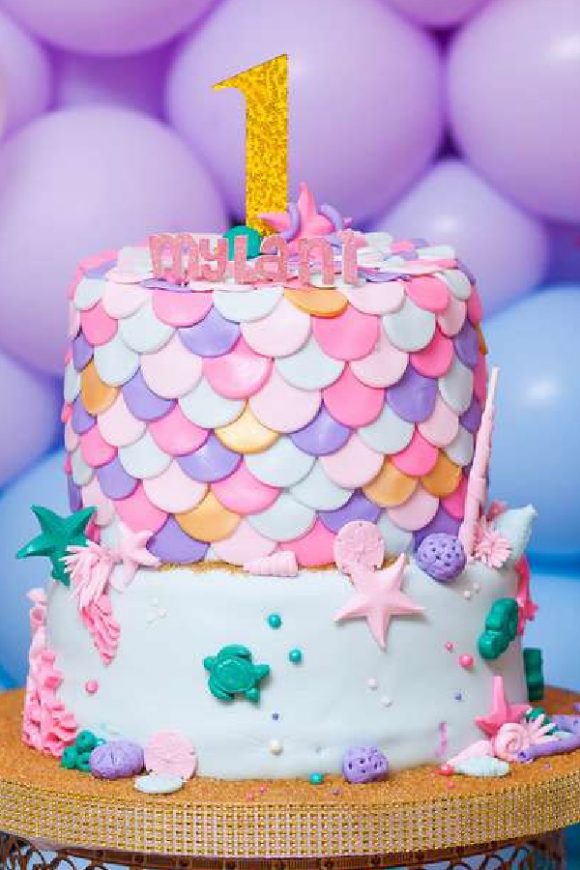 WOW! Our next cake will blow you away.
It's the ultimate mermaid cake that will stand proud on a dessert table.
It's made up of 3 tiers. A top under the sea tier, a mermaid tale inspired middle tier, and a gorgeous gold sprinkle tier that looks just like sand.
If you'd like to have a bottom tier like this one use these round gold sprinkles.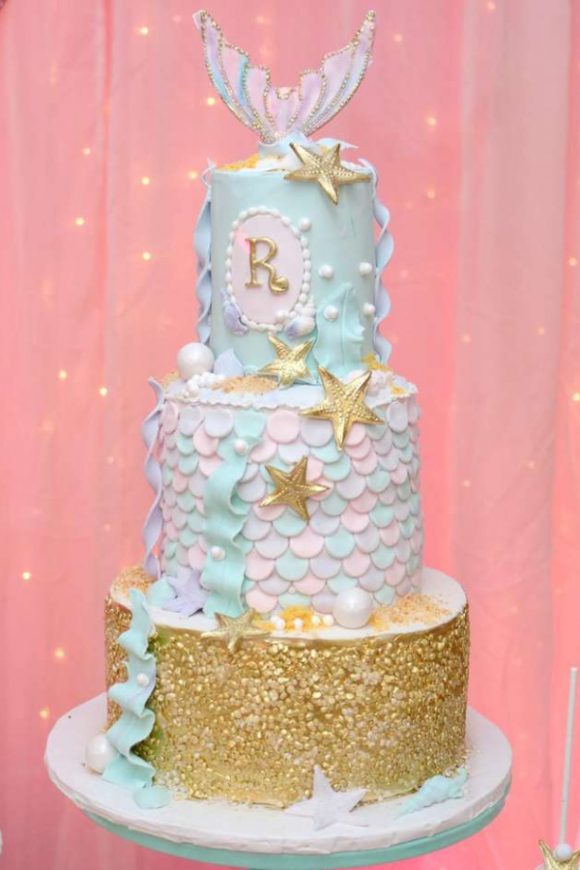 This next cake is so girly and will delight any little birthday mermaid.
Covered in mermaid tale scales and inspired by the ocean, it's topped with a cute fondant mermaid.
Top your cake with this fondant mermaid too.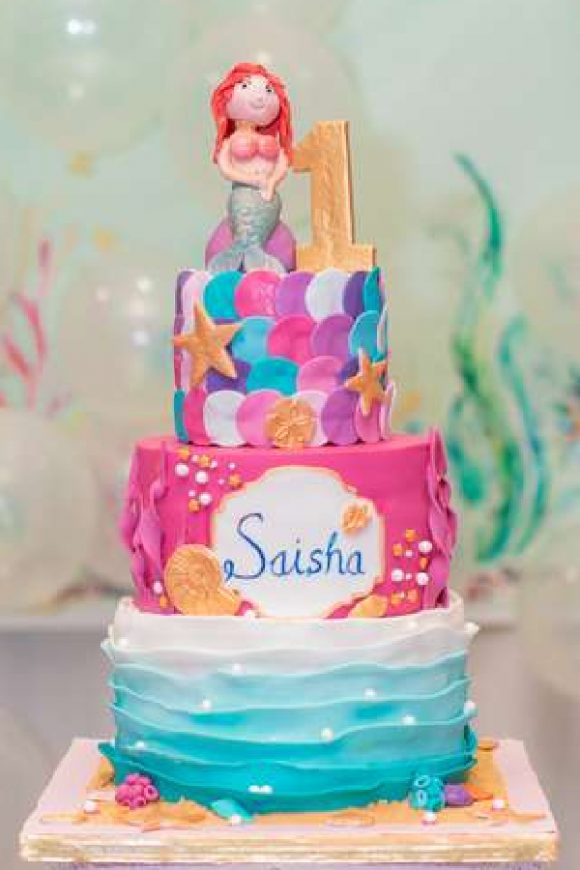 This turquoise cake is such a marvelous showstopper and has an incredible under the sea vibe.
The rose-like frosting decorating the bottom tier is gorgeous and gives this cake such a delicate touch.
Decorate your cake with gold fondant starfish-like those on this cake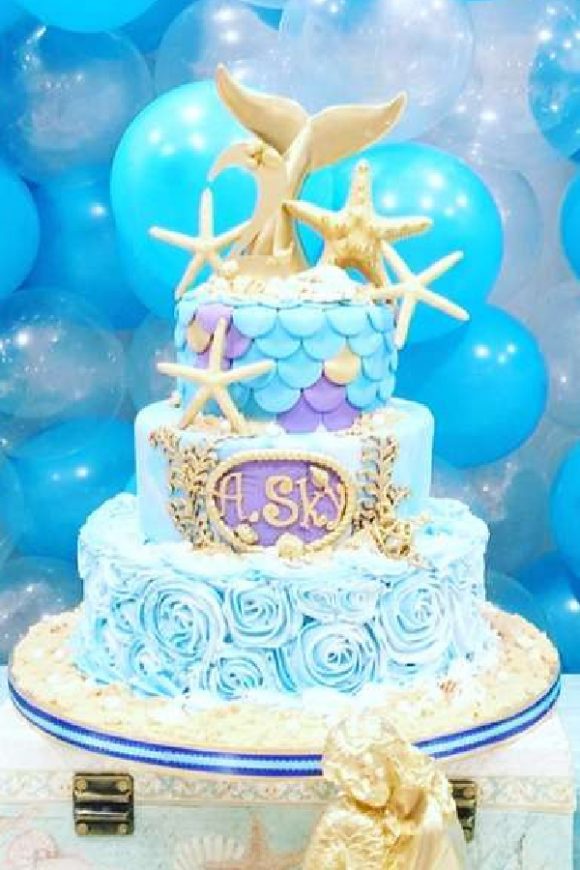 Our next cake is very different from all the others.
Covered in cute fondant under the sea creatures, this cake has so much life and looks amazing.
It's the perfect cake for a one-year-old little mermaid.
Add these adorable edible eyes to your fondant creatives so you can recreate this cake.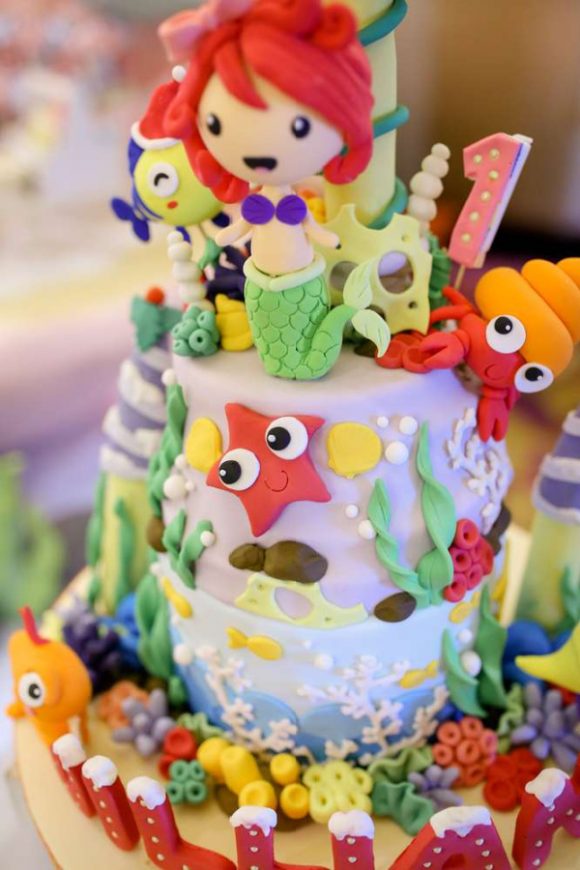 If your mermaid birthday party has a more boho feel you won't want to miss this next birthday cake!
Decorated in donuts and fresh flowers, this cake has a natural feel to it.
Top your cake with a similar cut-out mermaid topper.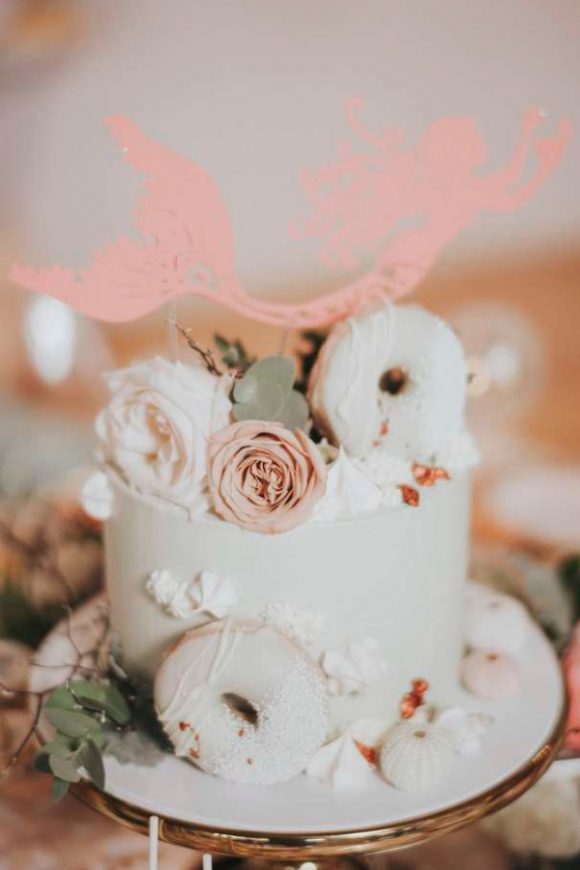 This tiered cake is also a cute option for a younger child.
It's covered in fun fondant sea creatures and topped with a lovely mermaid.
Don't miss these adorable fondant decorations that you too can add to your cake.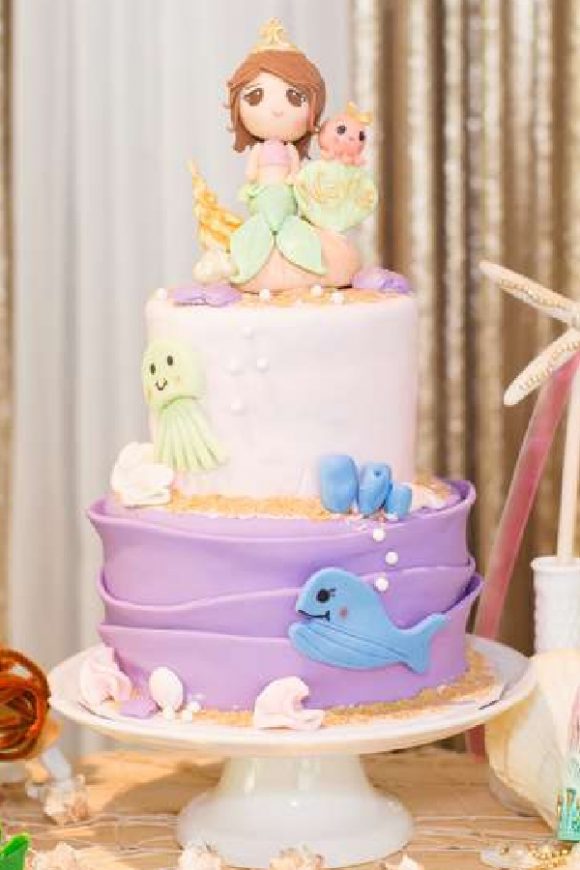 We came across this amazing cake and just had to add it to this list.
I love the mermaid scales and ruffles in different shades of blue.
Decorate your cake with pretty starfishes too.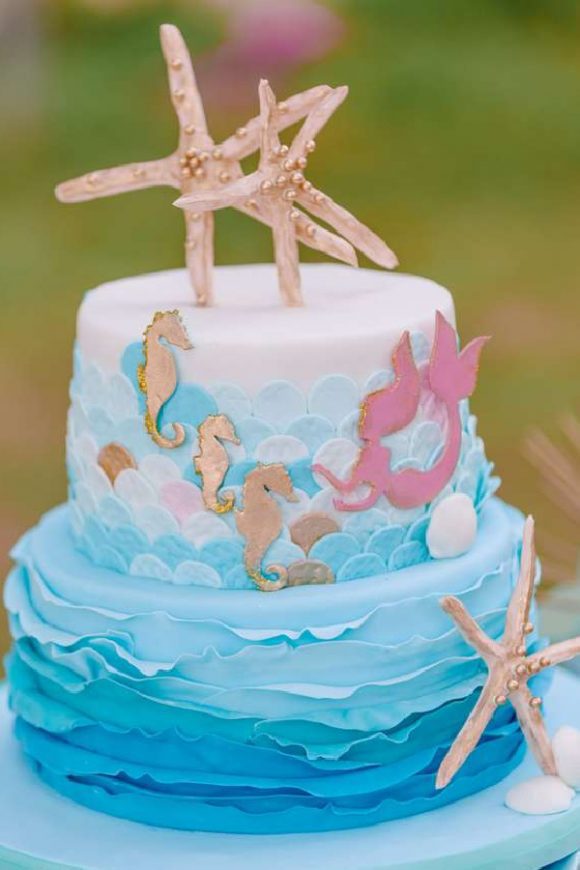 Another very different but equally as beautiful choice is this ombre mermaid cake.
The crystal-like toppers decorating it are absolutely stunning.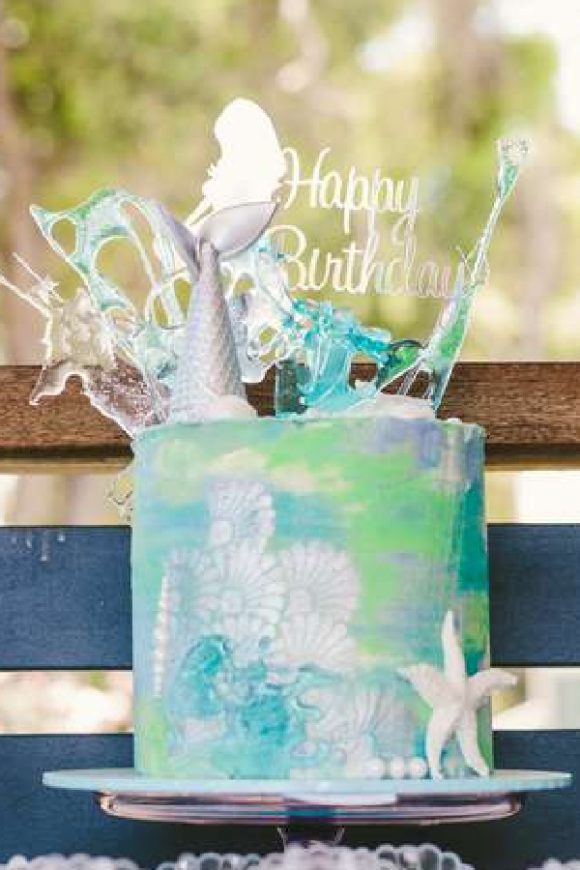 If you are looking for an elegant option then this light blue cake is a wonderful pick.
The top tier is decorated with mermaid silhouettes and topped with pretty fondant shells.
Love the bottom tier with mermaid scales. It's so on-trend!
Decorate your cake with these pretty fondant shells.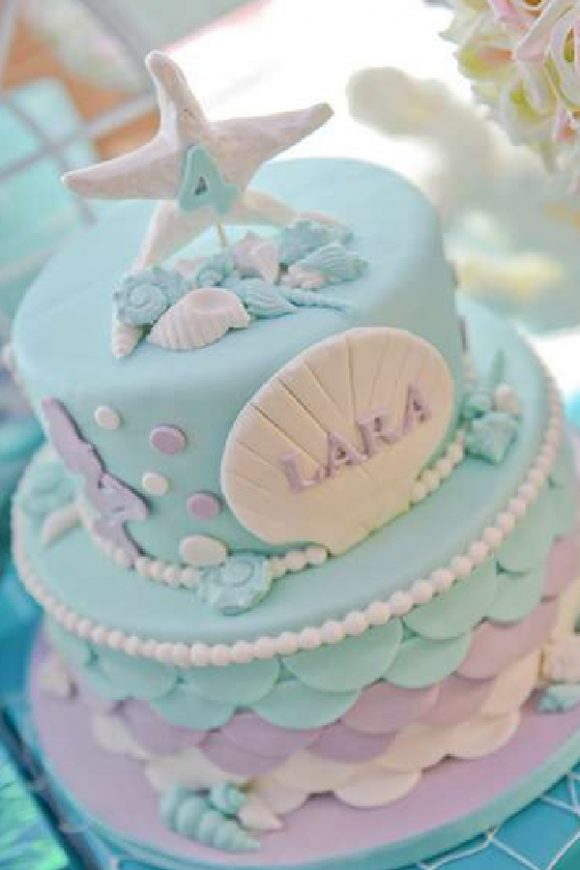 This tiered cake just oozes everything mermaid.
It's made up of 3 different tiers, a mermaid tail, ruffles, and an under the sea themed one.
The gold shell topper is fabulous. Make your own with this silicone mold.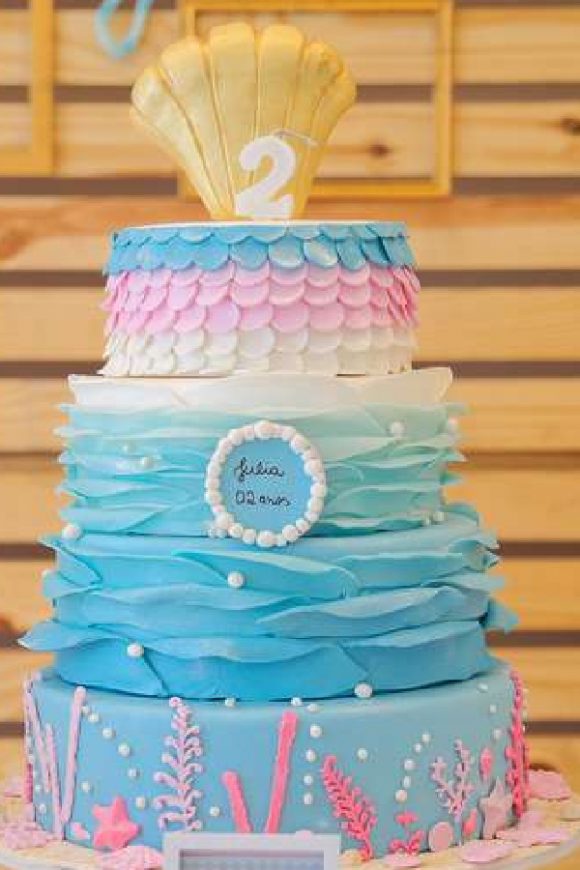 We've saved the best for last with a mermaid cake knocks it out of the park.
It's so extravagant with its mermaid tail tier, and ruffle decorations.
The pink fondant mermaids and shells look gorgeous against the turquoise cake.
Try and recreate the ruffle look with this silicone fondant rose mold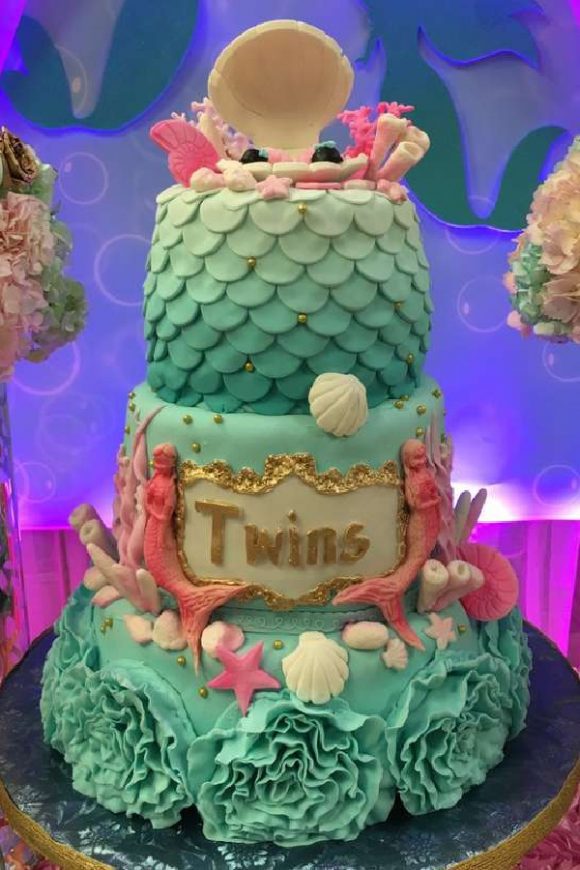 If you need help with mermaid party food ideas, mermaid party supplies, mermaid party games, and activities, or even beautiful FREE mermaid party printables, we've also got you covered.
Need more mermaid party ideas?
Need mermaid party printables?
For more inspiration, check out all the awesome mermaid parties on our site, and check out these mermaid party supplies from vendors with listings on Catch My Party!
**Some of these links may be affiliate links.