Hosting a baby shower is such a thrill! There's so much you need to plan, such as theme, party decorations, party food and the party favors for your guests.
If you're planning a boy baby shower, then you won't want to miss this post. We've rounded up the 12 best boy baby shower party favors that will delight your guests and send them home with a smile on their face!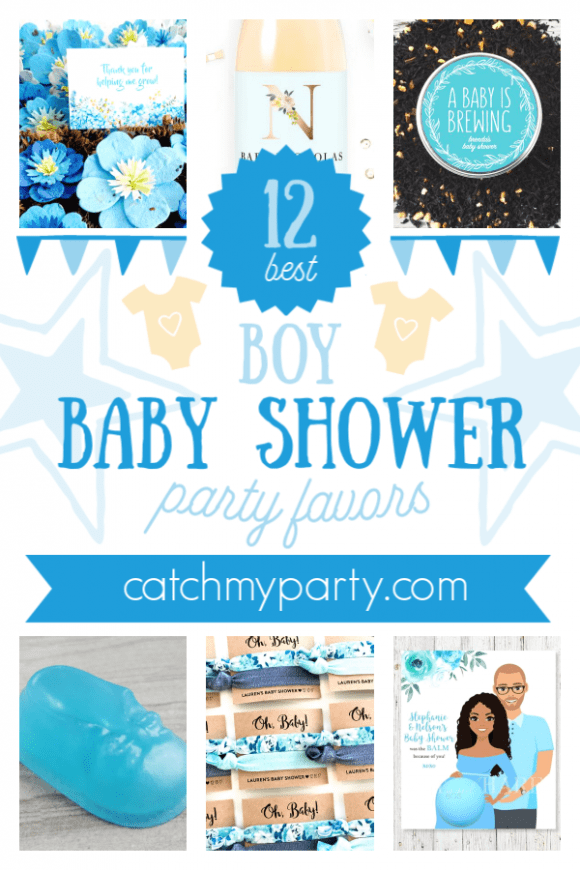 We've found so many wonderful ideas for boy baby shower party favors, such as a trinket dish, some lip balm, a tin of tea and so much more.
Take a look for yourself…
The 12 Best Boy Baby Shower Party Favors!
To start off our list, we have this adorable little crochet blue baby bootie keychain for your guests to carry around with them.
Each keychain comes in a sweet little box with a pretty 'Thank you for coming' tag.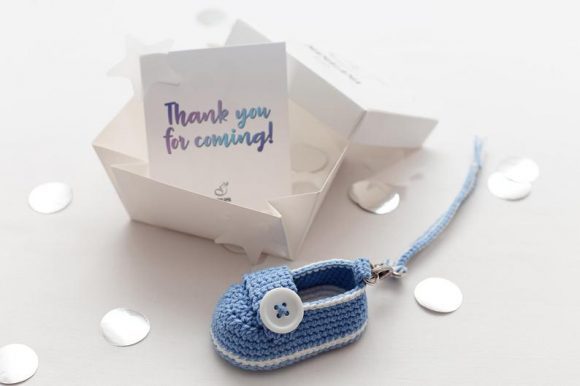 Another fun gift to send your guests home with a champagne bottle that they can drink upon the arrival of your little one.
It comes with a gorgeous pale blue floral label with a monogram of your babies' name. You can be sure they'll be drinking to that!

No matter how many hair ties you have, they never seem to be enough. So how about giving your guests a set of these lovely blue ones to use to tie back their hair?
Not only do they look beautiful, but they are also handy to keep in your purse or makeup bag.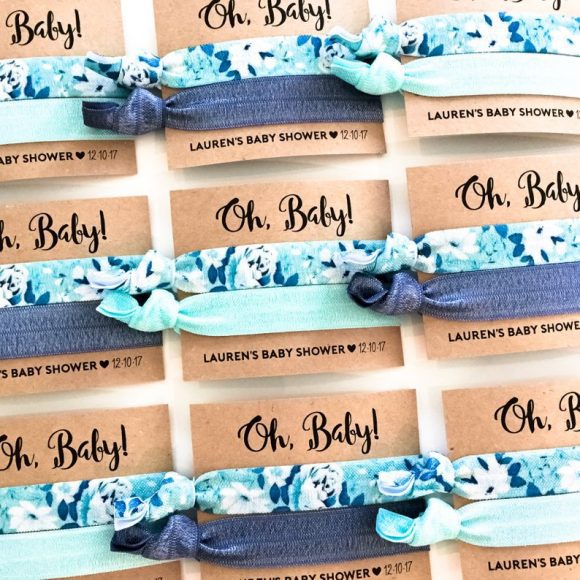 Another wonderful boy baby shower party favor is one of these discrete little gentleman star charm bracelets.
Once round your guest's wrists, they will have to make a wish, which will come true once the cord breaks. Sounds pretty magical to me!
You could always send your guests home with a cute frosted shatterproof plastic cup that they can use to toast the arrival of your baby boy.
Each glass is printed with either a cloud or hot air balloon design, in the color of your choice.
Sitting down with a nice cup of tea can be one of the best parts of the day, so why not treat your guests to a tin of tasty tea?
Each tin comes with a pretty personalized blue label. Once they've finished all the tea they can recycle and use reuse the tin!
If you're looking for an original boy baby shower party favor, then these coasters are just what you need. They are such a cool gift and are so useful to use at home or at the office!
You can choose from a wide variety of designs, such as a stork with a bundle or some baby feet, to name just a few.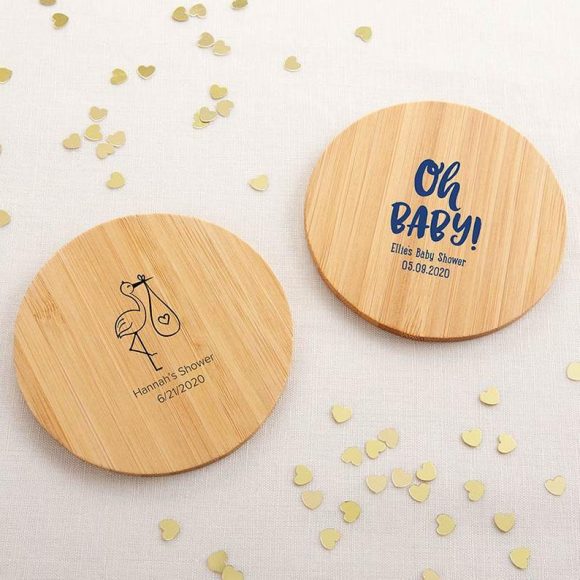 You and your guests are going to love this incredible baby shower party favor!
Treat them to some lovely blue seed paper flowers that they can plant and watch real flowers grow from.
Each petal is embedded with a number of seeds and the actual box that they come in acts as a greenhouse for the flowers to start to grow.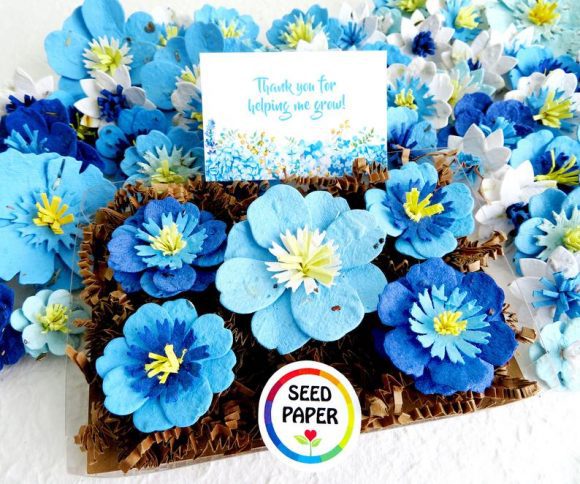 If you're looking for a more traditional party favor then this blue bootie soap maybe what you are looking for.
Each bootie is handcrafted with a clear glycerin soap base and colored a shimmery shade of blue.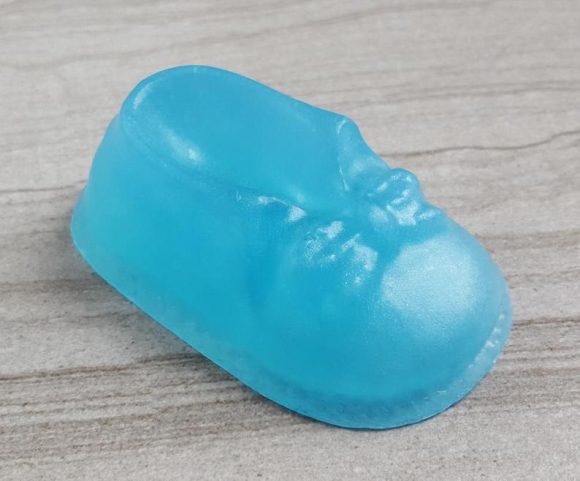 Oh, I so love this boy baby shower party favor!
Stock up on some EOS lip balms and then print out these fun personalized couple favor tags, that are illustrated to look just like you!
Now, how cool is that?!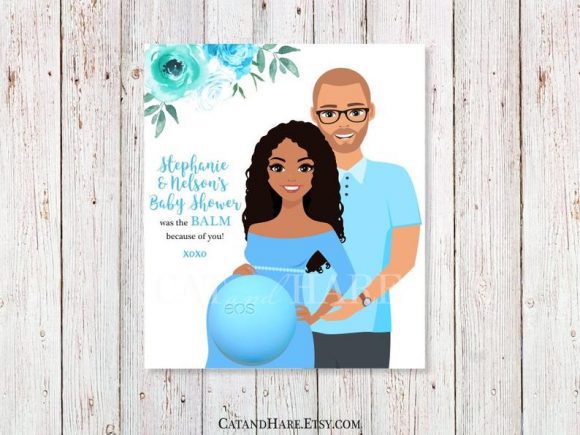 Another traditional baby shower gift is a scented candle that your guests can use to make their home smell wonderfully!
Each candle comes in a rustic glass jar with a cute personalized label with an elephant on it.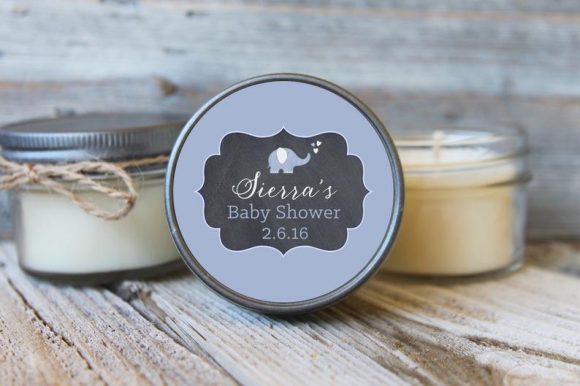 To finish off our baby shower party favors, we've added another unique baby shower party favor that the ladies are really going to appreciate!
A beautifully handcrafted trinket dish with some pretty little flowers, that your guests can use to place small pieces of jewelry.
They are so adorable and a wonderful keepsake!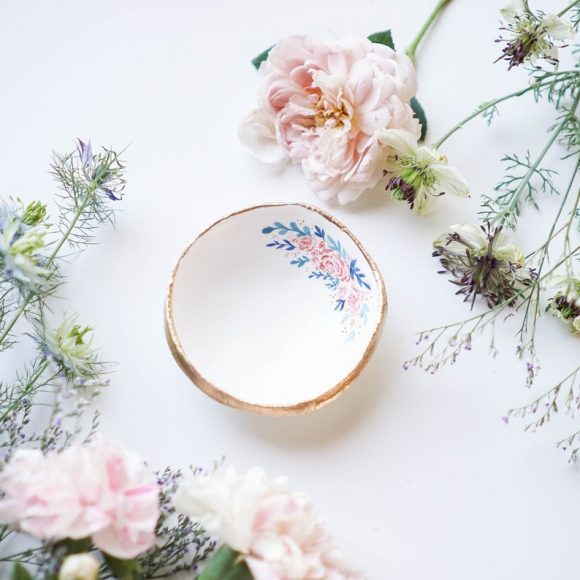 Need more baby shower party ideas?
Need baby shower craft ideas?
Need free birthday party printable decorations?
For more inspiration, check out all the stunning baby shower on our site, and check out these baby shower party supplies from vendors with listings on Catch My Party!
**Some of these links may be an affiliate.