Check out these 18 fun digital pregnancy announcements as a fantastic way to share your news with friends and family.
Finding a unique way to share your wonderful news over social media can be a challenge, so we've created this roundup of ideas and inspiration to help you pick the best one, and there are even shopping links.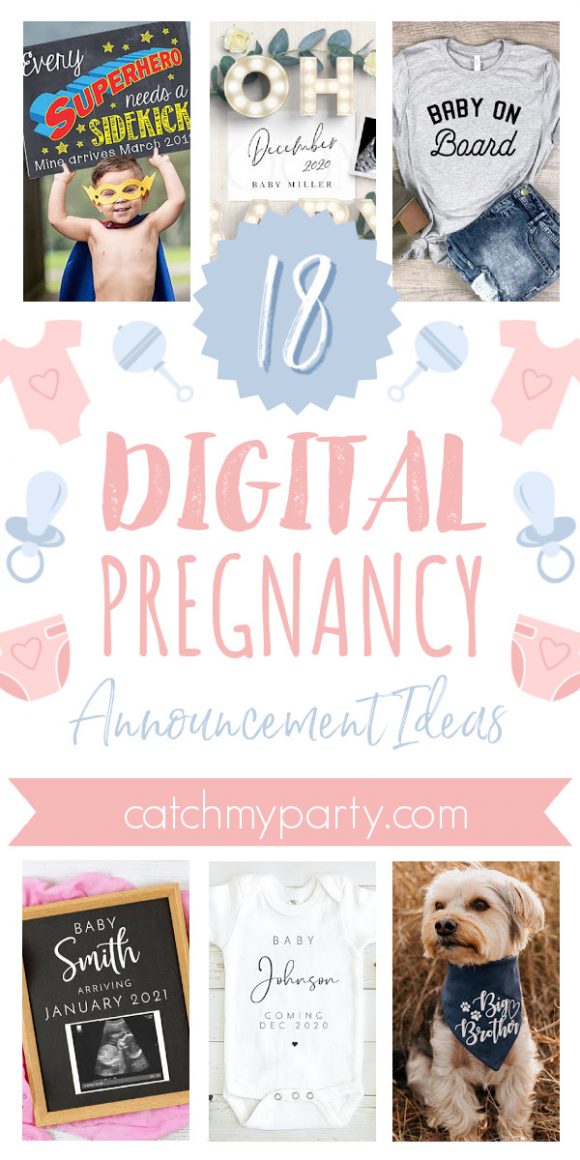 When should you announce your pregnancy?
First thing first… you should only make your announcement public when you feel comfortable doing so.
If you're dying to share your wonderful news you might try and do so when the pregnancy is safe and everything ok. This normally happens around week twelve.
Digital Pregnancy Announcement Ideas
Here are some fabulous digital pregnancy announcement ideas to get your creative juices flowing. Have fun with your announcement, and congrats on your awesome news!
When you want to make a statement and call everyone's attention, you put it in lights.
Share your big news with this fantastic marquee light digital pregnancy announcement template.
Customize it with your family name, due date, and an image of your sonogram.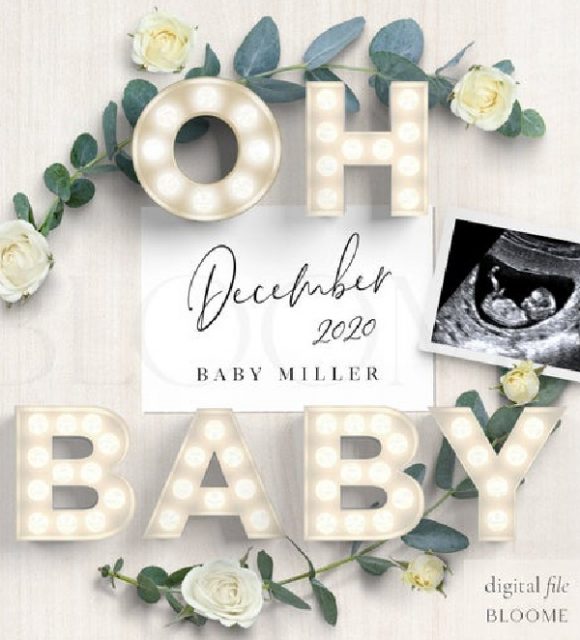 Boho rainbows are so on-trend at the moment, that you can't go wrong if you choose it as the theme of your digital pregnancy announcement.
Like the previous template, this too can be personalized with your due date and an image of your sonogram.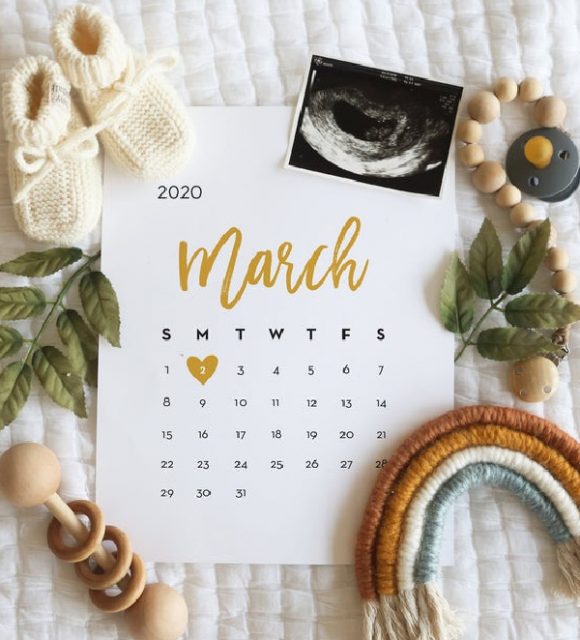 If you already know the sex of your baby, have picked out a name, and are you're looking for a digital pregnancy announcement with a more rustic vibe, then this is a great choice.
The wreath in the image is so simple yet so pretty. It's a perfect example of less is more.
Add your baby's name, due date, and a sonogram image so you can share it across your social media.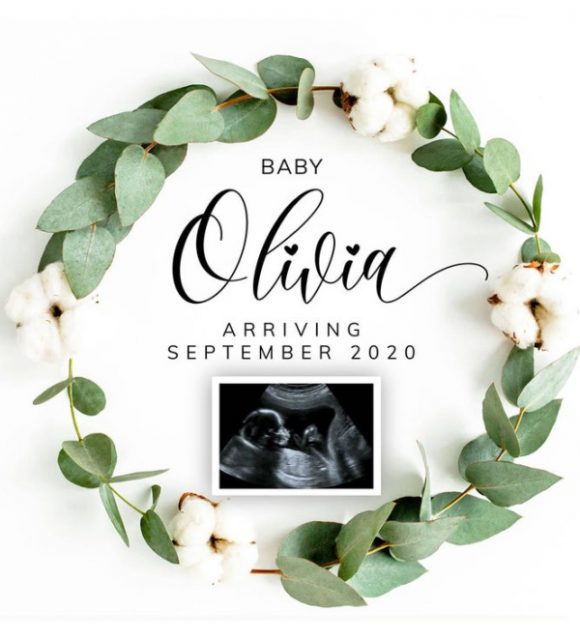 This next template has a more vintage and natural look, with wooden toys, and pretty dried flowers.
You can again add your due date and an image of your sonogram to make it yours.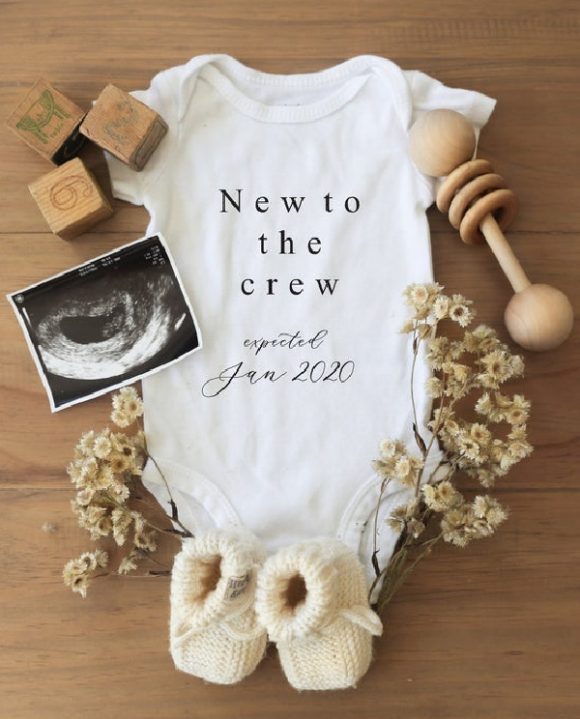 Create your own Digital Pregnancy Announcement
If you'd rather put your creativity to good use, and make a unique digital pregnancy announcement, scroll down and take a look at all the wonderful props and ideas we've discovered to make yours one of a kind.
A fun way to share your big news with everyone is to simply take a photo with your partner and show off your sonogram.
Either hold it in your hands or just pin it onto a board with more details like the due date.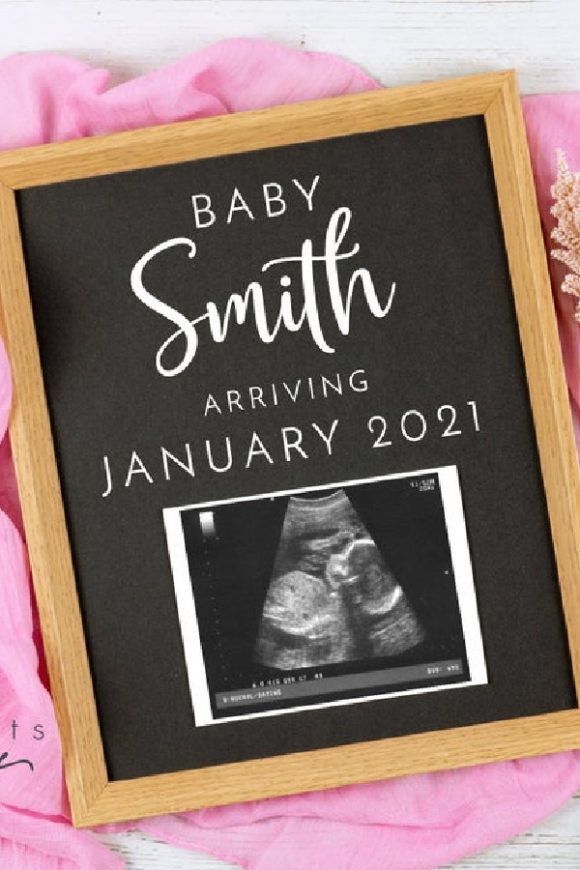 Images speak louder than words so how about letting everyone know your big news with a photo of you wearing a t-shirt that says it for you.
This "baby on board" t-shirt is a great way to surprise everyone and let them in on your secret.

On the other hand, let everyone know you're expecting a little bundle of joy with a photo of the two of you holding a little onesie like this one.
Personalize it with your family name and due date.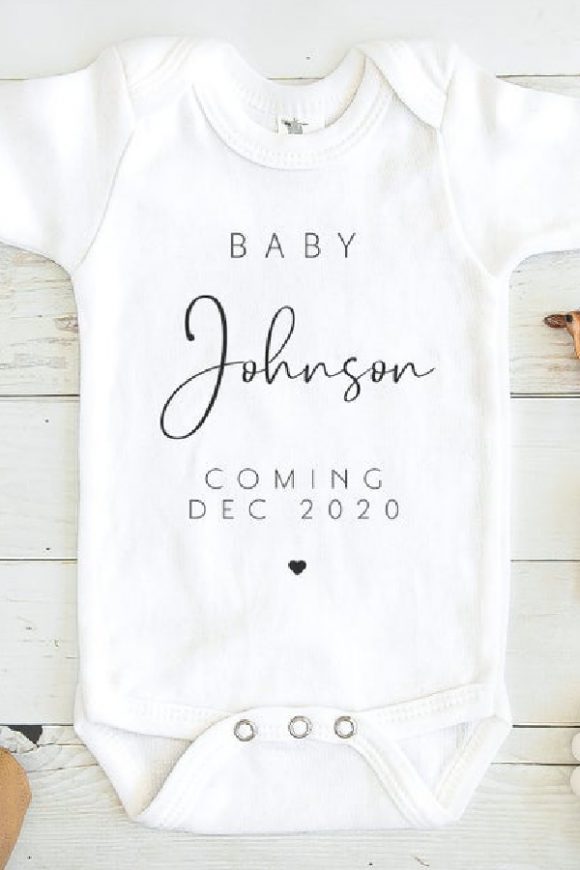 Booties are also a great prop for a digital pregnancy announcement.
Either simply share a photo of the booties to get everyone's attention, or delicately hold them in your hands for a gorgeous shot.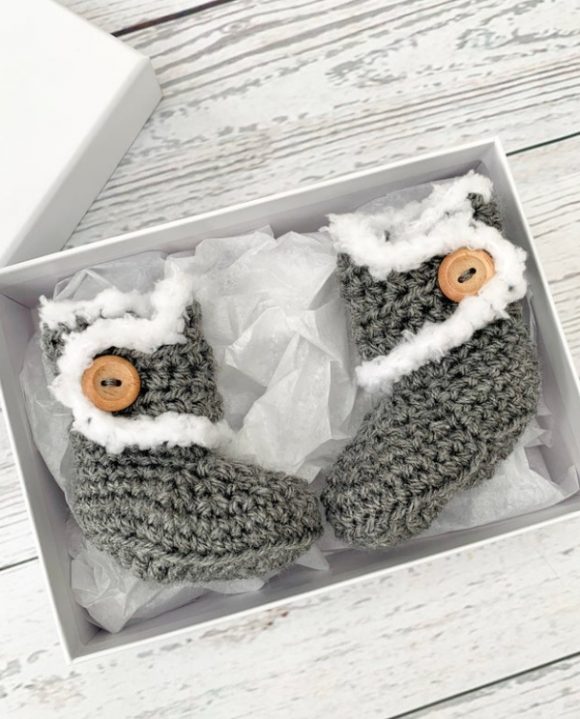 If you already have children, then how about having them tell your family and friends?
It's important to have them participate so they feel included.
Becoming an older brother or sister is a big deal so dress them in a cool "promoted to big brother or sister" t-shirt and take a photo to share on social media.
It's also a wonderful keepsake!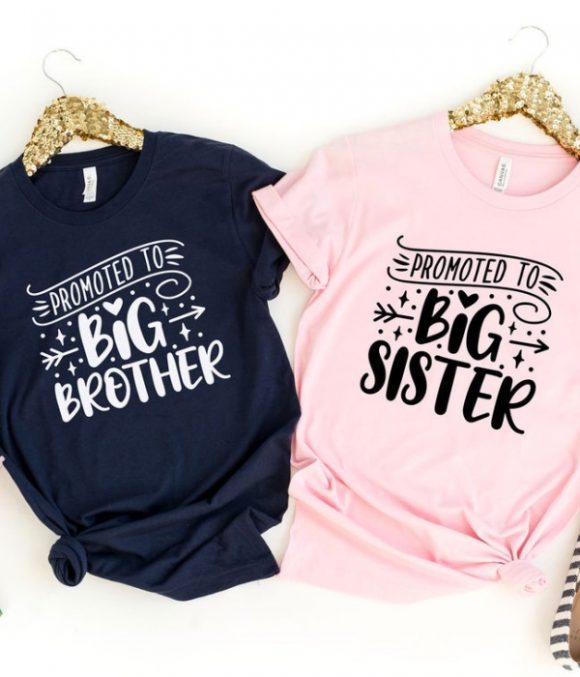 Make your pregnancy announcement fun with a photo of you in the kitchen placing a bun in the oven whilst wearing this awesome apron.
It's a great prop that speaks for itself!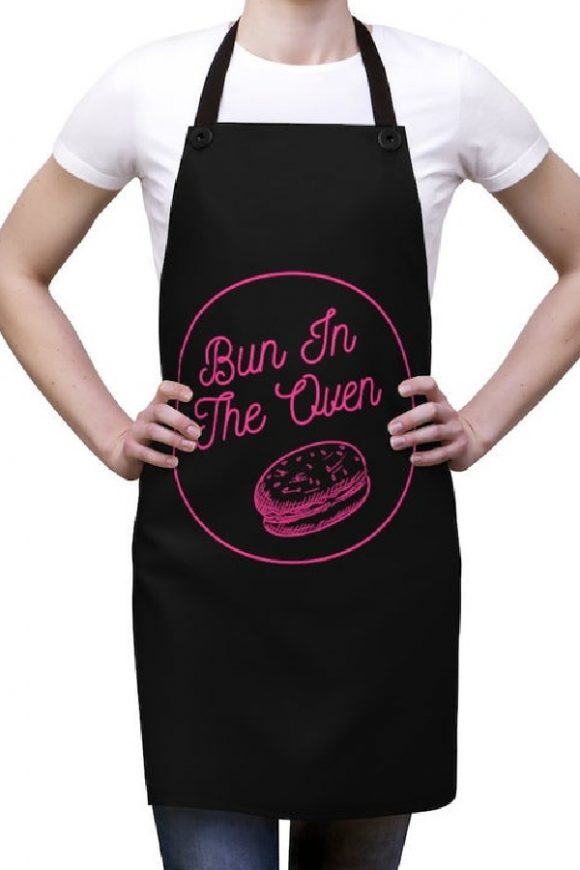 If you love baking, how about letting everyone know with the help of a cake?!
Decorate a cake with an "Eating Cake for Two" topper and have a photo of you and your partner taken.
Send it to your family and friends to share your new love.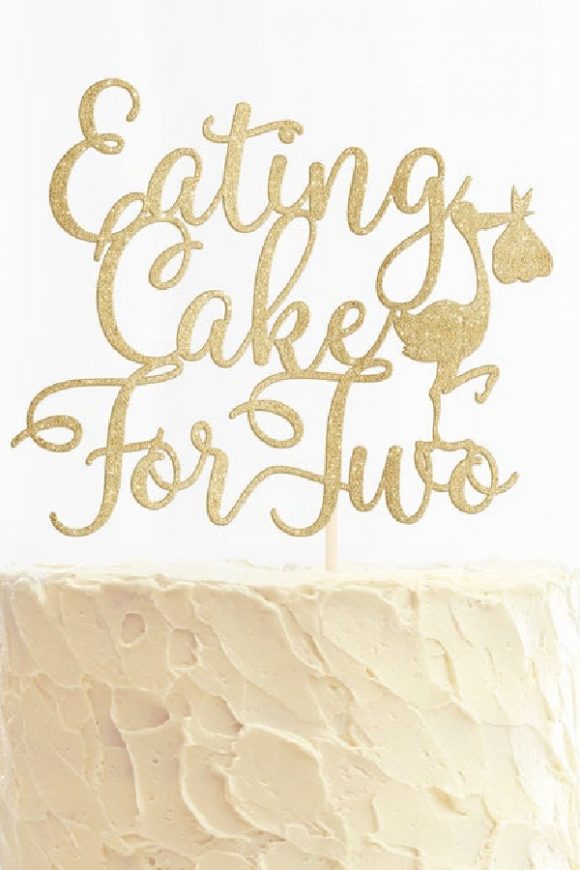 Pets are so important to all of us and are such a key member of a family, that having your dog break your big news is a wonderful idea.
Tie a "big brother" or "big sister" bandana around their neck and snap a cool shot that you can use as your pregnancy announcement.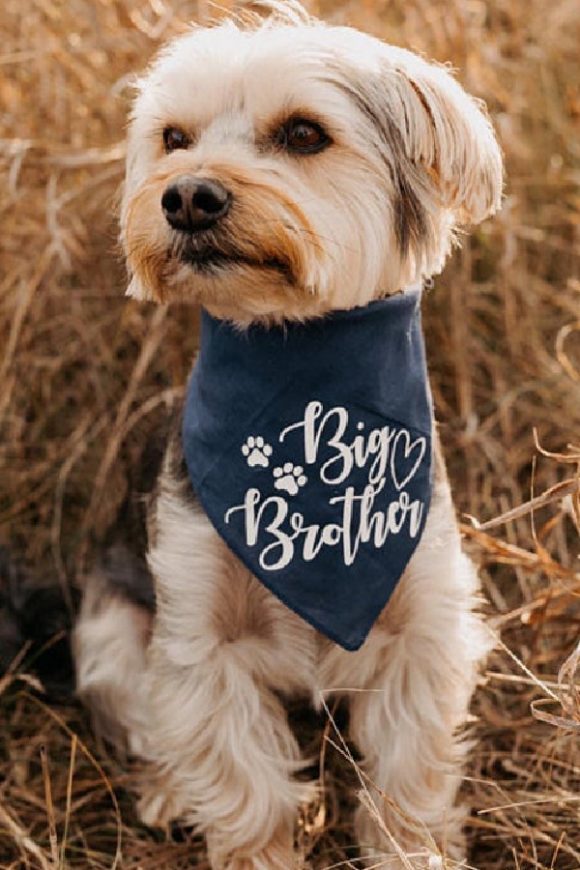 If you're looking for another fun way to break it to everyone, how about using this 'bump ahead' road sign as a prop in your announcement?
Tie it to a pole and ideally take a photo with it near an actual bump.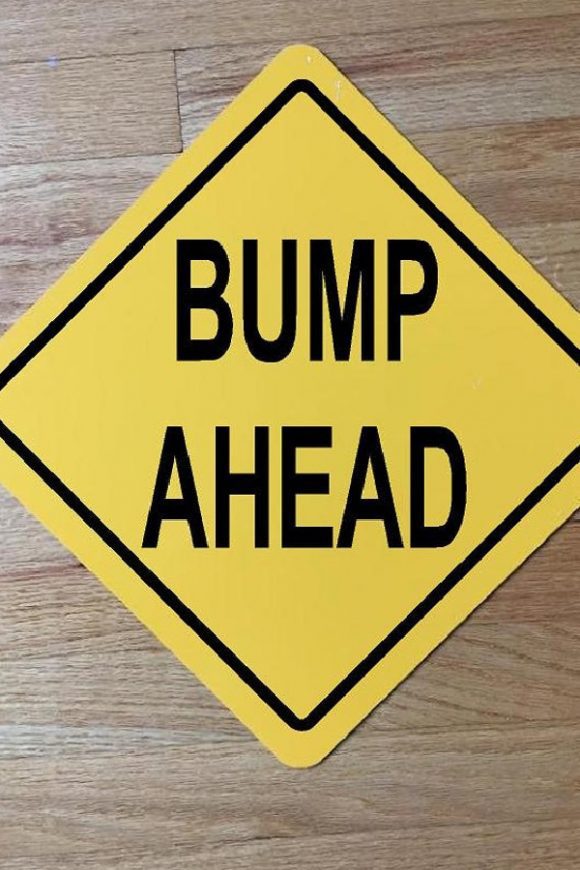 They say a picture is worth a thousand words, so how about using a "baby on board" hat to let everyone in on your big secret?
All you need to do is take a photo wearing the hat and share it on social media.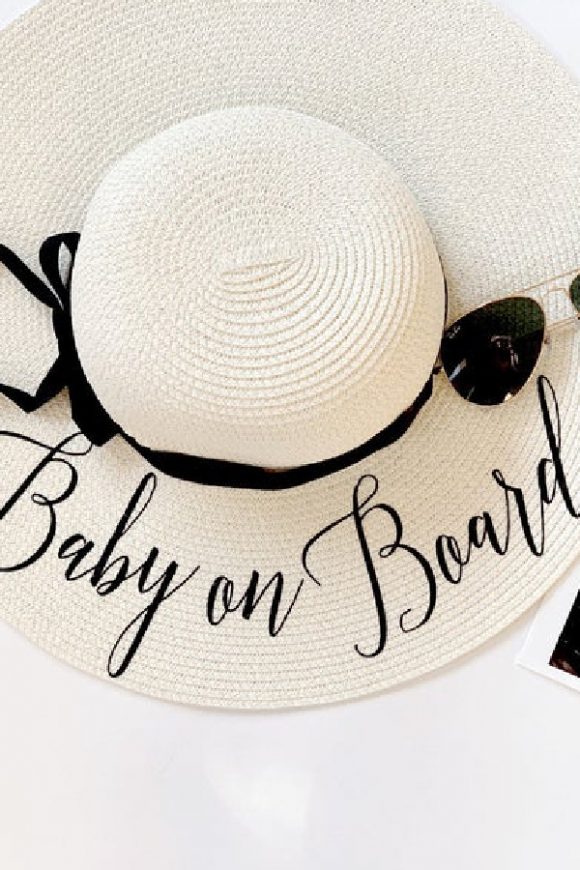 Another cool way to let siblings in on the fun is by having them dress up as a superhero holding an "Everybody needs a Sidekick" sign.
Personalize your sign with your due date and share your incredible news with the world.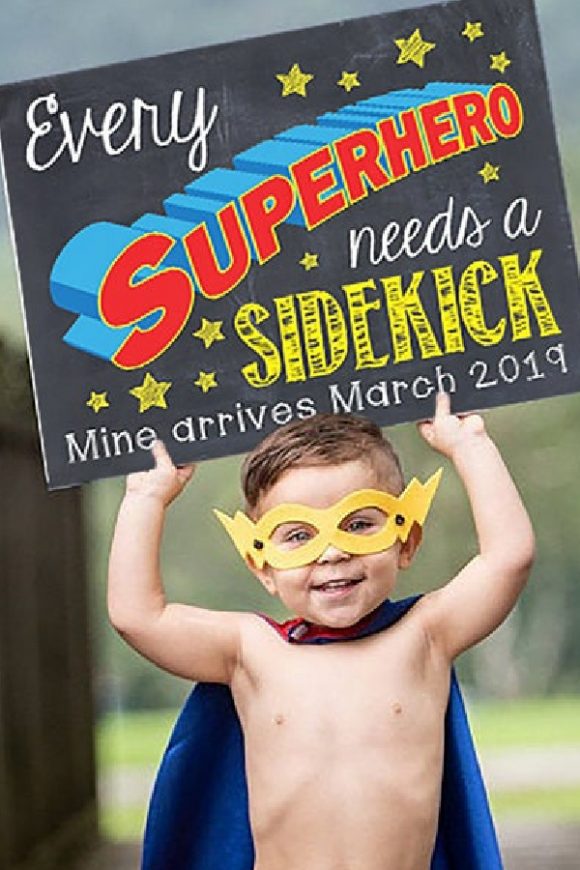 You could also have a beautiful photo taken of you and the baby's father with this "And Then There Were Three" sign.
It makes such a gorgeous pregnancy announcement that I'm sure you'll love to share.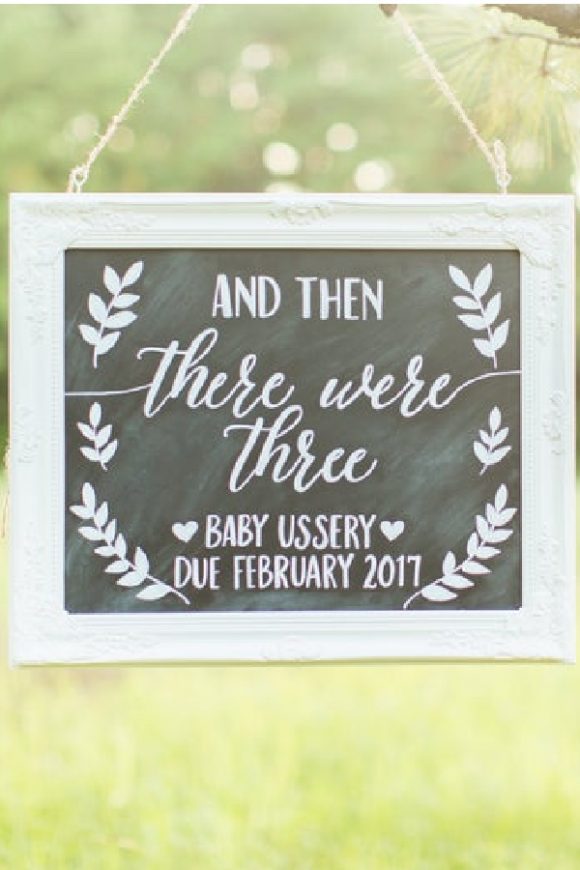 If you really want to make everyone laugh then a movie poster digital pregnancy announcement is perfect!
Send the vendor an image you'd like on the poster and personalize it with your names, and due date.
You can bet this announcement will be a 5-star hit!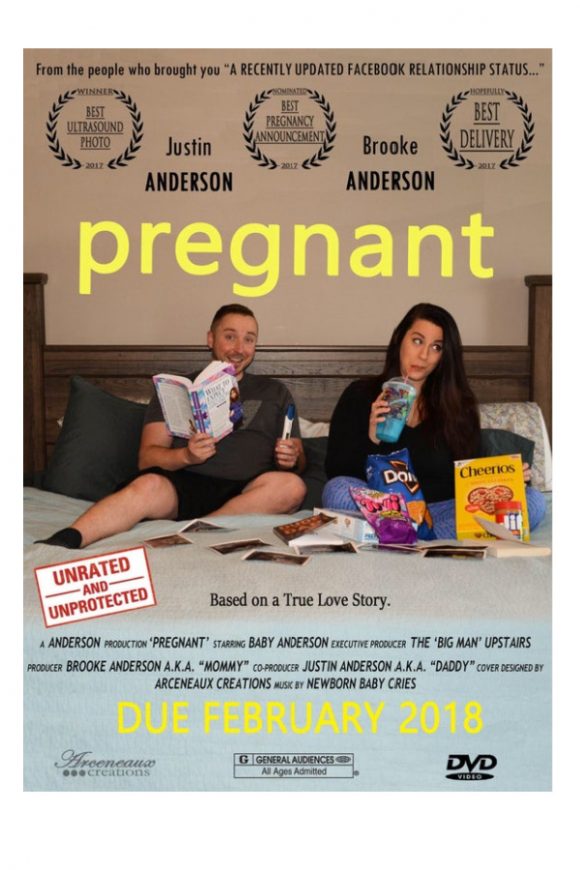 To finish off our round-up of cool digital pregnancy announcements we have a "hello baby" balloon prop that you can use as a backdrop to your photo.
Fill these 40″ foil balloons with helium and let them do the talking.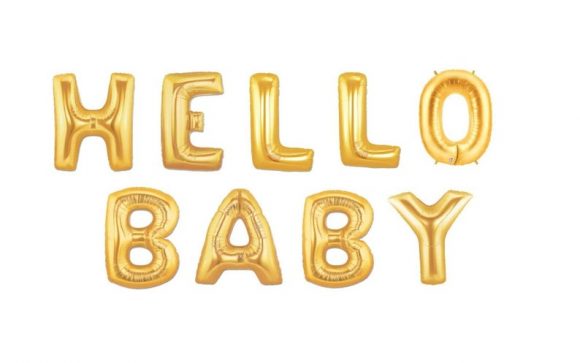 There's nothing better than dreaming about your baby shower, so take a look at these wonderful ideas for baby showers, baby shower party supplies, or even beautiful FREE baby shower party printables, we've also got you covered.
Need baby shower party ideas?
For more inspiration, check out these additional baby announcment supplies  from vendors with listings on Catch My Party!
**Some of these links may be affiliate links.