Are you ready for the most spooktacular time of the year? Halloween is just around the corner.
What better way to get into the festive spirit and all those Halloween parties than with a 2023 Halloween Countdown Calendar?
This fun and interactive calendar will help you and your family count down the days until the big night of costumes, candy, and all things eerie.
With our printable calendar, you can mark off each passing day as you get closer to Halloween. It's not just a visual reminder, but a delightful way to involve everyone in the anticipation and excitement.
Imagine the thrill of flipping the calendar every day and seeing those numbers dwindle down until the 31st of October arrives!
Don't forget to grab our FREE Printable Halloween Party Planning Guide, an indispensable resource to help you plan an unforgettable Halloween party.
To ensure your guests are thoroughly entertained, we highly recommend downloading our collection of FREE Creepy Halloween Kids Activity Printables as well as our Free Printable Halloween Bingo Cards.
These engaging activities are perfect for keeping little ones entertained during your Halloween gathering.
If you're looking for FREE Halloween party printables, including a special "You've Been Booed" kit, we've got you covered!
Whether you're planning a Hocus Pocus Halloween party or a spine-chilling Scary Halloween party, we have a bunch of party ideas that will ensure a memorable experience for everyone!
Download Countdown Calendar here!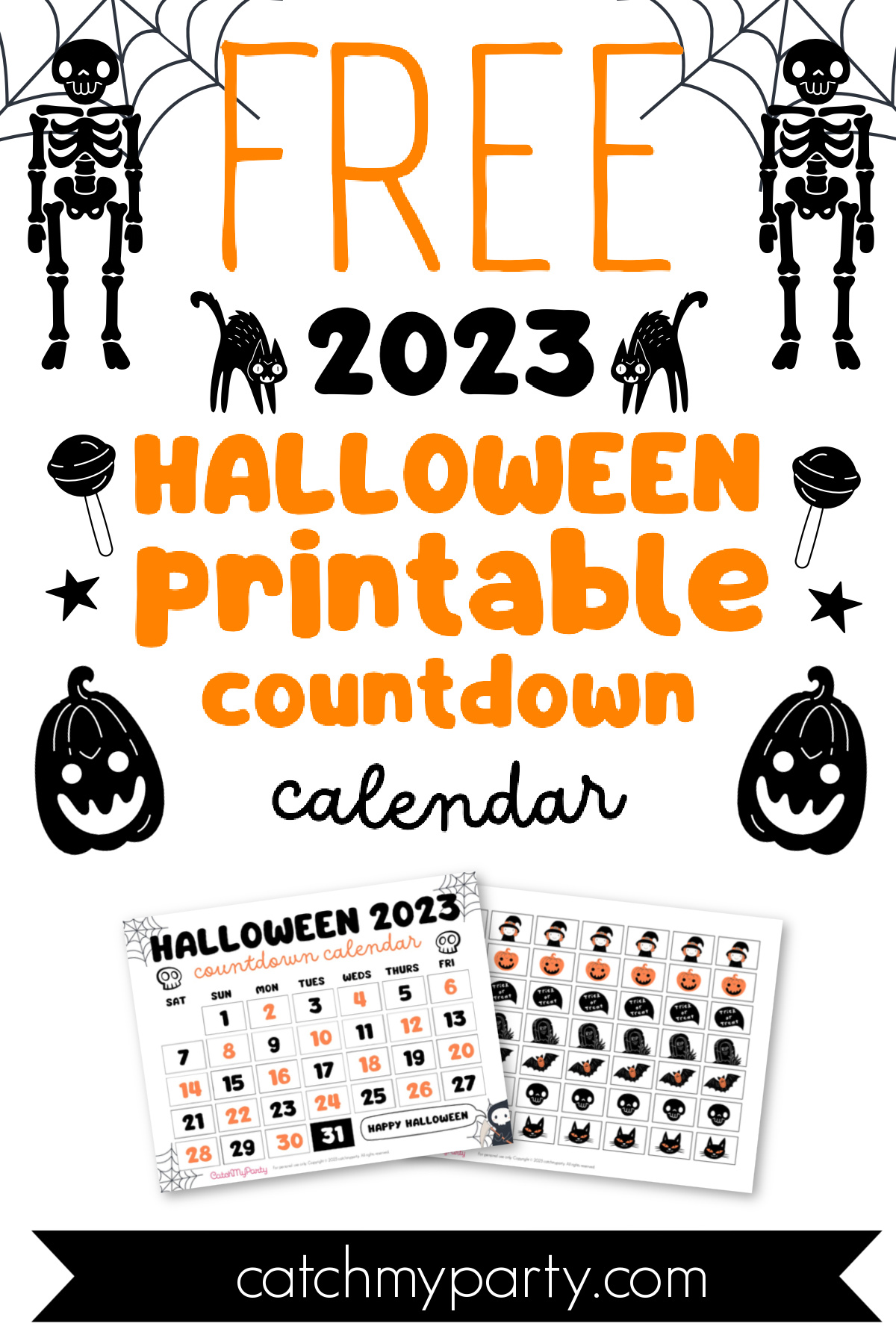 Our Halloween countdown calendar is beautifully designed, featuring cute and spooky illustrations of pumpkins, bats, witches, and ghosts. Hang it on your wall, pin it to your fridge, or place it on your desk to add a touch of Halloween magic to your daily life. It's perfect for families and teachers so you can build up the Halloween excitement at your house.
To get your hands on this FREE printable Halloween countdown calendar, simply click on the link below and download it to your computer. You can easily print it out on your home printer using regular A4 or letter-sized paper. The calendar is available in PDF format, ensuring that it's compatible with most devices.
Don't wait any longer – start the countdown to Halloween 2023 today! Grab your FREE printable Halloween countdown calendar and make every day leading up to the spookiest night of the year a little more thrilling. Happy haunting!
Download Countdown Calendar here!
Reasons to Love This FREE Halloween Printable Countdown Calendar
It's a fun and interactive way to build up Halloween excitement for you and your kids.
The calendar helps you visually track and anticipate the arrival of Halloween.
It comes with cute Halloween-themed images that you can stick to each passing day.
It's a great activity for families and teachers to engage children in the Halloween spirit.
The calendar can be easily printed and set up on a wall or your refrigerator.
It's a free resource that saves you money on purchasing a countdown calendar.
It allows you to involve your kids in the countdown and get them even more excited about Halloween.
The calendar adds a decorative touch to your home during the Halloween season.
Download Countdown Calendar here!
The FREE Halloween Printable Countdown Calendar for 2023 includes:
A printable Halloween Countdown Calendar
A sheet of Halloween image markers
Download Countdown Calendar here!
Key Supplies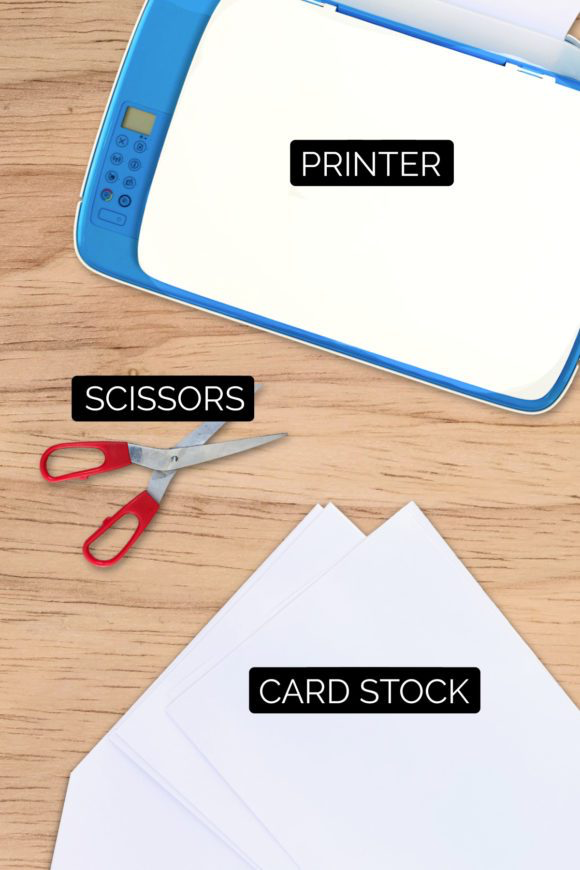 Download Countdown Calendar here!
How-To Steps
Step 1
Start by downloading the free printable Halloween countdown calendar file. Save the file on your computer for easy access.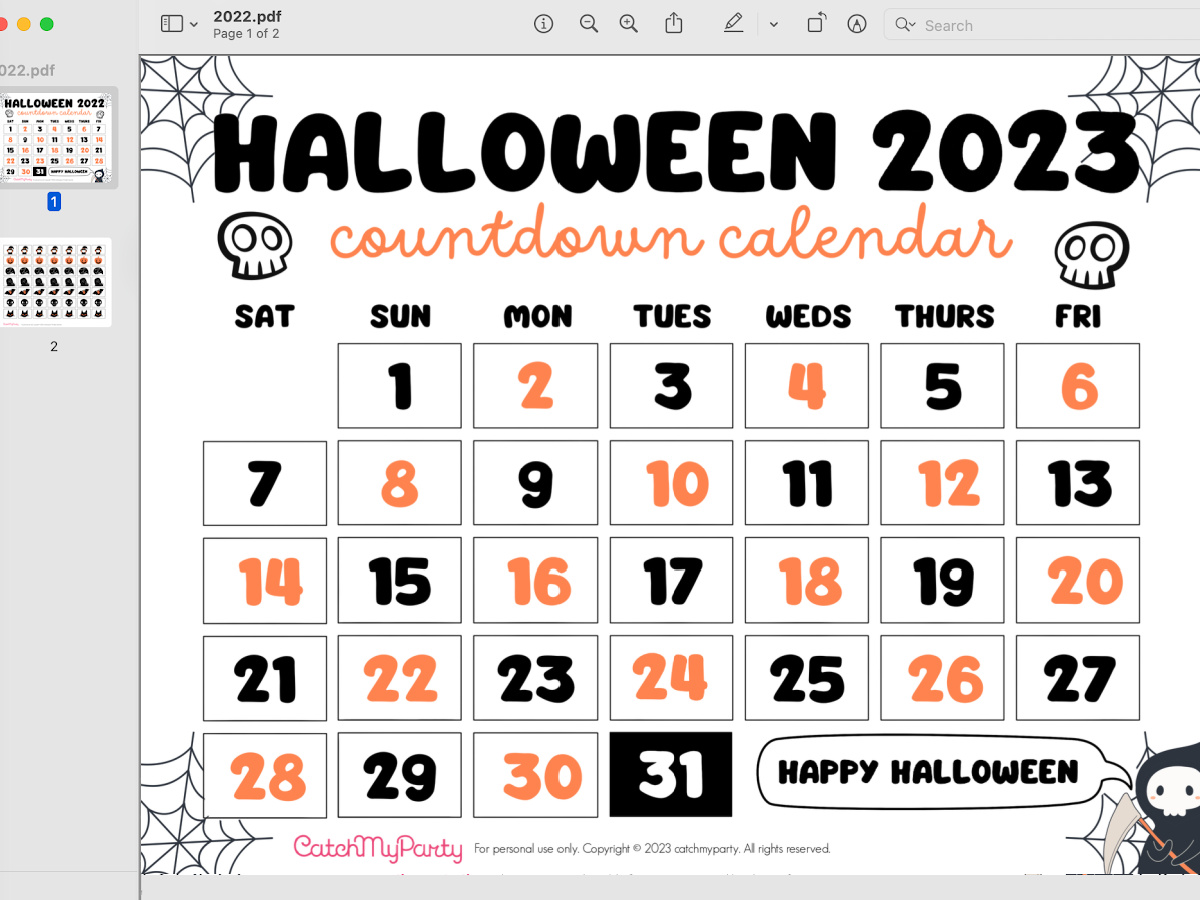 Step 2
Open the file on your computer and get ready to print the calendar. Make sure you have a color printer and some 8.5″x11″ cardstock handy.
Step 3
Printable Halloween Countdown Calendar
Print out the calendar page on the cardstock using your color printer. This will give you a sturdy and vibrant calendar to work with.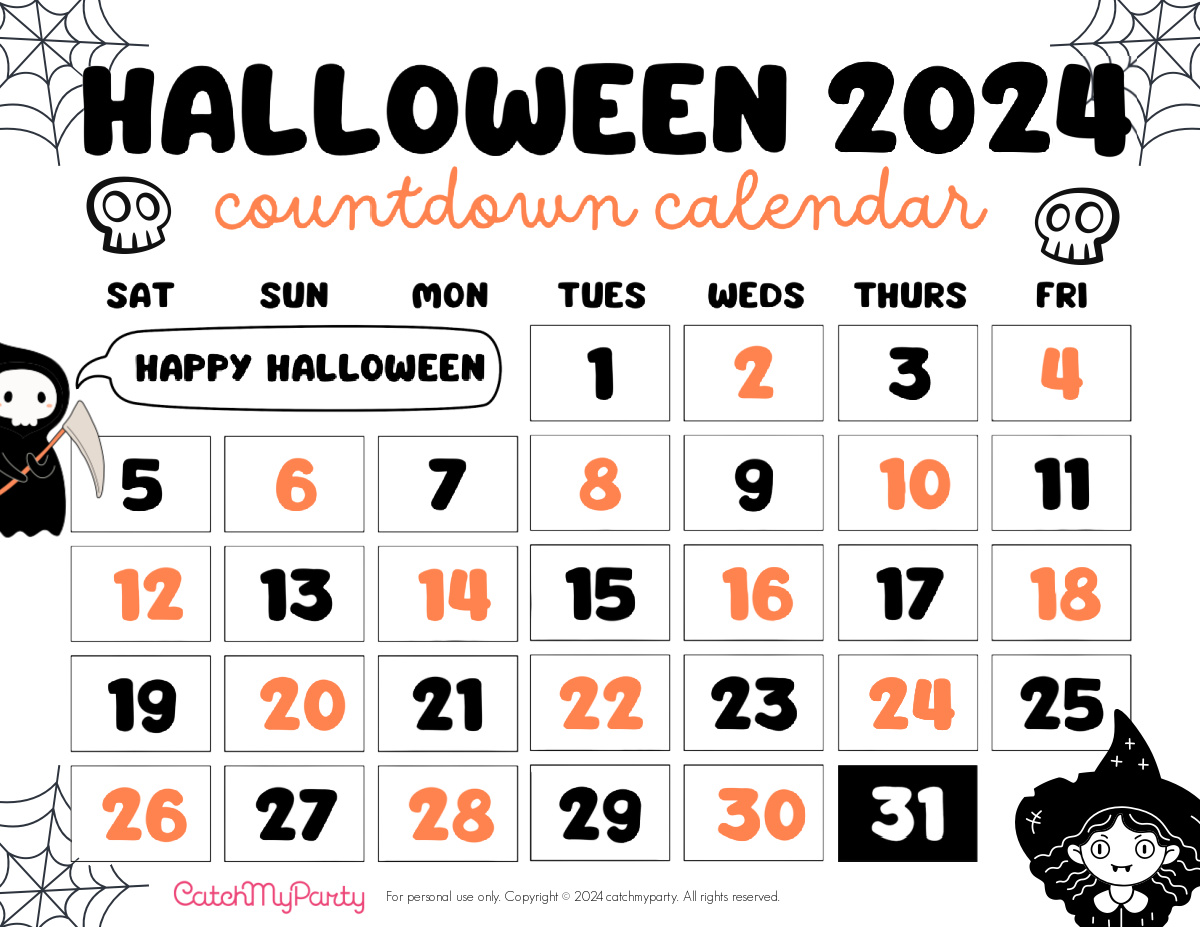 Halloween Markers
Cut out each of the Halloween markers.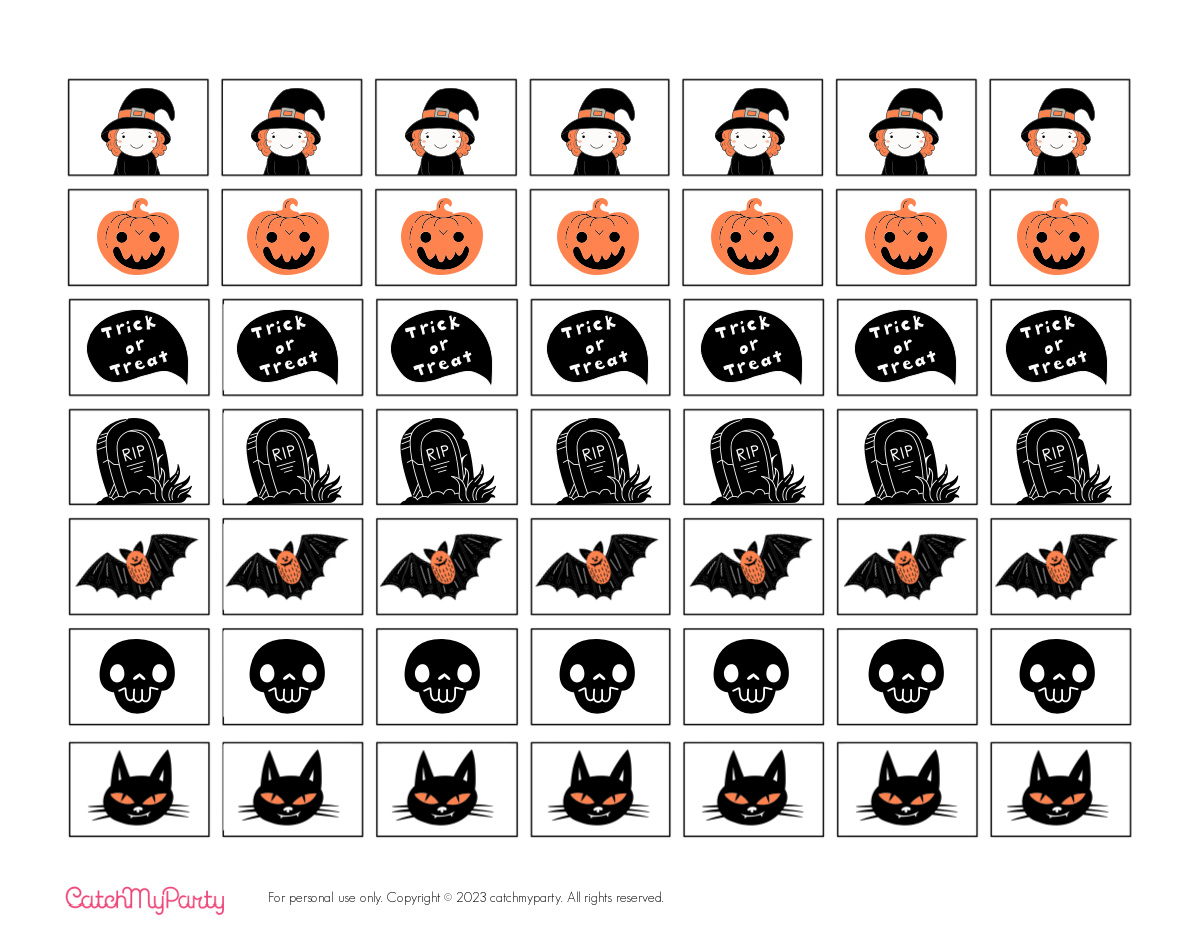 Step 4
Hang the Halloween countdown calendar in a prominent spot for everyone to see and anticipate the spooky fun to come.
Step 5
On the 1st of October start using your Halloween countdown calendar by gluing a marker the number '1'. Repeat each day until Halloween finally arrives.
Download Countdown Calendar here!
Tips and Substitutions
Here are 5 tips and substitutions for your Halloween countdown calendar:
Instead of cardstock, you can use photo paper instead.
If you don't have a color printer, you can print the calendar in black and white.
To make the calendar reusable, laminate it and use dry-erase markers to write the numbers instead of using markers.
If you prefer a larger calendar, you can scale up the printout by adjusting the printing settings.
Print as many copies as you like, and hang them around the house, or give them to friends.
Printable FAQs
What can I substitute for card stock?
You can substitute regular cardstock with a bunch of different types of paper such as quality photo paper or even regular printer paper.
What size paper do I need?
You'll need an 8.5″ x 11″ sized sheet of paper.
What if the pdf file doesn't print?
Make sure you download the pdf file onto your computer and print from that file. If you are having trouble, try downloading the pdf file using a different browser (Chrome, Firefox, Safari, etc…).
How can I use these free printables if I don't have a home printer?
You can use a public printer at a library, internet cafe, or print shop for a fee.
How can I make the calendar more durable?
To make the calendar more durable, consider printing it on cardstock or laminating it after printing. This will help protect it from wear and tear.
Can I use markers or colored pencils to decorate the Halloween countdown calendar?
Absolutely! You can use markers, colored pencils, or other art supplies to decorate the calendar and make it more visually appealing.
Absolutely! You can use markers, colored pencils, or other art supplies to decorate the calendar and make it more visually appealing.
Absolutely! You can get creative and add stickers, glitter, or other embellishments to make the calendar more festive and personalized.
Download Countdown Calendar here!
Have fun with your family this Halloween. Let the countdown begin!
Need more Halloween party ideas?
For more inspiration, check out all these fun Halloween party ideas on our site.