If you have fallen under the spell of Disney's cult classic, Hocus Pocus, and the new Hocus Pocus 2, and are looking for Hocus Pocus party ideas, we've got you covered!
We got so many awesome Halloween parties on our site, but we can't think of a better theme for this year.
The movie celebrates everything about Halloween such as witches, spells, zombies, and lots and lots of laughs! Here's to making your Hocus Pocus party a success!
Your kids are going to love counting down to Halloween so make sure you download our FREE Fun Halloween Countdown Calendar, and to help you plan the best Halloween party EVER download our FREE Printable Halloween Party Planning Guide!
To keep your guests entertained download our FREE Kids Halloween Activity printables and our FREE Halloween bingo!
We've also got a bunch of FREE spooktacular Halloween party printables that you won't want to miss, including our "You've Been Booed" kit.
If on the other hand, you are planning to throw a scary Halloween check out all our scary Halloween party ideas!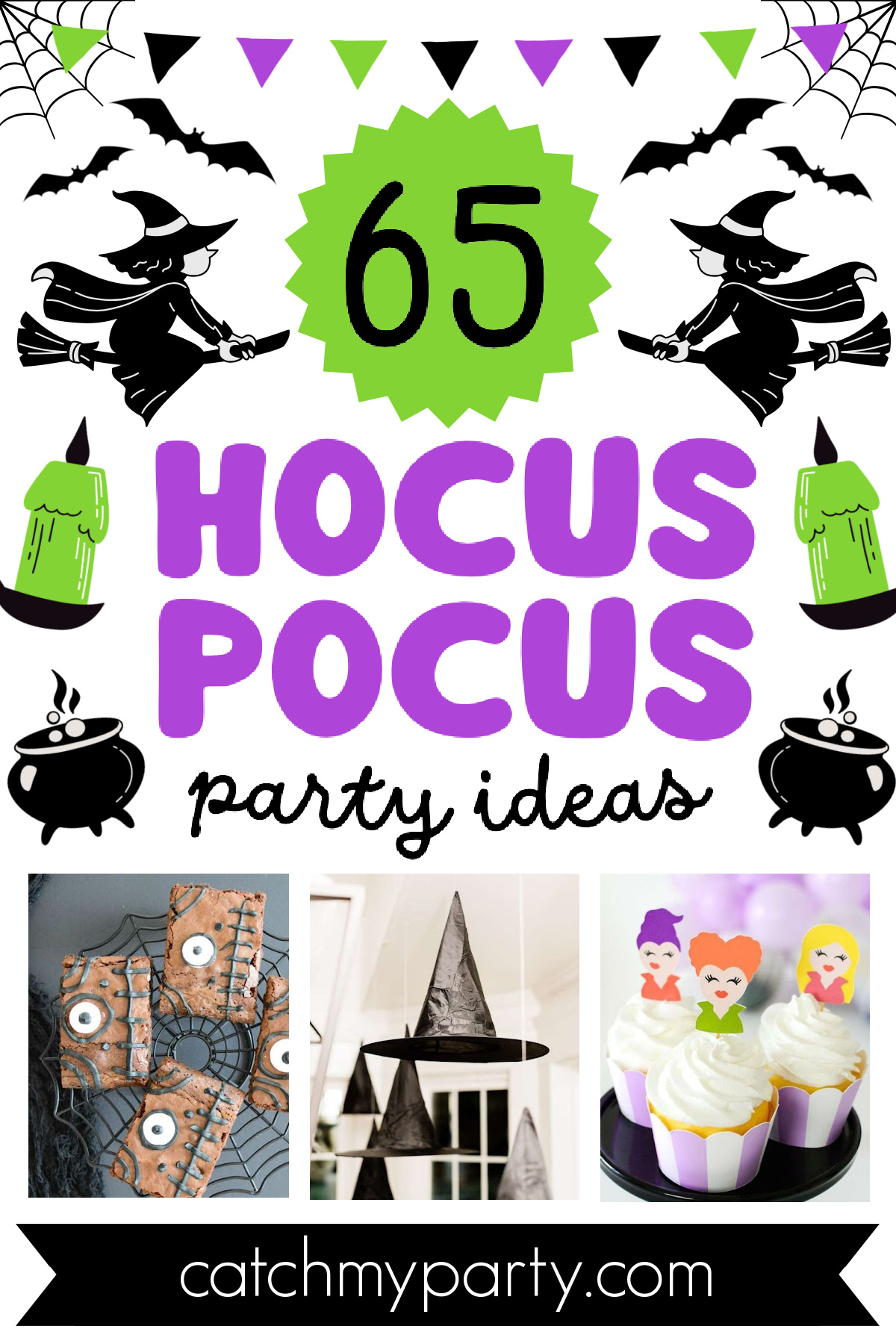 You'll find fantastic scary Halloween party themes such as a zombie party, a horror movie party, a morgue party, a Frankenstein party, and a bunch of ideas that will have everyone freaking out!
Reasons to Love These Spellbounding Hocus Pocus Party Ideas!
Nostalgic Delight: Recapture the magic of the beloved film, Hocus Pocus, and transport guests to a world of childhood nostalgia.
Costume Extravaganza: Encourage creative costumes, allowing everyone to dress up as their favorite Hocus Pocus characters for a night of playful transformations.
Spooky Yet Family-Friendly: Strike the perfect balance between spooky thrills and family-friendly fun, ensuring an enjoyable experience for all ages.
Themed Décor and Atmosphere: Transform your party space into a visually captivating Hocus Pocus universe, enhancing the ambiance and excitement of the event.
Spellbinding Games and Activities: Organize entertaining games and activities inspired by the film, keeping everyone engaged and entertained throughout the celebration.
Delectable Witchy Treats: Delight taste buds with bewitching treats and snacks inspired by the movie, adding a flavorful dimension to the overall Hocus Pocus party experience.
65 Spellbounding Hocus Pocus Party Ideas!
Hocus Pocus Party Ideas FAQs
How can I recreate the Sanderson sisters' cottage for a Hocus Pocus-themed party?
Incorporate rustic decor, broomsticks, and cauldrons to capture the essence of the Sanderson sisters' abode.
How can I set the mood with Hocus Pocus-themed decorations?
Use broomsticks, black cats, pumpkins, and spellbooks in your decor to create an enchanting and mystical atmosphere.
What Hocus Pocus-themed music should I play at the party?
Opt for the film's soundtrack or spooky tunes that match the witchy theme to enhance the party's ambiance.
What spooky snacks can I serve at a Hocus Pocus party?
Offer witch-hat cookies, "black flame" cupcakes, and potion-themed beverages to add a magical touch to the food and drinks.
What Hocus Pocus-inspired games can entertain party guests?
Plan games like "Witch's Broom Limbo" or "Cauldron Ring Toss" for a playful and engaging experience.
What are some Hocus Pocus-themed party favors for guests to take home?
Consider giving out mini spellbooks, witch's broom pens, or themed candles as memorable party favors.
For more inspiration, check out all these spooky Halloween parties on our site.
Need More Halloween party ideas?
**Some of these links may be affiliates.