There's nothing better than throwing a really scary Halloween party and petrifying your guests. If you are thinking of throwing one don't miss our 29 Scary Halloween parties and creepy ideas!
We've rounded up our best scary Halloween party themes and creepy Halloween party ideas to help you frighten your guests to death!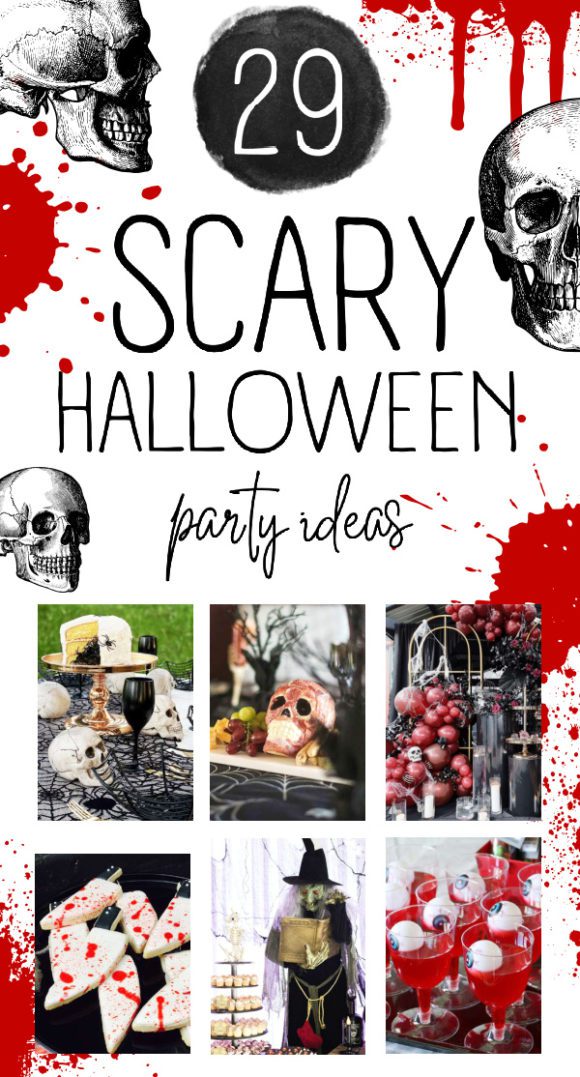 You'll find fantastic scary Halloween party themes such as a zombie party, a horror movie party, a morgue party, a Frankenstein party, and a bunch of ideas that will have everyone freaking out!
Get the Fright of Your Life with These 29 Scary Halloween Parties and Creepy Party Ideas!
13 SCARY HALLOWEEN PARTIES
Nothing says scary more than a spooky graveyard Halloween Party!
The tombstones used as decoration make an awesome dessert table backdrop.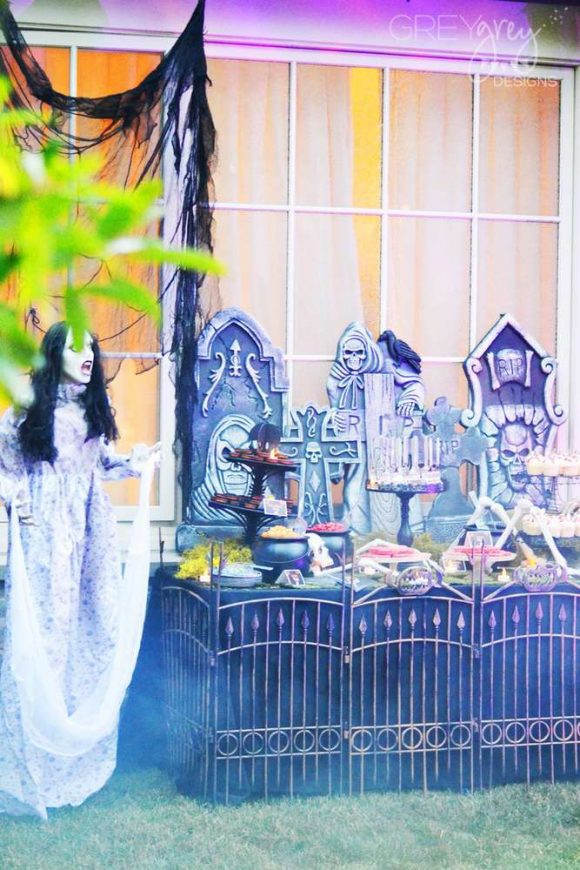 Go all out and add some glam to your chilling Halloween party.
Decorate with some blood-red balloon garlands, some red and black roses, and as many cobwebs as you can get your hands on.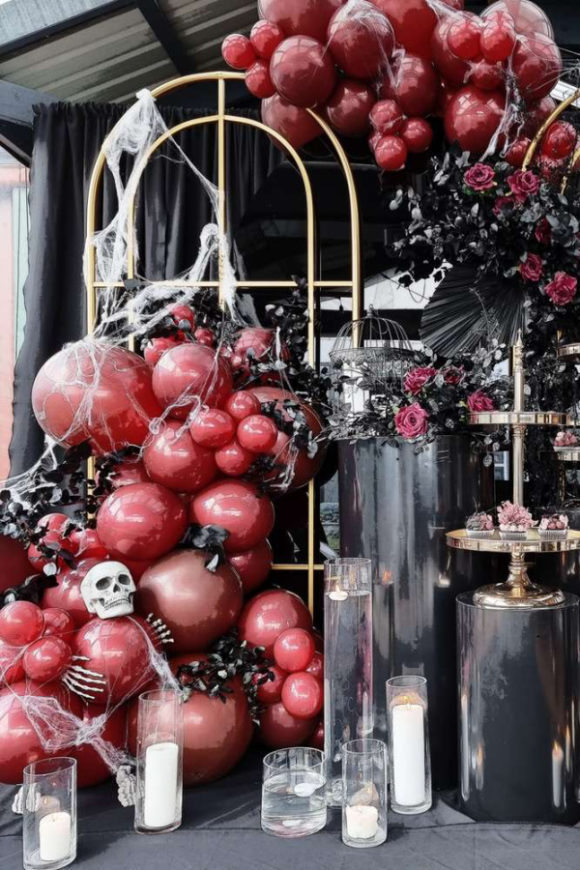 You can't have a scary Halloween party without a skeleton!
The haunted house backdrop, skeleton, and tree full of cobwebs send a chill down my spine.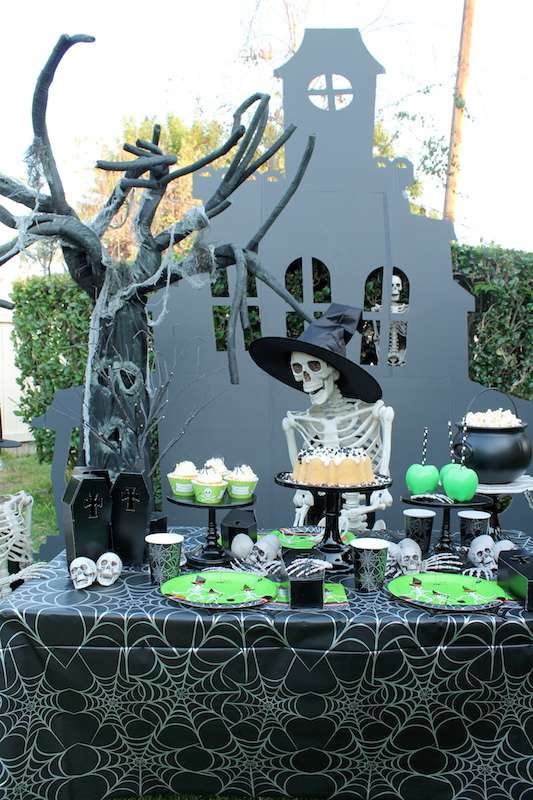 Check out this example of an elegant vintage haunted Halloween party.
The life-size mummy used as decoration really freaks me out!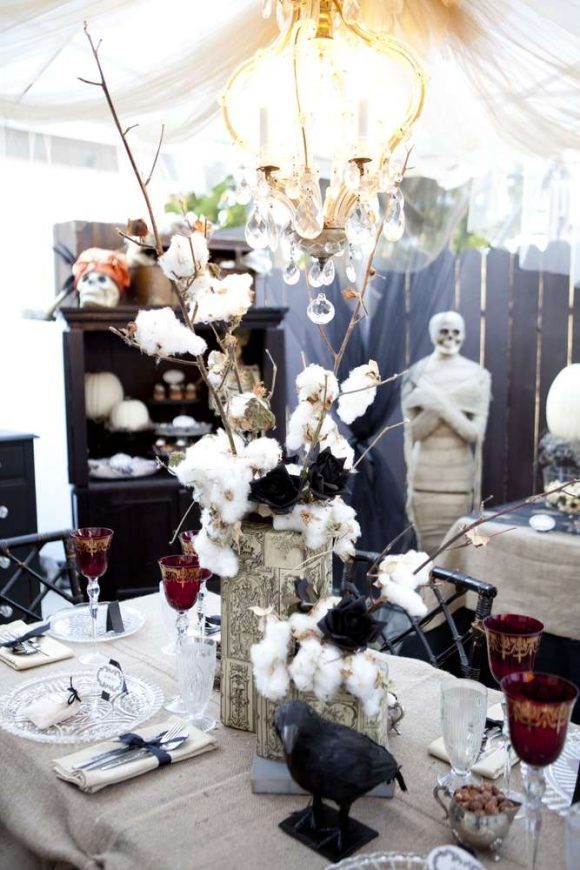 There's just so much blood at this Transylvanian morgue-inspired Halloween party. It's definitely not for the squeamish.
I love the severed leg and creepy skeleton!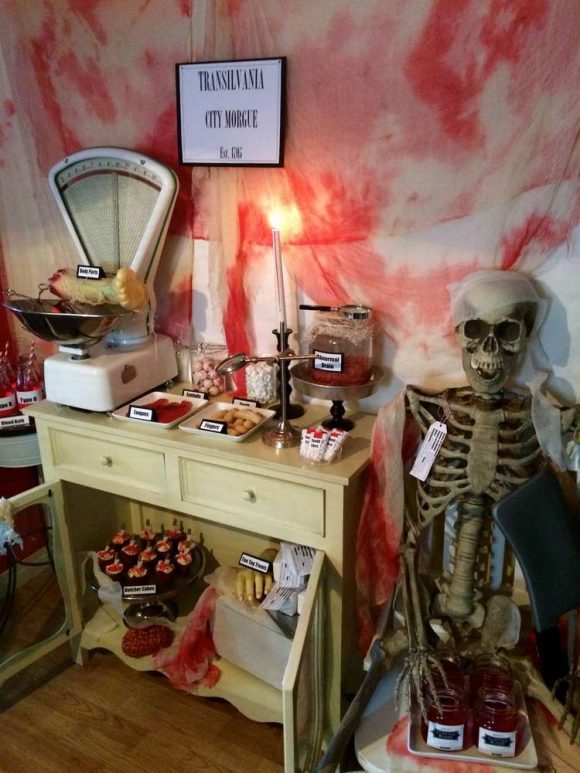 Frankenstein is a Halloween favorite and this Halloween party is really ghastly!
The Frankenstein mask placed in a vintage frame is such a cool idea and makes a fantastic backdrop.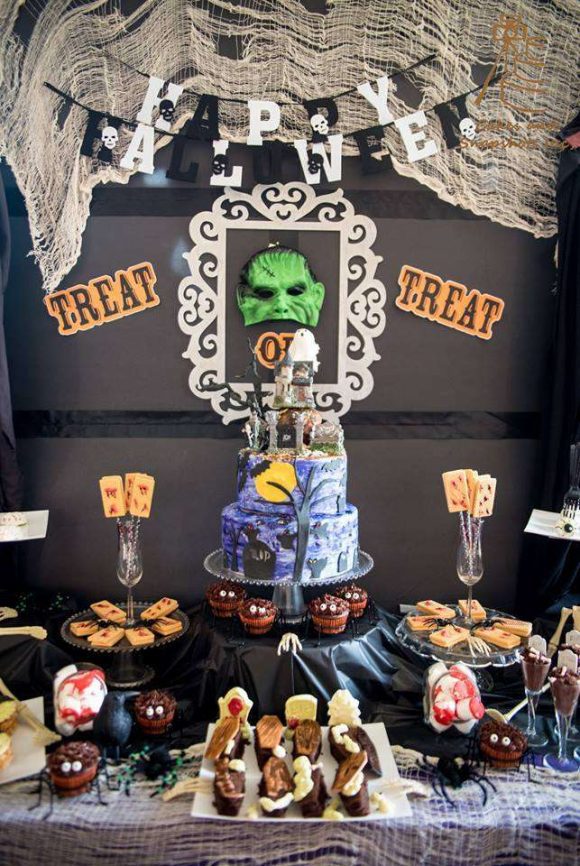 If it's a bloody Halloween you're looking for then you've lots of blood by the gallon at this party!
The bloody vampire teeth cake and the syringes are so macabre. Even the white chocolate rats will make your skin crawl.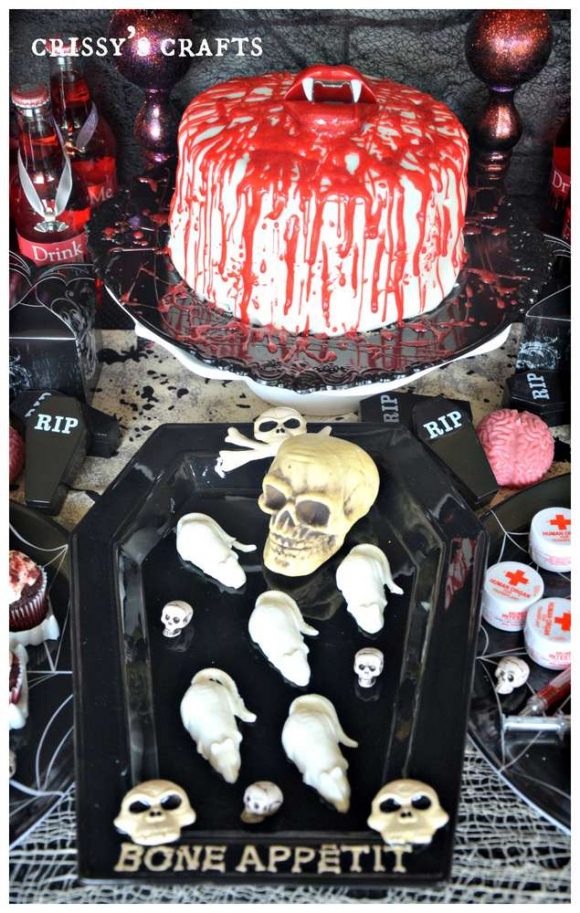 Host a Grim Reaper Halloween party like this one at your own risk and hopefully no one will die.
This party couldn't be more frightening. All the decorations, from the skulls to the bats and the 'beware' written in red paint to look like blood, make this scary Halloween party one to remember.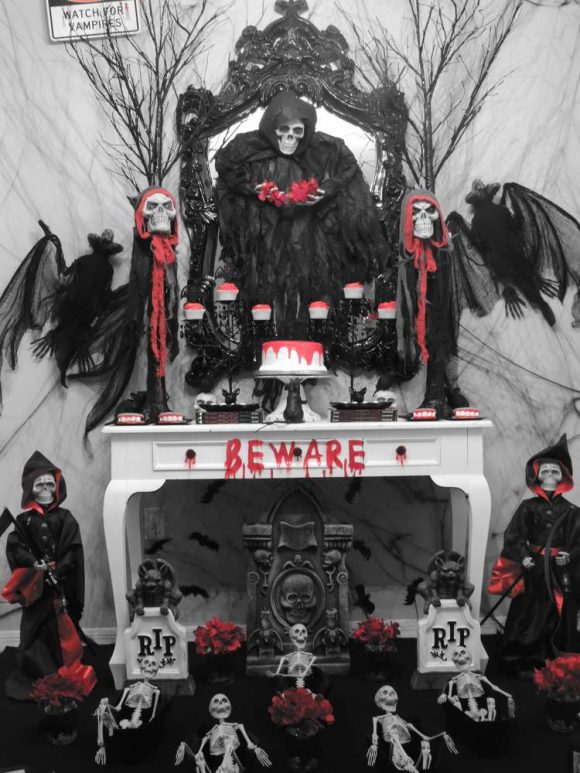 You can bet I got the fright of my life when I first saw this creepy Halloween party.
Would you be brave enough to take a bite out of a chocolate skull lolly?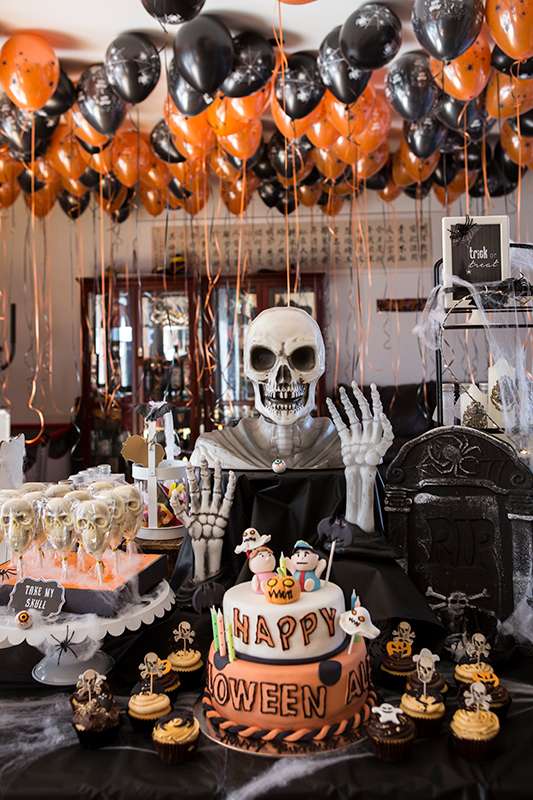 Witches are as scary as you get, as you can see from the one below.
The cauldrons full of edible treats are such an awesome eerie addition and are a great way to serve Halloween party food.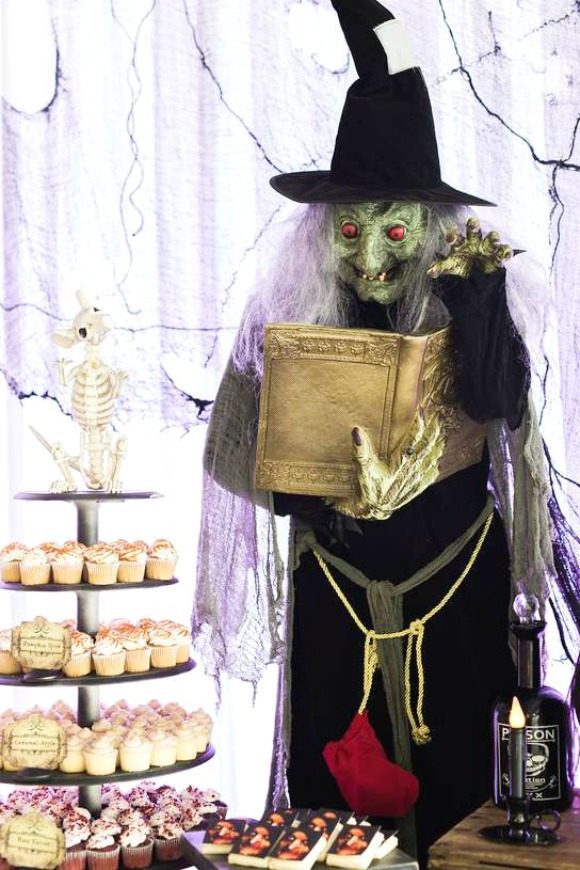 If you love horror movies you are going to love this slasher movie Halloween party.
The Freddy Kruger glove is such a hair-raising party decoration!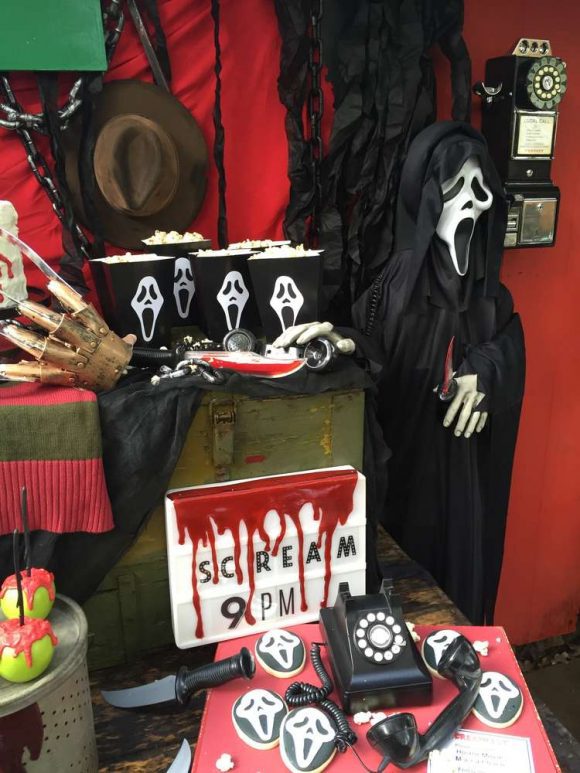 If zombies are more of your thing, this zombie apocalypse party is perfect!
The brain cupcakes are really gruesome. Check out these brain cupcake toppers so you can have some similar ones at your party.
If you are thinking of throwing a zombie party be sure to download our FREE Zombie Party Printables!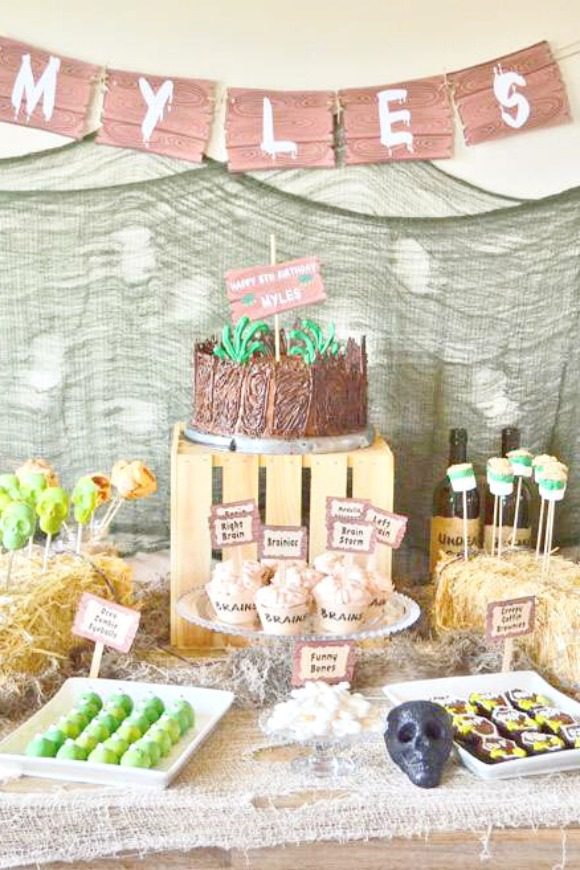 If you want a more stylish Halloween party, this dinner party might be just what you're looking for.
The soft cheese skull covered in prosciutto has to be one of the most gruesome party foods EVER!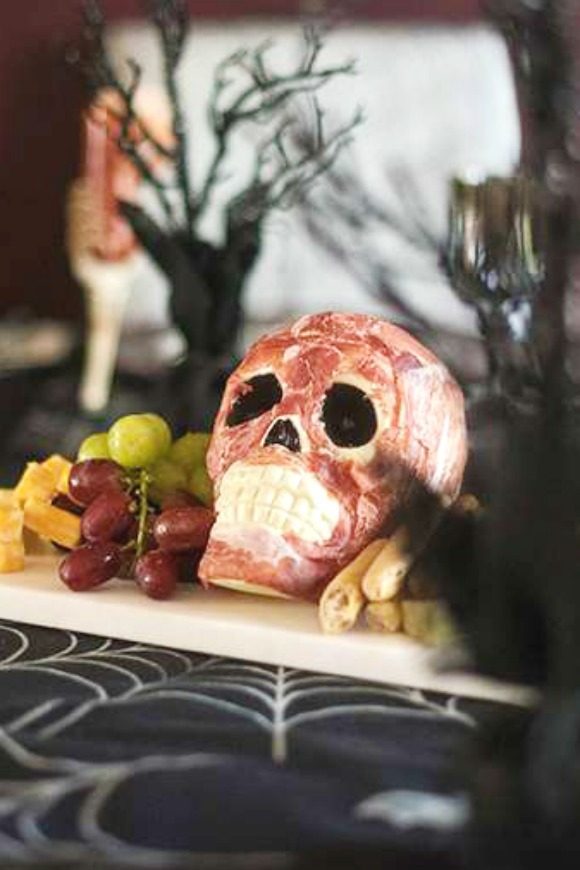 17 CREEPY HALLOWEEN PARTY IDEAS
There's nothing more terrifying than a plate full of skull cookies looking back at you!
Create your own with the help of a skull cookie cutter and some candy eye sprinkles.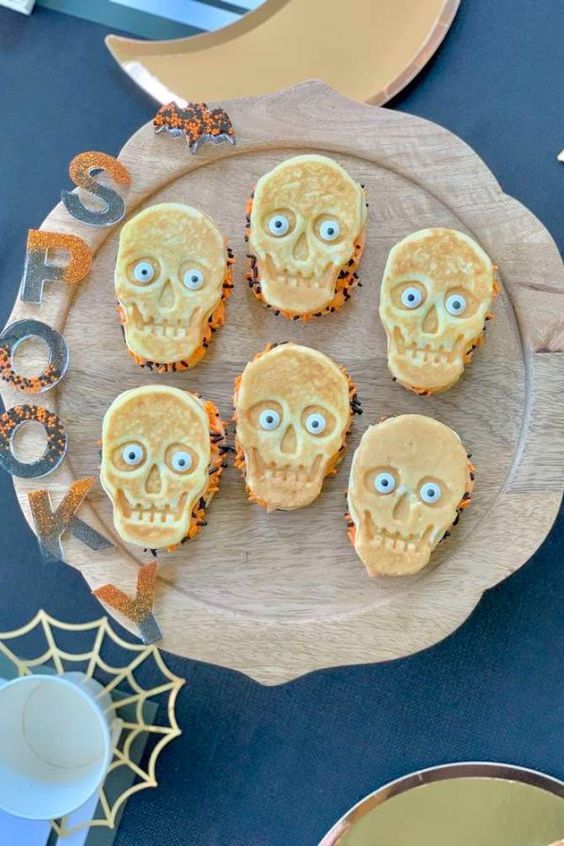 Turn regular frosted cupcakes into ghoulish ones by adding some hair-raising candy spiders.
They'll look really impressive and are super easy to put together!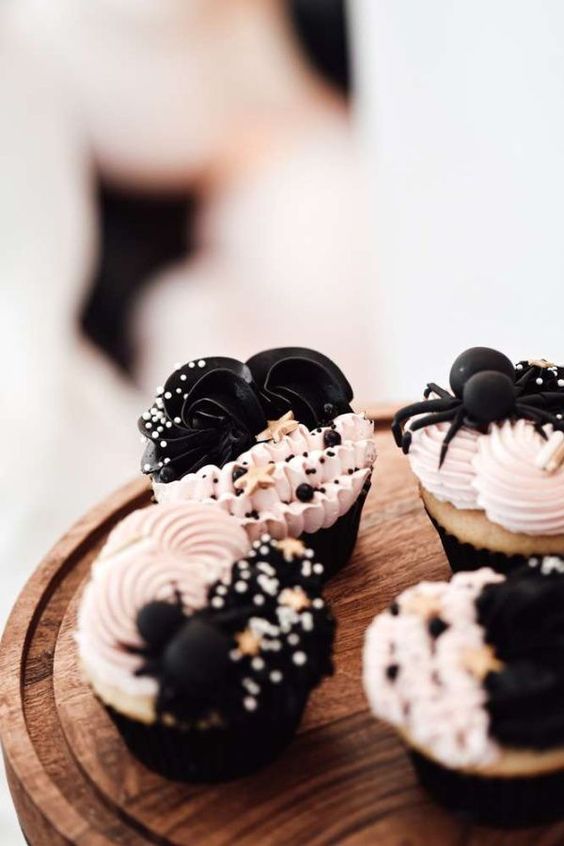 If you really want to freak out your guests check out these gruesome bloody cupcakes.
Make your own by adding some tiny knife cookies and strawberry sauce to some regular cupcakes.
The finished effect is spot on and great for a Halloween party!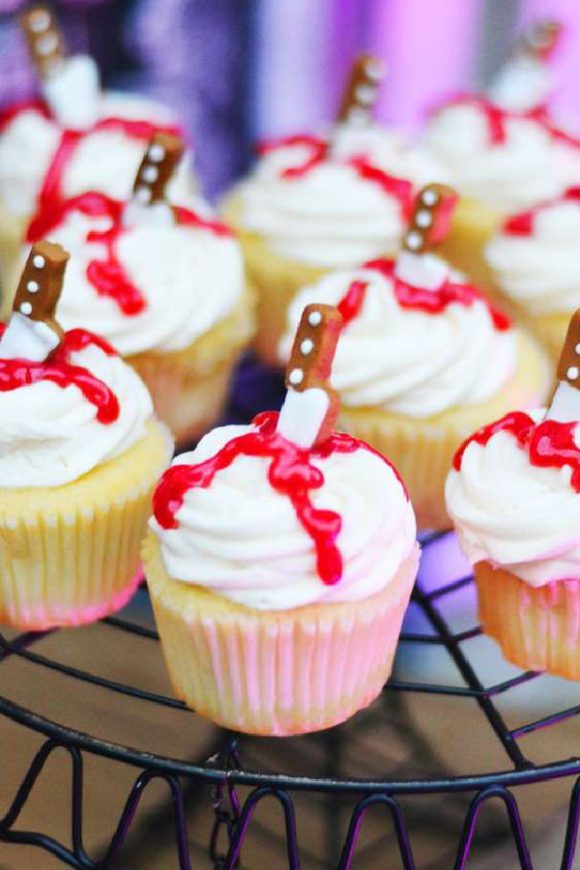 On the other hand, you can treat your guests to some horrifying bloody knife cookies.
Just looking at them gives me the chills.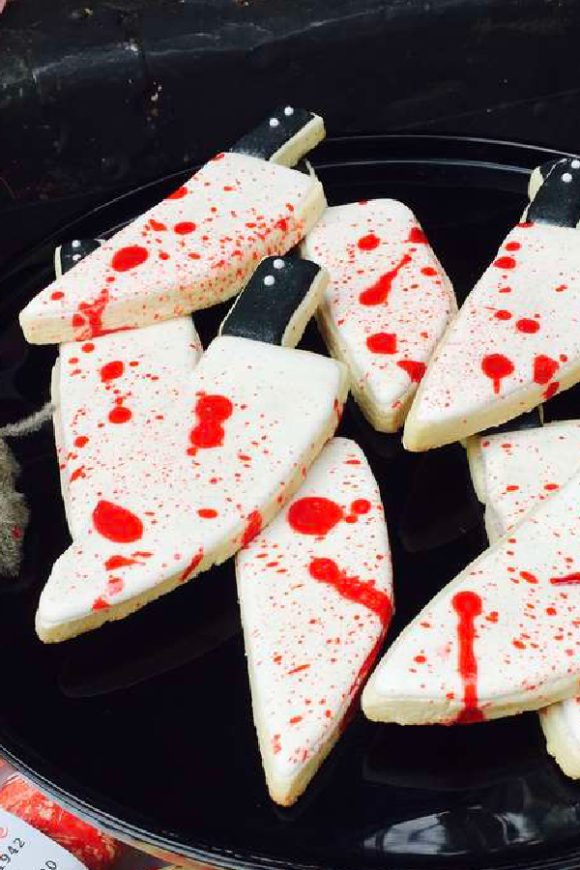 Another great way to spook your friends and family would be to create a pinata-like cake full of spiders.
Imagine someone cutting into the cake and a load of spiders falling out!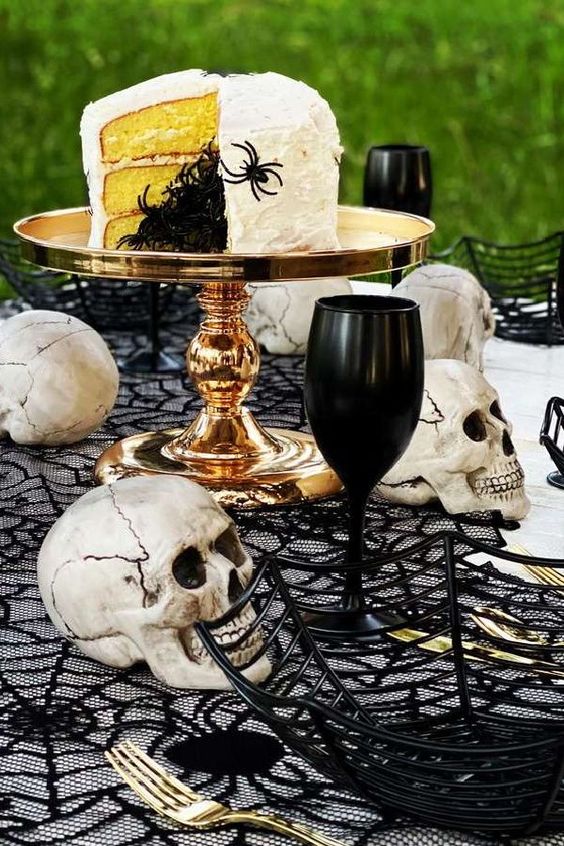 Fill a bowl with a bunch of eyeball gummies and place them on your dessert to give your guests a fright.
They are so gooey and sticky. Kids are gonna love them!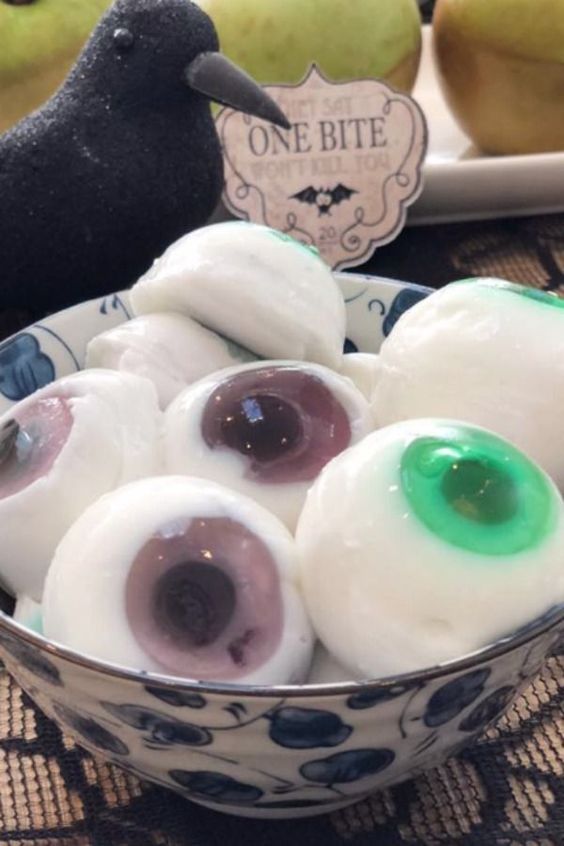 Zombies and Halloween go hand in hand so how about serving these graveyard pudding cups at your party?
The individual cups make serving and clean-up a lot easier and will give your dessert table an eerie look!
Fill some cups with chocolate pudding. Sprinkle crushed Oreos and a tombstone-shaped cookie on top, along with some fun Halloween candies or toys for decoration.
You can also try our Skeleton pudding cup recipe too! They are very similar to this pudding but topped with a skeleton instead!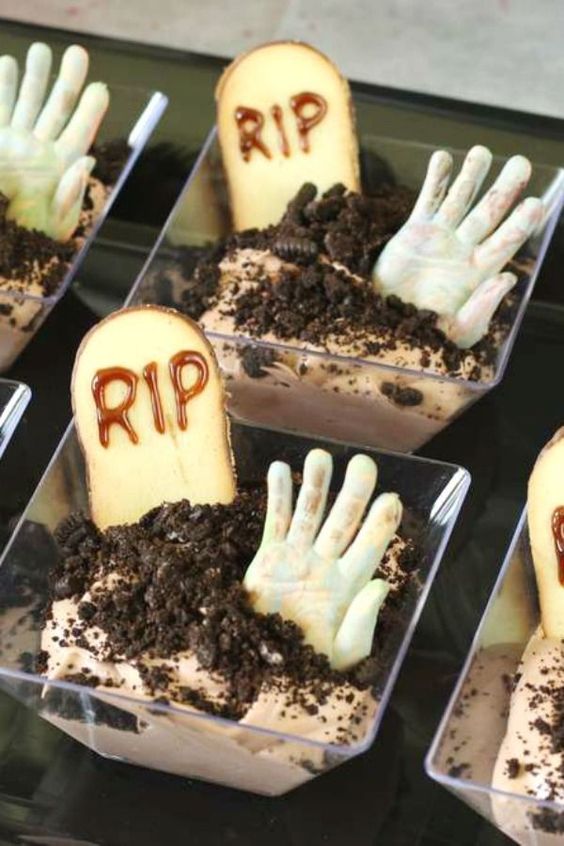 Fill a bowl at your party with some Halloween-themed candy mix.
Throw in some classic candy corn, some white Sixlets, and some seasonal little candy knives and you are good to go!
It's a great party food for a kids' Halloween party too, so be sure to check out all our fun Halloween kid's party ideas.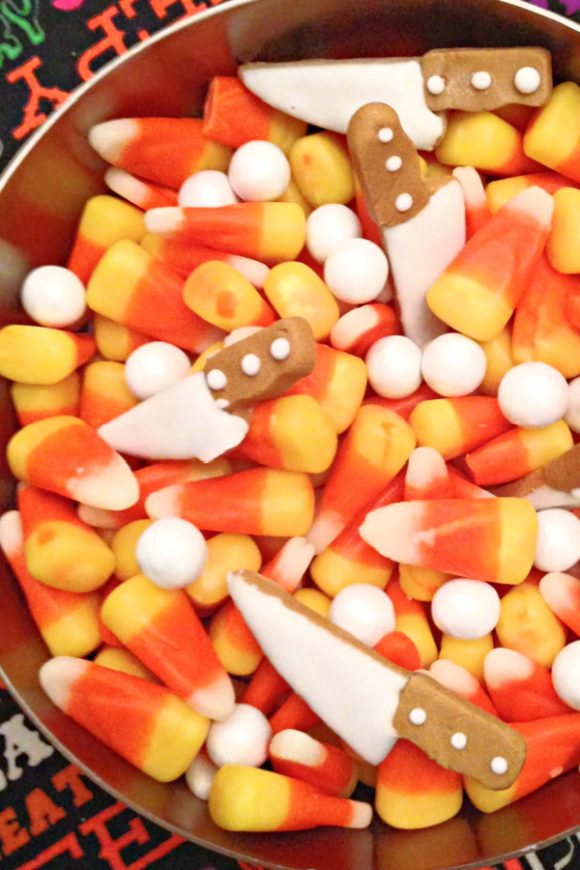 Lighten the mood ever so slightly with some chilling Halloween Jello.
Serve whichever colored Jello you wish and top with an eyeball gummy.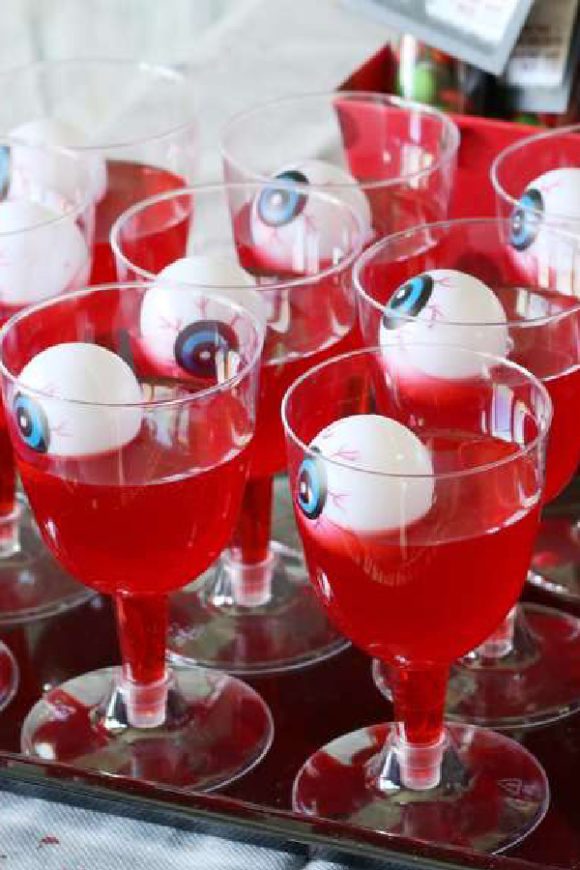 You can never go wrong decorating a Halloween party with skeletons!
They will definitely add an unsettling vibe to your party, which is why they are the perfect Halloween party decoration.
The more you can get your hands on the better. Spread them around your venue and enjoy scaring your guests!
For more ideas be sure to check out all our 12 scary Halloween decoration ideas too!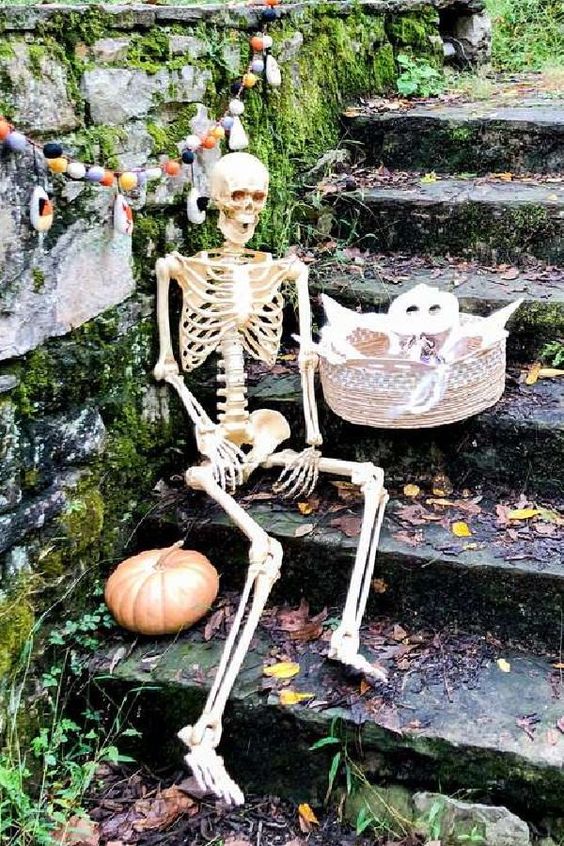 There's no spookier way to serve drinks at a Halloween party than in some skeleton-hand plastic party cups.
Give your cocktails an even more sinister look by having some candy eyeballs floating around in them.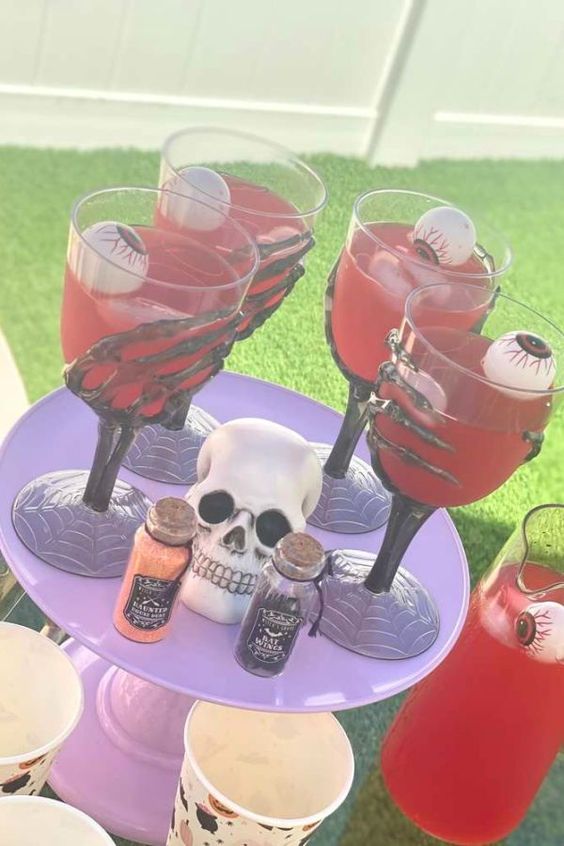 Decorating with spiderwebs will add some haunting sophistication to table settings over Halloween.
Scatter the spiderwebs all over the table and up the walls.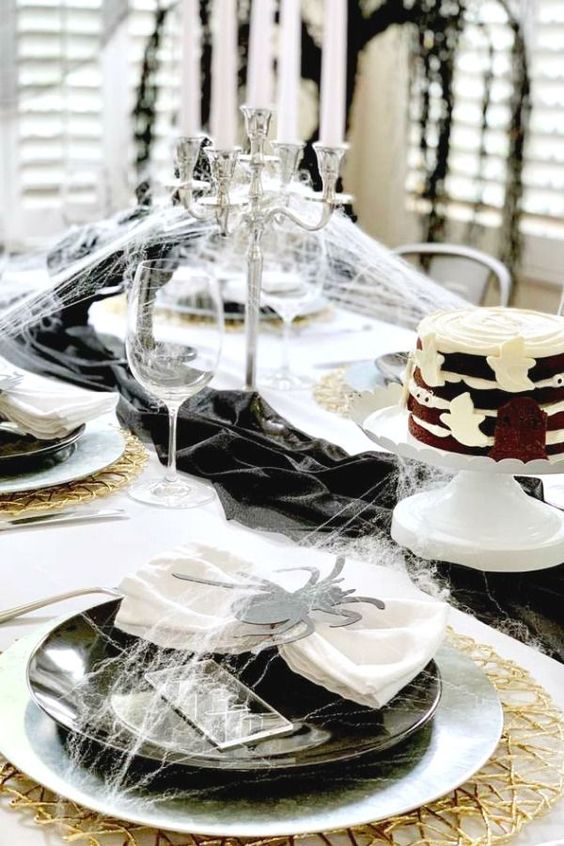 This next idea is so menacing that there's no doubt it's just what you need at your Halloween party!
Put out a bunch of blood-splattered paper plates and napkins. Just the sight of them distresses me.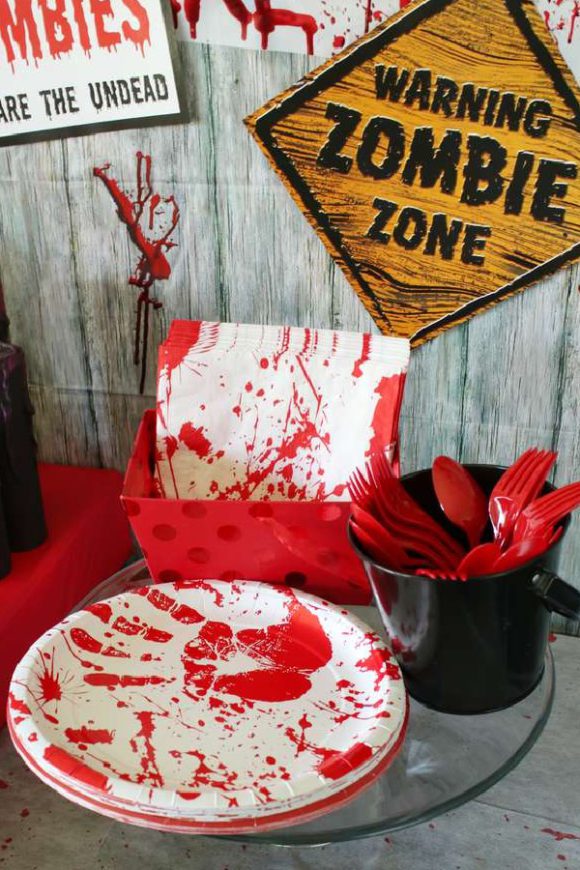 Have a skeleton take center stage at your table and have him seated alongside your guests.
You can bet it will send a chill down their spine!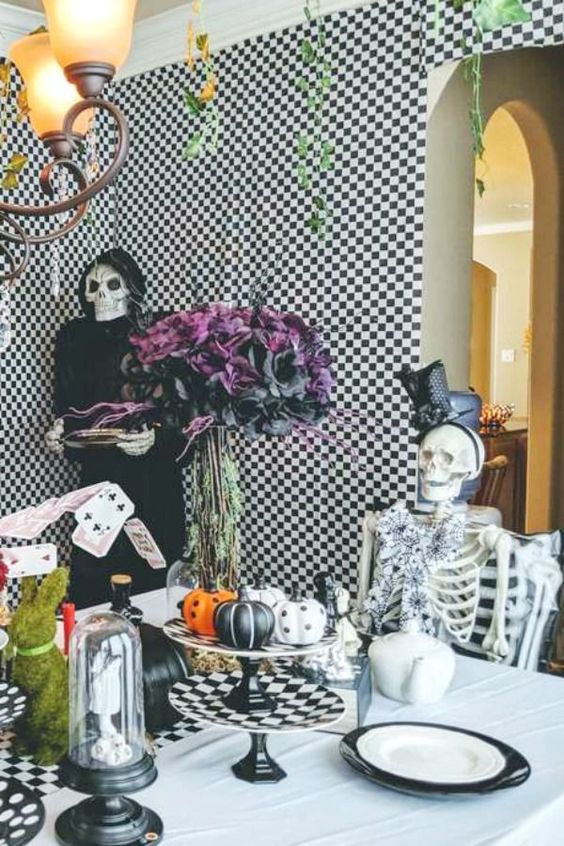 Another must-have Halloween party decoration are coffins!
If you can get any place them at the entrance to your party to set the mood.
Add some spiderwebs to make them even eerier.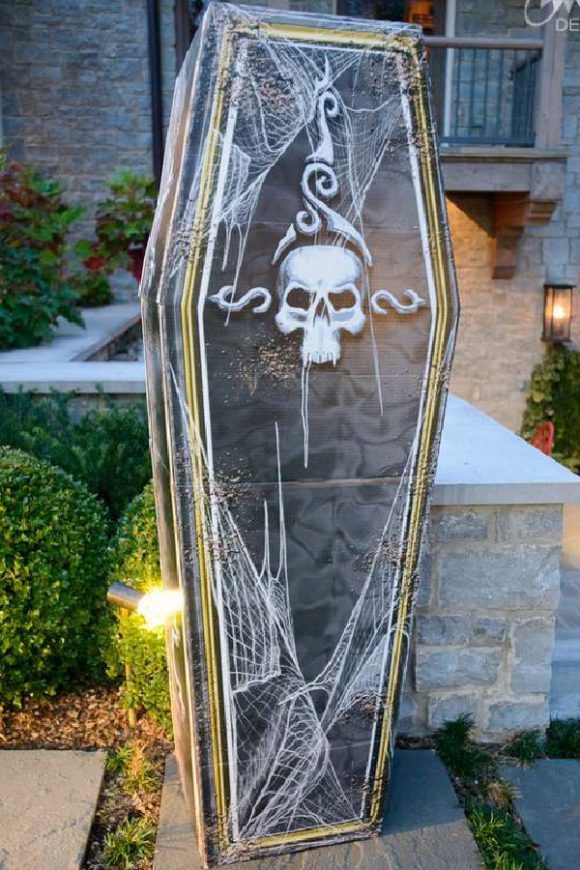 We have a bunch of FREE Halloween party printables that are just perfect for your scary Halloween party, including these spine-chilling gothic-themed ones that include a whole bunch of gothic creepiness.
Download any of our FREE printables such as our 'Creepy', or our 'Venom and Potions party printables' to decorate your party too!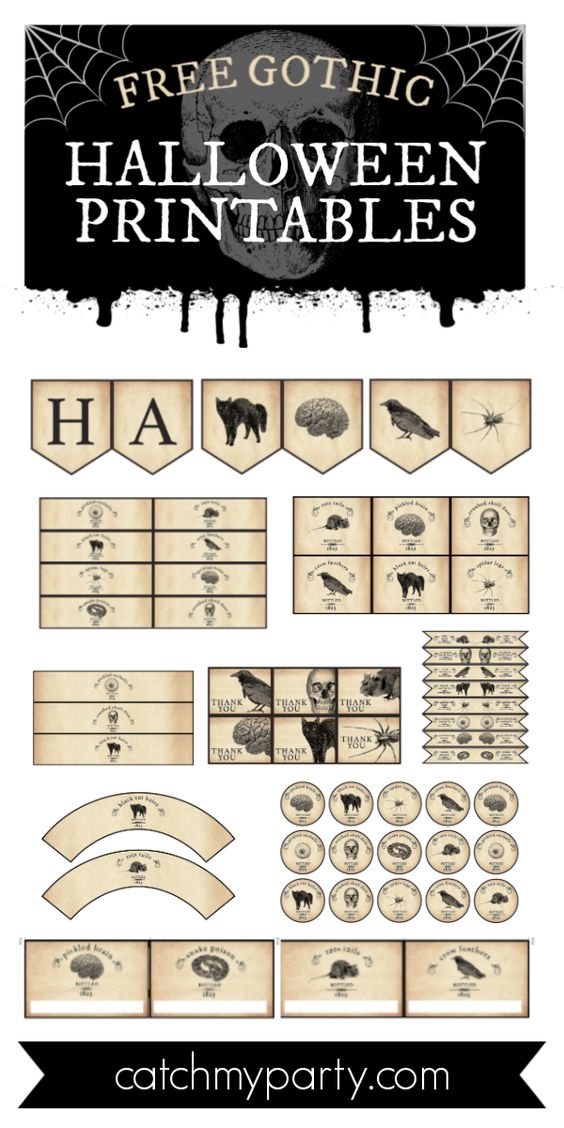 MORE HALLOWEEN POSTS YOU'LL LIKE!
Need Halloween party ideas?
For more inspiration, check out all these spooky Halloween parties on our site, and check out these Halloween party supplies from vendors with listings on Catch My Party!
**Some of these links may be affiliates.