We've rounded up 24 fun Thanksgiving party activities for kids and adults.
So if you are stuck for ideas for your Thanksgiving celebration, you've come to the right place!
From creating fun DIY turkeys out of pinecones to putting together a gratitude tree that captures the spirit of the season, these simple yet engaging ideas are sure to add a charming and creative flair to your holiday celebration.
Check out all our Thanksgiving party ideas for loads of celebration inspiration!
Explore our collection of FREE Thanksgiving printables for kids to add a playful touch to the children's table this holiday season!
Don't forget to grab our FREE Printable "With Thankful Hearts" Thanksgiving Sign and Cards – a free download to elevate your Thanksgiving decorations.
And if you're gearing up for a memorable Friendsgiving, dive into our creative Friendsgiving party ideas and download our FREE Friendsgiving Printables! to enhance the festive spirit!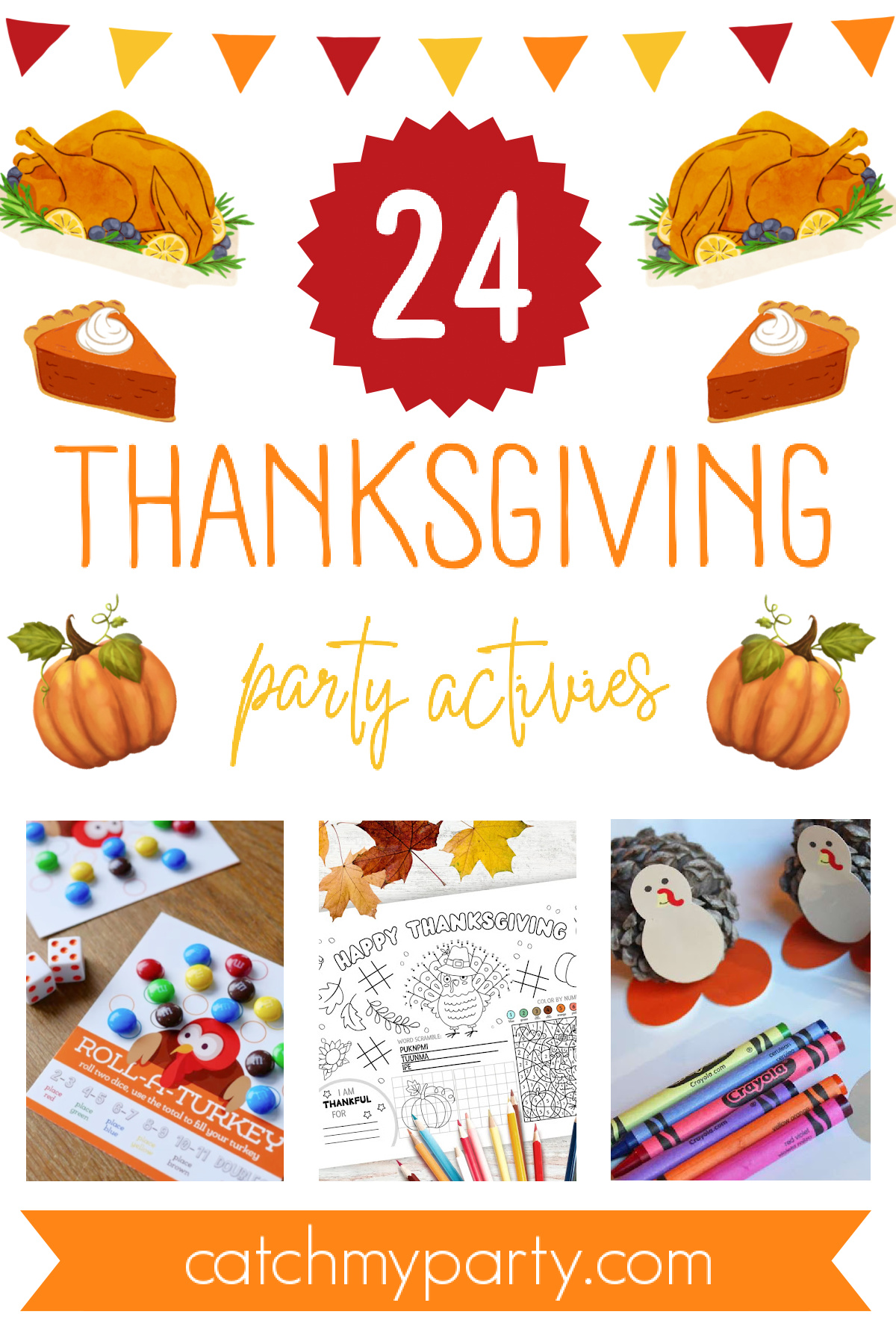 Get ready to elevate your celebration with engaging quizzes, entertaining games, such as our FREE printable Thanksgiving Bingo game, and delightful crafts that promise to add a festive and interactive vibe to your Thanksgiving gathering!
Reasons to Love These Fun Thanksgiving Party Activities for Kids and Adults!
Engages All Ages: These activities cater to both kids and adults, ensuring everyone has a blast.
Promotes Bonding: From crafting together to playing games, these activities encourage shared experiences and connections.
Fosters Creativity: Whether it's DIY crafts or imaginative games, there's ample room for creativity to flourish.
Stress-Free Entertainment: No need for elaborate setups—these activities are easy to organize and enjoy.
Inclusive Fun: Designed for diverse preferences, ensuring everyone can participate and enjoy the festivities.
Memorable Moments: Create lasting memories with laughter, friendly competition, and collaborative endeavors.
Encourages Gratitude: Incorporate themes of thankfulness and gratitude into the activities, adding a meaningful touch to the celebration.
24 Fun Thanksgiving Party Activities for Kids and Adults!
Thanksgiving Party Activities FAQs
What are some classic Thanksgiving party games for both kids and adults?
Try classics like our FREE Printable Thanksgiving Bingo, Thanksgiving Trivia, or some Pumpkin decorating for all-age enjoyment.
How can I make my Thanksgiving celebration more interactive and engaging for guests?
Incorporate interactive activities like a gratitude jar, DIY crafts, or a Thanksgiving scavenger hunt.
What are some Thanksgiving-themed crafts that kids can enjoy during the celebration?
Keep kids entertained with activities like making pinecone turkeys, handprint art, or decorating mini-pumpkins.
What are some alternatives to traditional Thanksgiving games for a more modern celebration?
Consider virtual game nights, interactive apps, or online quizzes tailored to the Thanksgiving theme.
What are some activities that can keep kids entertained during Thanksgiving dinner preparations?
Engage kids with tasks like creating custom placemats, decorating the dessert table, or helping set up a kids' Thanksgiving crafting station.
** Some links are affiliate links and we may make a small commission if you click and buy.**
Need more Thanksgiving party ideas?
For more inspiration, check out these awesome Thanksgiving parties from our site, and all our free Thanksgiving printables.